A good night's sleep can make a lot of difference, leverage on the benefits of silk pillow and bed covering to aid your nightly ritual. 
The importance of beauty sleep cannot be overemphasized since the skin regenerates itself at night. Beauty products may boast of reducing fine lines and under-eye bags, but it cannot be compared to getting rest. This is not always the case, as the required hours are not always guaranteed (being real, life happens). Enter silk pillowcases to save the day, and deliver beauty benefits, including decreased wrinkles, brittle hair ends, and dryness.
The bottom line is silk cases might be what your skincare routine is missing to achieve healthier skin and hair. Not saying you should skip some steps or beauty products just because you have some silky backups. The coolness and luxe feel are enough to opt for a silk pillow. Anyway, below are 11 more benefits of sleeping with silk pillowcases.
Why are silk pillowcases beneficial?
Silk fiber occurs naturally, and the filaments do not require stitching to form threads. They are then woven together to create different articles of clothing, décor pieces, and general household use. Unlike linen and other fabrics that require spun of threads together, which leaves a rough and coarse texture, silks have a unique feel.
The most common type of silk that you can find readily available is mulberry silk. This fiber gets formed by the silkworm Bombyx mori in their moth cocoon. It gives the silk a sleek appearance because they are all-natural and do not have corners formed from stitching.
Silks are softer, with a sleek texture, and take up moisture, hence why the beauty world endorses it. At salons, you see hairstylists supporting silk since they can aid in giving you shinier hair. Even the wellness industry recommends them because it helps you sleep better. If you are interested in mattresses check out Chiropedic.
11 benefits of silk pillow
1. You get moisturized skin with a silk pillow
Facial skins are most likely to rub on silk pillows, but if you went, you've included the sheets, then the better. That's because the texture of silk fabric has the perfect thickness and does not soak up skin moisture. This, in turn, keeps the skin hydrated and supple while enhancing your beauty treatments. This benefit of silk pillow makes it a worthy buy, especially if you have dry skin.
2. Silk pillowcases help to promote hair hydration
Beauty experts have been raving about silk bonnets to help lock in hair moisture. The hydration levels of your strands need to be maintained if the overall health of your hair is essential. Using a silk pillow is only the next step to solidify your fortress of keeping your hair moist, rather than other fabrics that leave your hair in a frizzy, tangled mess due to all dragging.
Its silky-smooth surface gives your hair an excellent resting place that prevents your hair from snagging, regardless of how much you toss at night. Sleeping with a silk pillow makes your hairstyles last longer, even with black textured hair.
3. A silk pillow can prevent wrinkles
Sleeping on the side is the default of most people, which means your face presses on the sheets. Even if you tend to sleep facing up, you might probably turn to the side during the night. While you shift and change sleeping positions, friction between your skin and sheets occurs. When this happens, the face will develop lines, turning into wrinkles.
They are more prominent when sleeping with pillowcases made with cotton or other coarse fabrics. With silk pillows, you get a sleek surface that reduces wrinkles and lines and results in a younger-looking face.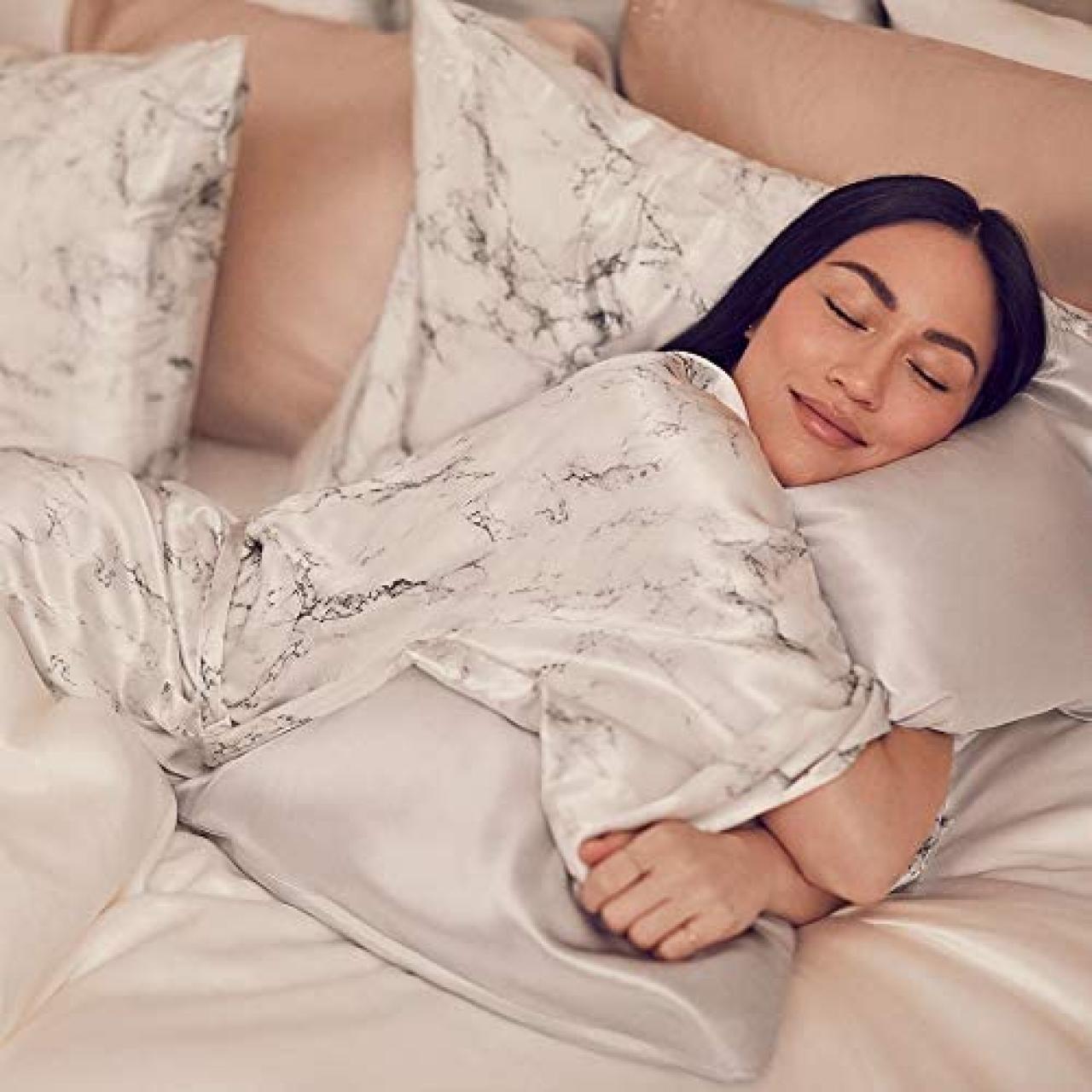 4. Soothing relief
If you have sensitive facial skin, you need to complete your day with a soft, feeling headrest. When you sleep with coarse fabric surfaces, your skin drags on them and causes redness and itching. A silk pillow eliminates this friction and gives relief for better skin conditions.
5. Reduce acne and breakouts with a silk pillowcase
Silk pillows do not directly prevent acne because the fibers do not contain any active ingredient to tackle acne. The benefits of a silk pillow against the fight to keep breakouts at bay include retained moisture and boosting the results of beauty products. The best option to treat acne involves a great skincare routine. Silk pillowcases can help speed up the process since the skin cells are more active at night-time.
6. Achieve your healthy hair goals
The first impact of switching to a silk pillow is maintaining hydration in the hair. This locked moisture goes a long way to promote healthy hair. If you have been suffering from dry scalp, your pillowcase might be the culprit. The average coverings will most likely, soak up moisture and leave your scalp flaky, which leads to dandruff. The benefits of a silk pillow to maintain healthy hair are quite many because they enhance hair conditioners and moisturizers to give a softer-looking mane and prevent breakage.
Related article: Dry scalp vs Dandruff: How to identify the differences and treat both
7. It keeps your body cool
Enjoy a cool regulated temperature when you sleep with a silk pillow. If you add a silk bedsheet, the better your entire body will maintain the same temperature. Research shows that since silk does not absorb much of the skin's moisture, the body gets cooled with the silk even when you sweat.
8. You get a cleaner sleeping material
Pillows should be treated specially because your face presses on them for extended hours. When dirt or tiny organisms like bacteria catch on, it can cause skin problems. With face being so prominent, you need to avoid such situations, but it doesn't mean you should wash your pillowcase daily.
A silk pillow will most likely disrupt the growth of bacteria that grow faster in damp places since they do not absorb moisture. Also, their smooth surface can prevent other items from settling in. And finally, you get a cleaner pillow with silk before scheduled weekly wash days.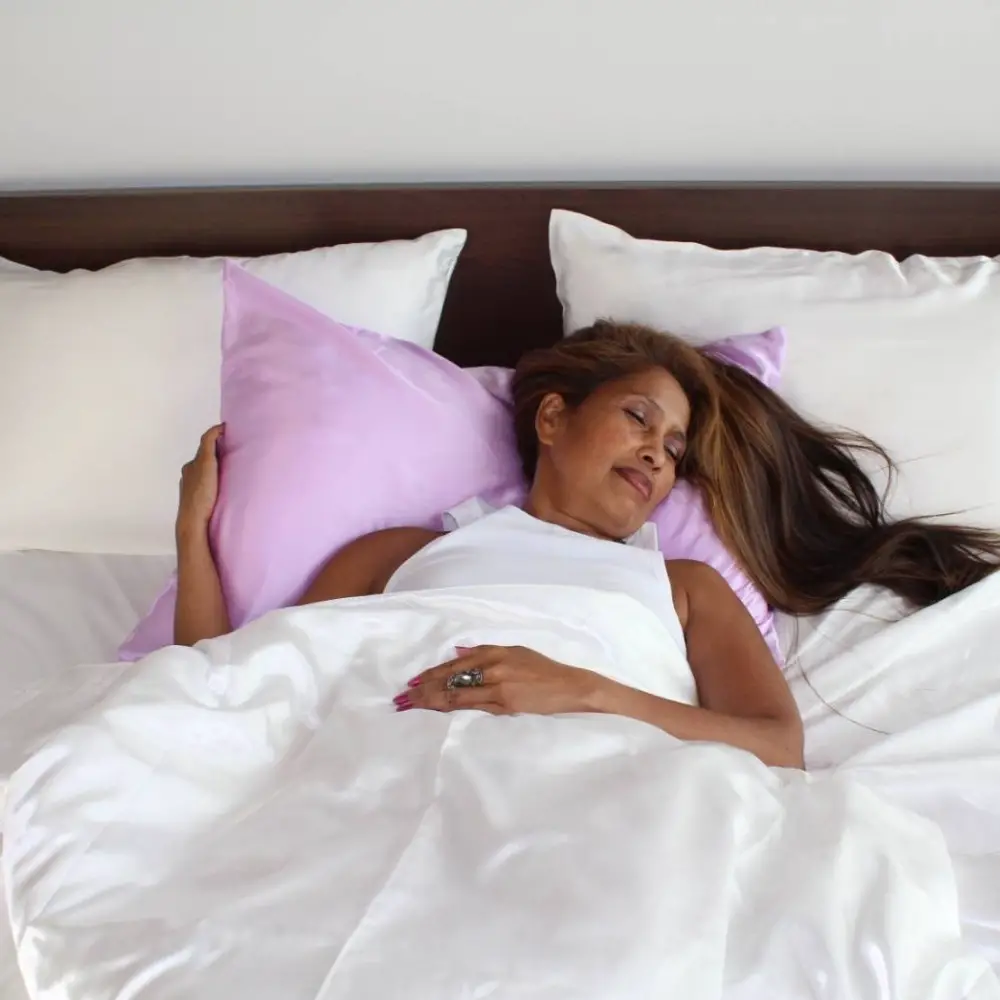 9. Silk pillows may benefit you if you have allergies
If you notice allergies from sleeping on other types of coverings, switching to silk may benefit you. However, there is no study backing the claims of whether silks are hypoallergenic or not. One thing is sure because they feel luxe, they are less likely to irritate your skin. If you wish to stay safe from allergies, invest in some protectant to stop external irritants from tampering with your sleep. Sometimes the itch and irritation might just be from unclean pillows or sheets, be sure you wash and change them often.
10. Bask in the anti-aging benefits of a silk pillow
A youthful appearance is the following order after your silk pillow has delivered on hydration and reduced wrinkles. Although the results might not be immediate, you will notice a fresh, younger face with time since it's no magic. When the skin maintains a standard hydration level, the effects of care products are more visible. You should be fine to top off your silk pillows with a combination of formulas that correct hyperpigmentation and sagging eyes.
11. A luxurious feel for improved sleep quality
You can never get over how luxe silk feels when rubbed against the skin. Settling your face on it at night is pure luxury, which aids sleep. From the point of purchase, you get the subtle nudge that your average pillowcases cannot compare to the one made with silk.
The experience becomes complete with soft-down stuffing and a silk-covered mattress. When you sleep better, you wake in the morning full of energy for a productive day.
What to look out for when buying a silk pillow
If you search online for the best silk pillow, many brands offer the right texture. No two brand gives the same experience. To help you select the best, watch out for the following criteria.
When you search for a silk pillow, it should always be that of 100% pure mulberry silk. If you plan on unlocking the benefits of silk pillows, then such pure blends are the quickest way to achieve it.
For the best quality sleep and feel, avoid a pillowcase made with a blend of other fabrics. The market has gotten flooded with such silk pillows since they are more affordable. They might appear shiny but will not deliver the same results you get from the real thing.
After sorting out, the silk fiber and authenticity, you will need to consider the size of the pillow you plan on covering. So, you don't end up with a size too small that slips off at night.
Lastly, consider the design details on the pillowcase; you might like ruffled edges or plain ones. Also, if you want to coordinate colors, you will need to check out the colors that match your décor.
The best silk pillowcases you can find on amazon
Everyone seems to be invested in silk for sleeping, down to pajamas, from your favorite celebs to influencers. If you are thinking of buying your own silky companions to enjoy the many benefits of silk pillow, then we have that covered.
Pillowcases made from natural silk fibers might be pricey, but that doesn't mean you cannot enjoy the same luxe feel from a faux iteration. Nothing beats the real thing, but a few made from polyester can deliver the same smooth surface your skin needs to thrive.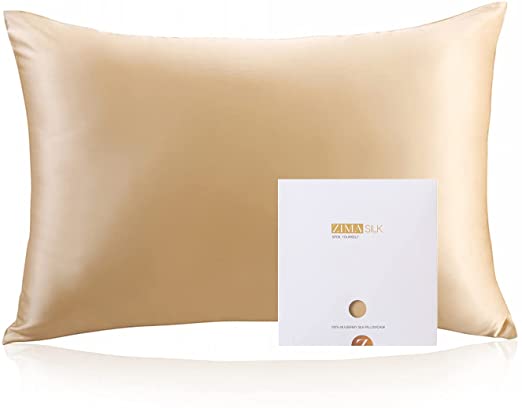 Get this luxe pillowcase that fits almost any pillow size you can think of with its Queen-size. It comes made with up to 600 thread fiber count to attest for the smooth texture. In addition, it features a hidden zipper and thirty-five colorways to choose from. A simple low-setting machine wash refreshes it for continued usage when it gets dirty.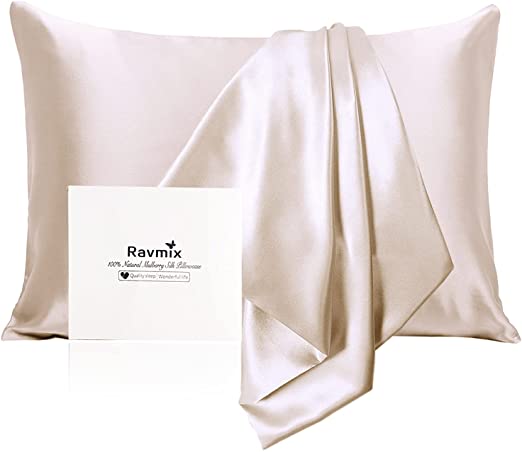 The name of this brand could very well be called Ravemix, for the thousands of positive reviews this pillowcase has gotten. The velvety feel of this brand makes it a worthy buy, which can be attributed to its 21 momme. It also comes in thirty-two color selections to find the right shade for your bedroom.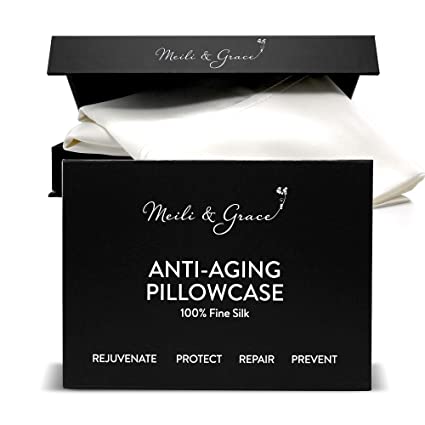 The description of this brand speaks for itself as you'll receive a top-notch pillowcase made with the best silk fibers. Sleeping with this pillowcase, take care of fine lines caused by using the wrong cases. It delivers on its promises to give a youthful face, rather than using harsh chemicals.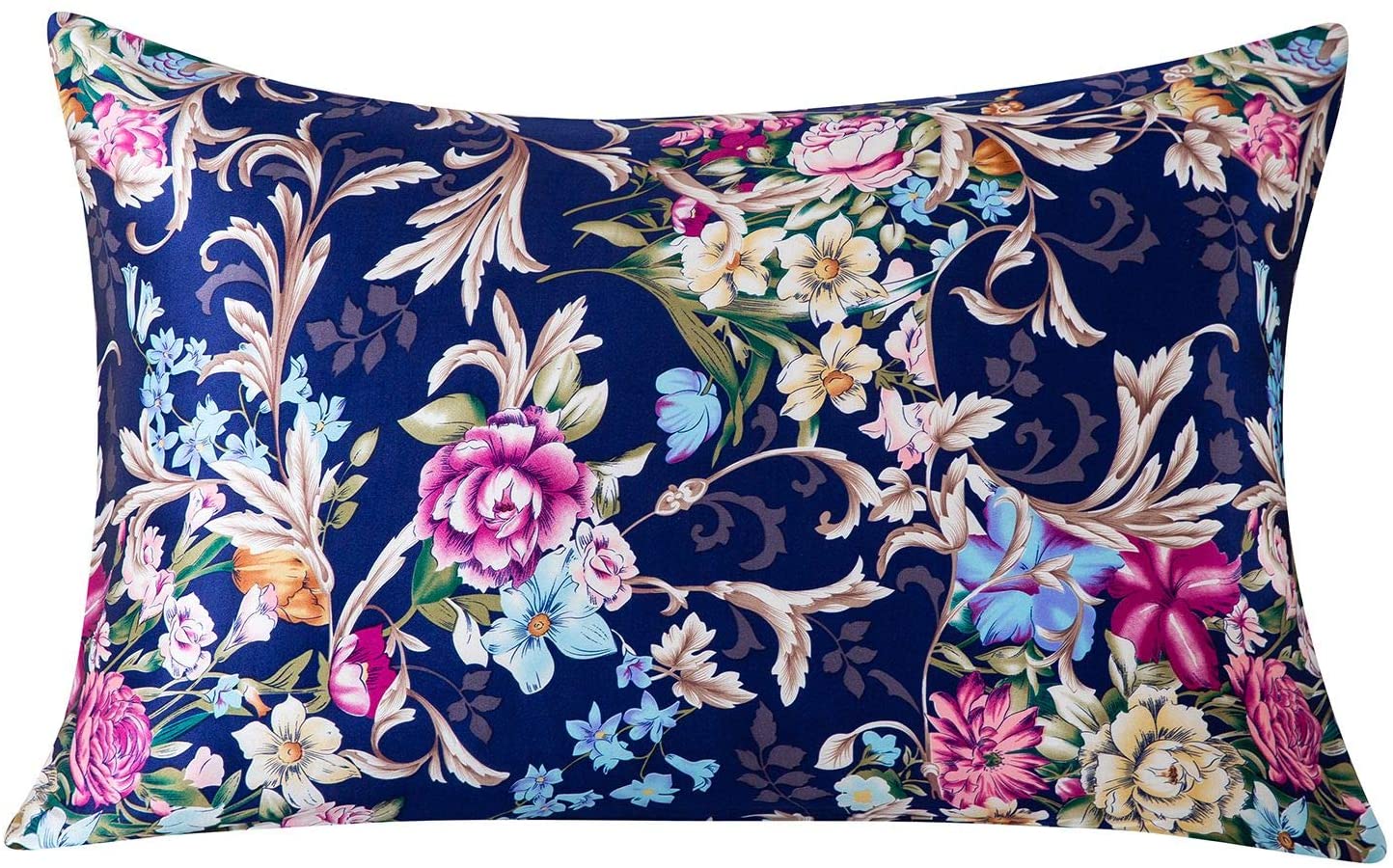 Another pillowcase you can trust to improve your slip and skin health is this natural iteration from Slpbaby. The cases come in several colors to print to shop for more fun options. The pillow covering got the fan-favorite title for nothing, as the quality speaks for itself.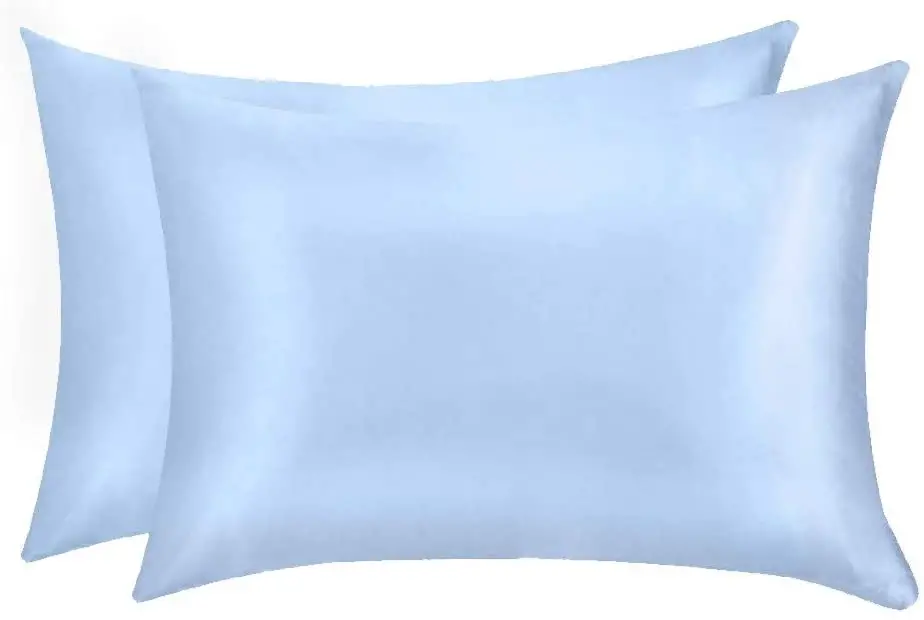 If your skin issues prompt this purchase, you must get this Jocoku 2 pack pillowcase. You can cool down even the most sensitive skins with their ultra-luxe feel. It affects the health of your skin and overall sleep pattern.
6. Celestial silk pillowcase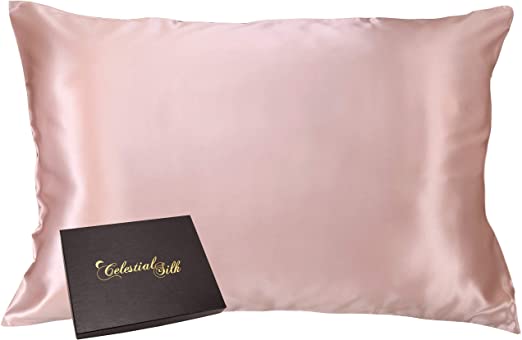 You need this 25 momme silk pillowcase if you hope to maintain healthy hair. They are hands down your best to reduce dryness and breakage for their smooth and pure texture. Select from the twenty-four patterns and solid colors it comes in to match your design aesthetics.
If you want an affordable fabric that looks and feels like silk, you can opt for this satin pillowcase. This one from Bedsure replicates the value pure silk gives when it comes down to a test of the quality of silk vs. satin. You get 2 packs for a great price point, which is a steal for the deal.
Final Take
Silks might contain amino acids but sleeping on them does not mean they will pass onto your skin. This goes without saying that a silk pillow is not the cure-all for your hair and skin problems. You can only rely on their incredible texture to aid your beauty regime. We spend a significant amount of time sleeping, and it becomes only fitting to use silk to tap into the beauty benefits of silk pillow. More importantly, your sleep should receive a healthy-quality dose of improvement with silk pillowcases.
What to read next: These 10 silk pajamas for women are on a different level of soft