What does Olivia Rodrigo outfits and ice-cream have in common? We can't seem to get enough of them.
Rodrigo is an American actress and singer-songwriter whose rise to stardom was accelerated by a phenomenal amount after her debut song Drivers License. With her exposure to the public, her spectacular songwriting skills aren't the only thing that everyone is raving about. Whether it's from her music videos or Instagram posts, or social events she attends, Olivia Rodrigo outfits are exquisite and worth gushing over.
A little background on Olivia Rodrigo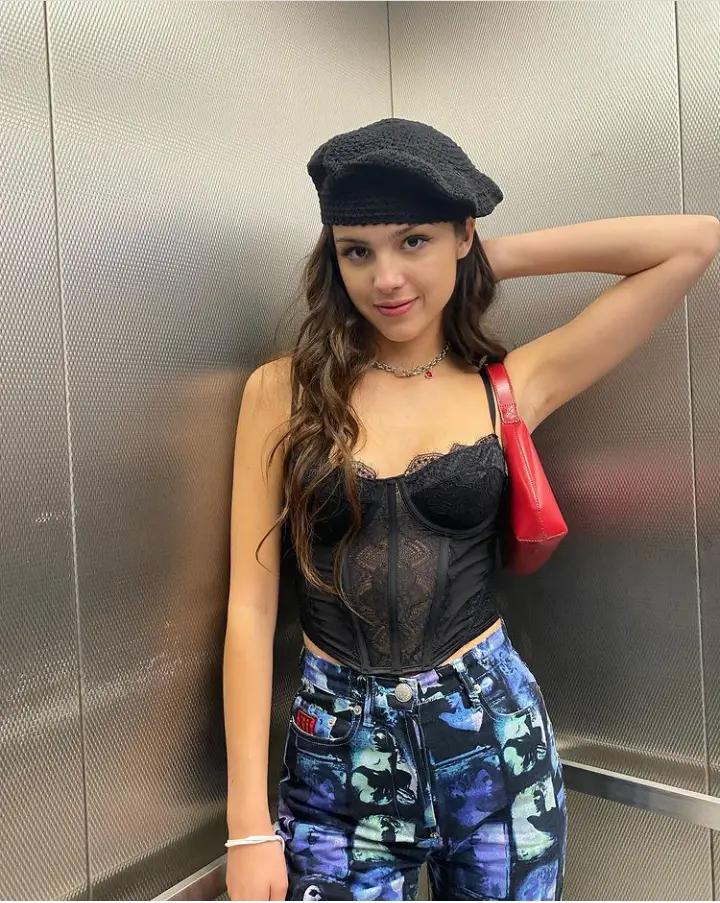 Many fans of her music and taste in fashion may be surprised that her fame didn't start from her vocal prowess.
Though that girl can sing! Olivia started off her career acting in several TV shows. The talented singer-songwriter is most known for her roles as Nini Salazar-Roberts and Paige Olvera in Disney's High School Musical: The Musical: The Series and Bizaardvark, respectively.
Born in America on 20 February 2003, her first big TV gig was in 2015 in American Girl: Grace Stirs Up Success, where she played Grace Thomas– an ambitious girl with a passion for baking, but is unexpectedly asked to accompany her mother to Paris where she has to deal with her cousin Slyvie and save her grandparents' failing bakery.
As proof of her brilliant songwriting skills, Olivia wrote "All I Want", Nini's unforgettable song in High School Musical: The Musical: The Series. She wrote this song in three days while filming the first season. "All I Want" is considered the show's most significant hit as it was number 90 in the U.S Billboard Hot 100 when it debuted in January 2020.
How Olivia Rodrigo's singing career came to limelight
Following the events earlier mentioned, Olivia Rodrigo released her debut single "drivers license" on 8 January 2021. Her song broke numerous records including Spotify record for the most streamed song in a day (excluding holiday songs).
Similarly, it' was number 1 on U.S Billboard Hot 100 for 8 consecutive weeks. As of January 2022, the music video has over 341 million views on YouTube.
Olivia is currently signed to Geffen and Interscope Records, a record label owned by Universal Music Group. In an interview with The Guardian, Olivia says she's still to act HSMTMTS for two more years though she wants to focus on her music:
"I think it's really hard to split time between the two and there are very few artists who do that efficiently, because acting is based on being a good liar and presenting a version of yourself that's believable, and being a songwriter is the complete opposite. It's like, here are all of my deepest, darkest secrets and I want you to know me so personally."
Related article: Corset Halloween Costume Ideas: How do you wear a corset for Halloween?
What are Olivia Rodrigo's songs like?
Olivia's songs embody teenage angst, heartbreak, envy, and insecurities, and the sense that every single thing happening to them is the biggest thing ever.
She, of course, does not agree with the typical criticism of writers like her who write about love and heartbreak and boys. She says: "I'm a teenage girl, I write about stuff that I feel really intensely – and I feel heartbreak and longing really intensely – and I think that's authentic and natural. I don't really understand what people want me to write about; do you want me to write a song about income taxes? How am I going to write an emotional song about that?"
So it's no wonder her songs are so pain-soaked. Olivia's songs capture the whole teenage experience and are relatable to teens and adults alike who think back to their adolescent years in fond remembrance.
A Gen-Z queen of Y2K fashion, Olivia's style include her rocking platform boots, graphic tees, bright flowery dresses, and the likes. Olivia Rodrigo outfits are a perfect blend of punk-rock and cool-girl aesthetics. In other words, chic and aspirational.
Moreover, with Y2K fashion trends being what's in now, Olivia Rodrigo outfits are a perfect inspiration source in crafting an Insta-worthy look. Don't worry. I've done the backbreaking work of sifting through the internet and snooping through Olivia's Instagram to bring you edgy yet chic outfit ideas. Below are 10 fantastic Olivia Rodrigo outfits you can include in your stylebook in 2022.
10. Turquoise Butterfly Crop Top
 

View this post on Instagram

 
Olivia Rodrigo made a post on Instagram wearing this pretty sequined turquoise butterfly crop top which looks similar to one worn by Mariah Carey in 2000. As crop tops are clothes that I don't see going out of style, you can't go wrong rocking this look in 2022. Pair it with a dark blue mom Jean, a bucket hat, converse, and you're good to go.
9. Jumpsuit To Slay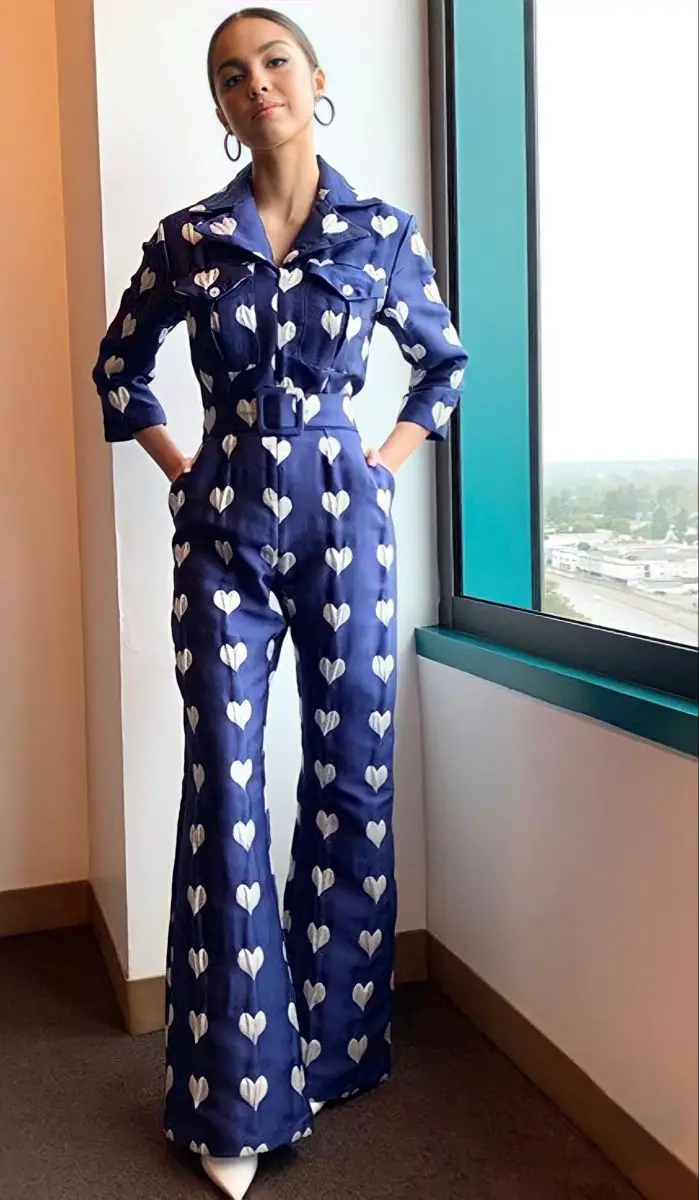 Olivia looks impressive and ready to take on the day in this beautiful blue jumpsuit covered in white hearts. She pairs it with white boots and medium-sized hooped earrings. The bell-bottoms of the pants add a 70s vibe to the relatively modern look.
She completes the outfit wearing minimal makeup and her hair done in a sleek low bun with a center parting. A perfect outfit for a work conference or interview.
8. Olivia Rodrigo Outfits To Saturday Night Live Rehearsals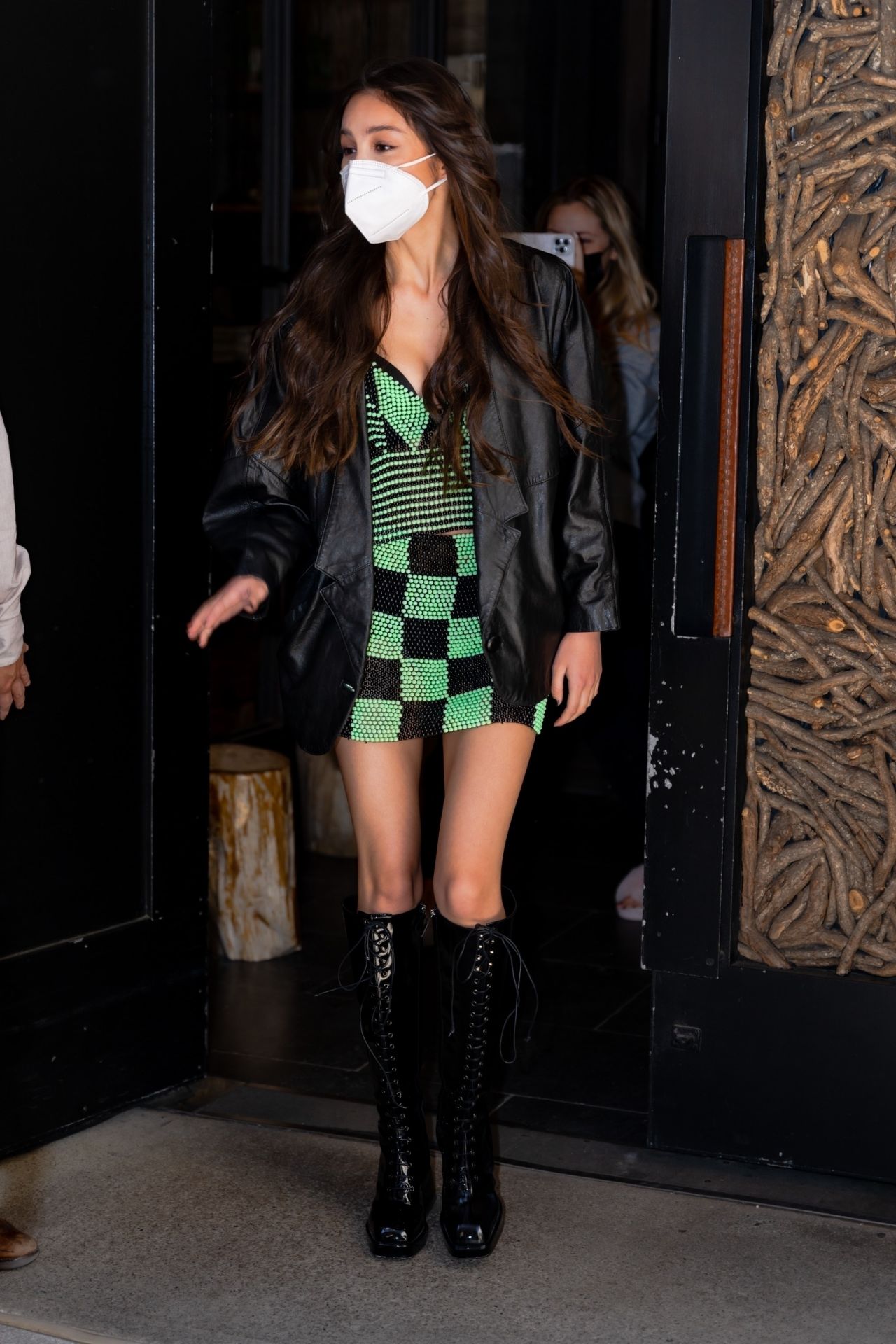 It's 90's meet 60's in this spectacular look. All you need is a green checkerboard mini skirt paired with thigh-high boots, which screams 60's, and an oversized leather jacket that is totally a 90's look.
Infuse your personality into this look by wearing clunky rings or a beret. In other words, you can definitely hop on the Y2K fashion trend with this Olivia Rodrigo outfits.
7. Olivia Rodrigo Outfits For When It's A Little Chilly
 

View this post on Instagram

 
Here Olivia is wearing H&M Loves Coachella crotched dress, a Raf Simons Intarsia Knit Slogan Jumper, and her ubiquitous Dr Martens boots. A perfect outfit for when there's a slight chill outside. Who says you can't be stylish when there's a slight chill. Add in a pair of black tights if your legs are cold and you're good to go.
6. The Classic Tee And Jeans
 

View this post on Instagram

 
Everyone has their classic look they fall back on, and Olivia is no exception. Olivia is seen numerous times in simple graphic tees and jeans, printed or not, a nod towards her love for 90's fashion.
For this look, Olivia is in a white tank top, and high-waist distressed mom jeans finished off with converse and an ensemble of rings and necklaces. You can rock this outfit this way or swap the tank top for an oversized tee for a more 90's vibe. Buy an affordable oversized tee here.
5. A Dinner Date Assemble
 

View this post on Instagram

 
A black dress is a staple look for a lovely night out; ramp up your style by adding pink leather platform strappy sandals, as seen in Rodrigo's photo up here. You can don a black shawl, dangling earrings, and several rings, so your look exudes elegance.
4. Pretty Pink Gown
 

View this post on Instagram

 
Serve some looks on your girls' night out with this outfit idea. Olivia shared pictures of this look from the 2021 MTV VMA after-party, and boy did she serve with this pink butterfly dress and glittery pink platform heels.
She completes the look with a silver crystal clutch bag and silver dangling earrings. This is definitely my favorite outfit. What's your favorite Olivia Rodrigo outfits? Let me know in the comments section.
3. Olivia Rodrigo Cheerleader Outfit
 

View this post on Instagram

 
People aren't talking about "Good 4 u" just for its heart-wrenching lyrics but the singer's outfits in its music video have people raving about it, but my favorite is this one above.
The talented singer-songwriter showing up in a cheer uniform with a gothic twist has everyone rushing to own a pair. Don't be surprised when Halloween rolls in and you see many people going as gothic cheerleaders; at least now you'll get the reference.
2. Olivia Rodrigo In A Blue Dress
 

View this post on Instagram

 
Olivia attended the 2021 American Music Awards in this stunning outfit. A blue shimmering see-through dress with frills at the end. She paired this look with lovely silver sandals. However, you can flatter this look some more by adding a black or brown faux fur coat.
1. The Bold And Daring Perfect Black Dress
 

View this post on Instagram

 
In this stunning outfit, Olivia attended the Academy Museum of Motion Pictures Opening Gala, wowing all who set eyes on her. She's wearing Saint Laurent's cut-out high-slit black maxi gown and Amber Patent leather sandals.
This combination is such a fantastic idea to try in 2022. With its plunging neckline and figure-fitting style, you're sure to be the belle of the ball wherever you go—if you're confident enough to rock this look, that is.
What do you think about this look? Killed it or too much? Are you daring enough to try this look?
Conclusion
Olivia Rodrigo outfits are so inspirational and diverse that women of all ages can find something lovely to incorporate into their looks. Her outfits are definitely worth keeping an eye out for. Certainly, given that Olivia served us look after look last year, I am sure this year will be chock-full of fabulous clothes and outfits from the brilliant singer-songwriter, till then you should definitely try out these outfit styles.
Have you tried any of the outfits out before? How did you feel? Did people treat you differently? Let me know in the comments section.
You may also like to read, Beach Dresses: 18 Cute Beach Outfits for Summer 2022.