The warmer temperate is here, and everyone is spotting one vibrant print or the other, so it is right to think of a summer nail color. Bright-colored nails have a way of bringing joy, but so is a deeper shade that appeals to you. You have an endless list of ideas to experiment with, from prints to monochrome and mismatch nail trends.
You can begin the season with a summer nail color that sets you high spirits for summer fun. Then, as summer ends, you can have deeper shades to help you transition to fall. Knowing where to channel your nail ideas doesn't help when you are in a salon with hundreds of vibrant colors.
We are giving you a rundown of the trendiest colors and nail arts you should already be rocking. So, read on to find out whether you got your summer calendar booked or like to keep your nails interesting even when you plan on just lounging.
Lime Green Summer Color
 

View this post on Instagram

 

Is it ever summer without some lime green? We think not, as they are always a popping choice. There is always room for some neon green in summer; if you haven't yet, it should be your next nail look. When you rock such color, a little wave easily garners the room's attention since it quickly catches the eye.
We love the bold nails like pairing lime green with neon pink for the ultimate blinding nail-in-your-face look. Sometimes it might not feel like the right color if you don't want to draw attention to your nails. Well, that doesn't stop you from using it to breathe life into other nail colors, such as white or nail design with lines or dots.
You could also play with some art or charms in lime green on a simple shape like a square; if you don't want to paint it, you are still on track. Lime green will also look great as a toenail color.
Summer pink
We have seen some significant Barbie-inspired pink looks lately, so trying a coordinated nail with the pink is only fair. You can choose to go with an entire bold pin; this shade of pink has enough sass to stand on its own.
We scoured and saw that the Adorably Clueless from Morgan Taylor summer 2022 nail lacquer fits this summer pink nail. You can use this color to a layer on equally bright shades to create something unique, or better use it to update a dark tone.
Chrome Summer Nail Color
 

View this post on Instagram

 
Chrome is one color you can hardly ever go wrong with. Like some people call it, the metallics are always a hit in summer. It is one of our favorites, as it can catch the sunlight. Whenever you step out with this color, your hands, it almost feels like you are rocking a different color.
While you might consider it a copper color, it has a subtle shine; you need to elevate the season without the need for glitter. The best part of this color is that it pairs well with other colors if you plan on trying out designs, even for creating lines.
Lavender Summer Nail Color
 

View this post on Instagram

 
At the beginning of the year, it was evident after fashion week rounds that purple was a trendy color for 2022. And we have embraced it ever since; now that summer is here, it is only suitable to tilt towards lavender shades that remind us of the flower minus the scent.
It feels like summer wearing lavender nail polish, with its rich hue. Instead of painting a boring design, try something new like a galaxy nail with a black base with lavender and a shimmering color to make it pop. You can also try the swirls mixed with silver which will always be a glamourous approach.
Yellow in Sunset Summer Nail Color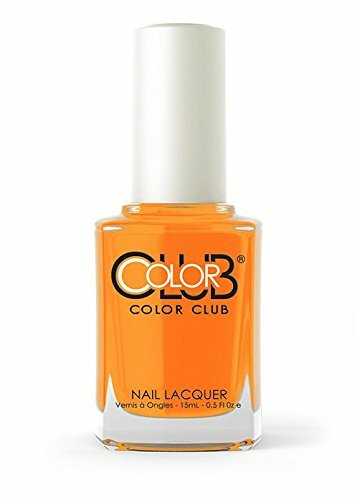 Yellow is an obvious choice for summer; don't skip it as you haven't met its sunset shade. There are several things you could do with a yellow nail polish, especially one like this that has a tint of orange. This color could easily be your best feature for all your summer nail designs.
Imagine how cool a smiley face art nail design will look with this yellow shade, a true summer dream. Check out Color Club in Poptastic Neons Nail Polish, Yellow, Psychedelic Scene for this look.
Shimmering Nail Polish
Nowadays, we have gone past layering heavy glitter to elevate nails, not since we discovered reflective nail polish. Guess the reflective shade that is popular this summer? You're right if you guessed pink, but we are going with rose pink.
It is the ultimate shimmer bomb, right on your finger without having to do too much. Painting your entire fingers with it is like carrying the party with you everywhere, as you almost feel like your nails can light up a room.
If the shimmer is too much to handle, you can swipe a little of it as a design insert for your nail art. So, you get to enjoy some reflective goodness subtly.
Read our latest articles:
–Galaxy nails ideas and how to do it yourself
–10 nail design ideas to give your nails that extra glam
–10 short squared nails designs to try during your next nail appointment
Grey Summer Nail Color
 

View this post on Instagram

 
No matter the season, you might still stick to the neutrals or dark tones, which is alright. However, you could lighten it with grey-toned nail polish instead of going full-on dark mode. This way, you can enjoy a dark nail shade without looking drab.
It is summer, so you got to lighten it up a bit, so avoid painting your entire finger in grey nail polish; a great to feature them is with French tips. You could try adding them to a mismatched design as the dark shade to curate a unique nail look.
Grey tone will also look great with a negative space nail design with an almond shape, and you could throw in some chrome to lighten it up.
Pink Punch- Deep Pink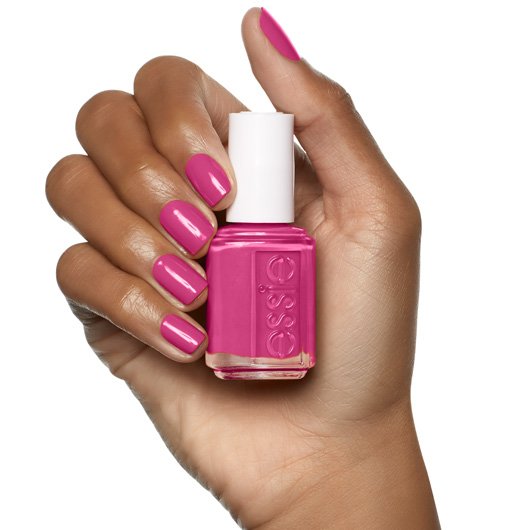 The bright pastel pinks are here to stay, and so are the deeper shades. It gives you the brightness of pink but in a subtle tone if you don't like the overly bright pinks. You could go with fuchsia shades; they look great on different nail designs.
To help you visualize the color, think of succulent dragon fruit on your fingers and the other things you could do with the color. Even if you have a formal event planned in your calendar, there is always room for some deep pink delight. We recommend using gel polish to give you a glossy finish.
Orange Summer Nail Color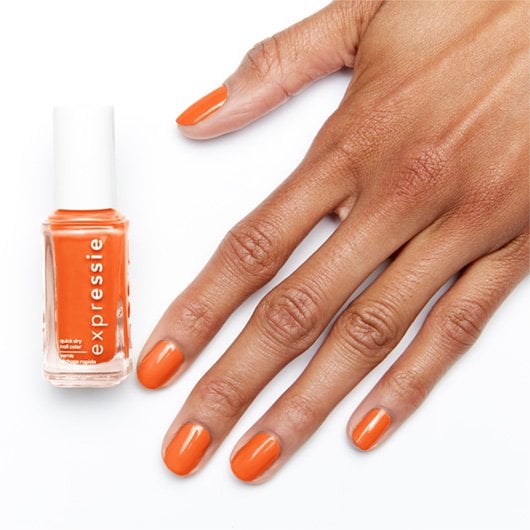 Nothing screams vacation-ready like an orange nail in summer. It is attention-grabbing that will compliment all your bikinis. Even when lounging in your beach dresses, this is the color you want to wear while sipping something sweet.
It has a rich hue that is warm yet subtle enough to flatter your skin. We recommend trying on Essie Expressie Bearer of Rad News Orange, and it is a quick dry formula you can rely on.
Bright White Summer Nail Color
 

View this post on Instagram

 
You might not usually think of white as a summer color, but it fits right into the bright season theme. White is one of the neutrals that flatters any skin tone, and you can use it for several nail designs. It might not be the obvious choice for full nail paint, but it could work if you don't mind the pale finish.
It is best to feature it in French tips from the V to inverse kinds or as lines to enhance nail art.
Rainbow Glitter
If the twenties trend hasn't made it to your socials yet, then you haven't been looking at the right trends. And nothing screams summer like glitter, and there is no better way to wear glitter than with the Rainbow Speckles Lacquer from JINsoon.
It gives you all the colors you could ask for in one swipe, which presents you with various summer nail ideas. You make it your go-to layering choice or your full-blown glitter chic nails all summer long. This rainbow glitter is one of the best shimmering options to experiment with, even after summer.
Deep Red Summer Nail Color
If you fancy a color that is not so bright but still has an excellent hue for summer, then consider the deeper reds. It is also a perfect transitional color for fall, so it is safe to wear all summer. Asides from being a go-to chic color, it makes your fingers look elegant.
So when you clink glasses at the party, waving or taking a picture, it effortlessly gains attention. The perfect shade for this look is No. 17 from Sundays, a vegan and safe nail polish with a great texture to last for days.
Violet Summer Nail Color
 

View this post on Instagram

 
When we said purple was the year's color, we weren't kidding; yet another shade has made to this summer list, this time in violet. You would feel like the sun is making you bloom with its energy with the color shade on your finger.
It would be best if you tried making it into a flower so you catch on to the vibe of the nails. We promise you that JINsoon Blossom Violet will not disappoint you.
Cool Blue Summer Nail Color
With cool blue shades, you get the clear blue skies of summer on your nails. They are light enough to get you pumped for summer and cool to wear even to the office.
So, if you don't want your nails taking the front row this summer, then the cool blue shades should be on your mind. The cool blue color tagged It's a Boy from OPI fits into this shade.
Fiery Red Summer Nail Color
Red is a vibrant shade that should be on your summer nail color list. It is like carrying the warmth of the season right on your fingers. Red is a classic that elevates not just your nail but also your mood. You could do so many things with the red color, but it is always best to wear it on its own.
That's because fiery red glows with neon colors without excess brightness. It pairs well with neutrals like black, glitter, white and nude. The Dior Vernis Red Smile gel polish is a great shade that brings in the vibe. As the name suggests, looking at the nails could put a smile on your face with how electrified you will feel.
Sage Green Summer Nail Color
This isn't one of the likely colors you would expect to find on the summer list, but here you have it. When you have a lot of the neons, take it down a notch with a cool shade like this that packs power. We recommend Thyme Is Money from Sally Hansen from her Insta-Dri nail color. It is one of the safest yet stylish pastel colors you will love to wear. The color almost feels like it can calm you down with its zen vibe.
Metallic Summer Nail Color
 

View this post on Instagram

 
Here is a metallic color that proves that it is not quite a chrome; if you've been following, this color is for summer. The season calls for glowing nails, and this color fits the bill; with a few swipes, you will be ready to take on the day.
It is the color you want to wear on days when you plan on wearing casual clothes; you just let your nails do all the talking. It even pairs well with marble nails design as layering for darker shades, so don't be shy to experiment with it. We are sure this color won't disappoint you whenever you call on it.
Aquamarine Summer Nail Color
You cannot love the beach and not fall in love with this nail color. Wearing the color is like having a view of sea water right on your fingers. You wouldn't have to force your summer spirits to ignite. The beautiful color does all that for you with its bright hue.
With the High Fashion Shade for Auda, you are always beach-ready in your heart. B. It is a vegan nail polish with excellent pigment.
Also, read our latest articles: 
–5 Best Wig Hairstyles For Summer +The Coolest Styling Tips
–17 Best Deodorant For Sensitive Skin Of 2022
–Bump In Ear: What Is It And How To Get Rid Of Bump In Ear