If you're like all the stylish women who take their manicure seriously, creative nail art is the new rave, and black nails design caught our attention today. Something edgy, bold, daring, neutral, yet striking, these words describe well-manicured black nails. They fit into any season, and even though they are dark-themed, it still manages to look beautiful on everyone.
You must only find the right design that suits you, and we have it covered. With the several ways to style black nails, nail art is much more than filling some polish. You can do anything on your nails since black pairs well with other colors and inserts.
Black nails are forever trendy, and if you haven't decided yet, here are 17 ideas that will convince you.
1. Solid black gel nails
 

View this post on Instagram

 
You don't always have to add designs and other colors to your black nails. Paint in solid black nail polish is a classic and striking way to wear this look. The gel leaves a shiny finish, which has a subtle sparkle. You can leave the nails long or short, which will have the same effect. Which most likely does not require any nail fillers since your natural nails will work. Another great thing about gel polish is that it doesn't chip easily, and you get to enjoy long-lasting perfect nails.
2. Black and white nails
 

View this post on Instagram

 
White nail polish has become one of the most accessible inserts on black nails designs. Your creativity directs the resulting look your nail gets. You can go for clean half and half black and white lines or try white stripes on a black color base. If you feel like taking it up a notch, you can opt for a simple yet powerful nail art such as the YingYang design. Going playful with white can also look great with styles such as cow prints and dots.
3. Sparkling black nails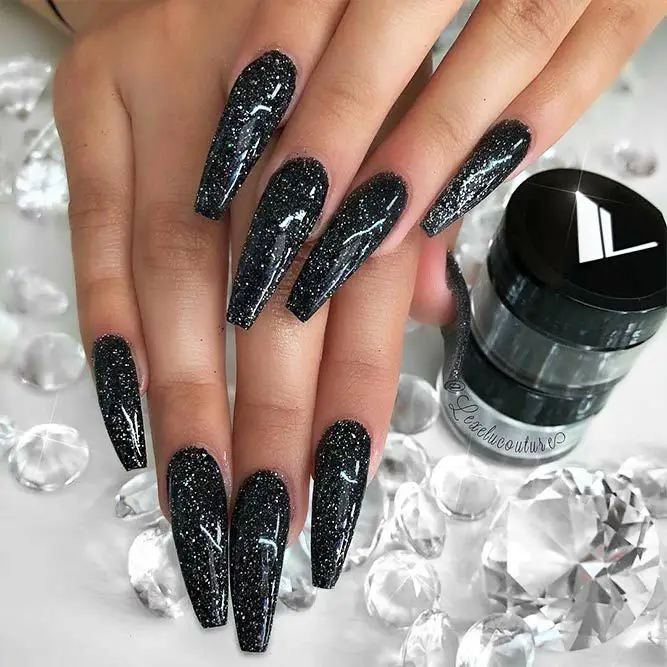 Adding sparkling inserts proves a black nail doesn't always have to be all black. Suppose you wonder how to achieve a sparkling look with black nail polish. The answer is simple, throw in some silver glitter polish. You would have to use some technique to achieve a perfect sparkle if you're doing it yourself. After painting on black nail polish, you can always get sliver glitters and draw abstract lines on top of it. Most unique designs are born out of such free-hand painting. A professional nail artist can use several styles to achieve this look, from stripes to glitter tips to overlay the black base coat. You can use these ideas to direct your next nail appointment.
4. Red and black nails
 

View this post on Instagram

 
If you have been following recent trends, then by now, you know that red and black are the new rave. From hair to clothing and other aesthetics, everyone seems to be eating up the bright and dark color play. Swiping them on your nails is easy to get in on the trend, but you must do it right to achieve a bold look. The simple way to get beautiful black and red nails look is painting either as the base color or the other on the tips. Going for an ombre color transition is another excellent idea that you will love. Be careful so the red does not run into the black and creates an oxblood or a darker red shade.
5. Rhinestones on black nails
 

View this post on Instagram

 
You haven't had a full glammed manicure, with adding some rhinestones. Nothing says I am invested in my nails like a well-curated bedazzled nail. And for your black nails, rhinestones inserts might be what they are missing to take the design to another level. You can go with silver stones to give a nice contrast of colors that deliver stunning results. Trying one-colored stones will also look good; be sure their positioning flatters your nails for lovely color play. And then, there is the option of going with black rhinestones for the ultimate edgy yet stunning look.
6. Abstract black nails
There are many creative designs you can swipe on your nails. The small canvas can house abstract designs, featuring lines and swirls satisfying. You can also get face shapes and other decals added to your black nails. They appear stunning, with neat lines, and on the dark base still, draw attention. Keep the nails long, so the manicurist has more space to work with, or stick to simple designs with short lengths. White nail polish often gets used for such painting jobs, but other pastel shades like yellow, lilac, and baby pink will also look flawless. You will love to flaunt such nails to any event you have planned.
7. Black coffin nails
 

View this post on Instagram

 
Coffin-shaped nails are a mood on their own, and they look cute long or short. Many designs look great on them, and painting on some black polish can become one if you opt for these gorgeous nails by prepping your nails coffin shape adding a gel or acrylic polish to finish it off. You can also shop for pre-coffin-shaped press-on nails to attach and get your nails done in no time. It is simple but has an edgy vibe since the color and nail shape pair well.
8. Black print nails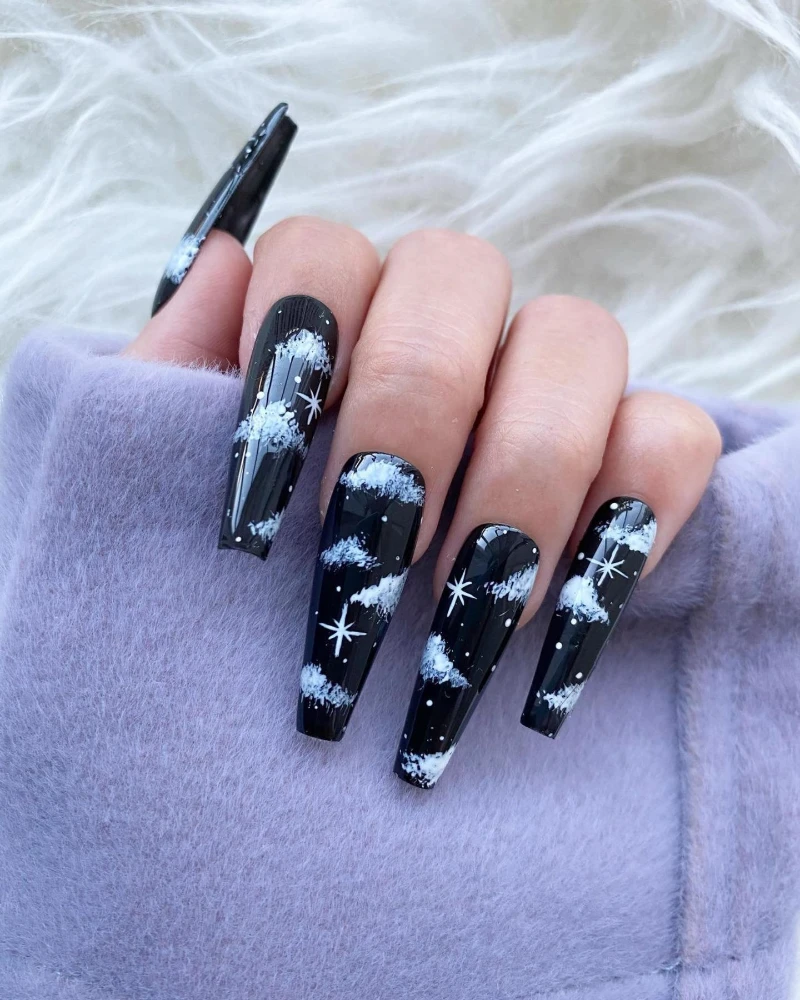 Many adorable and fun prints look great with black nails, and they are always on-trend. There are countless print designs you can add to your black nails that will instantly bring them to life. Try some flaming tips with vibrant yellow and red features or black flames. You can also go with flower, or butterfly prints, to add a feminine touch to the black base. They often leave stunning results, even when the patterns get made in black. You can ask your nail artist to paint on the design hands-free—better use nail stickers to achieve prints quickly.
9. Matte black nails
 

View this post on Instagram

 
Just as a matte finish looks good on the skin, it does on nails. While you're out fishing for your next shine-free look, you should tilt towards black matte nails. First off, you need to decide the shape of your nails, from claws to stiletto, square, and coffin nails will all work for this look. You can also choose your regular length or try something shorter. If you require some texture on the nails, try adding some glossy tips after painting.
10. Black nail with gold
 

View this post on Instagram

 
Get the proper light and dark contrast with gold or glitter on a black base polish. Trust us, and the nail design is one attractive option for every mood. Here are a few ideas to make a gold nail polish work for you. You can add them to the tips to channel some golden French nail inspirations. Another great way to rock this nail design is with gold glitter painted on an angled side of the nails. You get beautiful black nails that get you in a cheerful mood.
11. Black artistic, cute nails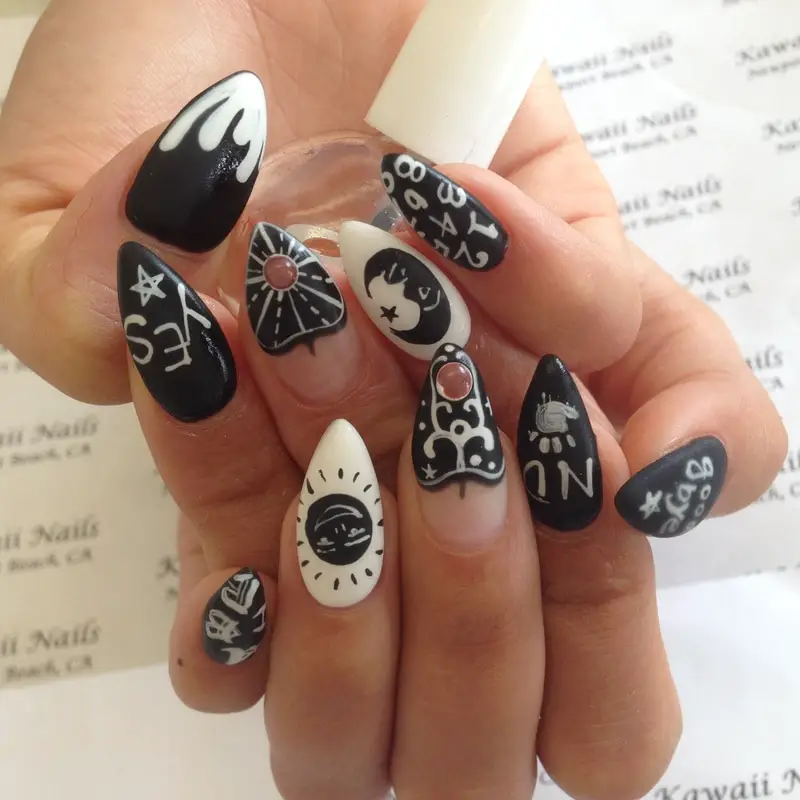 Create a unique, fun nails design with black nail polish. Instead of doing the random cute items, go with a theme to direct the mix. Going with animals like cats or butterflies on your nails will look beautiful. You can also choose a spooky theme, such as ghost outline, eyes, or other scary pieces. There is no limit to what you can add to a black base coat, from cross to moon and charge sign, and smiley faces. Suppose you can manage to paint them yourself freehand, then great. Most nail artists use the simple method since the designs are available on decals and nail stickers.
12. Black ombré nails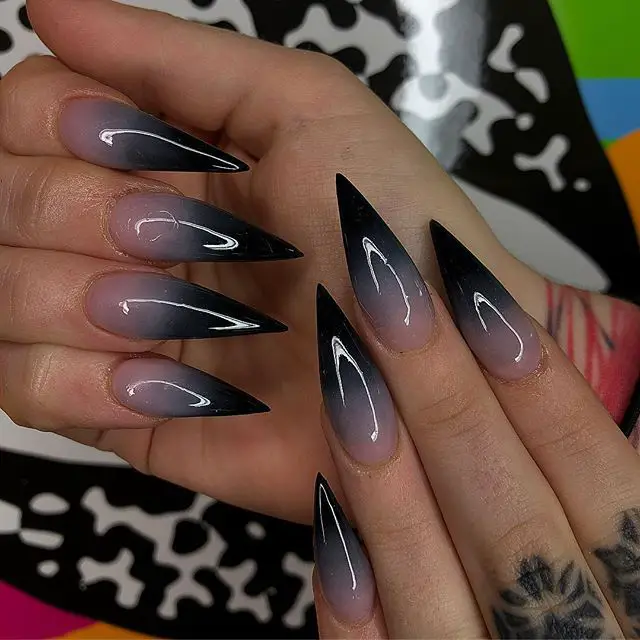 Try an ombre black nail design if you need something trendy and timeless. You can choose a similar dark shade or pair it with neon colorways for a nice contrast. Ombre nails show a lot of artistic skill from a nail artist, but you too can achieve a flawless ombre look with some practice. The colors blend seamlessly, so going from grey to black can be the perfect goth-inspired design. While swiping a nude to black color transition can be your next striking new nail. Whichever color you choose, they will look great with this ombre nails design because black is a neutral shade. If the look is not pooping enough, you can always add gold accents, stones, and a little glitter.
13. Black galaxy nails
 

View this post on Instagram

 
Galaxy nails can be your next cute nail design, and from its name, the Milky Way comes to mind. You can replicate the galaxy and constellation with the nails, and the black color is the best base for best results. Adding stars and zodiac signs will also look great with these nails. If you wish to achieve simple flawless galaxy nails, use the doting or colored sprinkle technique. Done correctly, it is powerful and meaningful nail art, with a hint of astrology.
Related article: Galaxy nails ideas and how to do it yourself.
14. Black acrylic almond nails
 

View this post on Instagram

 
Almond-shaped nails have become a chic option for women who love a rounded-shaped with a fine tip. Since it is not so pointy, they get used to achieving many nail tips designs. Painting on some black acrylic polish will sit beautifully well on them. Even if you have an event planned, going for a complete black polish is excellent. If you plan on keeping things elegant, or love to stick to the classic, then try the French tip design. Use a sheer pink or neutral base coat with an edgy black acrylic tip to keep things interesting.
15. Embossed black nails
 

View this post on Instagram

 
Also known as sweater nails, knitted patterns often get pressed into this nail trend. You can use this embossing technique to add any textured designs on nails. The details look great with black nail polish, choose a suited pattern and watch it come to life. It is a great way to get the subtle effect 3D inserts give. You don't necessarily need to emboss the pattern on all the fingers if you're for these nails. Throw in some clear polish, or even color or glitter accent on other fingers. It will give beautiful nails all the same.
16. Black marble nails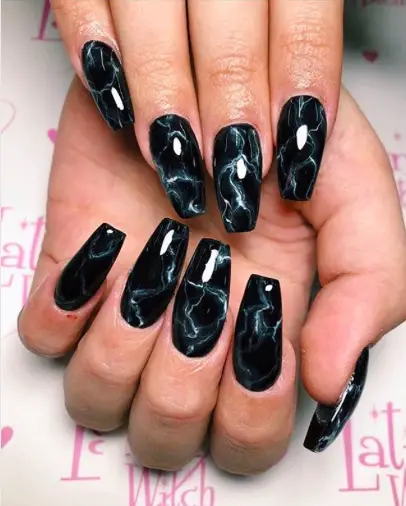 Marble nails are the next trendy design you must try for their unique combo. Every time you attempt to do a marble design, a new pattern can get created. Since you are using black base color, you will need another bright color to achieve the marble look. The most common pairing might be white, but you can always use any other one or more other colors you love. Both marble nails and the water marble version are easy to recreate if you have steady hands.
17. Black nails with colorful art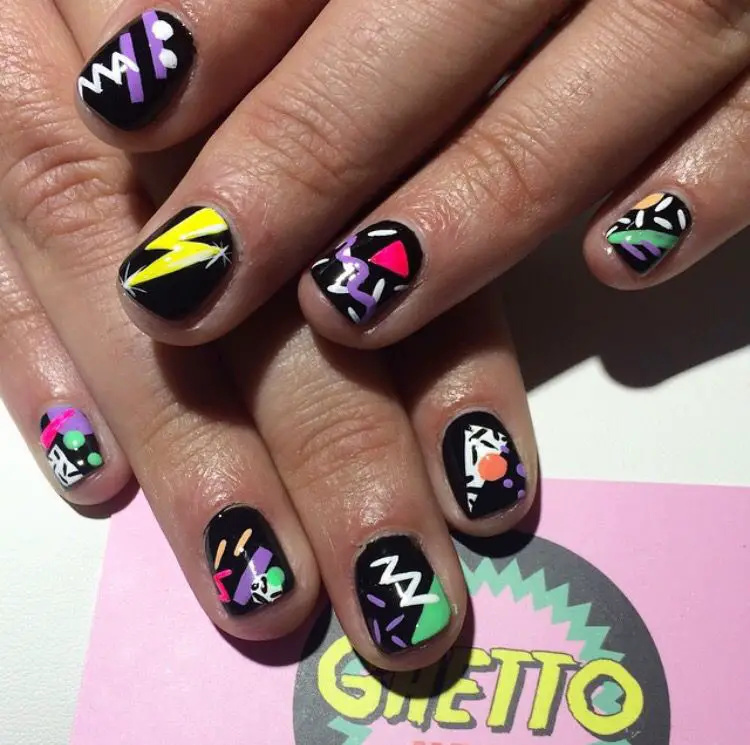 If you do not fancy dark nail tones, add a pop of color to the design. Paint on a mix-match of brightly colored patterns. It could be cartoon-inspired, abstract fun shapes, and items that can lift your spirits whenever you look at your fingers. Black is an excellent base color that allows the bright shade to come to life. Do not over the patterns, so it doesn't appear tacky.
Conclusion
Now that you've wandered through this selection of black nails, we hope you found the design to make a statement. You would think that black is a dull color shade, but you can design them to catch attention or still appear subtle with nails. Black nail polish can direct several sophisticated and rich nails ideas when next you visit a nail salon.
They are dark enough to act as a neutral base and pair well with other colors. Yet black can be a striking and edgy look all by itself. Which one of these looks will you be trying out first? Keep the designs and rotation, and black nails might be your favorite new color.
You may also like to read, 17 Luxury Coffin French Tips Nail Designs.