I spend a great deal of time watching TV shows, so it is only fair to pick up a few fashion inspirations from them. Today I am highlighting Issa Rae, the lead actor and co-creator from HBO's hit show Insecure. It portrays the life of Issa Dee as she juggles love, friendship, and career while living in LA.
Issa has been famous for laid-back outfits right from season one, consisting mainly of jeans, T-shirts, vintage pieces, and bold prints. Her fashion has been evolving since then, with the different costume designers she worked with leading up to its final season.
The episode finale of the series drops the day after Christmas, 26 December 2021, and while we are bound to see more of Issa Rae on our screens, this is a perfect time to copy some of her casual outfits for the festive season. I present fifteen style moments by Issa to guide you in nailing casual and stylish looks this Christmas.
1. Denim on denim outfit
Denim never goes out of style, but Issa goes with a long silhouette iteration. The jacket is paired with the same shade of denim trousers, a camisole. A matching red sneaker with the logo on the jacket complements the outfit.
Related article: Best top 10 modest outfits from Louella by Ibtihaj Muhammad.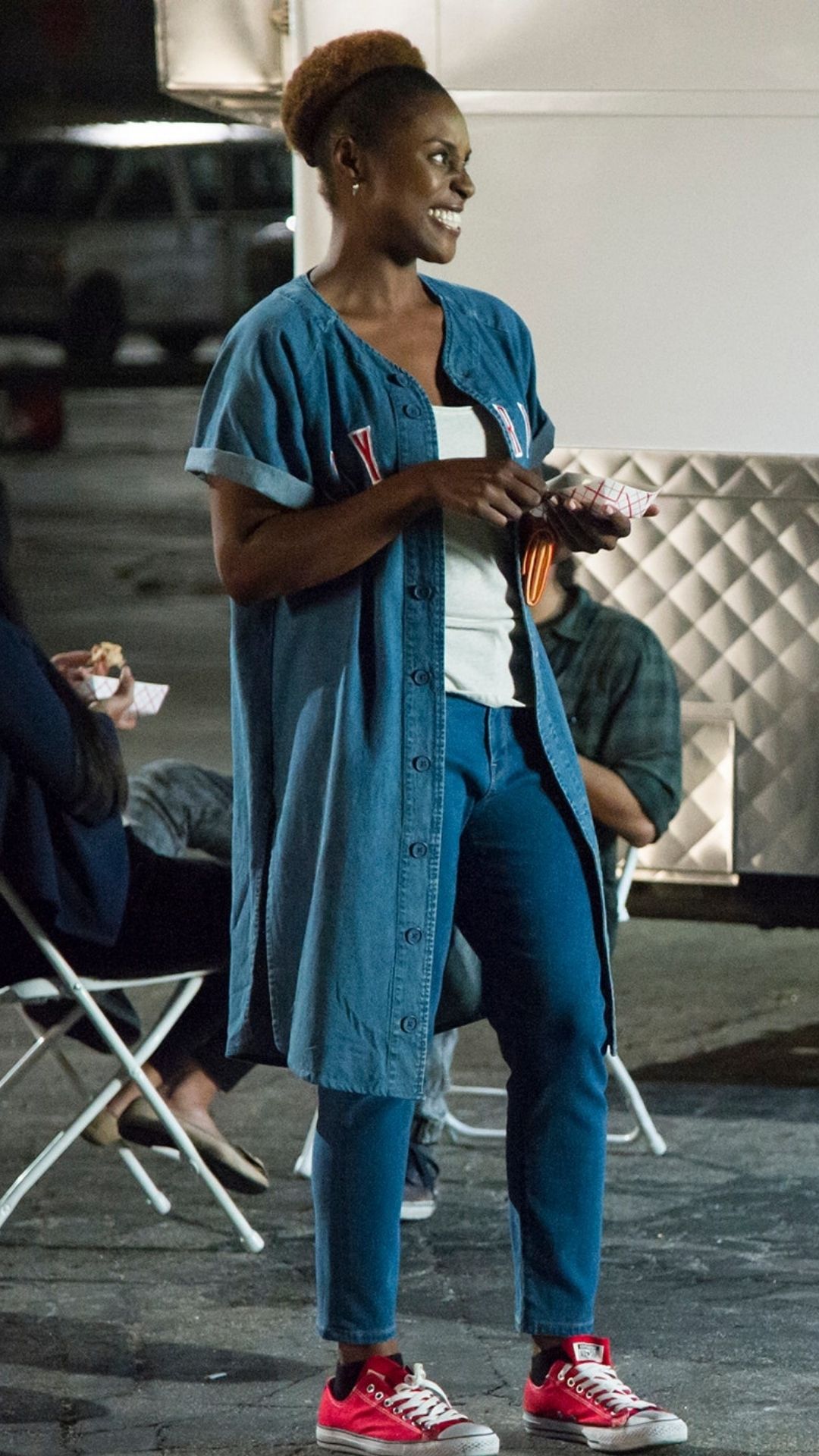 2. Khaki Adidas tracksuit
There wasn't much surprise when Issa wore the originals X Danielle deconstructed track top and pants by Adidas, which have been spotted on the Kardashian sisters because she is that stylish. The set features a cropped sporty jacket, and wide-leg pants, in a beige and brown colorway, layered with a camisole and sneakers to style.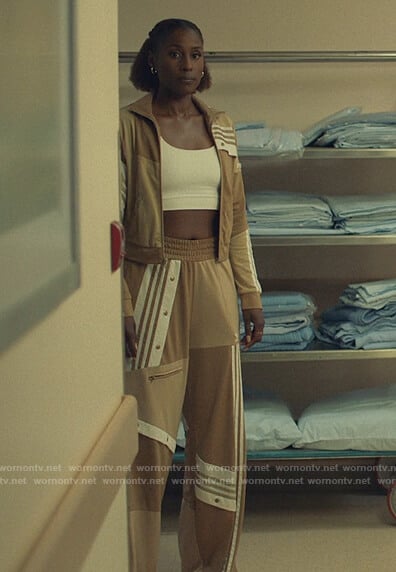 3. Puffed sleeved top
There is no better time to dress up in top dramatic sleeves than Christmas. This neutral tone high neckline with gathered puffed sleeves top Issa wore in season two is a great inspiration.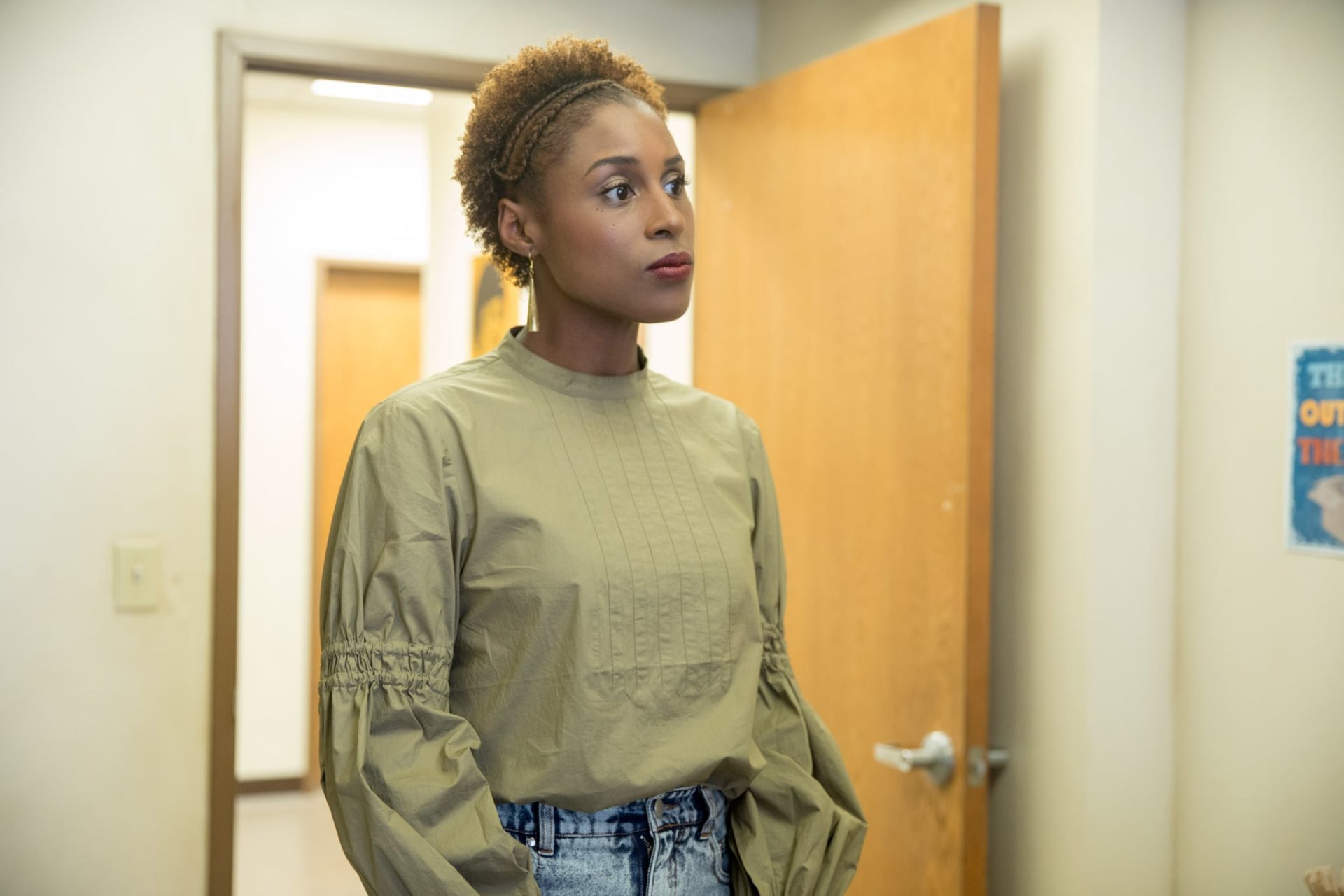 4. Print blazer outfit
Dress up with cheer this season, by adding a bold jacket to the mix. Recreate this cool look, with a simple white t-shirt, tucked in acid wash jeans, and throw over a long-line print blazer. Finish off with a pair of white sneakers.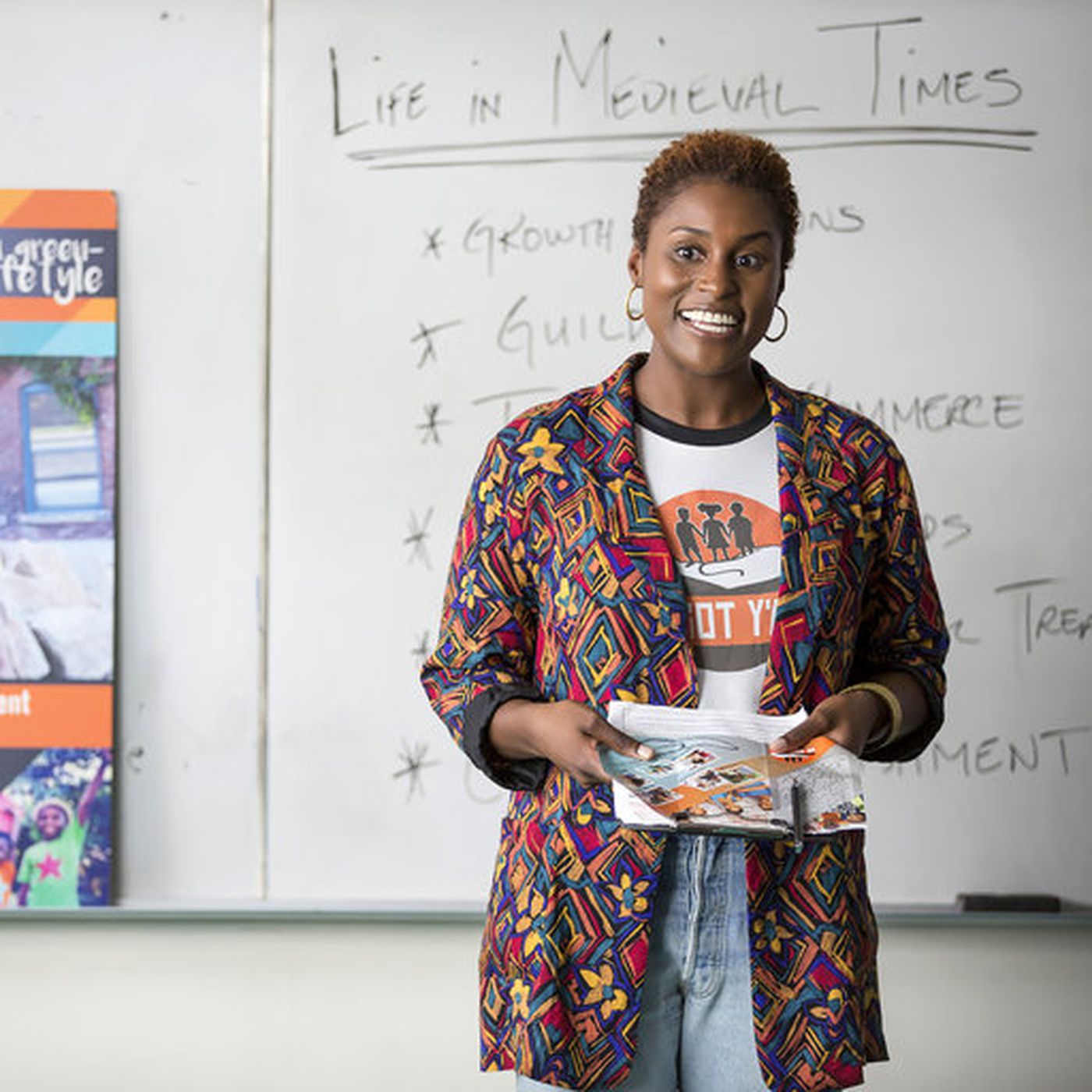 5. Animal print sweatshirt
If you love to wear prints, then you will love this colorful animal print sweatshirt. The stylish piece features a blue leopard print in front, with green details, and purple zebra print sleeves. Wear with plain color sweat pants or dress pants.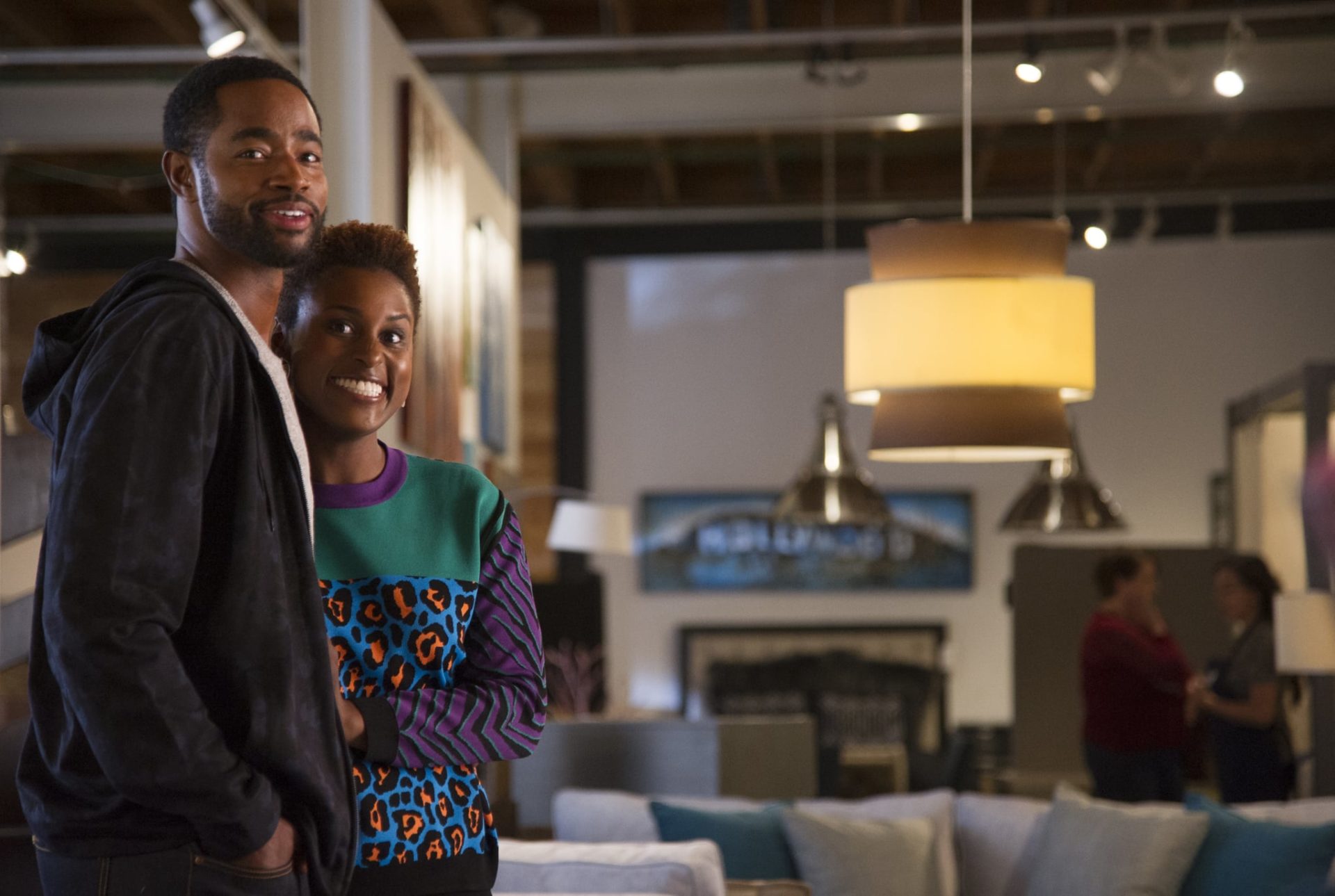 6. Sweaterdress
A sweater dress should already be in your wardrobe this winter. Take a cue from Issa Rae, and wear a neutral tone ribbed sweater dress, with a colorway sporty jacket.
7. Orange suede skirt outfit
Here, I am all about wearing clothes for different seasons all year round. This orange suede mini skirt is a great choice to wear even for winter because the fabric is thick enough. Style with a long-sleeved top, just like Issa sporting this checkered turtle neck top. Throw on a long-line silhouette jacket over it for more warmth, and complete with a knee-high boot.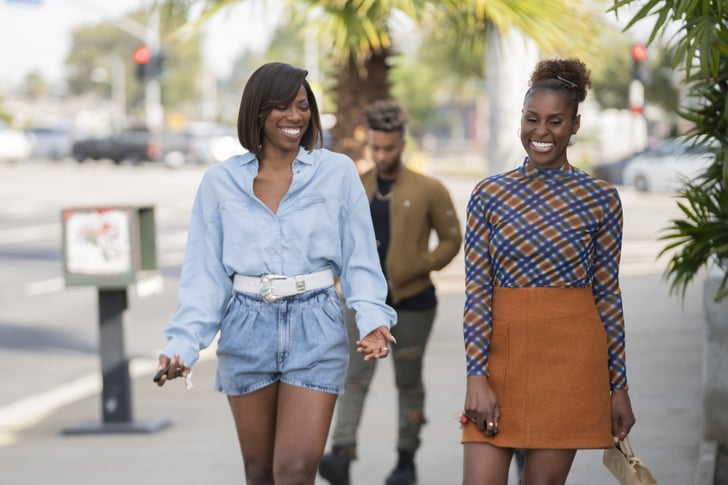 8. Trench coat outfit
Trench coats are a versatile styling piece of clothing everyone should own. On Insecure, Issa Dee chose to wear a green-colored coat while strapping a brown bag over her shoulders.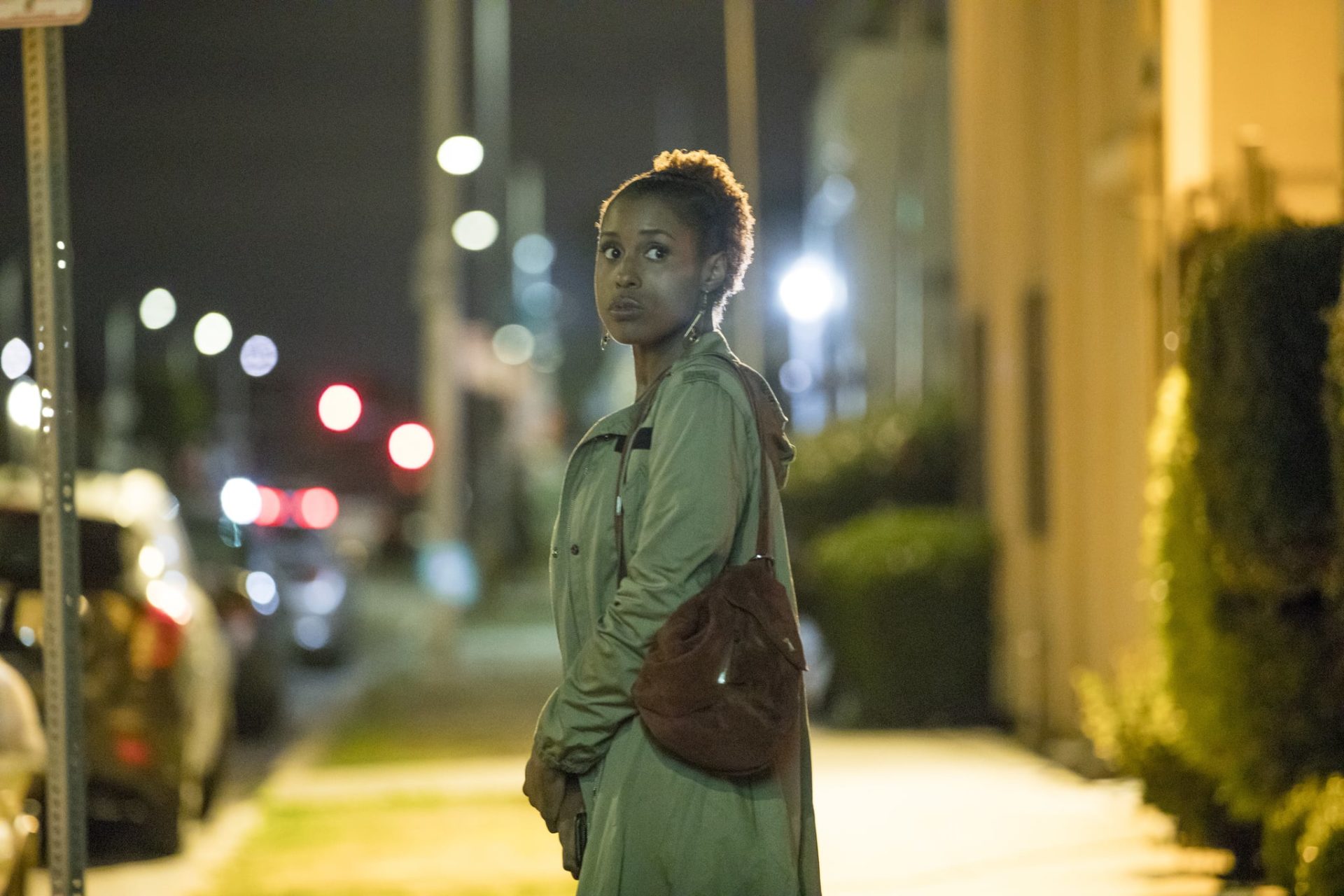 9. Asymmetrical dress
If you have a party in mind, then this Baroque dress worn by Issa Rae in the recent episode of her widely popular series is all you need. The two-toned dress can be layered with fur coats for a glamorous look. Strappy heeled sandals or mules should be the footwear of choice.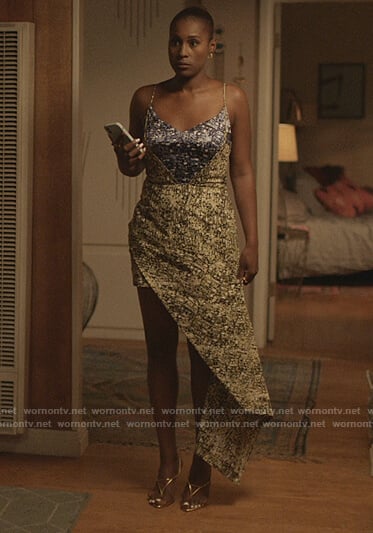 10. Bomber jacket outfit
Bomber-styled jackets have been having a style moment all year long. This patterned black and gold quilted version, says it all. Style with a turtle neck top like Rae or any top of choice, that will layer well with the jacket.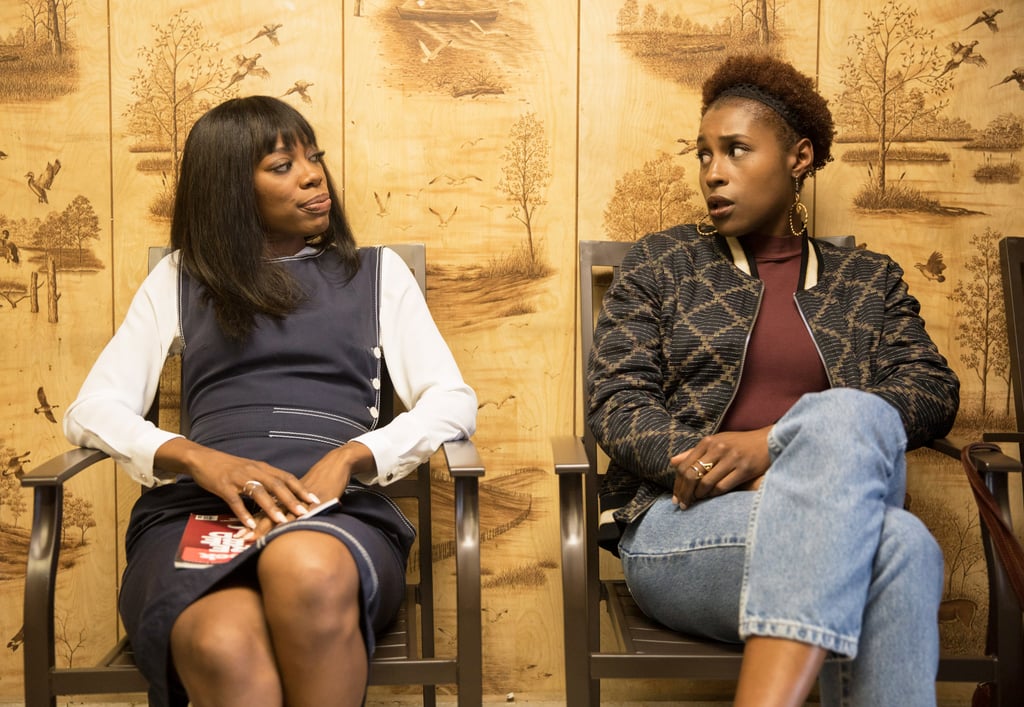 11. Ombre green plaid outfit
Issa Rae showed us that plaid outfits could be very cool with this ombre long-sleeve button-down shirt and matching pants set. Effortlessly wear this look all season long.
12. Bold red sweatshirt
In the spirit of Christmas, you can rock this bold red sweatshirt. Style with jeans for a laid-back setting, or dress pants for a smart-casual work look.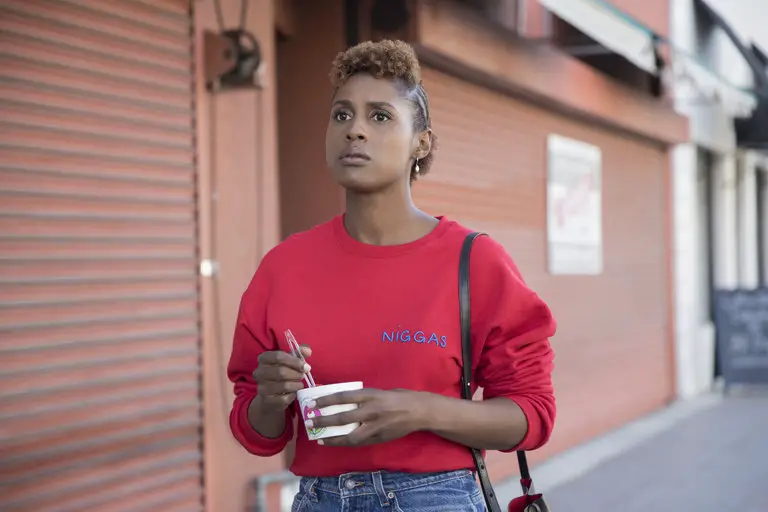 13. Black turtle neck top
A black turtle neck top staple piece of clothing that can go with any bottom of choice. From prints to skirts and trousers of varying length and designs. Accessories and footwear can be used to elevate the top to fit different occasions.
14. Matching set outfit
I cannot complete this list, without mentioning the vibrant leather orange set. It featured an oversized blazer and matching mini-skirt which Dee paired the outfit with a cream camisole and a matching heel. You can also style with straight-leg pants. Wear this to a holiday party you have lined up, and you will be the focus of the party.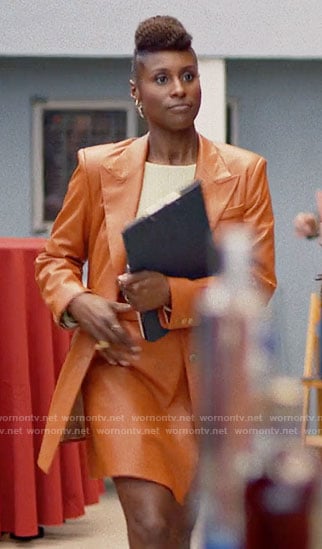 15. Constitutional printed teal blazer
Dress up in a subtle seasonal green color in this teal blazer. You can style with the matching Miliana turtle neck sweater top and miniskirt for formal events. You can wear it with jeans for laid-back outings like brunch.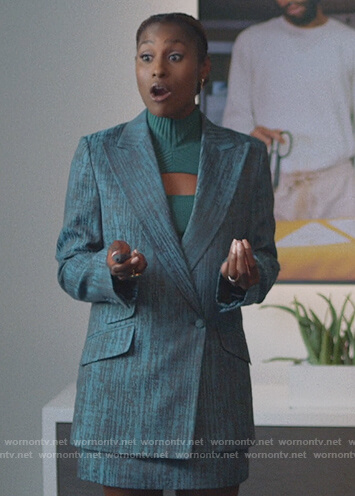 You may also like to read my latest piece, Laverne Cox Best 10 Red Carpet Dresses You Should Copy for Christmas.