Chicken matzo ball soup is a hearty meal that is a star of Jewish holidays, hence the name Jewish Penicillin. When you sip on the rich broth, it warms the tummy and your senses. It is an easy soup to make with matzo balls that add texture to the soup.
Many people still shy away from it despite being simple to make because it requires a two-day prep time. The taste of the soup depends on how well you plan for it. After completing the soup, you can do some fluffy matzo balls.
The best part is that you don't have to make the balls from scratch, and we have the right mix. Not to worry, it will be fine if you follow the instructions. You can also make it ahead of time, so you only have to reheat it to enjoy the fresh taste whenever you want.
Ingredients for Chicken Matzo Ball Soup
Three turnips-Peel and cut into 4
Six large carrots-peel off the outer layer and chop roughly
4 pounds of whole chicken
Five celery stalks that still have green-Chop roughly
One-quarter tablespoon of celery seed
Two bay leaves
Three yellow onions of medium size-cut into 4
1 or 2 tablespoons of chicken bouillon powder- you can try the Osen Chicken Style Consommé Instant Soup &seasoning mix.
Fresh parsley sprigs
Salt-preferably kosher salt
For garnish- one-quarter cup of chopped fresh parsley
Four carrots-cut into 1-inch on the diagonal
Ingredients for Matzo Balls
One box of Matzo ball mix, preferably Streit's-it, should contain two bags of the matzo mix.
Four large eggs
Half cup of vegetable oil
A Step-by-Step Guide on How to Make Chicken Matzo Ball Soup
Step 1: Prep your chicken
Wash your chicken thoroughly and place it into a large pot. The recommended pot size should be able to hold 12 quarts of water.
Step 2: Prep your vegetables
Cut the vegetables, including the onions, into large chunks and rinse for dirt before adding them to the chicken's pot. Add water until the pan is almost complete, set on low heat, and allow to boil for 20 minutes. At this point, you will start noticing foam on the water's surface.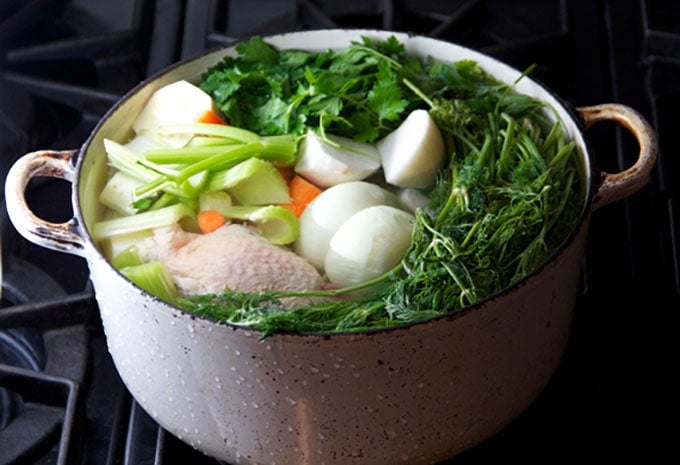 Step 3: Allow simmering
Add bay leaves, celery seed, salt, white pepper, and parsley sprigs. Keep the mixture simmering for 3 to 4 hours; you need reduced heat with the lid covered. When you want some chicken elements in the soup, take the chicken out for an hour and a half to remove the flesh. Here, you separate the bone from the meat, add it back into the soup and continue boiling until you reach the three- and half-hour mark.
Read related articles: 
–Unique Charcuterie Board Ideas: How to make the perfect charcuterie board
–2022 Best 15 Alcoholic Sweet Fruity Drinks For Women + Recipes
–2021 Top 10 Most Searched Foods On Google That I May Try In 2022
Step 4: Cool the soup
With the soup still in the pot, allow it cool and place it in the fridge overnight. The following day, get a small spoon to skim as much fat as would have gathered on the surface. Next, you need to take out your chicken before straining it. To do this, you will need a filter, which you can place into a smaller pot. The vegetable remnants will probably be too soft and inedible, so it is best to throw them away.
Step 5: Sieve the soup
The first filtering is insufficient, as you must do double sieving to get the smaller particles. For this, get a fine sieve, the type you would typically use for your flour, and strain through the sieve. It should leave the resulting broth looking clear with a golden color.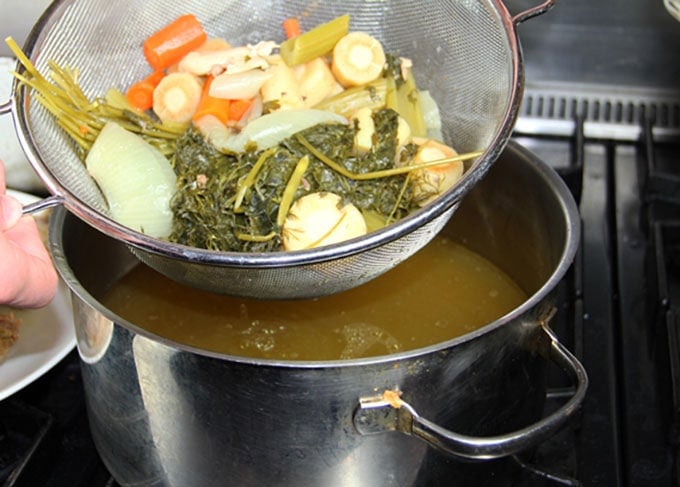 Step 5: Season the soup
The broth is your soup but is not ready to be eaten without some seasoning, depending on your taste and quantity of the soup. It would be best to keep the broth refrigerated until you are ready to serve.
Step 6: Make the matzo balls
The matzo balls come with direction on how to make it, but to ensure it is more precise, we will go over how to make great matzo balls. Get a bowl and mix the egg with oil and stir until it has combined. Make your hand wet, so it is easy to cut and mold the balls. Add the matzo ball mix to the egg mixture, stir together and allow to rest for 15 minutes. Cut into small sizes, and form the balls without compacting, so they can float easily.
Step 7: Cook the matzo balls
Get a small pot, fill half full of water and allow it to boil before dropping your matzo balls in. Cover the pot and allow to simmer for 30 minutes before taking it out. Cooking the matzo balls on their own is best, as you don't want to cook them with your soup. When you boil the matzo balls in the soup, it soaks up the soup and changes its color.
Step 8: Season the soup
Now that your matzo balls are ready, you can serve the soup, but before you do, you need to season the soup. Set on low heat, and allow to simmer before adding salt to taste, pepper, and powder bouillon. Ensure you add enough to the seasoning; otherwise, the soup will not taste so good. So, instead of going with measurement, adding it in bits is best until it hits the right spot.
Step 9: Add final touches
While the broth is still simmering, drop the matzo balls and some roughly chopped carrots in big sizes. Allow to boil for a few minutes; when it's ready, it should float to the surface, and the carrot should be tender.
Step 10: Garnish
Serve into bowls with a spoon, and add some fresh parsley to garnish. If you cannot find parsley, get some dill, it should serve the same purpose. Your chicken matzo ball soup is ready to be eaten.
How to Make Sinker Matzo Balls?
If you don't like the floating matzo balls, you can still enjoy soft yet with a great texture. Here is a recipe to make another variant of matzo balls.
Ingredients
You'll need a three-quarters cup of matzo meal, one-quarter tablespoon of onion powder, salt, garlic powder, and optional white pepper. One tablespoon of fresh dill minced, and two large eggs to combine the mixture. You will also need two and a half tablespoons of melted schmaltz. You can use either 4 quarts of salted water or soup broth for the cooking.
Instructions to make Sinker Matzo Balls
Get a medium-sized bowl and add the matzo meal, garlic powder, pepper, and salt. You are technically mixing all the dry ingredients. Get a smaller bowl, combine the wet ingredients, eggs, and schmaltz, and whisk with a fork.
Make a hole in the middle of the bowl with the dry ingredients and pour in the egg mixture to combine. Be careful, so you don't overmix the matzo. Allow resting for 45 minutes in the refrigerator before you cook. It is OK to cook your matzo balls in boiling salted water if you are cooking in large quantities because cooking in the broth soaks it up.
However, cooking the matzo balls in chicken broth is best as it gives them a rich and pleasant flavor. So, if you have enough soup or canned chicken broth, place it in a pot and allow it to boil, into a bubbling simmer, before adding your matzo balls. Cut even sizes of the mixture and mold it into balls without overworking it.
After adding your balls to the liquid, cover the pot and allow it to cook for 30 minutes to ensure it is thoroughly cooked. At this point, the matzo balls should have sunk to the bottom of the pot instead of floating like the other version.
Take the balls and set them aside. When ready to serve, place two or three matzo balls on a plate and ladle the soup. If you cook the balls in broth, you can efficiently serve the meal, but when you boil the matzo balls in water, you will have to reheat the soup separately.
How Long Can Chicken Matzo Ball Soup Last?
Your chicken matzo balls can last for up to 3 months. The best way to refrigerate it is to keep it separately and save the soup in a bowl and the matzo balls in a Ziploc or airtight container. When you are to eat, take both out, and allow them to defrost thoroughly before reheating.
Place the soup in a pan over medium heat on the stove, and allow to simmer. When the soup is hot, add the matzo balls and leave for a few more minutes to ensure the balls are thoroughly heated.
Conclusion
It is difficult to mess up chicken ball matzo soup, requiring little attention except when you have to remove scum. The recipe is not set in stone; you can always play around and experiment with your favorite spices. You can choose to add thyme to the broth, nutmeg to the matzo balls, or even garlic to the entire dish. So, long as it tastes good, the dish is a hit.
Also, read our latest articles: 
–Best Instant Pot Mongolian Beef-Easy 30 Minutes Recipe
-Is instant oatmeal good for you?
–10 Best Organic Pest Control For Your Garden And Their Benefits