A new set of nails leaves a pleasant feeling and a boost of confidence when the fingers are in the line of sight. An elaborate design is not required every time. That said, enter the natural yet chic manicure squared short nails. They usually feature a simple design, but that doesn't mean you can't get as creative as you want.  
The downsized iterations are a nice change so you can assume full use of your fingers. Whatever nail polish you decide to use, these designs below prove short nails can still be stylish. Check out 10 picks you'll be showing the nail artist on your next appointment.    
1. Foil squared nails 
Foils are a great way to add glitter to your nails, the chunky shiny pieces are all the bling you'll need. Make your squared number stands out by choosing a pastel base nail polish. This will complement the glittery effect of the foil and leave a balanced result. You can rock this design all year round. 
 

View this post on Instagram

 
2. Prints feature squares
There are several print designs one can add to the nails. Animal prints are so in fashion, be it the shiny stars or the abstract prints. Either way, prints will add a nice element to your short squared nails since they are bold and will stand out.   
You can opt for painting just one or two fingers in prints with plain matching colors for the rest fingers, this gives you a  nice trendy nail design.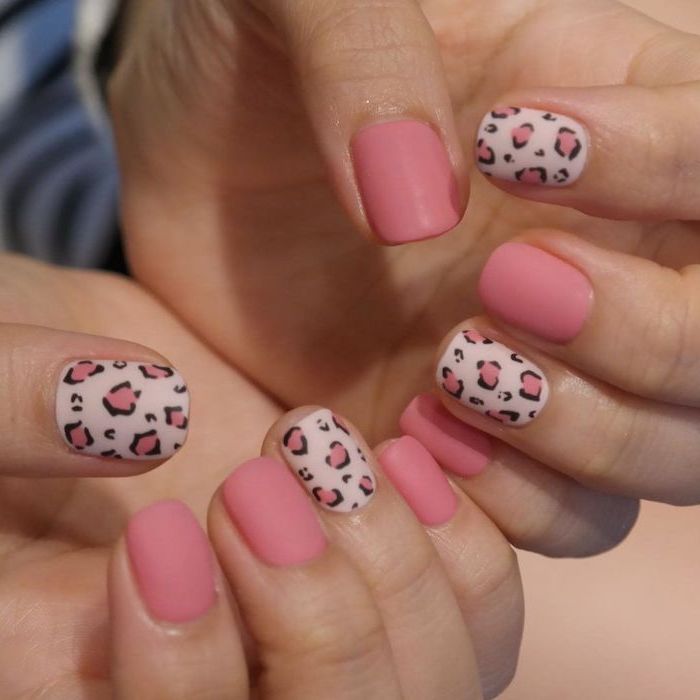 3. Geometric squared short nails
The geometric design is a modern take on the square-shaped nail. You can request lines that can be delicately drawn into shapes, or left as simple lines. It's is classy, minimal and a design anyone can try. Try a matte finish polish, and some metallic features to add the lines. It will give an attention-grabbing yet simple design.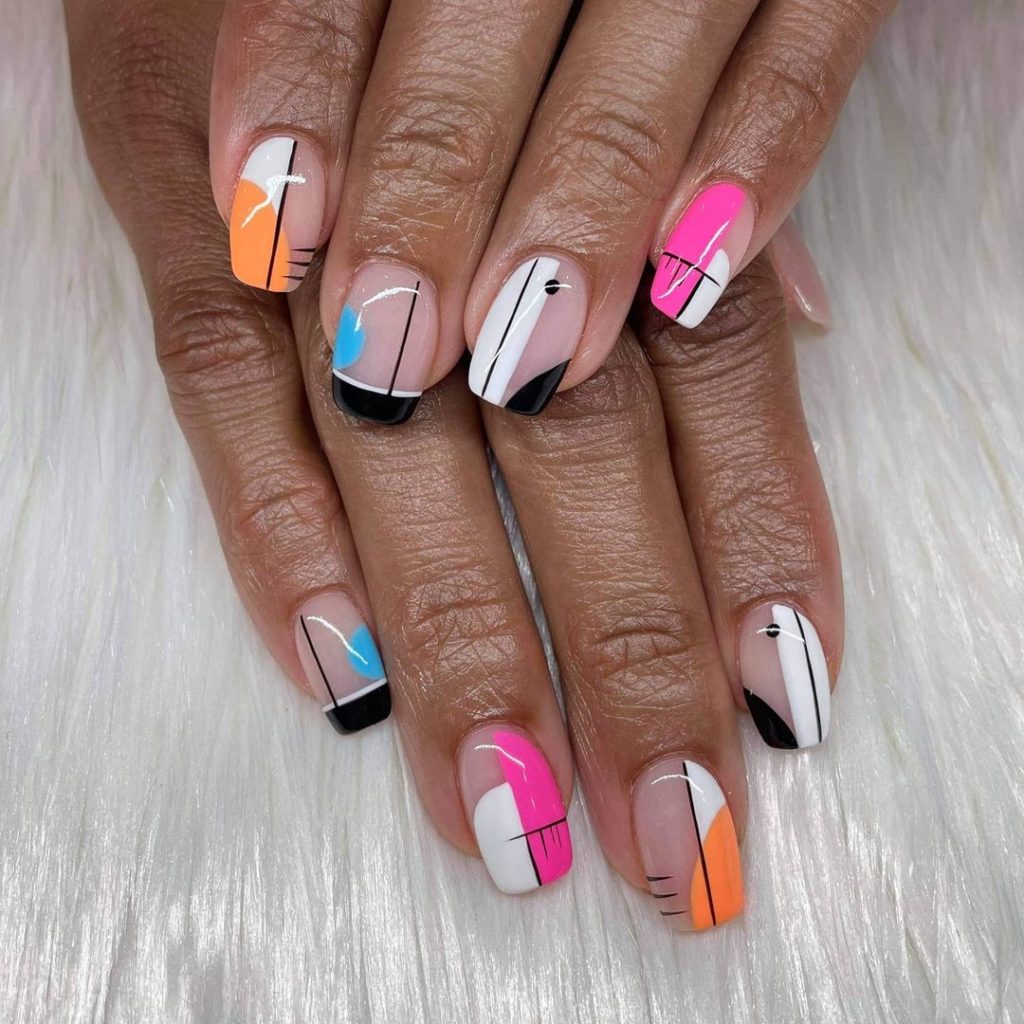 4. Squared marble nails
Get on the marble nails trend with a short squared design. The gorgeous marble swirls look chic in this shorter nail variant. Choose any color of nail polish as the base and match the swirl patterns with another shade. There are many ways to recreate marbles, but these squared nails are just eye-catching.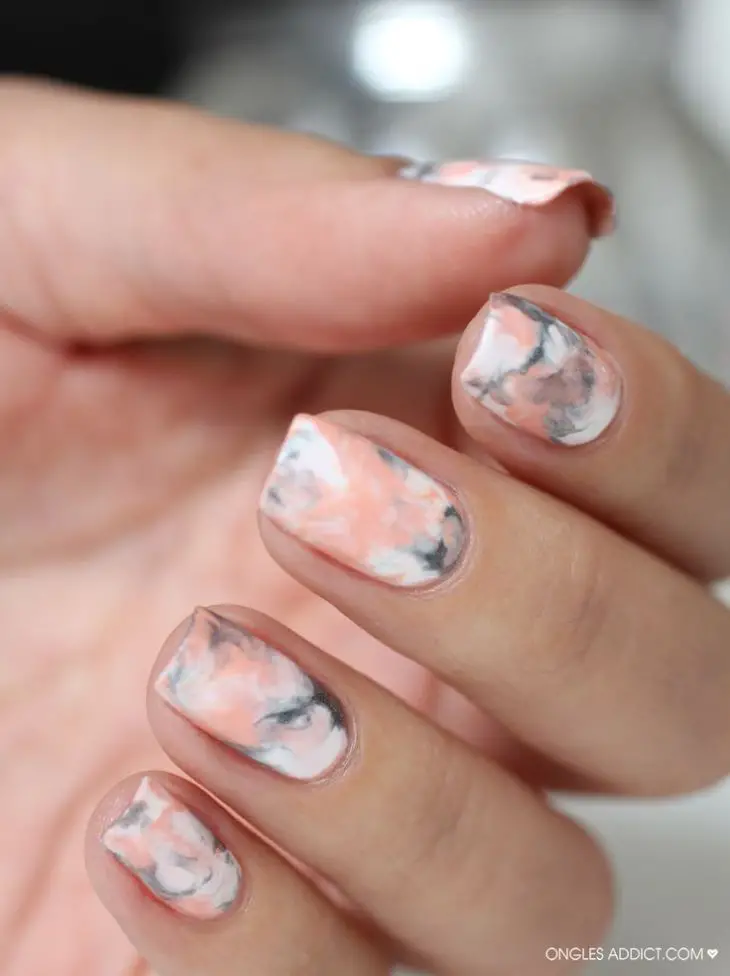 5. Square tips 
Highlights on the nail tips have always been a safe choice, and for square shaped nails, the tips are well defined. This makes painting in a different color on the tips beautiful. Most people prefer the neutral shades with a white tip as the highlighter. You can always go for brighter colors with a bright tip as well. The result is attention grabbing yet subtle.   
 

View this post on Instagram

 
6. Two-toned designed squared short
Transition into different colors on one nail with this elevated nail design. You can start with a brighter shade then end with a lighter shade or you can do it in reverse with the light color coming first. The resulting nails are the ombré effect you see on hairstyles. This is a unique and beautiful design you should request for when next you book your next mani session.  
 

View this post on Instagram

 
7. Color variations 
Square nails are great for trying the color variation design. You paint one color on each finger — we suggest starting with a darker shade on the pinky finger, and then going for a lighter color as you go towards the thumb.
This gives a variety of colors to your design and a sense of uniqueness to each nail. However, you can paint random colors on each nail, so you end up with a mixed match and a pop of color on every nail.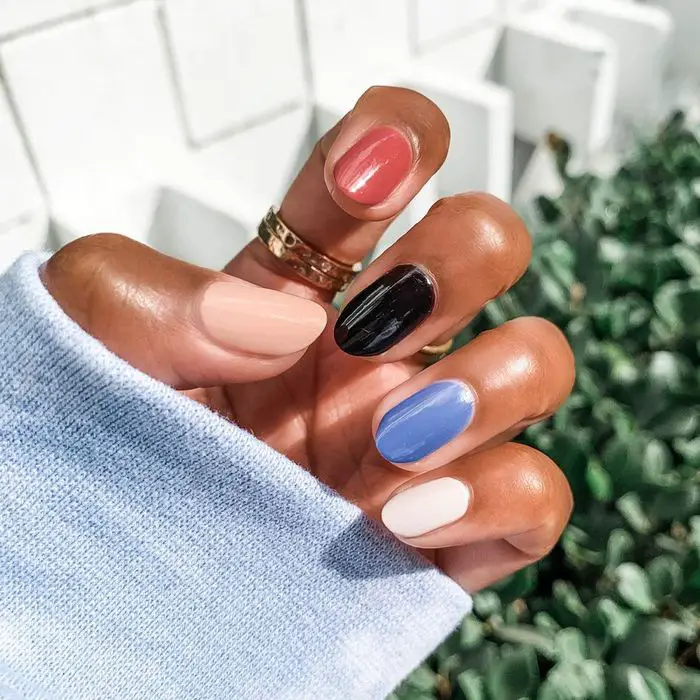 8. Sticker squared nails
Sticker nails are an easy way to add a myriad of patterns to your nails. The manicurist just needs to prep your natural nails, align the sticker and then paint it on. Simple and chic is the word, as you'll be flaunting your stylish nails wherever you go. It is a fun opportunity to change nail your art at different times with little effort.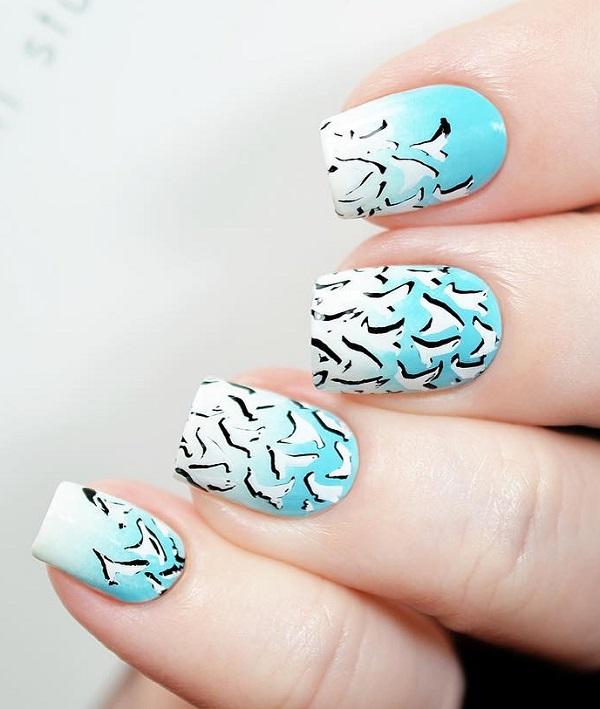 9. Floral design squared short nail
Floral designs are a timeless classic, as there are tons of flowers to add a delicate touch to your nails. A great choice is going with flowers of the season as the theme of your nails. This way you do not get a beautiful nail design but also have a go-to design for every season. Look trendy yet simple with this gorgeous flower patterned nail design.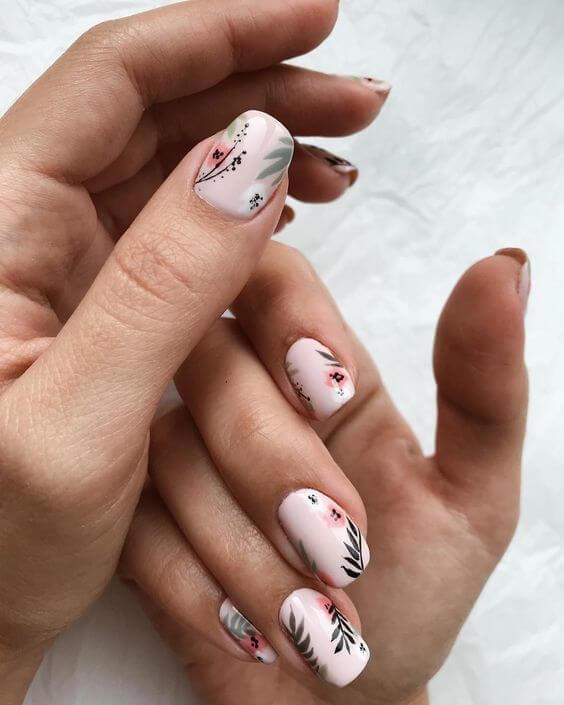 10. Metallic squares 
Try an updated nail polish such as the metallics, they come in all colors and leave a glassy yet shiny finish. Such polishes are used to create designs on other nail designs since they sparkle. This doesn't mean you can't paint all your fingers with metallic polish because they look cute. They are a subtle take on glitters since they have the same shiny effect.  
Squared short nails are more practical for daily activities, and the different designs you can achieve with them make the cropped length worth it. For nails, choosing a unique combo never goes wrong but we hope you are inspired by the designs we have shown you. Now, your next nail choice shouldn't be that hard to decide.