Red lip makeup looks are a classic that exudes elegance, but many women shy away from the vibrant look. If you fall under the category that avoids red lipsticks, think again, as this post proves you can incorporate red lips into different makeup looks.
You might be wondering if you can make red lipstick work for your skin tone. If you manage to find the right red shade for you, it is easy to rock the vibrant lip shade. Rather than tone down the lipstick, it is best to allow it to be the star of the show. Nothing stops you from pairing red lipstick with an equally vibrant eye look if you can coordinate the look. 
However, you can stick with rules and pair your red makeup looks with a subtle eye combo. It will give a stunning effect with a properly contoured and highlighted face. I always love to talk about makeup, as it has the power to transform one with the stroke of a brush. Please stick with me as I explore ten red lip makeup looks to update your game.
How to Wear Red Lipstick the Right Way
Have you ever wondered how your faves spot perfect pouty lips? Well, you are not alone; it is all in the application. The vibrant shade makes blemishes and redness stand out, so if you wear red lipstick ordinarily, it might not blend into your face. There is also a matter of shades from bright to dark reds to consider when you choose to wear it. 
Even when you feel like a person is spotting a red pout with a fresh face, chances are they have a light coverage of concealer on. The best way to wear red lipstick is with a prepped look with foundation or concealer. Sure, a red lip might be the first thing a person notices about you when you choose to wear it, and you can even face it all the better. 
You also need to watch out for other things to layer on your face when going with red lips. It becomes too much with too many different colors going on. Red lips are a bold look that you need to find a balance to get flawless results. 
Pro Tip: To get the perfect shape of your lip, I try to conceal the sides of your mouth when I have the time. For everyday, quick makeup looks, I don't usually have to patience to curate my lip as much. So, I do the cupid bow trick, where I take a little bit of concealer on my fingers and apply it only to the cupid bow area of my lips.
I tap on the spot in a dabbing motion until it becomes wholly blended in before applying lipstick. At this point, I am done unless the day calls for an impressive pout, then I take out my gold-hued highlighter and apply with a fan brush over my cupid bow. You can also invest in a red lip liner to sculpt your lips before applying the lipstick. 
10 Red Lips Makeup Looks to try
1. Smoky Eyeshadow Red Lip Combo
It doesn't get better than a smoky eyeshadow looks with red lips if you need to make a statement. After setting your face, you will need to apply an eyeshadow primer before using your smoky colors. You can use dark shades like black, silver, and other cool shades and smear some paint on your outer lids. It will blend well with your bright red lip.
Recommended product: Maybelline Red for me Lipstick $5.39 on Amazon.
2. Bronze Shadow Look
The bronze color is always on-trend, and it pairs well with red. I bet you didn't know. The metallic shade pairs seamlessly with red lipsticks, ensuring you layer the eyeshadow over your eyes with proper coverage. You give the shadows more depth with a black liner if you love your eyes looking a bit smoky. The contrast of the bronze eyes and your highlighted t-zone is an irresistible combo you must try.
Recommended products: e.l.f Liquid Gel Metallic Eyeshadow $6.00 on Amazon and Red by Bobbi Brown $16.22 on Amazon.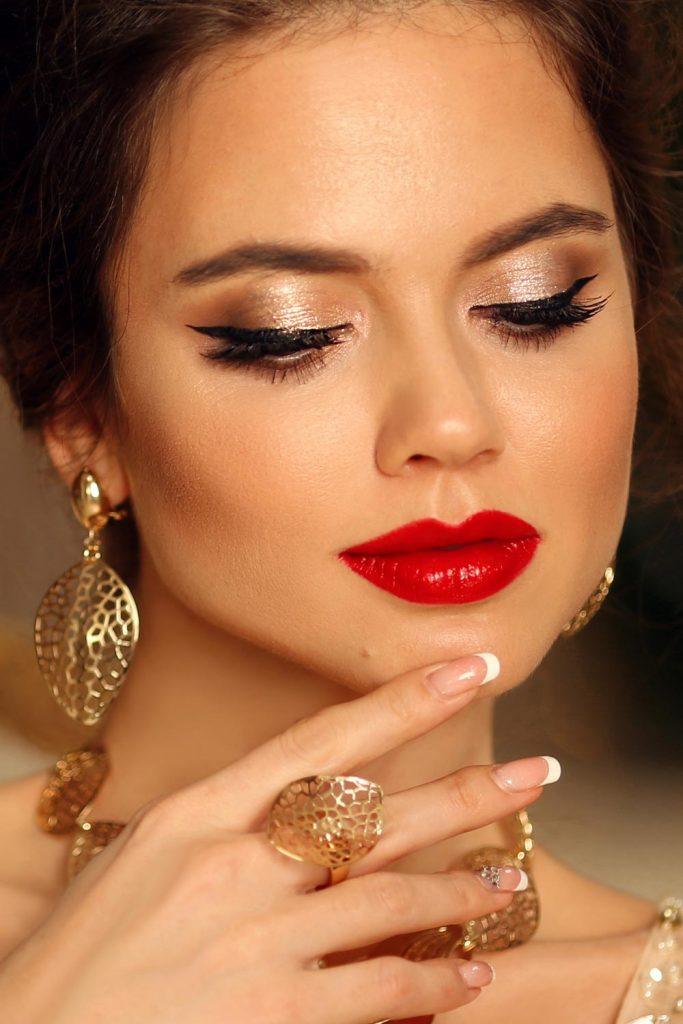 3. Cat-eye + Red Lip Makeup Look
Elevate your regular cat eye makeup with red lips. Lately, it's like everyone is obsessed with bushy brows and cat-eye. Some people like to skip the contouring and go with foundation and loose powder. While it is fantastic to keep it simple, I want to wear red lipstick to keep things interesting. The cat-eye is a classic look you quickly get away with, even on days when you are running late.
If you need pointers on nailing a perfect eyeliner look, read more about it here. Recommended products: Wet n Wild Mega Last High-Shine Brick Red Fire-Fighting $1.98 on Amazon and L'Oreal Paris Makeup Infallible Flash Cat Eye Waterproof Liquid Eyeliner.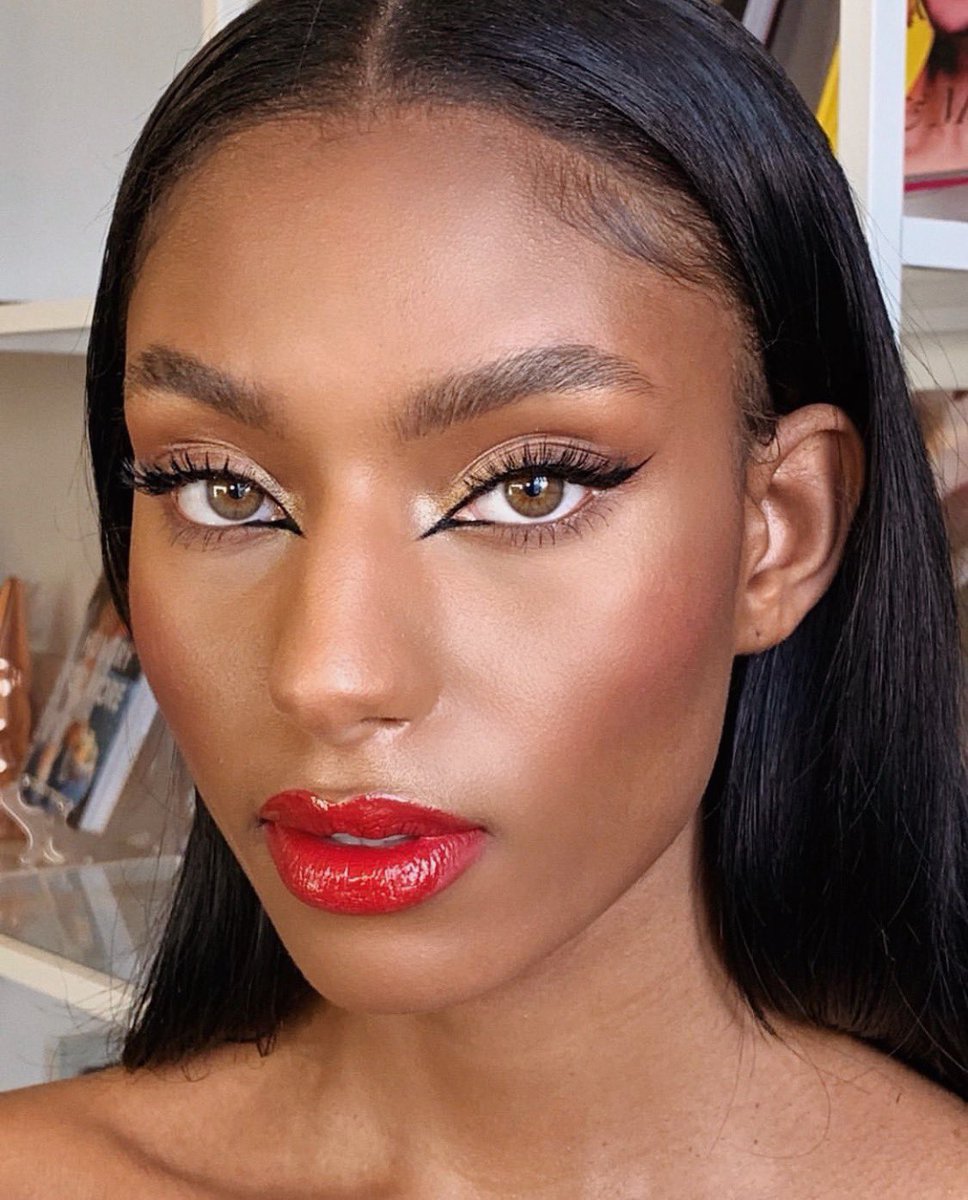 4. Ombre Red Lips Makeup Looks
If you have an event planned, or you're up for looking glammed up, then you must try an ombre look. Without one color running into the other, you will need a little skill, steady hands, and care to get the perfect ombre. Matte nude lipstick is your best bet to blend in with your red lipstick. Apply the red over the edges before swiping the red in the middle.
Smack your lips gently, so it doesn't run into each other tidy up, and you're all done. Recommended products: Revlon Matte Lipstick, Really Red $4.40 on Amazon and BONNIESTORE 6Pcs Matte Liquid Lipstick Set $9.99 on Amazon.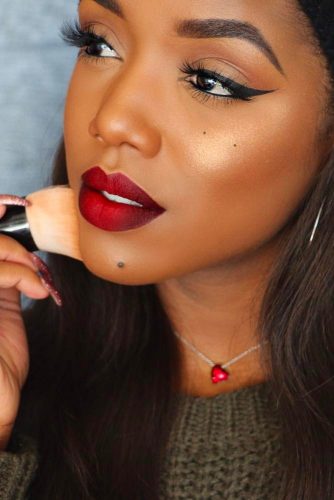 5. Minimalist Red 
Is there a thing like a minimalist makeup look with red color in the mix? Of course, you can incorporate a red lip to a fresh face look. Even if you've got a light coat of concealer or foundation, red lipstick will work right. The best part is you don't have to apply shadows or other products to rock this look. Going with the no-makeup (makeup) keeps your lips in focus.
Although if you're feeling up for it, you can define your brows and throw in some blush to add to your cheeks. This barely their look can easily be your go-to when you find a suitable product that makes your skin tone even. Recommended product: Mac Amplified Creme Lipstick, Morange $19.95 on Amazon.
6. Expressive Eyes 
You don't have to skip a dramatic eye look because you plan on wearing red lipstick. I have tried the expressive eye combo on two occasions, and both looked beautiful. It is either you're going with a flamboyant eyelash and no eyeshadows. Here you rely on the lips to do the talking, with the lashes complementing the vibrant hue.
You can also do a winged eyeliner look; it is like a reverse cat eye but has more personality. Extend your eyeliner to the inner corners projected upwards to achieve a gorgeous, winged look.  Recommended product: Givenchy Rouge Interdit Vinyl Lipstick for Women, 06 Rose Sulfureux $20.69 on Amazon.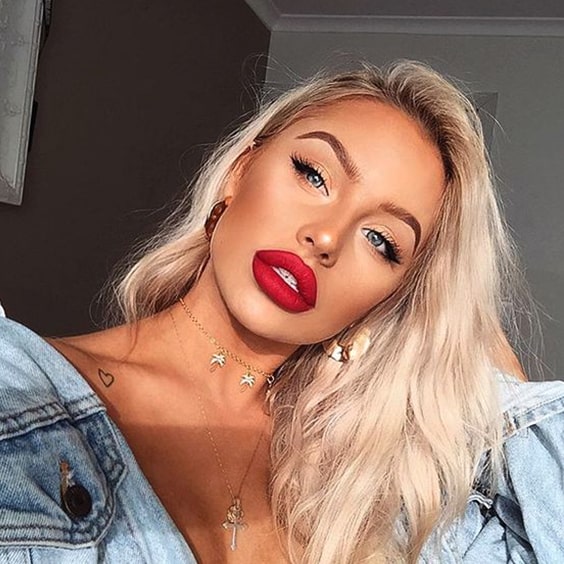 7. Glowed up Face
This red lip makeup looks for those who love their face looking all glittery. Nothing says glam like applying bronzer blended generously to the right spot. It will even save you time trying to conceal your face. After prepping your face with a light foundation coat and powder, apply your lipstick before the bronzer. 
You only need to wear the bronzer on the face area, where you would typically go heavy with the contour. Start with your forehead and dust some bronzer near your temples. Next, take the fan brush to your cheekbones, and do a downwards and outward motion, moving to your nose.
Sweep your brush all over your jawline. At this point, I like to do a fake smile to get the right spot to layer some more bronzer. It will sculpt your face and accentuate your facial features, with enough warmth to match your bright lips. Recommended products: Milani Baked Bronzer $8.97 on Amazon and Charlotte Tilbury KISSING Fallen From the Lipstick Tree – Love Bite $15 on Amazon.
8. The Rich Matte Red Look
Matte for the win anytime, as it has a way of appearing luxe, effortlessly. They are transfer-proof, like matte foundation formulas, and can stay on for extended hours, especially if you're going to an event. You can go in with your red matte lipstick after prepping your face. However, if you like, go with the elaborate lashes and sculpting (don't overdo it).
If the matte formula is feeling too dry for you, sheer and velvet mattes are available to give you a smudge-free matte look. Recommend products: Fenty Beauty by Rihanna – Stunna Lip Paint Longwear Fluid Lip – Uncensored – perfect universal red $24.99 on Amazon.
 

View this post on Instagram

 
9. Stained Red Lip Makeup Looks
This makeup look is for those that do not fancy a shouty makeup; you can always opt for a stained lip. You don't have to apply foundation or powder to slay this look; with a fresh face, apply some lip balm to start. Instead of swiping the lipstick directly, please take a little quantity on your hands and dap it unto your lips. The result will be a stained-hued lip with less punch you can wear to work or casual outings.
Try out this look when you are trying to create an illusion of natural red lips. Recommended products: Burt's Bees Moisturizing Lip Balm Value Pack of $ $9.57 on Amazon, L'Oreal Paris Colour Riche reds Saturated Satin Red Lipstick $5.69 on Amazon, and Clarins Water Lip Stain – Water Red $37.50 on Amazon.
 

View this post on Instagram

 
10. Glossy Red lips
Get your drip on with a generous amount of gloss. After applying your red lipstick, blend it over the crease of your lips. Use a dollop of clear gloss and spread it over your lips when you're done. If you need more shine, apply more sheen to your lips. You can pair such lips with any eye look. Recommended products: COVERGIRL Continuous Color Lipstick Classic Red 435 $5.97 on Amazon and Neutrogena MoistureShine Lip Soother Gloss with SPF 20 Sun Protection.
Conclusion
Red lipstick in your style arsenal can often take the back seat if you do not know how to incorporate it into your makeup looks. Red turns sexy on and has a way of making you look chic without trying too much. The shade speaks for itself, and it should always have a place in your makeup routine. If you followed this post until this point, I am sure you've learned a thing or two about updating your game.
Please let me know how the makeup turns out when you experiment with these looks. You can also share your red lip combo to help other ladies in the comments.
You may also like to read:        
–Best 70s Makeup Ideas To Try In 2022
–10 best red nail designs to try today
–Rihanna's Fenty Beauty launches Icon lipstick | See where to buy all 10!