It doesn't make you any different if you hunt for the best moisturizer for black skin. It simply is that you require products specifically tailored to care for melanin-rich skin. For a fact, the tissues components of all skin types are the same; the color gets only tagged black because it contains higher melanin concentration. 
One thing familiar with black skin is that they are more susceptible to dehydration. Probably, it is the weight we must bear for being blessed with melanin in abundance. And you may be wondering why you need moisturizers; when the skin is dry, it can lead to a bunch of other skin problems—not limited to acne breakouts, flaky skin, hyperpigmentation, and the like. That's not all, and also, if you come to GCJ often, you know we value hydrated and healthy skin.
A good skin moisturizer tailored for black skin is an essential complement to any skincare routine you live by. The benefits are endless when a moisturizer suited for your skin gets added to the equation. Are you ready for your black skin to live its best life, healthy with balanced hydration? You have landed on the right page to get solutions for skin issues you might be facing.
How to choose the best moisturizer for black skin that suits you?
When you set out in search of a moisturizer, the first thing to consider is hydration. There are, however, a few things to consider before you shop. Some of the factors are not new but often overlooked, and we are bringing them into the limelight. So, you are not among those who drop bad reviews after buying a product that is unsuitable for their skin type. 
Going with natural ingredients is the best option for dealing with black skin as you do not want to tamper with your melanin concentration. You also must consider elements that can deliver moisture to deliver your skin from being dried. For these reasons, go for products with hyaluronic acids to boost skin hydration. 
Natural ingredients that promote healthy skin include aloe,  cocoa butter, vitamin C, and E. When your skin is sensitive, you will require mild ingredients like these while also avoiding formulas that contain retinol and the like.
This factor may not apply to you if you do not have sensitive skin or do not care about scents. You don't have to scrap out all moisturizers that have fragrance because not all of them are harmful. However, perfumes that add fragrance to moisturizers can sometimes cause allergic reactions. This occurs mainly when your skin is sensitive; it is better to opt for formulas with the natural scent of essential oils used.
Moisturizers come to take different textures or consistency; choosing the right one depends on your skin type. When your skin is normal, you can use creams with any feeling, but avoid over lathering with equally normal consistency. A thick textured moisturizer will do you good if you identify with the dry skin group. For oily skin, avoid oil-based moisturizers, and be sure the formula is light-textured.
Related article: Best face moisturizers for maximum hydration.
Ten best moisturizers for black skin
You can only rate a moisturizer as best when it effectively delivers on the function it boasts of. And to successfully do that, the formula must be suited to your skin type. I am sure by now you know your skin type from all the efforts you put into maintaining healthy skin. Without any more fuss, meet your ten best picks.
1. Shea Moisture: African Black Soap Balancing Moisturizer
This moisturizer from Shea Moisture is a needed addition if you need to balance your oil and hydration levels. It is suitable
for oily skin, but the formals can also work for you if you have combination skin. The moisturizer comes packed with natural ingredients like willow bark extracts, mango seed oil, tea tree oil, olive oil, and sections of African black soap. They combine to rid your skin of common skin issues like blemishes while retaining moisture. 
It has a creamy texture soaked by the skin once applied for healthy glowing results. As expected from the hydrated coverage, it gives you all day long. It is making it truly one of the best moisturizers for black skin in the winter months. It is free of harsh substances like paraben, and sulfate, as an all-natural formula to keep your black skin glowing.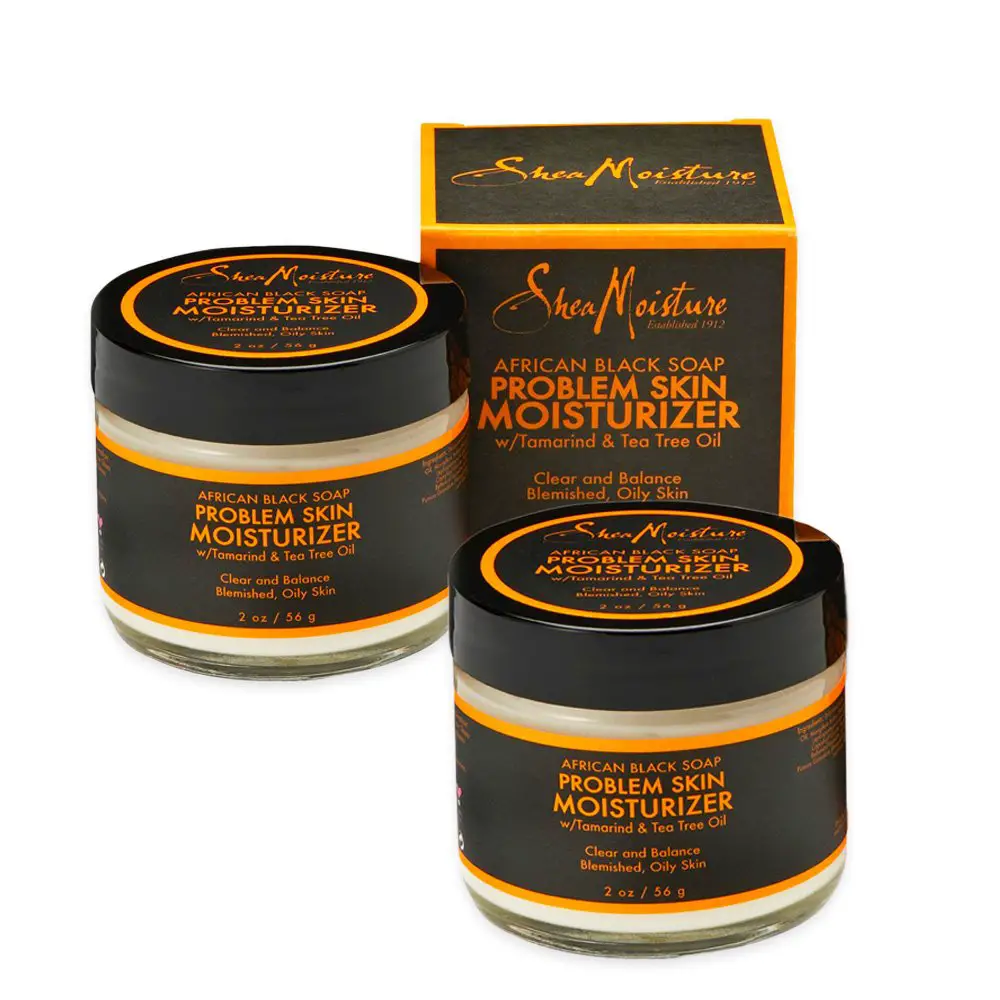 2. CeraVE: Moisturizing Cream
Trust CeraVe to take care of your black skin with their ceramides and hyaluronic acid-infused formula. It keeps your black skin looking smooth and soft with maintained hydration. With this moisturizer in your beauty arsenal, you can part with dry skin and flakiness. The skin barrier also gets protected with full coverage by applying this creamy, rich formula.
Ceramides are infused to help you deal with acne breakouts for smoother skin. And with continued use, you can say goodbye to common skin issues; it creates a permanent skin barrier. Your black skin will thank you for this need body food from face to body.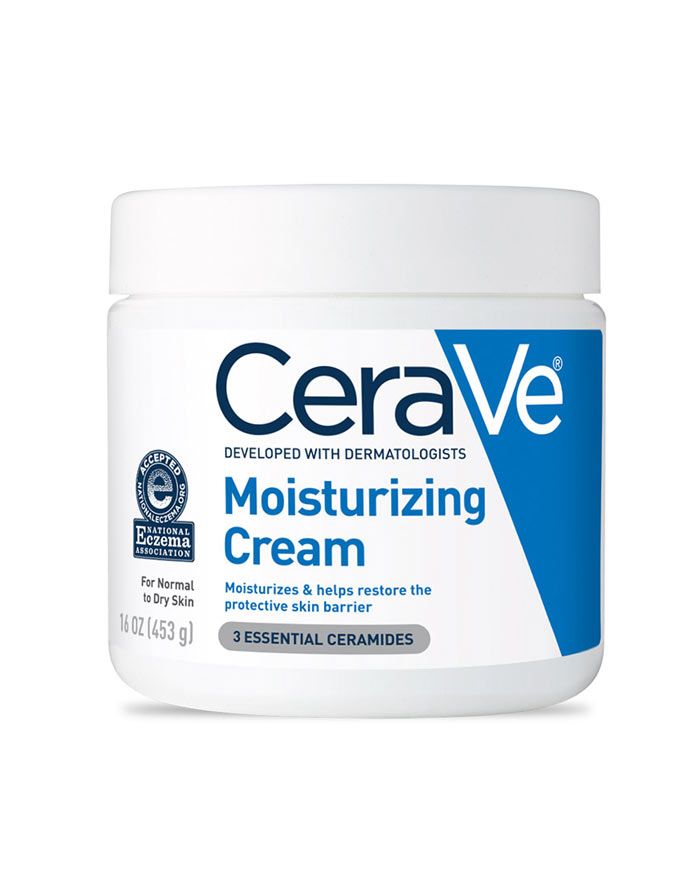 3. Era organics: Face Moisturizer for Dry Black Skin

.
Give your skin a generous dose of organic boost with this moisturizing containing essential ingredients. The formula feels like a meal concoction for healthy black skin since it includes aloe, cocoa butter, coconut milk & oil, manuka oil, and others. These combined ingredients help infuse your skin with minerals, vitamins, and proteins for the best skin.
It instantly feels like base covering, with maintained hydration all day when you apply. Do not worry about this moisturizer blocking your pores; its no-grease, residue-free texture takes care of that. Even at night, it aids your skin in repairing damaged skin cells. Extended use of this best moisturizer for black skin ensures a balanced skin pH to improve collagen production for younger-looking skin. There is no reason why you shouldn't add the potent organic mix to your skincare routine right now.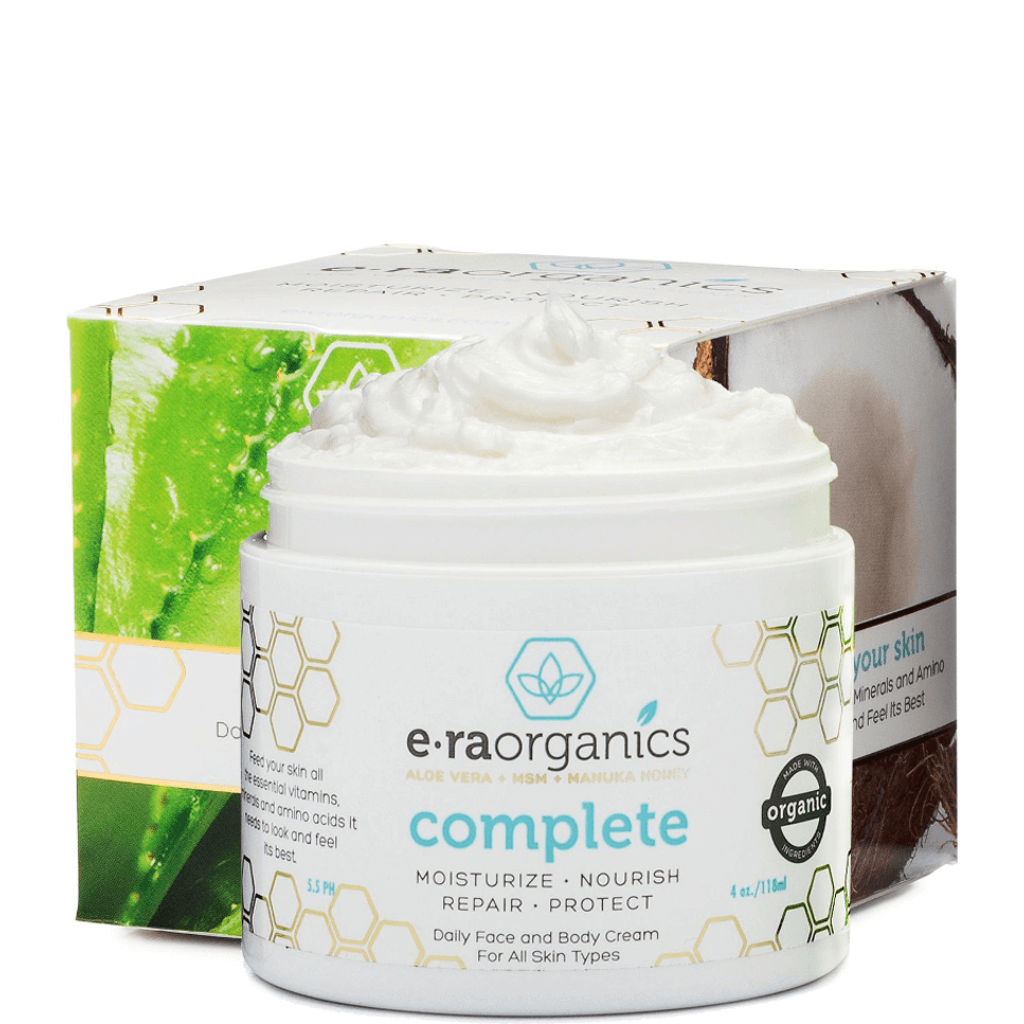 4.

Roc: R

etinol Correxxion Deep Wrinkle Daily Moisturizer




This moisturizer should be on your list of summer essentials to get the best UV protection. It is hands-down one of the best moisturizers for black skin with SPF since it helps you handle skin problems in its wake. The formula comes packed with retinol for a youthful-looking face, which has wrinkle-fighting powers. 

It has a nice consistency that sits well under makeup to keep your skin protected for extended hours. You do not want to pass up this moisturizer this summer, so snatch one right up in gleeful anticipation.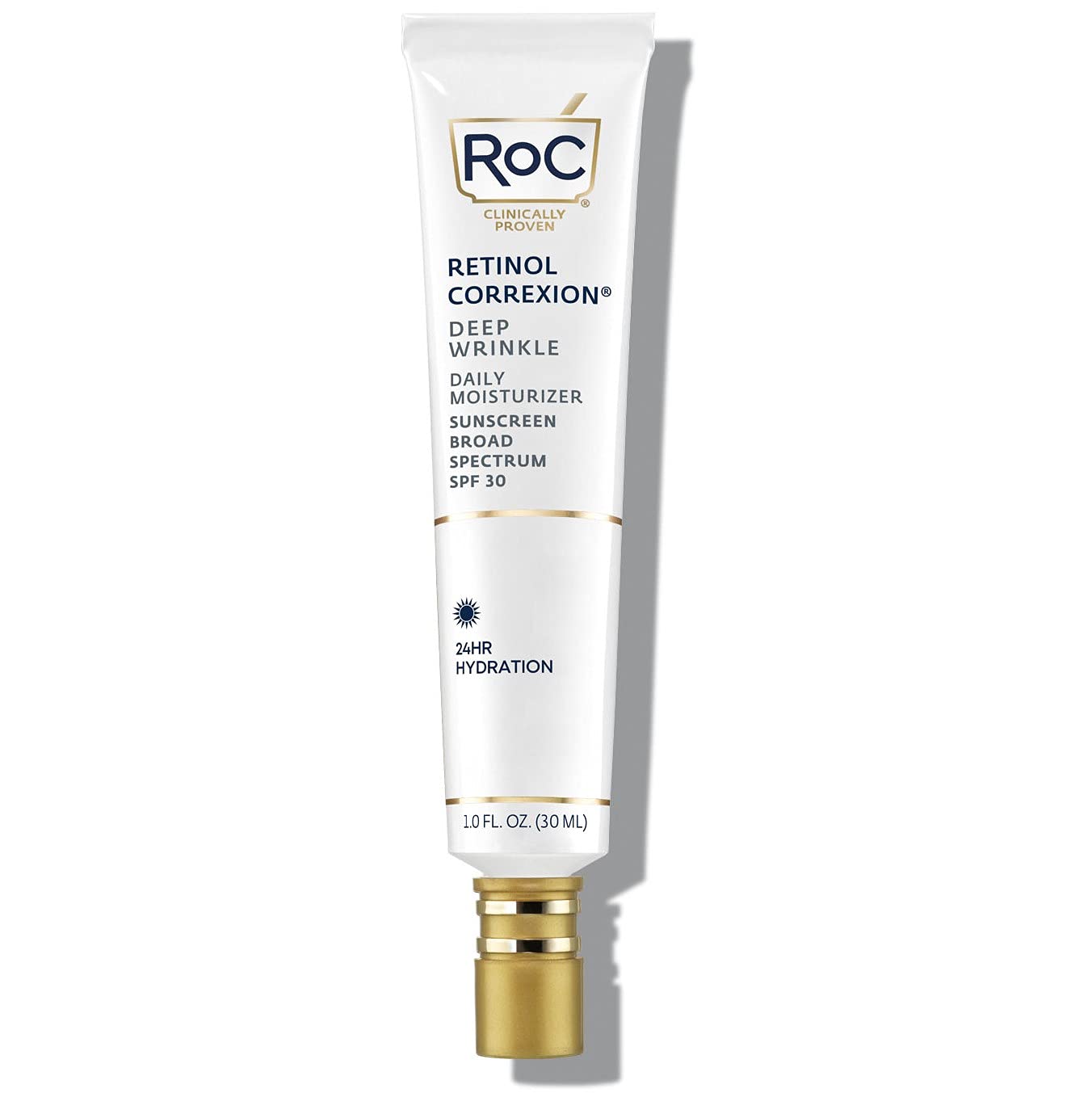 5. Olay: Regenerist Micro-sculpting Cream
This facial moisturizer from Olay is the truth, and there is hardly any list of best moisturizers it doesn't come out top. So, it should be no wonder it made to this list for the formulas suited for black skin. That's because the moisturizer is a do-it-all, and the thousands of reviews don't lie.
It uses the combined forces of three active and beauty powerhouse ingredients to keep the skin hydrated and fresh all day. You are right if you guessed hyaluronic acid for its skin hydrating abilities and niacinamide to assist further the effects of the acid and the amino peptides. With this combo, you can knock off a few years and reduce the visibility of fine lines.
That's because the formula aids cell regeneration for all skin types and color for a more youthful appearance. This luxe moisturizer is a steal for its affordable price point, making it a go-to brand for more women.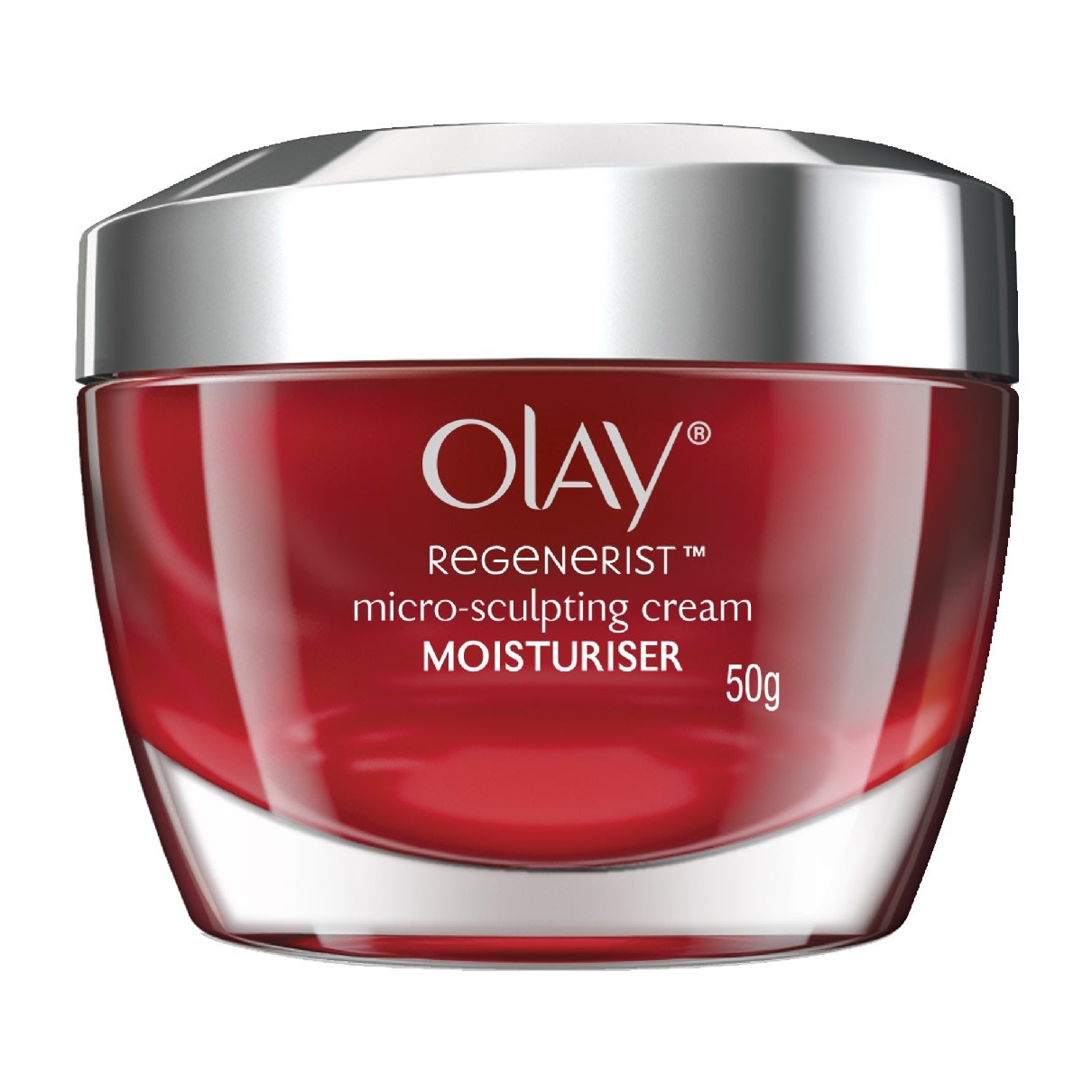 6. Palmers': Cocoa Butter Formula Moisture Rich Night cream
This moisturizer is an attractive addition; with its buttery look and rich cocoa fragrance, you could almost lick. Applying it is like slathering your skin in buttery cream for much-needed moisture. The rich formula contains essential vitamins C and E for toned, healthy skin and retinol to keep you looking ever fresh. 
With this moisturizer, you are practically ahead in your skincare routine, as smooth, healthy black skin becomes easy to achieve. It is excellent to apply both at night, as it aids the night-time rejuvenation process of the skin.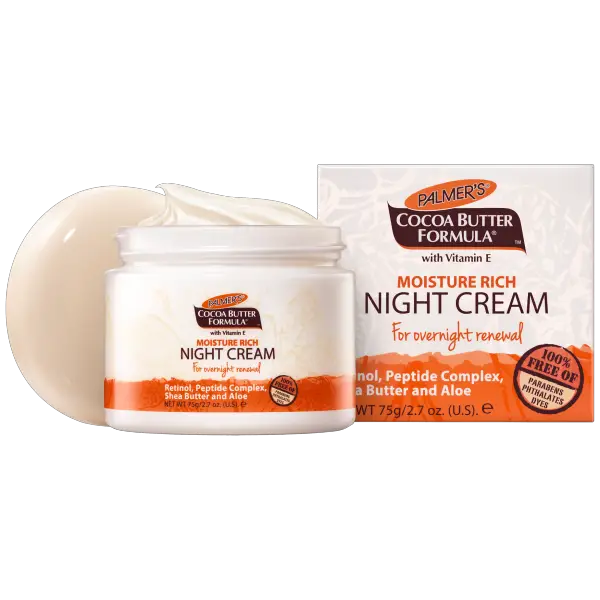 Related article: https://curvygirljournal.com/best-face-moisturizer-hydration/
7. Aveeno: Positively Radiant Daily Face Moisturizer
When you require an oil-free formula that will maintain your melanin-rich skin but improve appearance and texture, you must invest in this moisturizer from Aveeno if you have skin issues such as black spots and uneven tone. It comes enriched with soybean complex, and this works on your skin to resolve pigmentation issues for a balanced brighter tone. 
The effectiveness of this formula against dark spots has a clinically tested backing supporting its results. When you apply this moisturizer, the skin sops it up quickly and settles in to have it look soft. If you are still not sold on this moisturizer, maybe the SPF 15 it contains for sun protection will convince you.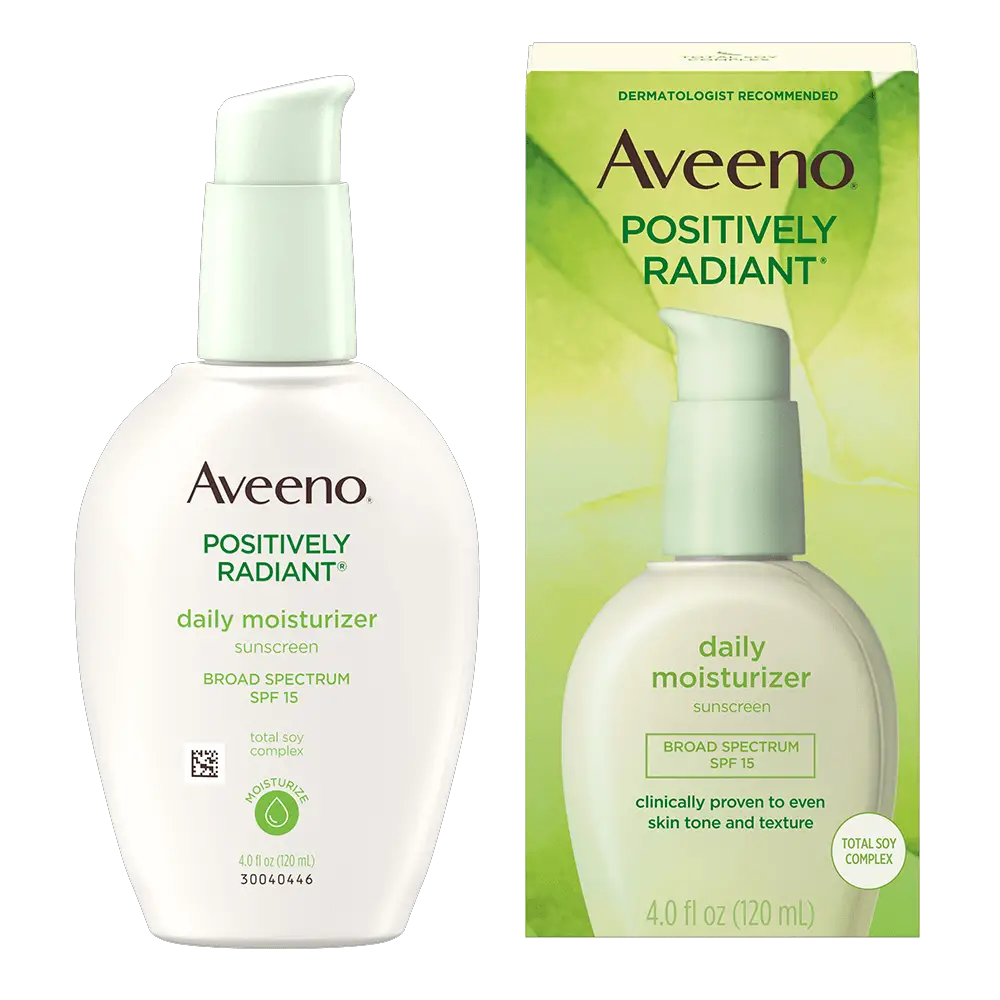 8. Baebody: Retinol Moisturizer Cream
If you plan on keeping your black skin looking healthy, you will need this formula from Baebody. It contains all the essential ingredients the skin needs to thrive, such as jojoba oil, antioxidants, and green tea extracts. Retinol is still the active ingredient here, for it ever needed anti-aging powers. It makes the moisturizer a suitable product for all skin types to reduce fine lines and improve your black skin's texture. Its natural ingredients base makes the formula cruelty-free and phthalate-free.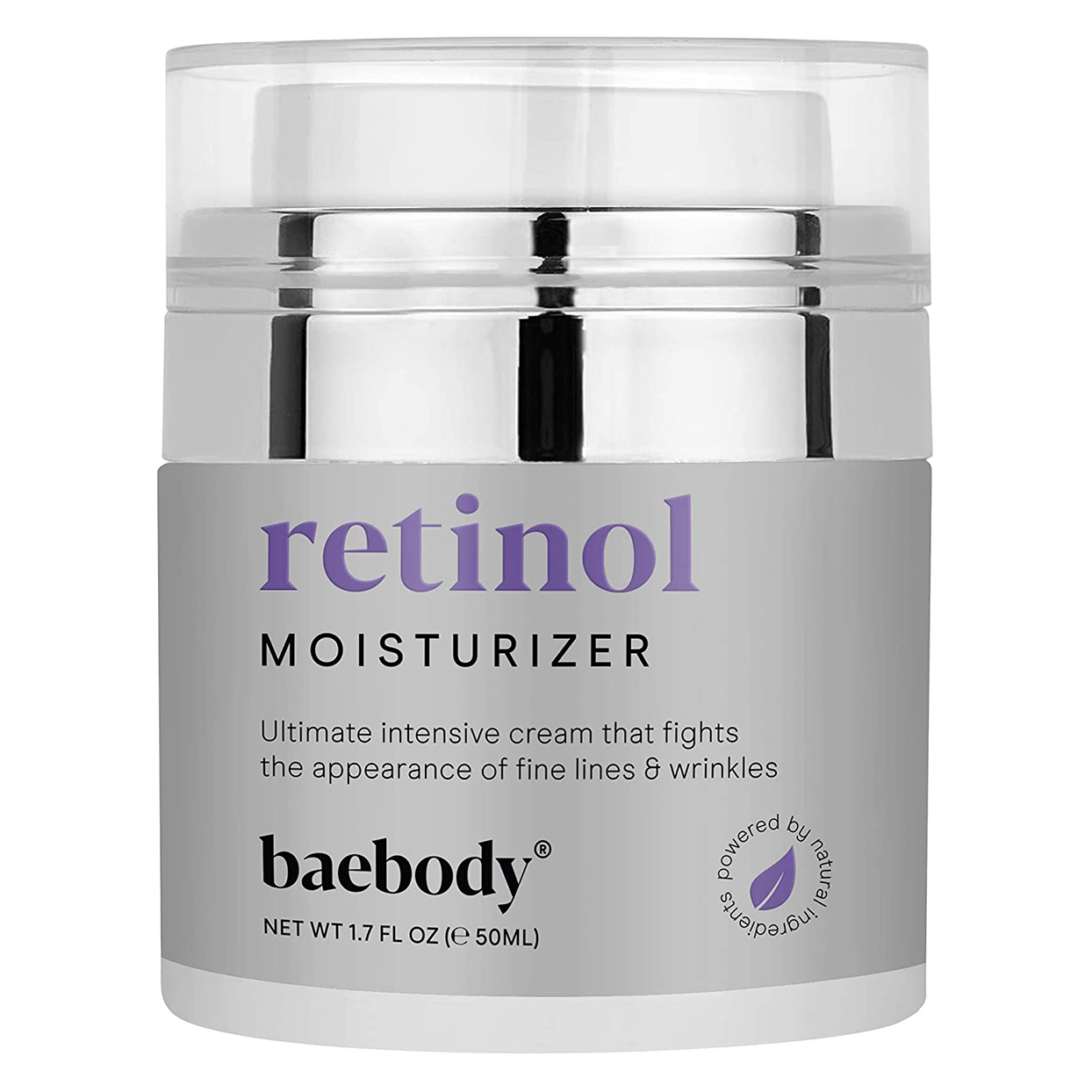 9. Cetaphil: Daily Face Moisturizer
When you have sensitive skin, you will need to avoid harsh formulas, and this fragrance-free variant from Cetaphil might suit you. It has a light texture, but you get covered for extended hours with a bit of application amount. The product is also free of paraben, and harsh chemicals, however since it is potent in solving skin issues, keep away from the eye area. 
Daily use ensures younger and balanced black skin without visible aging lines. Did we mention it contains SPF to protect your hydrated skin from harsh UV rays? There is not much you could ask for with this moisturizer in tow.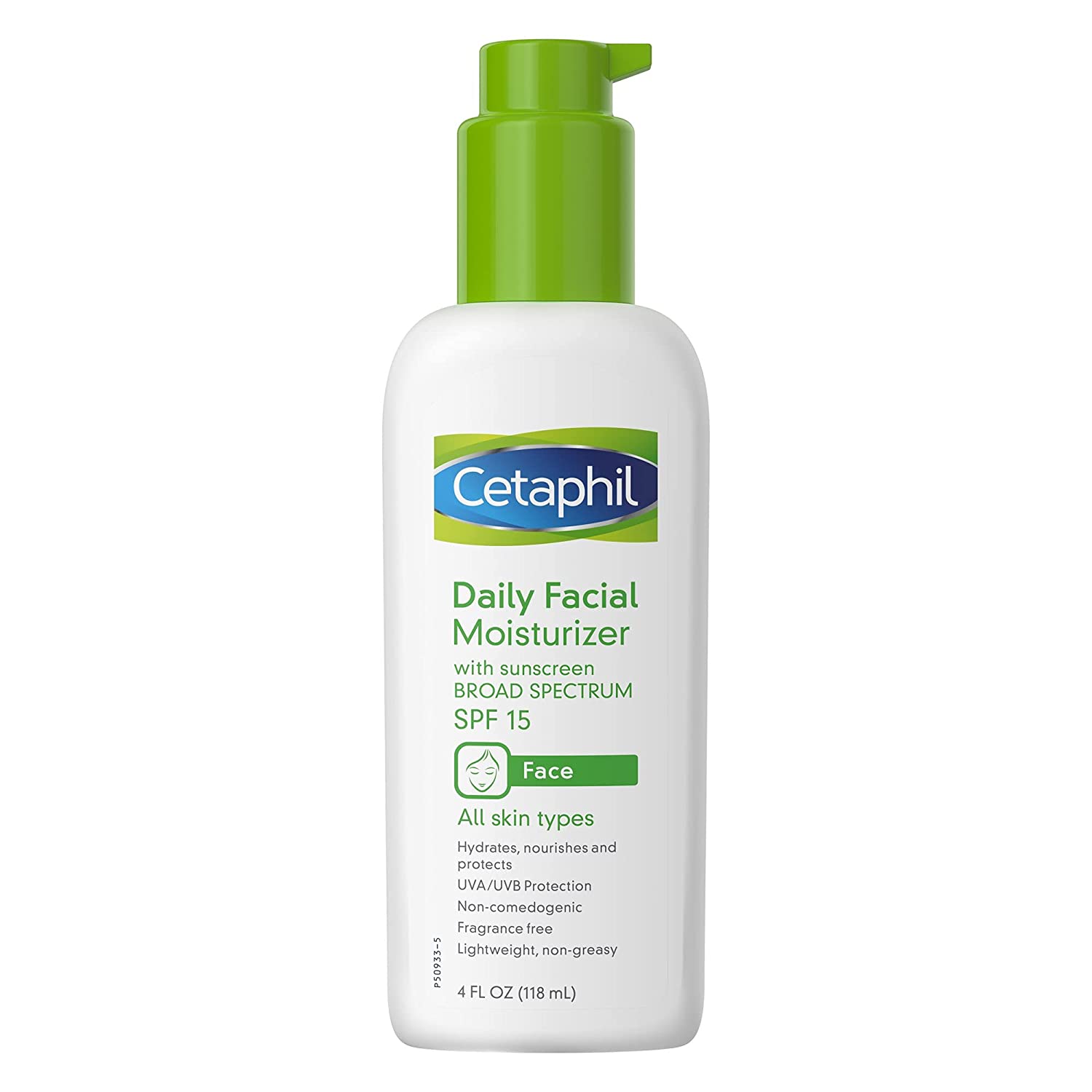 10. Jack Black Double-Duty Face Moisturizer
This formula lives up to the double-duty in its name, as it can be your designated sunscreen. The brand has mastered the art of delivering customized products to cater to black skin, and this moisturizer says it all. Coming in with a formula packed with ingredients your skin has been begging for, from phospholipids to sea parsley, what else do you need. 
Wait, there is more such as the infamous vitamin E, blue algae extracts, and many more, all for you to improve your skin's health. Your skin needs get thought about, from hydration to cell regeneration, anti-aging, and enhanced skin texture with the all-star ingredient lineup.
Applying it leaves a soothing sensation, even as it tackles skin issues such as discoloration and dullness. Prolonged use will leave you with a fresh and rejuvenated face for every skin type. In addition to all the fantastic functions, you get SPF 20 sunscreen to protect all the results.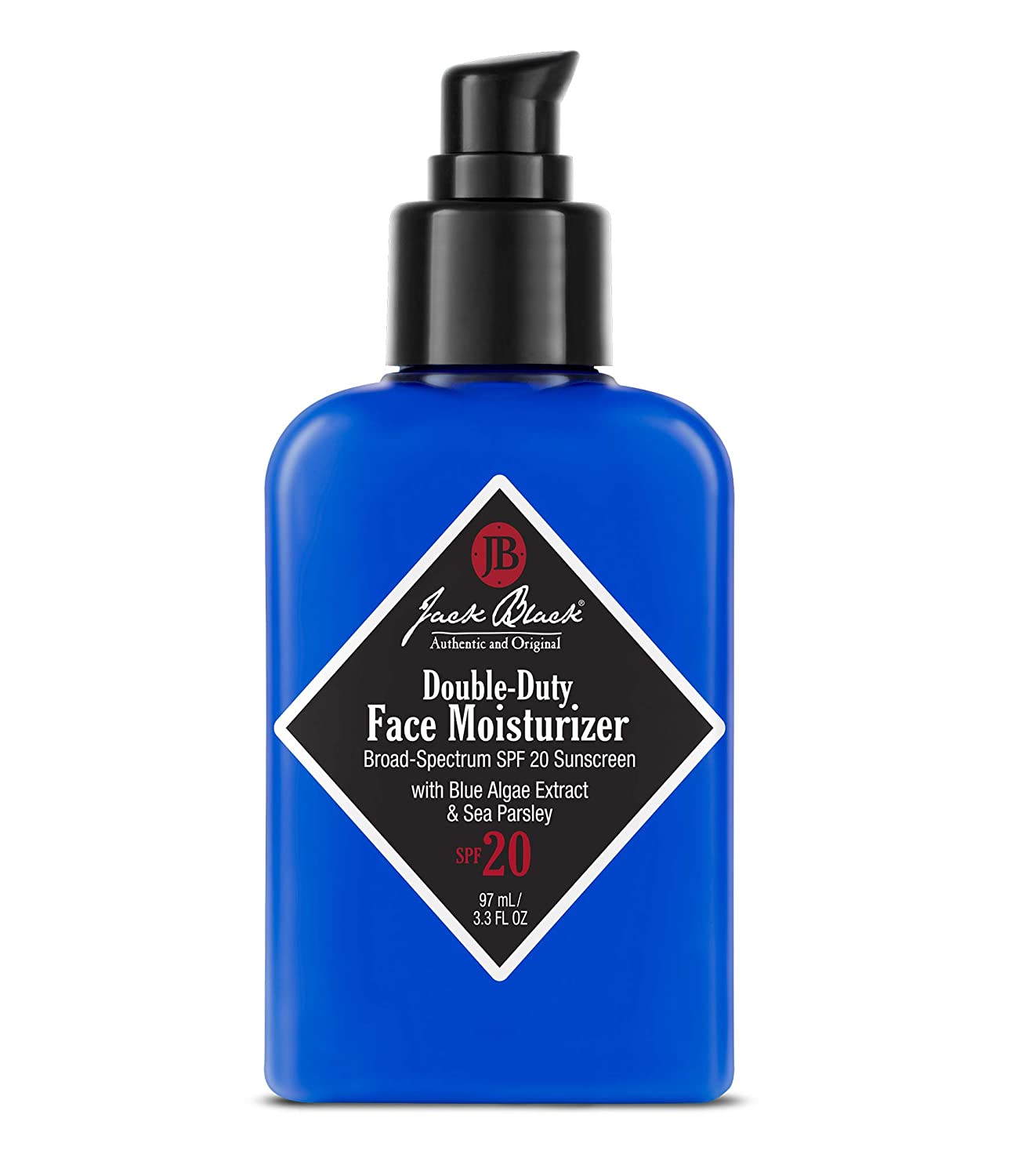 Conclusion
Applying moisturizer is essential in every skincare routine, and in this ever-continued journey of achieving flawless skin, you need their help. The best moisturizer for black skin can help retain hydration on your skin's surface to maintain its melanin-rich texture. For sure, you do not want to become caught with dry, flaky skin and the irritation that follows just because you skipped on generously moisturizing your skin.
Moisturizers are more likely beneficial to you than harmful when you opt for the right one. We hope you found the one from this list, so you are not left with dull black skin. You must be tingling to snatch up the best moisturizer for black skin for yourself; some of them can get bought at drugstores or your local mart. 
However, the best place to buy moisturizers is from a trusted online store like Amazon. If you have further requests or questions about any of these products, you can ask in the comments below.
You may also like to read, 15 best shampoo for afro and curly hair.