You would be surprised by the plethora of leg tattoos designs that can fit into the body area. The shape of the legs often gives a guideline as to how the tattoos should get shaped. If you succeed in following the tricky structure, inking on unique designs will be easy. You can plan the position of your next body masterpiece with this tip in mind.
Suppose you require a rounded area to bring your tattoo to life, then calves are the best spot since they are pretty visible. You can place tattoos on the knees for their unusual yet attractive shape, although you will have to choose a small-sized design. Are you considering straight tattoo styles or more visibility? Then the shin becomes your best position if you have a substantial pain threshold.
The upper leg areas get somewhat reserved for grand designs that require a broader surface. The site is private unless you put it on display, so getting wild designs is welcomed. Legs are an understated body part of getting tattoos, asides from the ever-famous ankle tattoos. Read on to find 21 leg tattoos ideas anywhere you choose to place them.
1. Floral leg tattoos
Nothing says feminine, like a delicate flower on the legs. Floral designs have an aura of beauty even without color inserts. Draw a small-sized petal with other mini blooms tied together with a wispy stem. Extend the floral design, so it goes around the leg to form a band; such tattoos will double as an accessory when displayed. Full-length pants can conceal them when you don't feel like flashing your ink.
2. Facial outline leg tattoo
Bet this tattoo design did not come to mind when you decided to get a leg tattoo. Any memory, place, or experience that links to a person can get inked on your legs. The tattoo artist must infuse fine lines, Color shading, and detailed filling to nail such designs. You can also opt for blackout tattoo inserts on the edges to give the facial outline character.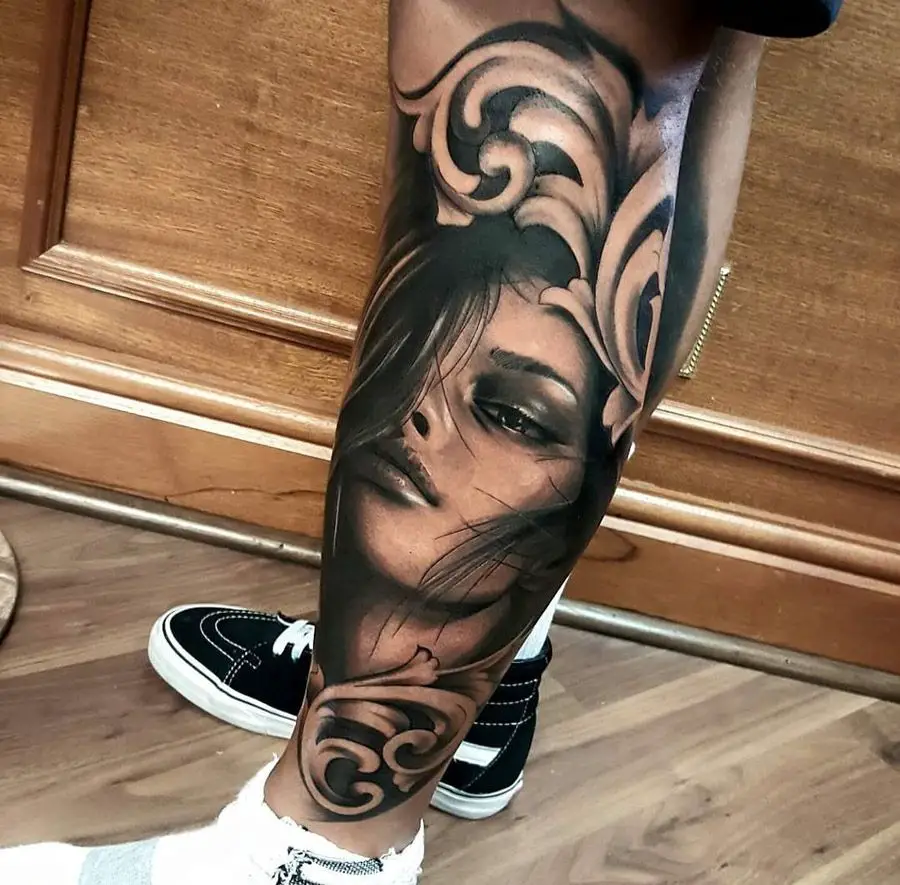 3. Moon tattoos phase design
Moon tattoos are meaningful and cute, but if you choose to go with the phases, they must be in a straight line. The back gets recommended for such tattoos, and it covers up when you throw a top on. You don't want to go through all that pain for nothing. You quickly show off the beautiful moon shading when placed on the legs.
Related article: Top 10 tattoos with moons designs to try today.
4. Wild leg tattoos
The expansive space the leg gives and its elongate shape can become your illustrative canvas to portray a rugged design with a story. Get your subject matter or ideas, such as a haunted house, space exploration, geometric shapes, gothic pieces, and even your favorite movie scene. Colors and extensive shading, lines, and details will go into such elements, but it will be worth it. The leg makes for an illustrative body part to tell your story. Although they might extend to the upper thighs, you will love to flaunt them, depending on your storyline.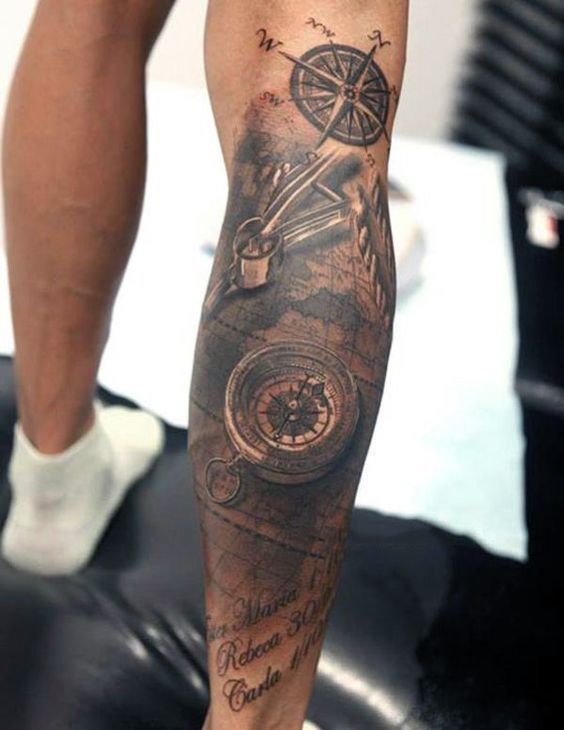 5. Quote leg tattoos
Sometimes, you need a word or script on your legs to lift your spirits whenever you look down. Ink up your favorite phrase, mantra, or powerful affirmations, and you'll love to show it off.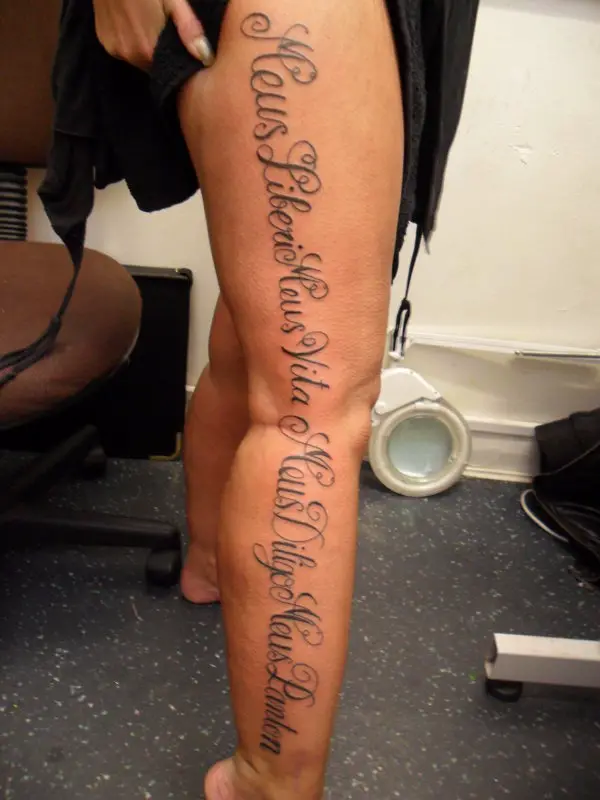 6. Intricate tribal leg tattoos
Turn your leg into an art piece worthy of getting hanged in an art gallery with an intricate design. The portion provides enough space to draw beautiful, detailed plans, such as a tribal tattoo or any other piece that appeals to you. Bring a design idea to life, and allow your tattoo artist to illustrate it with shading and other elements. It will result in a well-crafted leg tattoo you can flaunt with pride.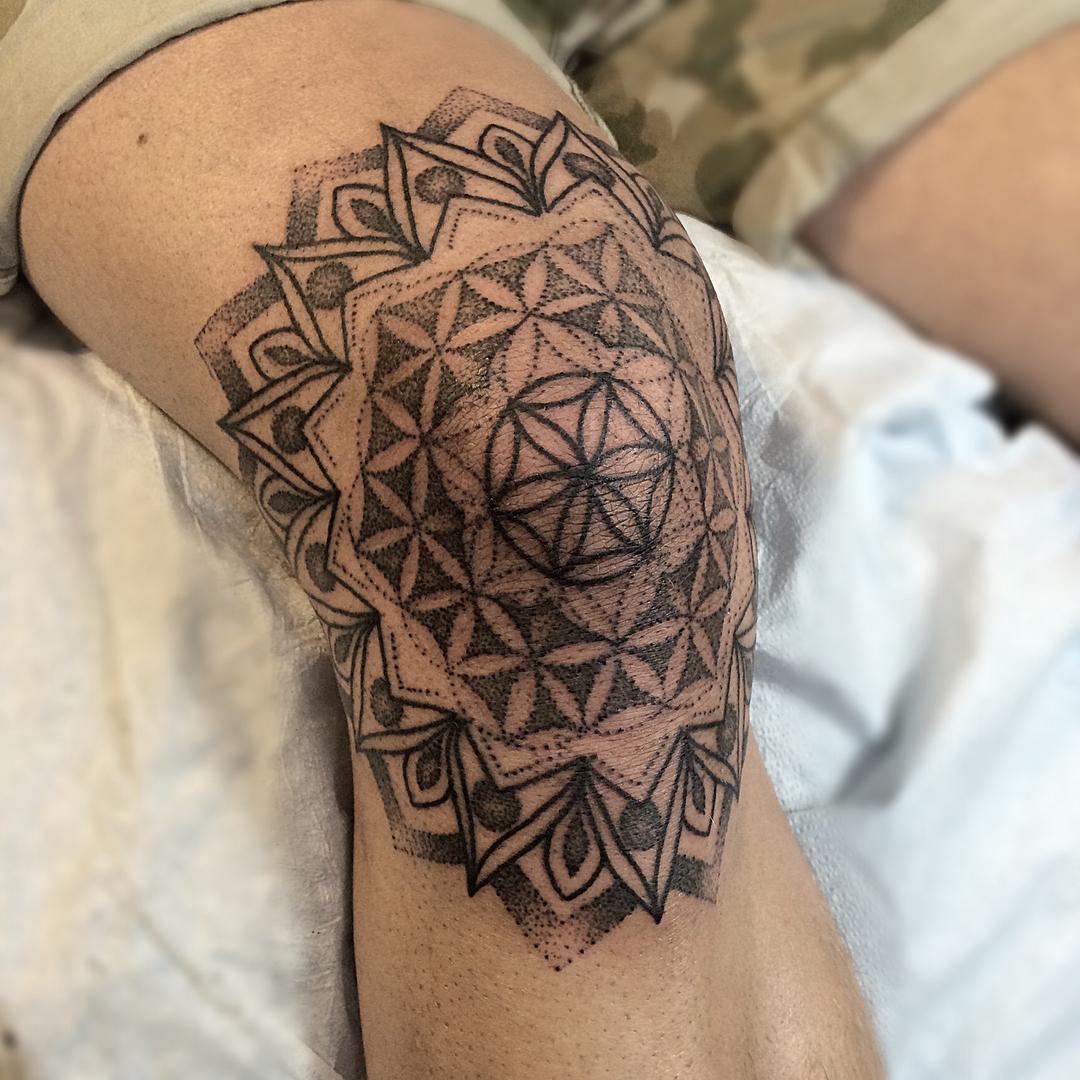 7. Traditional leg tattoos
Many rich traditional designs require intricate details and line shading you'll love. You can get an impressive Hawaiian tribal tattoo with the mandalas or other edgy patterns their ancient warriors drew. Another great idea is the Celtic design: which can be your next grand inking with artistic layers and knots. If you are still not sold, then maybe a tattoo of Japanese heritage will be for their color elements.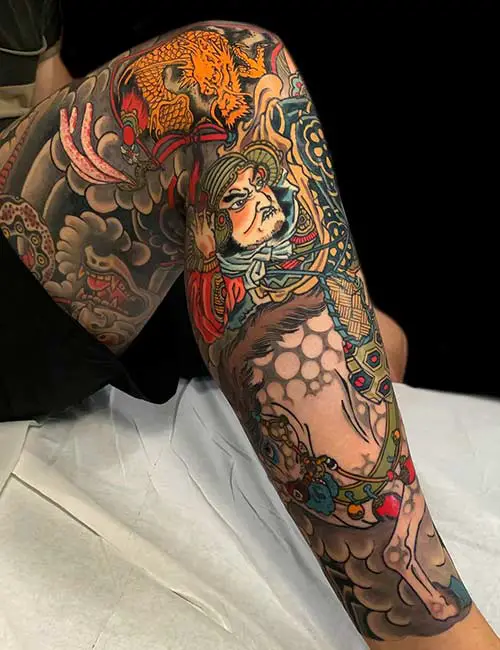 8. Script band leg tattoo
One cute thing about leg tattoos is that you can manipulate the leg tattoos to fit into your leg shape. Choose a beautiful font, write your favorite text, and wrap it into a band. They even look beautiful when placed on the tights to make them feel more personal.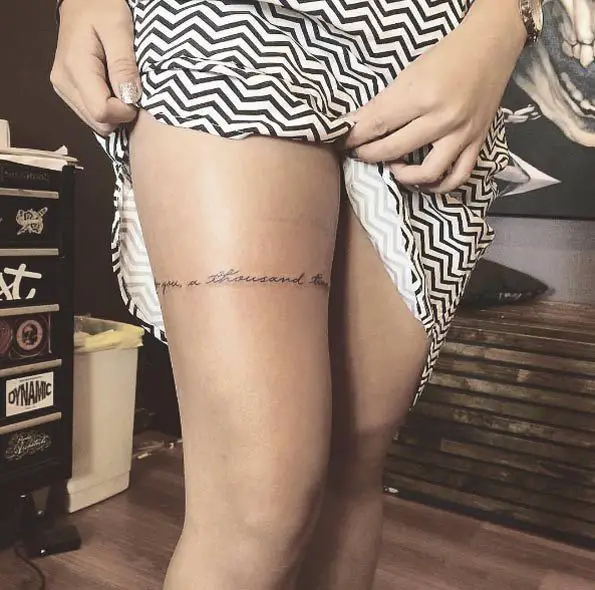 9. Vine leg tattoos
The creeping movement of the vine plant is charming, and they can be linked to form an intricate design. It fits into the leg shape and wraps around it as the live plant would. This will make one cute tattoo you love to show off and make your friends envious.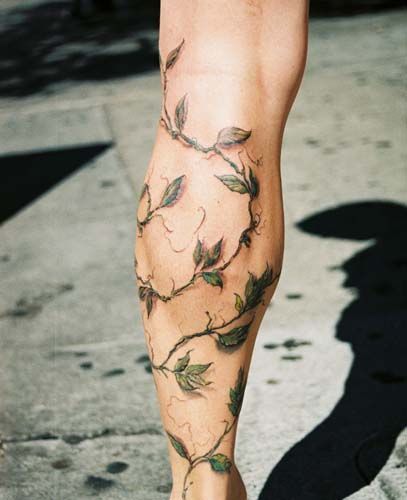 10. Bold leg tattoos
Go big or go home right, or in this case, go bold, vivid, saturated-colored tattoo designs fit into this context. You can opt for pre-designed images of vibrant tattoos or whip up a combination of a bold design that suits your style. If you want a statement-making leg that makes people want to stop and admire, then you have a winner.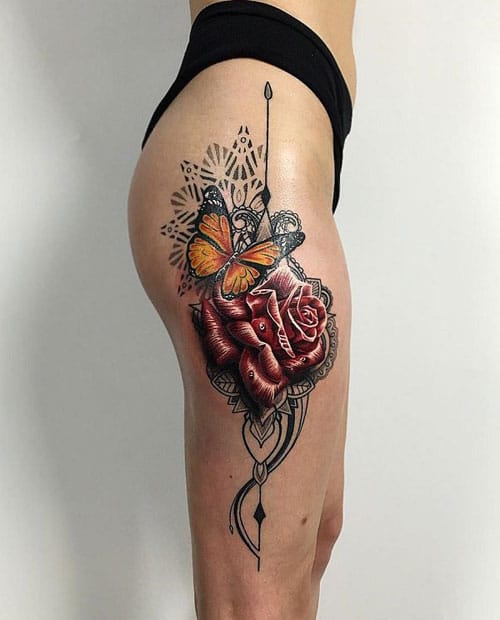 11. Connecting hip-to-toe design
The leg provides an inviting space to make you feel like getting a complete leg tattoo design. Sometimes drawing a delicate piece that starts from the hip and flows down might be what you need. You can place it at the side of your legs or the middle, depending on your design. When you flaunt your tattoo, it sparks curiosity about where the structure ends.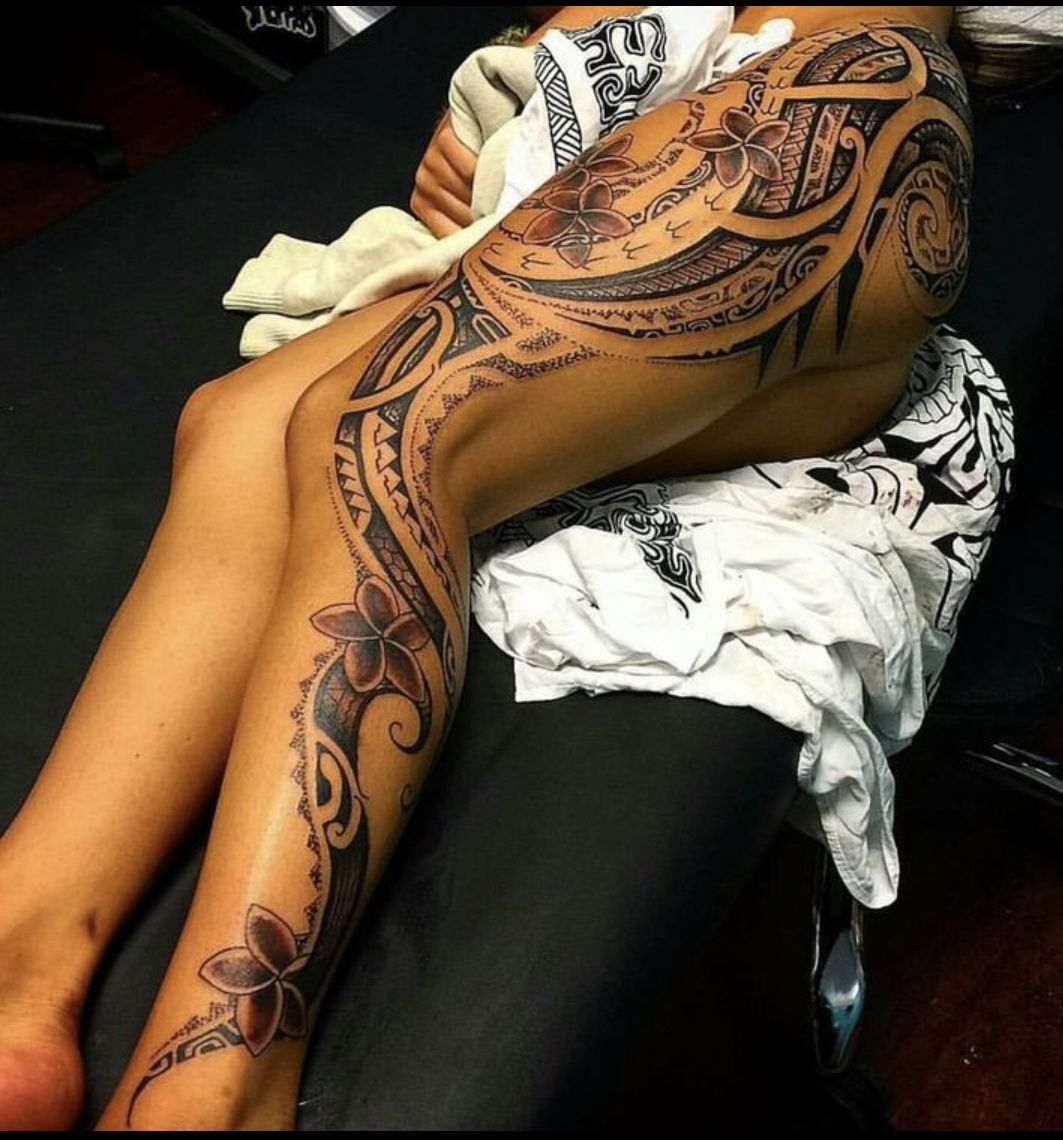 12. Leg initials tattoo
One word or letter can have so much meaning and power behind it. And the leg presents a discreet space to ink up such letter. It could be the first alphabet of your name or a word that appeals to you. Such designs will look great on your ankle or calf since the design is simple.
13. Mirrored tattoo design
If you're getting beautiful leg tattoos, why not do them on both legs. If you get a beautiful butterfly on one leg, then it is only fair to mirror it on the other leg. Even flower tattoos can get inked on the feet, such as mandala, lotus, or rose flowers. Be sure that both designs resemble each other in detail.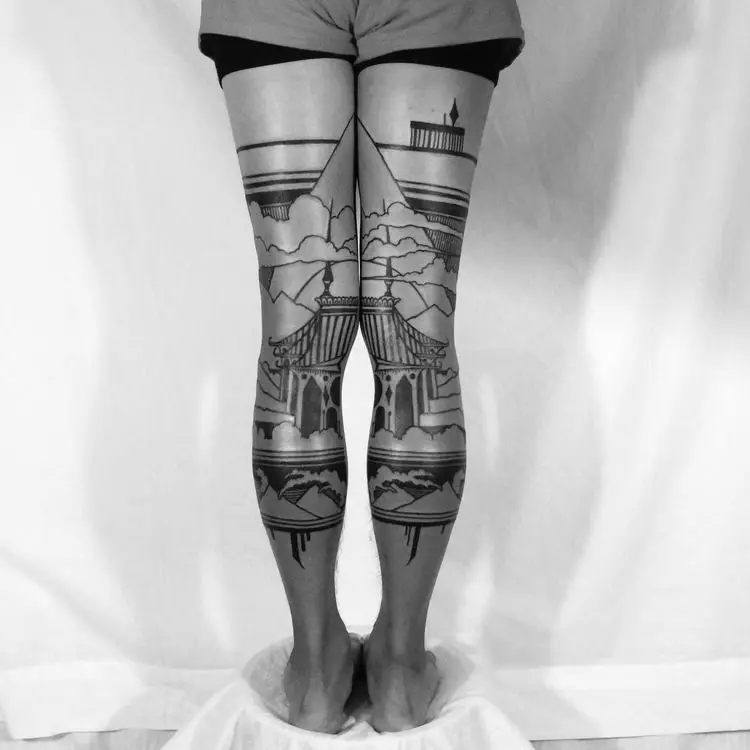 14. Animal leg tattoo
Animal tattoos always make a striking design and get easily acceptable, even for first-timers. From the vast selection of animals, you can easily make it work for you if you're an animal lover, the better, as you'll get to show your connection through body art. You will need a skilled tattoo artist to capture the natural beauty of the animal of choice, shaded with details. You can link up animals like wolves, lions, elephants that have strong meanings. For delicate and colorful species like birds, insects, and reptiles such as snakes, you will need bright shading to depict them.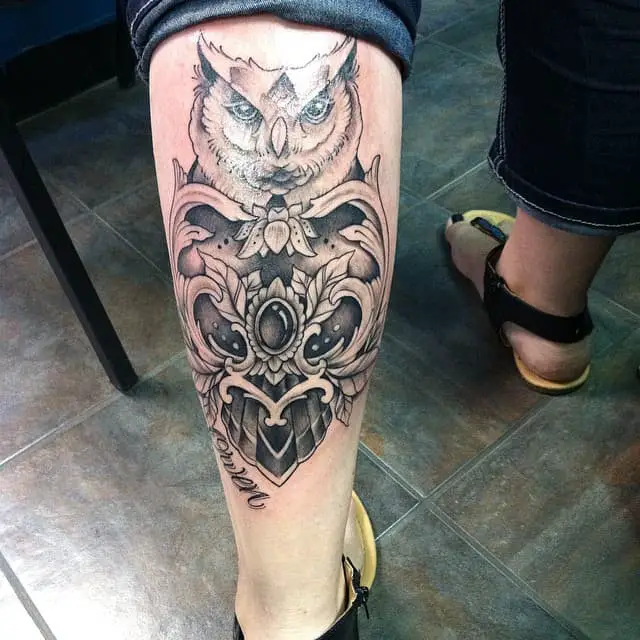 15. Full leg tattoos
Getting a full leg sleeve tattoo is one of the most popular options you could go with. It allows enough room to get very creative with your designs. You could opt for smaller pieces that connect. Or one large tattoo that takes the entire leg to complete. Let your imagination run wild to create an eye-catching masterpiece.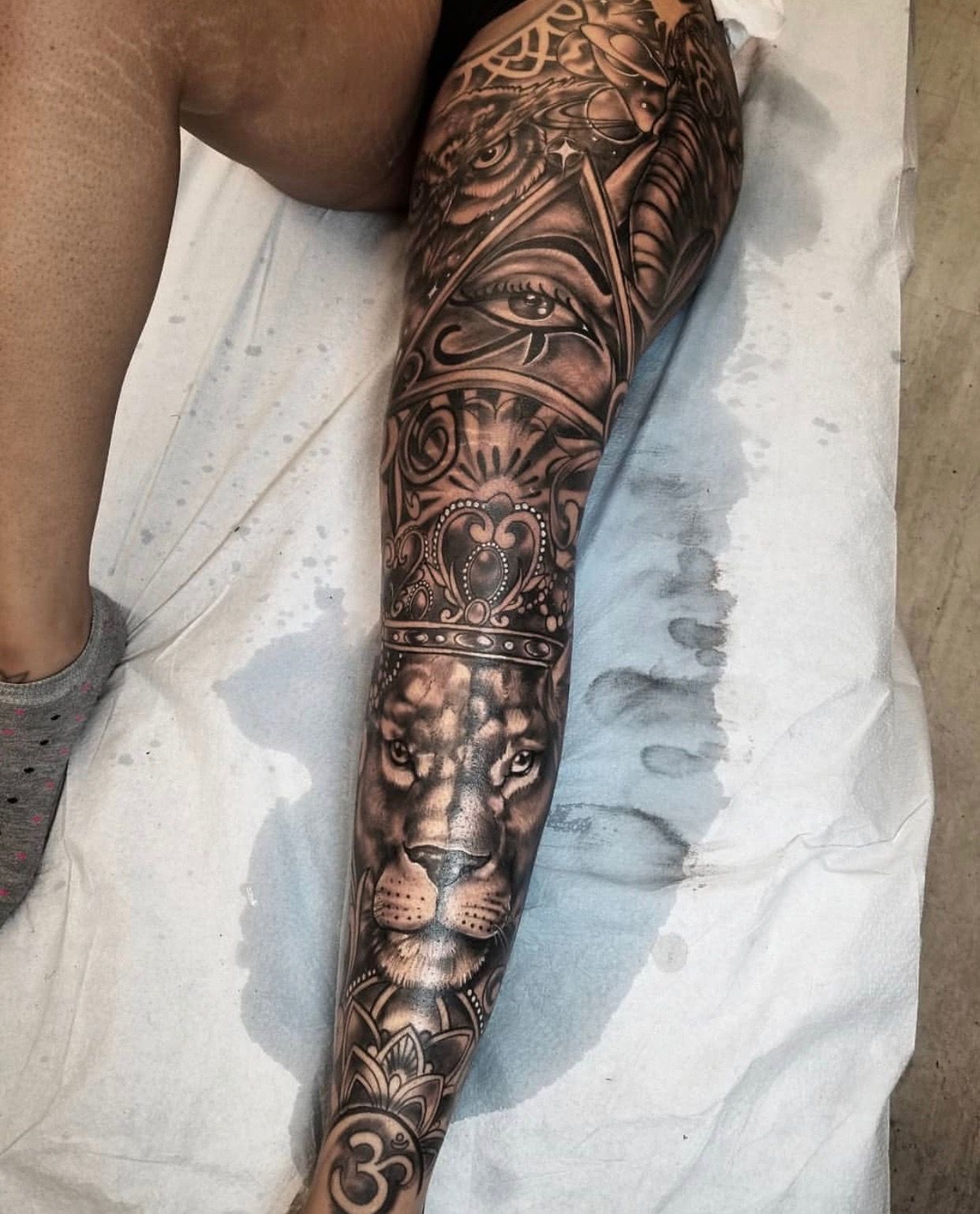 16. Blackout leg tattoos
Use the legs' spacing to add a blackout-themed tattoo to your skin. You can add some negative spacing to give some design elements to the tattoo. Any meaningful design that looks attractive to you can feature blackout shading. You can also opt for an abstract piece or some geometric lines to create a unique design.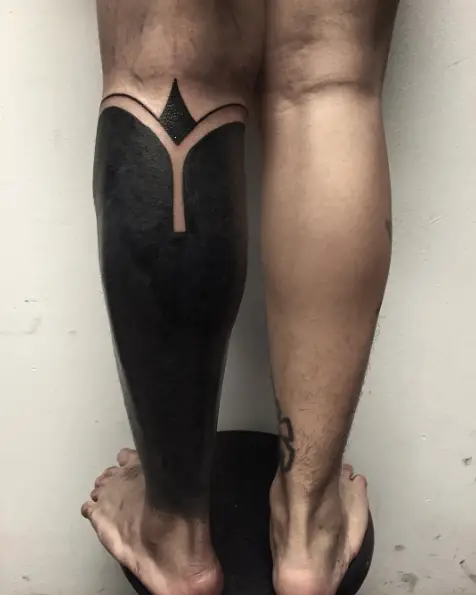 Related article: Everything you need to know before getting a blackout tattoo.
17. Encrypted number line tattoo
Create your unique branding code placed on a straight line on your legs. Your date of birth can get written in unique fonts and encrypted on your skin to show the day you were manufactured like they do with products. Another cool thing to try is your favorite word coded with numbers to form a language that you and your close pals understand. Place on the side or at the back of your legs to get the sci-fi effect.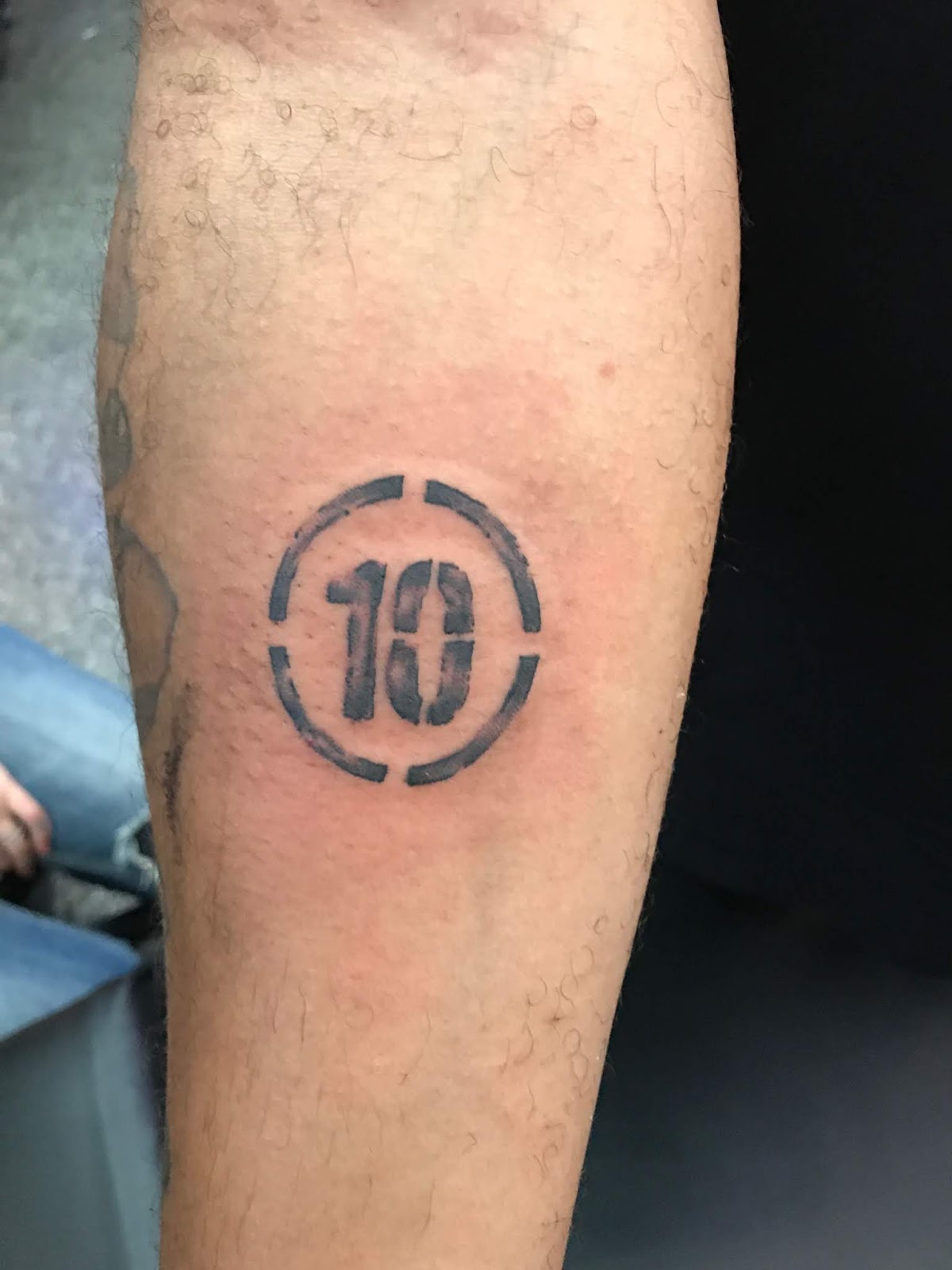 18. Biochemical leg tattoos
It doesn't get more artistic than the biochemical inking style, which relies on the shape of your body to create realistic designs. The artist employs a deep and detailed shading technique to form the tattoo in 3D. They have become the best way to draw fictional styles, such as inner body, machine system, and even skeleton. The designs are more masculine since it requires edginess and complex elements to get the best results.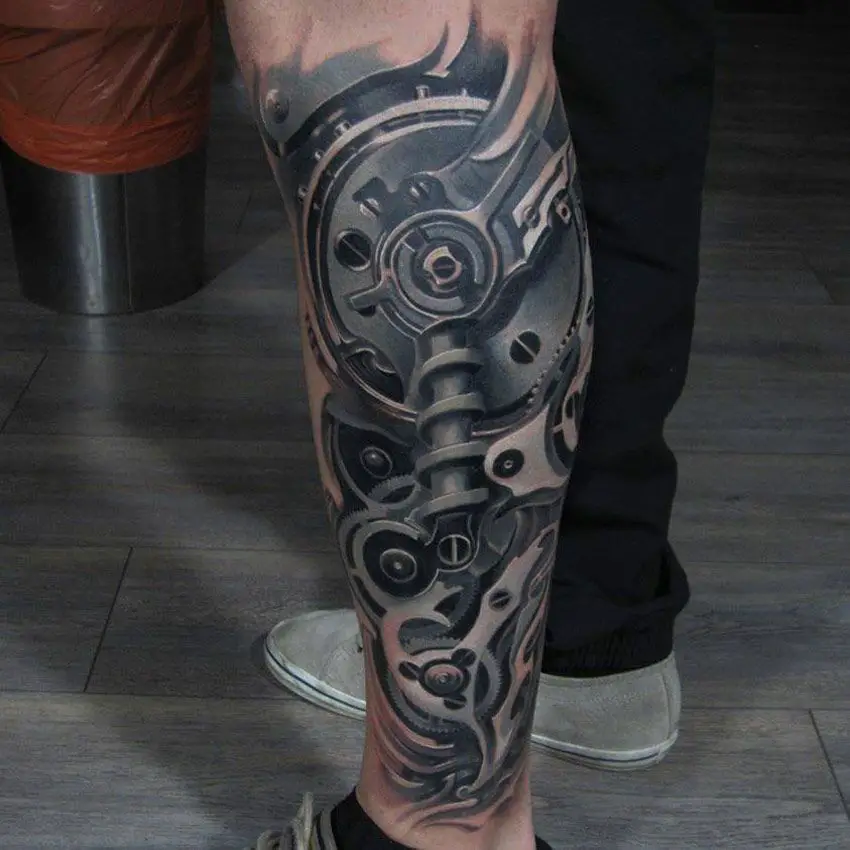 19. Tattoo exhibition
When you cannot decide what to get, you can go all out by inking several small pieces on your leg. Your creativity becomes your limit with such designs, as anything from comics, action figures, charms, cars, locations, or personal items can get curated into a collection. Throw in color shadings to bring the pieces to life, and they will appear stylish. The results will be attention-grabbing but so remarkable to show off if you fancy many inks on your body.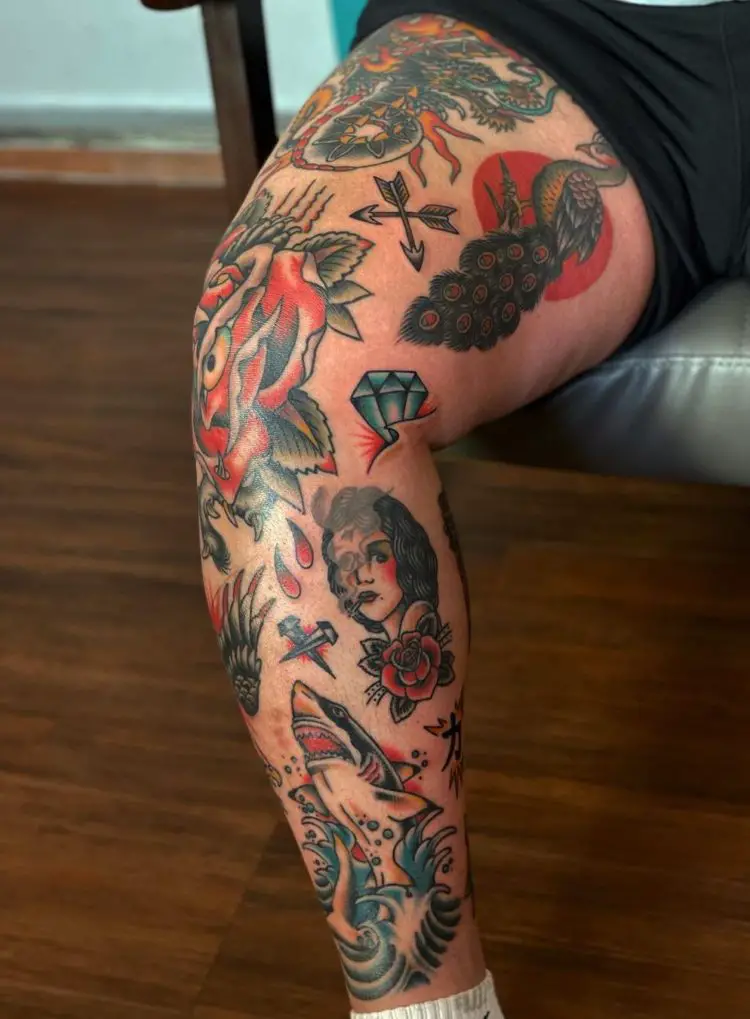 20. Watercolor leg tattoos
Use the distinct elements of watercolor tattoo inks to add an artistic design to your skin. Place such colorful designs on the lower leg to easily flaunt your tattoo. Avoid bony joint areas and other sensitive inner leg areas to reduce the pain level.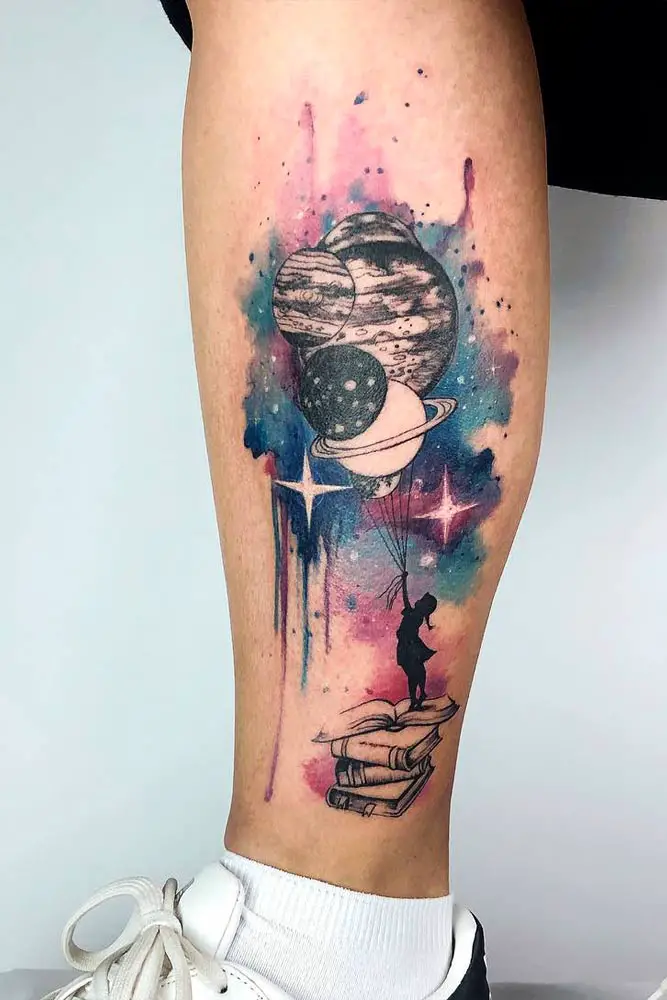 21. Tree of life calf tattoo
Tattoo placement on the calves is your best option if you're new to getting inked on your legs. The area has lots of muscle and skin to get the perfect shading and markings for a beautiful tree of life tattoo. This design passes a strong message and shows your connection to nature.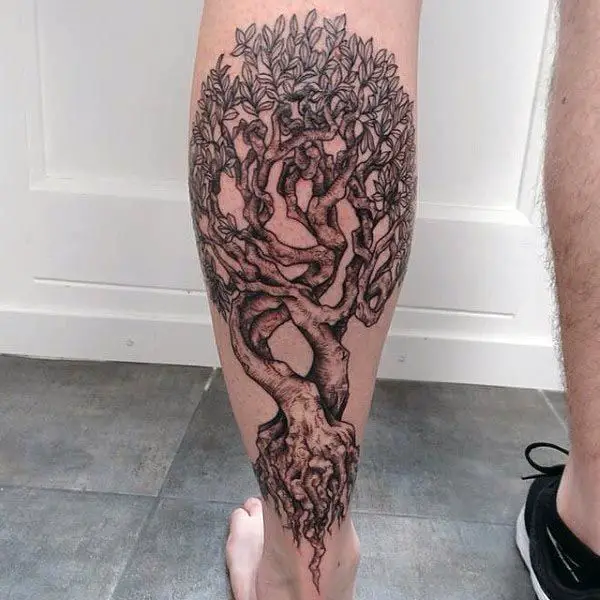 Conclusion
Have you chosen the leg tattoos that you'll be getting? Before you rush off to getting inked, carry out your research and select a great tattoo artist regardless of the cost. The leg presents a great area to draw several designs, and you will need a professional tattoo artist to make the tattoo worth it.
Then again, on the tattoo pain chart, the shins, hips, ankles, groin, and behind the knees can be very painful to get inked. The best placement that gives reduced pain is the outer thigh and calves. In the end, it all depends on your pain threshold.
You may also like to read, How to know your tattoo is infected and how to treat it.