The Pagosa springs hot springs are popular tourist spots where you get tranquility and fun if you are looking to unwind. This perfect combination of Zen areas, breathtaking views, adventures, and clean air, is situated in an unexpected location.
A trip to escape reality should be refreshing to your body, and Pagosa Springs is one location that can give a deserved rejuvenation with the several hot springs and curated activities. Over time, it has to prove a top spot to visit year-round, even in winter.
The natural springs are known for the soothing sensation they give to the body, like a warm massage. Its original name Pah gosah, pah (water), and gosah (odor) came from the natives, the Ute people, which means "healing water" this is caused by the natural production of hydrogen sulfide gas in the water.
It is tagged as a sacred site but shared with anyone who hopes to visit. Such a peaceful place should be experienced by everyone, with the hotels and set up offered in the town, your stay at Pagosa will be a dream.
Read on to find out ten things that make Pagosa springs hot springs a stand-out destination to visit on your next trip, even on a weekend getaway.
Related article: See the best beach tent canopies in 2022.
10. Location of Pagosa springs
Pagosa Springs is home to the "Mother Spring," the deepest geothermal hot springs in the world. It branches off to the several hot springs found in the small town of Pagosa Springs, located in the San Juan Basin of Archuleta County, Colorado, USA. This source also feeds several other soaking pools and mini-springs all over the San Juan river banks. So, hot mineral water is available to enjoy privately at several sites.
To get to Pagosa town, the perfect stop on reaching Colorado should be in Durango, which takes about an hour to get to the main village. From there, you can navigate your way to the activity or resort of choice.
9. The temperature of the Pagosa springs hot springs
Pagosa hot springs maintain a perfect temperature that feels good to jump in anytime. In contrast, it is often measured at 110 degrees, but can go up to 114 on different occasions. This is approximately 62Celsius, a perfect temperature to soak peacefully. Additionally, the resorts offer up to twenty pools with other temperates, and it is left for you to decide which is best suited for your comfort.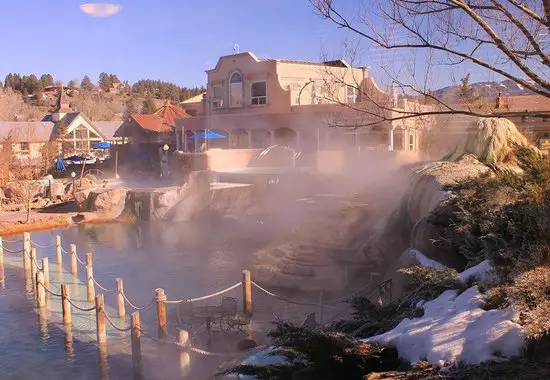 8. The magical healing powers of Pagosa springs
If you need a connection to energy and senses, it is best to reignite it naturally. While nature is filled with magical experiences, they can sometimes be hard to reach. A soak at the Pagosa springs promises a feeling of restitution with your inner self after one soak.
It sounds surprising, but this is made possible by the deep feeling of calm that flows through your body, the spring's warmth can be described as spiritual and refreshing. Besides healing the spirit, you may also feel some physical benefits of the waters.
These include improved muscle and bones strength, feeling energized; also reduced blood pressure, balanced hormones, and the ladies' favorite a healthier skin. Its healing abilities are magical because of the high natural mineral concentration present in the springs. The springs of Pagosa are undisputedly one of its kinds in the world. A good idea will be planning to spend a significant amount of your time in the water.
7. Free soaking at the hot springs
A free soaking time limit is available to anyone lodging at the resort for an hour or half in the morning. After which, most hotels and accommodation charge a small fee starting at $25 to $50 to all-day access to about two dozen spring pools. You can move from different collections, as no two pools are the same temperature.
The best part is they are all mineral hot springs that promise a therapeutic experience. It gets pricey when you opt for VIP services for the ultimate experience or require a private pool.
6. Pangosa springs are open for all seasons
The hot spring was designed to be enjoyed all year round, with the season-themed activities planned for your pleasure. Although, they had to restrict and eventually close down visitations due to the pandemic, they are back with safety guidelines put in place to keep you safe, so you only have to worry about having as much fun as the trip allows.
All four seasons are covered in the fun calendar, from festivals to competitions. It also gives room to do activities that the weather permits, like going for horse rides, hiking, fishing, and whatever you fancy. Since the exercises have minor limitations, you can enjoy them in Pagosa town.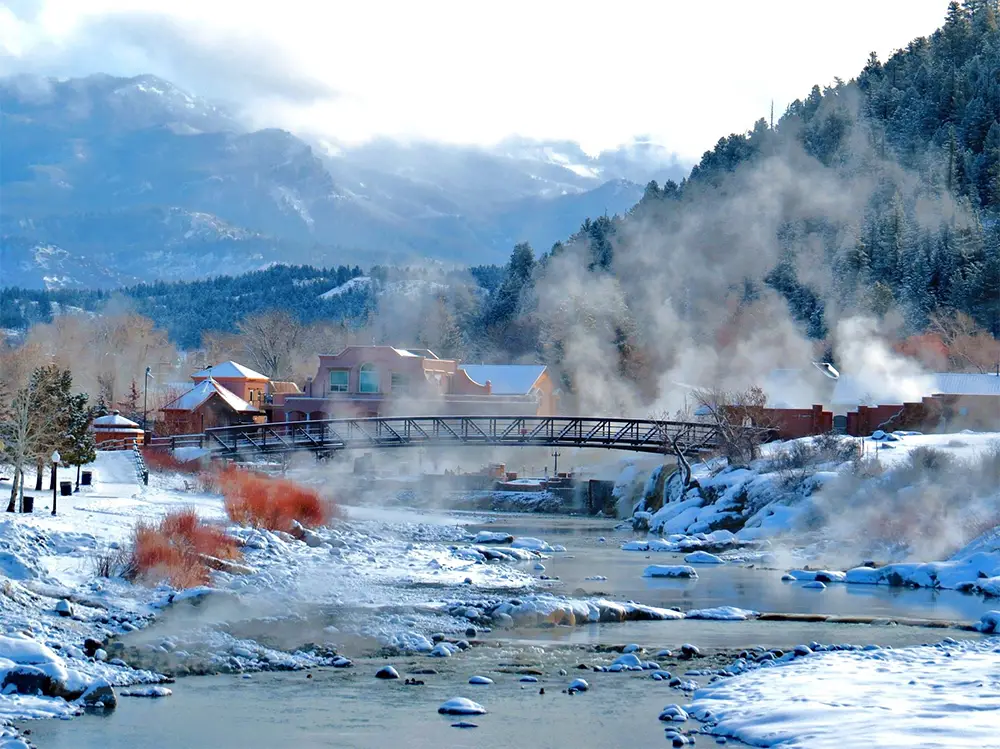 5. The picturesque views
A significant part of visiting places is enjoying the views or capturing the memories in pictures and videos. It is for updating your socials or a personal collection to reminiscence in private. Pagosa Springs is filled with many spots to take in the natural ambiance and snap some incredible photos. When soaking up in the hot spring pools, you get a beautiful background of the river banks.
The resorts are built to blend into the breathtaking natural river banks, so you get the whole experience. Looking ahead at the mountains leaves you in awe, also taking a hike up can help you appreciate its beauty. At the same time, they are giving you unique photo inspirations. There is also a mass of greenery to wander through, pose a few shots, and explore the Pagosa town.
4. Pagosa is serious about maximum relaxation
Visiting the hot springs just for the soak is an excellent relaxation on its own, but the town is filled with other things to indulge in for the ultimate feeling of ease. You can do a meditation exercise in the mornings since the environment is serene before taking a soak.
Afterward, you can go for a massage session; Pagosa boasts healing massages that will enhance the soak effects. From reiki to customized massages that focus on specified areas of your body. Take advantage of other spa services that will give you glowing results post-vacation.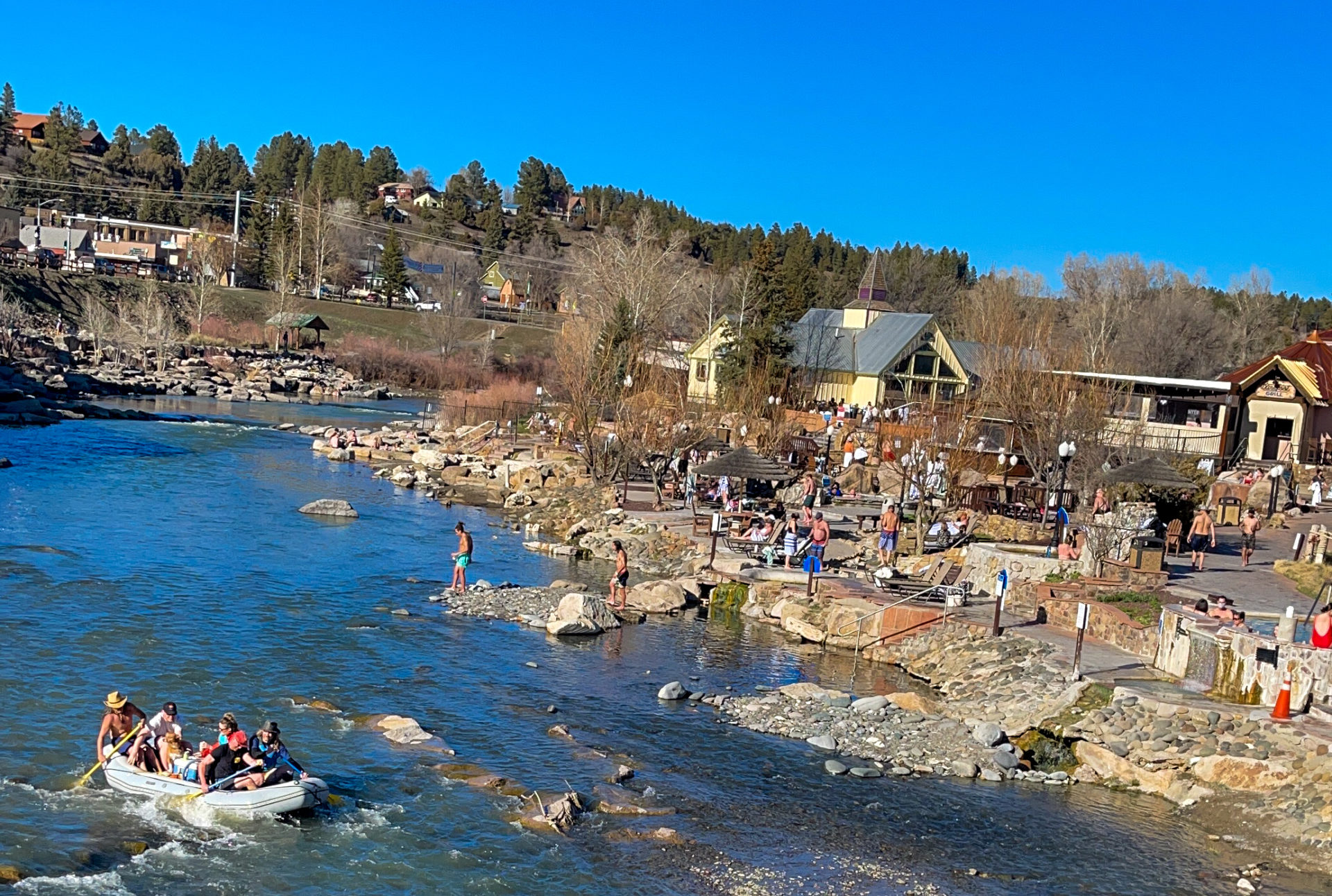 3. A tourist site famous in history
It is safe to say that geothermal has been in existence since the beginning of time; however, it did not get recorded in the history books until the 1950s. The springs were not famous until the 1880s when their healing powers became utilized by the Hahnemann Medical School. Guess the natives wanted to keep the peaceful place sacred for much longer.
The wonders of the springs gradually spread by personal reviews, and by 2011 it became featured in the Guinness Book of World Records. It has gotten featured in many word-class magazines, including sunset magazine; it is also common among some A-list celebrities. There is still a rich natural history if you remove all the hype surrounding the Pagosa hot springs.
2. Accessibility of the hot springs and town
One factor that can make vacation stress is the distance to the location's parts with all the fun activities. The idea of being in a remote destination is cute and all, but when it is too far from the actual sites that attracted you in the first place.
All these are eliminated in Pagosa town because its resorts are situated right at the heart of everywhere you want to be. The pools are sourced from the spring and are intertwined, especially for the ultimate experience. The hot pools sound enticing unless you like to explore the forests and the mountains.
They also offer several events you can participate in or watch for your viewing pleasure. Accommodations are available within a close range for ease of accessibility. So, you always get to enjoy a great view while you take on the town.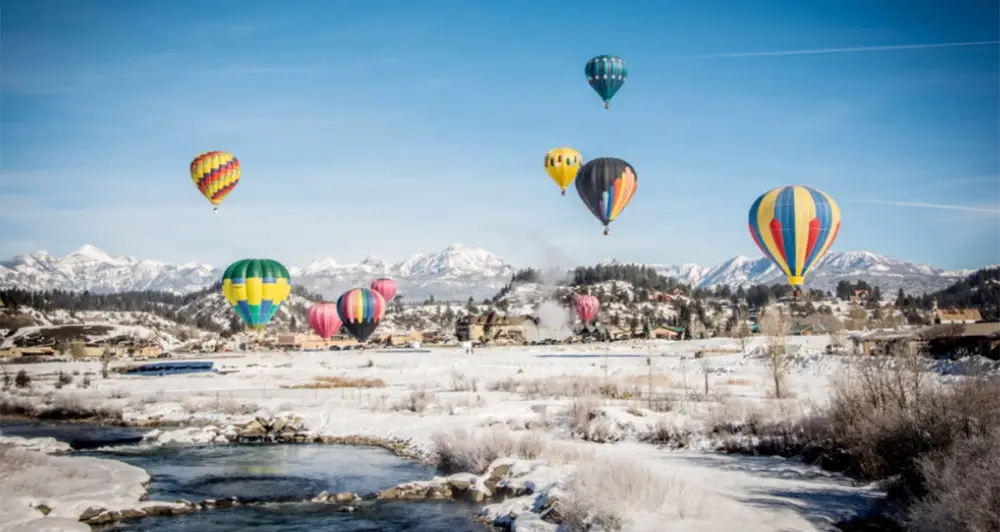 1. Endless things to do in Pagosa springs
A trip to Pagosa town is one for the books with an endless supply of things you can do. There seems to be something for everyone; the wilderness calls out for a peek when you view it, an excellent spot for camping and hiking along the lakeside. On exploring deeper, for a fee, you will find waterfalls.
Touring is an excellent opportunity to learn about new cultures and history. Pagosa has some historical sites to feed your curiosity, such as the ancestral Puebloans, Summitville mining site, and various ancient arts. If you feel up for it, go on a hot air balloon ride to view the gorgeous scenery.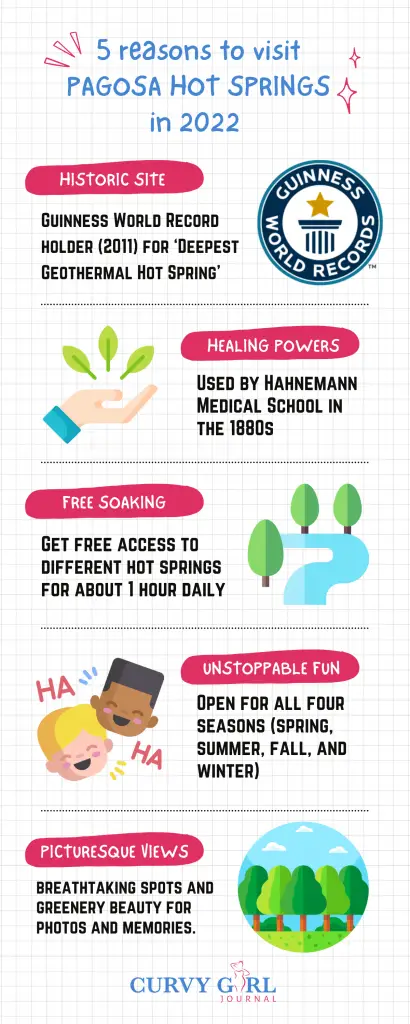 For some water-based activities, there are kayaking and raft services readily available. You can as well opt for a simple boat ride or fishing. Soaking in the hot springs is mainly the focus; tasting the local cuisine should be top on the list. Drinks should follow with some beer, with some of the award-winning breweries you will love to sample. From the looks of things, most of your visit will be spent outdoors, to end with a restful sleep late at night.
In conclusion, Pagosa spring hot springs are destinations everyone should visit at least once. It is a great place to enjoy some time off. While it is a top vacation spot, you can enjoy its beauty for just a day without lodging. The therapeutic healing powers of the hot spring should be experienced firsthand by you.
You may also be interested in reading this article, Top 10 Black fashion bloggers you should follow in 2022.