Your excitement as a solo traveler dies when you realize that there is no one to take your photos; well, I have collected 7 neat tricks to solve that problem for you in 2022.
There are breath-taking locations to visit, and mother nature has blessed us with many such spots. Traveling solo is an excellent idea, as it boosts self-confidence if you like to take in new scenery alone, but on the downside, it can be hard to get traveler photos to tag the trip.
Here, I prove that you can get stunning photos that will make people ask how you took the photos. No invisible travel buddy is needed; with enough patience and less care to your surrounding onlookers, your solo traveler photos are about to take a new dimension.
Several hacks to capture amazing traveler photos of yourself
The simplest method would be to ask a stranger to take photos of you, but this is the easy way out, and you will most likely end up with a sour, poorly handled photo. Even if you find a person who takes excellent pictures, they won't always be available. If you are ready to get creative, these ways will help you gather the best shots.
1. The mirror trick
Mirrors are a solo traveler's safest bet when taking pictures. Most people can't resist the urge to use snap a mirror picture, even if it is in a bathroom. However, other reflective surfaces and mirrors with a superior position will make great solo traveler photos.
2. Self-timer mode
The self-timer mode is excellent for taking great shots if you can work with it. This feature is not new to cameras or smartphones as some old models possess it, but most people have not utilized self-timer photos properly.
It is easy to use, as there is no need for tools and other gadgets. You can use anything sturdy that can stand — bags, tree branches and walls — can help. The phone's position, lighting, and steadiness will all give a great photo.
3. The good-ole tripod stand
Tripod stands are one of the best ways to get the best photos, as you can position it to capture the angles you like and set the timer. They are a great stand to hold phones and cameras to take endless photos, which are bound to stay steady and prevent blurry images.
It also saves time looking for a surface to place the camera on. While they are pretty bulky to carry around, you can purchase several travel-friendly designs online, such as the Gorilla pod which is available on Amazon now.
4. Wireless remote shutter
This wireless remote is perfect if you don't have a camera and can only use their smartphones to get the job done. There are some that work on cameras to take picture shots, which are short-range control to take beautiful traveler photos. You only have to place the phone in range of sight and power with the remote control.
Buy wireless remote shutter on Amazon.
5. Burst photos
This is another feature that comes with most cameras that you can utilize to your advantage. It is also called rapid-fire shots, which take many photos in a short time. Once you place your phone on a god angle, click on the burst photo feature and set the timer.
You only have to change different poses within seconds, and the results are dramatic photos with a natural flair since they are not rehearsed.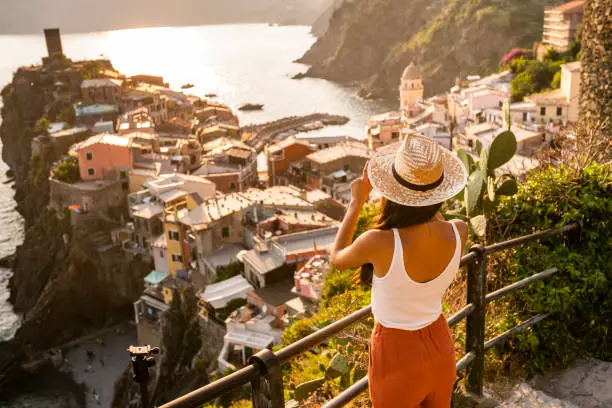 6. Get camera accessories
If you have purchased a camera to capture unique shots on your next trip, we suggest adding some accessories to enhance your chances. They can include selfie sticks, which are very effective in capturing full selfies. You can also try the flex clamp mount from GoPro, which allows solo travelers to get body pictures. There are several other camera accessories available, just the ones that work well for you.
See camera accessories that I recommend for solo travelers to take great photos!
7. Splurge on a drone
This is quite an extreme measure, but you can always use a drone if the other methods do not work. Before you splurge on one, check for the drone laws of the destination you're visiting. You also have to master how to control the drone properly. If these boxes are ticked, you can opt for the drone to capture tons of amazing travelers photos.
Conclusion
These tips can be used anytime you want to take a picture of yourself. We focused on trips because they have lovely views and backdrops to bring the best photos. However, when you are on a trip, you can constantly shift the focus from yourself and take pictures of the sites alone and personalize it.
The act of taking lovely photos of yourself is a skill that everyone should possess. Taking nice shots is only the first step to having a beautiful picture. Your editing game should be top-notch to get the best results. Luckily, many apps help; utilize the best ones to flatter you.