With funky music and a weighted hula hoop, get ready to sway your hips for a low-impact cardio exercise that even Queen Bey approves.
Toned abs, a smaller waistline, core strength, a flexible center, and more is what infusing a weighted hula hoop to your exercise can give. It only makes you wonder how you can achieve all these with hooping. Hula hoops have been around for a while and are primarily found in children's playgrounds; they are used to create fun games. When used correctly, they can also be a great fitness tool.
While it is a low-impact workout, it gives excellent results. Suppose you have caught on with the trend, adding hula-hooping for 10-20 minutes a day to your routine is refreshing. You do not have to reach a fitness level to use it, and it only requires a bit of mastering to control the spin before you are all set.
After dominating the social scenes, the weighted hula hoop is making the buzz for exercise right now and making its way to some of your faves' routine. Do you want in on the secret of using this simple item to burn belly fat and meet your body goals? This article has got it all covered, down to improving the core. Here's all we uncovered.
Why is it called a weighted hula hoop?
Regular hoops are used for recreational activities and weigh under a pound. When it becomes weighted, you can use the round items for exercise. Made possible because they are more resistant when you try to spin. They usually weigh between 1.5 to 8 pounds! Although, it is only slightly heavier than the regular store-bought hula hoops.
Most weighted hoops are made with thick plastic or padded steel to give the extra weight. However, people can still choose to add heavy objects to provide more weight to the hoops, as there are a variety of designs of hula hoops available you can use for your hooping debut.
The right weighted hula hoops to use
Beginners are advised to start with a giant hula hoop since it aids quicker learning. Using a small circle for your body can slow down mastering control and flow. To get your perfect size, do the simple trick of placing the hoop on the floor and measuring it to your center. You should opt for the one that gets to your navel and add a few more inches if you have are curvy.
If you are shopping online, to get the right size, measure the length of your body from the ground to your center. When both matches, then you have reached the right hula hoops. For advanced hoopers, you can use whatever size of a hula hoop that is easy to master the control, start small, and add more weights as you progress. As you do, take note of how your body reacts to the weight.
The truth is, the best-suited weight for your body can only be decided by you. So, try out a few before making a decision, but try to stay with the range of 5 pounds. You can consider the hoop's design, material, color, and other aesthetics when the size is sorted.
Related article: 5 lessons from Shonda Rhimes weight loss journey.
Hoop designs have evolved far more than those from our childhood; they are now adjustable, durable, have included gravity balls, and are still sold at a reasonable price range. A few good recommendations include; URMI weighted hula hoop for beginners since it is lightweight, Ever Rich foam-padded hula hoop, ResultSport original hoop, and K-Mart smart hula hoop. All of which are available to shop on Amazon.
Buy hula hoops now: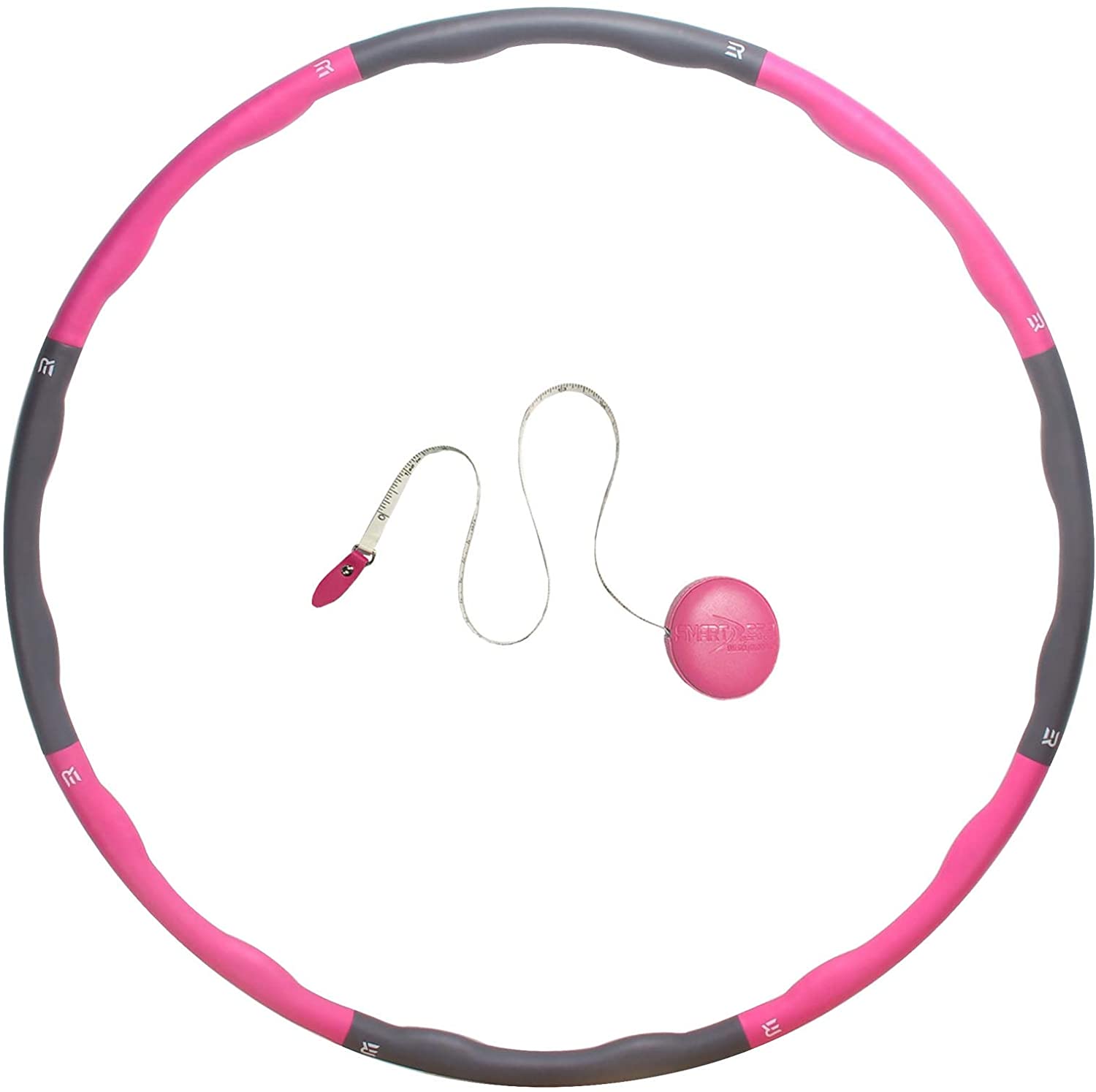 How to use a weighted hula hoop
You may probably used a hula hoop at one point in your life, but if you haven't, there is still enough time to learn. The weighted hoops are easier to control since they are heavier. However, it still takes more than carrying a hula hoop and swaying your hips to use it effectively.
Before you begin

, wear tight-fitted clothes and place the hoops on your lower back, just above your hips and make sure the circles are resting.

Give an exaggerated twist to your body while bending your arms. Then, you rock your body and get comfortable.

Maintain the connection between your arms and navel because it is your core and will give you the push to start great.

Once you have gotten into the above position, stand firm, and start spinning by moving your hips forward and backward, distributing your weight.

Keep up the motion with your strength as this gives rhythm to the hooping and flow; continue swaying your hips to the hoops and a tune.
Repeat this sequence for 15-30 minutes, and slot it in between your workout routine three times weekly. You can increase the duration and frequency once you get the hang of it.
Benefits of doing the weighted hula hooping
Weighted hula hoops are a good exercise that works for several beneficial things in the body. Some hooping results are visible within weeks since the low-impact cardio engages the core.
It is an excellent aerobic exercise that promotes healthier lungs and better blood flow. Hooping can help trim off some inches from your waistline and midsection to enhance the bum. Combining a weighted hula hooping to squats and standing positions can give a bigger bum. Such exercises can generally tone the body, which can transform the body.
Hula hoops are great for increasing the strength of your midsection. They are also undoubtedly, good for getting a flat tummy. The spinning motion burns calories and fat, although you may have to include some other workouts to aid it. They have proven to be more effective than taking walks to reduce calories.
Ultimately, the benefits of using hula hoops are unlocked when you use them correctly. It sometimes will only yield results when paired with other suited workouts.
Hooping styles for abs and core activation
Hooping is fun when you only use it to pass time, but it has to be precise when it comes to exercise. So, there are two hooping styles to achieve your desired results.
When you begin with your weighted hula hoops, start slow with the side-to-side style. As soon you become steady, alternate to the back-to-front—this way, you give equal stimulation to the muscles. Maintain proper breathing signals stability as you hoop to maximize the impact of the results.
Hula hoops can give desired body results faster if you do it right, and a few hooping styles help. For abs, after figuring out the right weight for your body, the secret is to keep spinning with a body technique that you can sustain for long. A consistent fast spin equals more muscular contraction, which will give a toned stomach and a centered body core.
 

View this post on Instagram

 
Are weighted hula hoops used to lose weight?
You can add some hoop rep to your exercise routine to shed some extra pounds if you so desire. It would help if you kept in mind the importance of choosing the correct weight of hula hoops for your body. Besides that, you will have to balance out your diet to see visible results.
To begin your weight loss journey hoops, start with 1.5 pounds weighted hoops, which you can increase as your core strengthens. Once you have mastered the art of controlling the circles, you mustn't get carried away and do hooping for extended periods. Most especially when you have increased the weight to 5 pounds.
Can overweighted hula hoops cause harm to the body?
There are several benefits of using weighted hula hoops, but using a round too heavy for your body weight can cause severe damage. It is better to stick within the range of 3 pounds (with 5 being the maximum) unless you are confident of the health of your back. This is why you should only choose a hoop once you are sure it suits your body frame.
A practical example of the harm caused by using an overweighted hula hoop would be a drooping or collapsed back. These effects are not instant but come from the heavy force jamming on a stressed body. Moreover, to use such heavy hoops you will have, the body will have to maintain the momentum to keep it spinning, which also causes harm to the body structure.
When you decide to start exercising with hoops, stay within the recommended weights so you don't end up with bent lower back muscles and a bad body posture. There is also the risk of bruising if hooping isn't done correctly.
Anyone can use weighted hoops unless you have a severe health condition. You might also want to get clear from a doctor regarding any hips issues you might be having. Otherwise, hooping is a fun routine you will be motivated to try since it doesn't feel like an actual exercise.
You may also be interested in read this article; Everyone is going to Pagosa Springs hot springs in 2022, see 10 reasons why!