Make more memories outdoors with pop-up beach tents from this list of the best tent canopies for protection from wind and sun in 2022 for your next trip outdoors.
Are you planning to go on a beach-themed vacation or trying to escape to an unknown destination? Maybe you like to visit the beach frequently; then you should add a beach tent to the list of things you are taking outdoors.
The outdoors are fun and filled with many activities, and one place that has a piece of everything good is the beach. While it is fun to bask in the open, the sun can be a downer on the party with the water, sand, and games. It is only fair to invest in a structure to shade you from the UV rays, such as a beach tent or canopies.
It is arguably better to go for tents since you only have to pop them up, rather than beach tent canopies which often do not include the poles to set them up. There are a variety of beach tents to choose from, which is why we have helped you narrow down the search. The only things you will need to consider are the number of people the tent will cover and the design.
If you are ready to enjoy basking under the sun, then read on to discover a great selection of tents.
Related article: Are hostels safe? 10 personal safety tips for women in 2022.
The best beach tents for the beach and outdoors
Your days on the beach are about to get longer, with this compilation of the best beach tents. Not to fret, as there is a tent for everyone, even the large groups. Get your beachwear ready because soon, you will be able to shop for a suited shade companion.
1. Alvantor Beach tent coolhut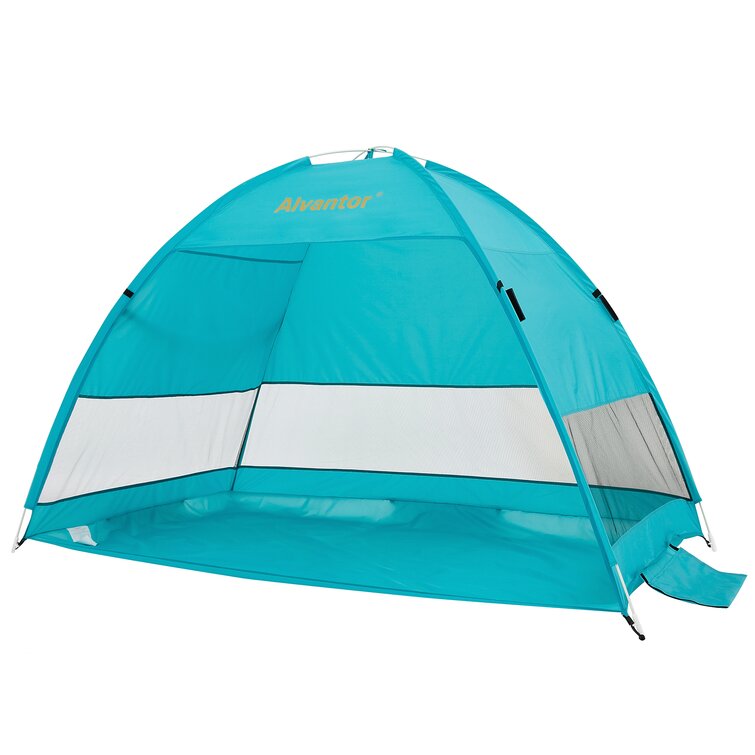 The alvantor cool hut is a top pick for extended time on the beach. The portable is durable and easy to set up because it has the toss in the air automatic open feature. While it weighs not more than two and a half pounds, it can withstand the wind.
The stability in the wind is made possible by framed poles, four stakes, and sandbags. It is also made with fabric that guarantees sun protection, as it remains sturdy on the ground. The medium-sized tent is a good choice for a maximum of four people. You can get one of this tent easily, from Amazon.
Key Features:     
Space area; 70×53×48 inches
Sun protection; UPF 50+
Mesh windows
Automatic pop-up
Fiberglass frame
2. Oileus X-Large Beach Tent Sun Shelter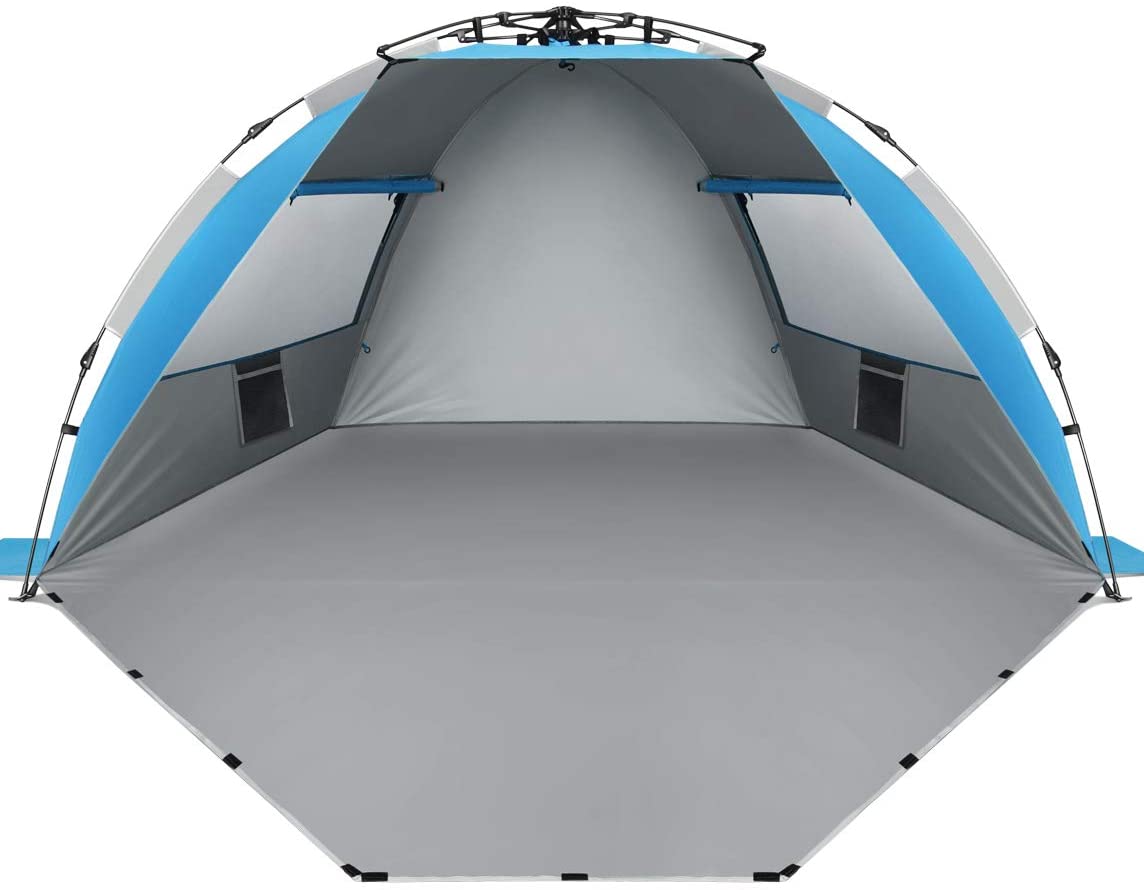 Most beaches and outdoor activities require a little walk from the car to carry all the needed items. This beach tent scraps the thought of significant extra weight, just for shading since it weighs only 4 pounds.
It comes with sand pockets and stakes to withstand the wind for stability. The sun shelter is also made with a durable polythene fabric to protect you from the sun. Since it's an extra-large tent, the capacity can fit a group of 4 and even their furry friends. Buy Oileus: X-Large Beach Tent Sun Shelter now for one of the six color variations at affordable prices.
Key Features:
Space area; 92×45×45
Fiberglass alloy steel
Sun protection; UPF 50+ –
Awning shade
Internal pockets
3. G4Free Beach Tent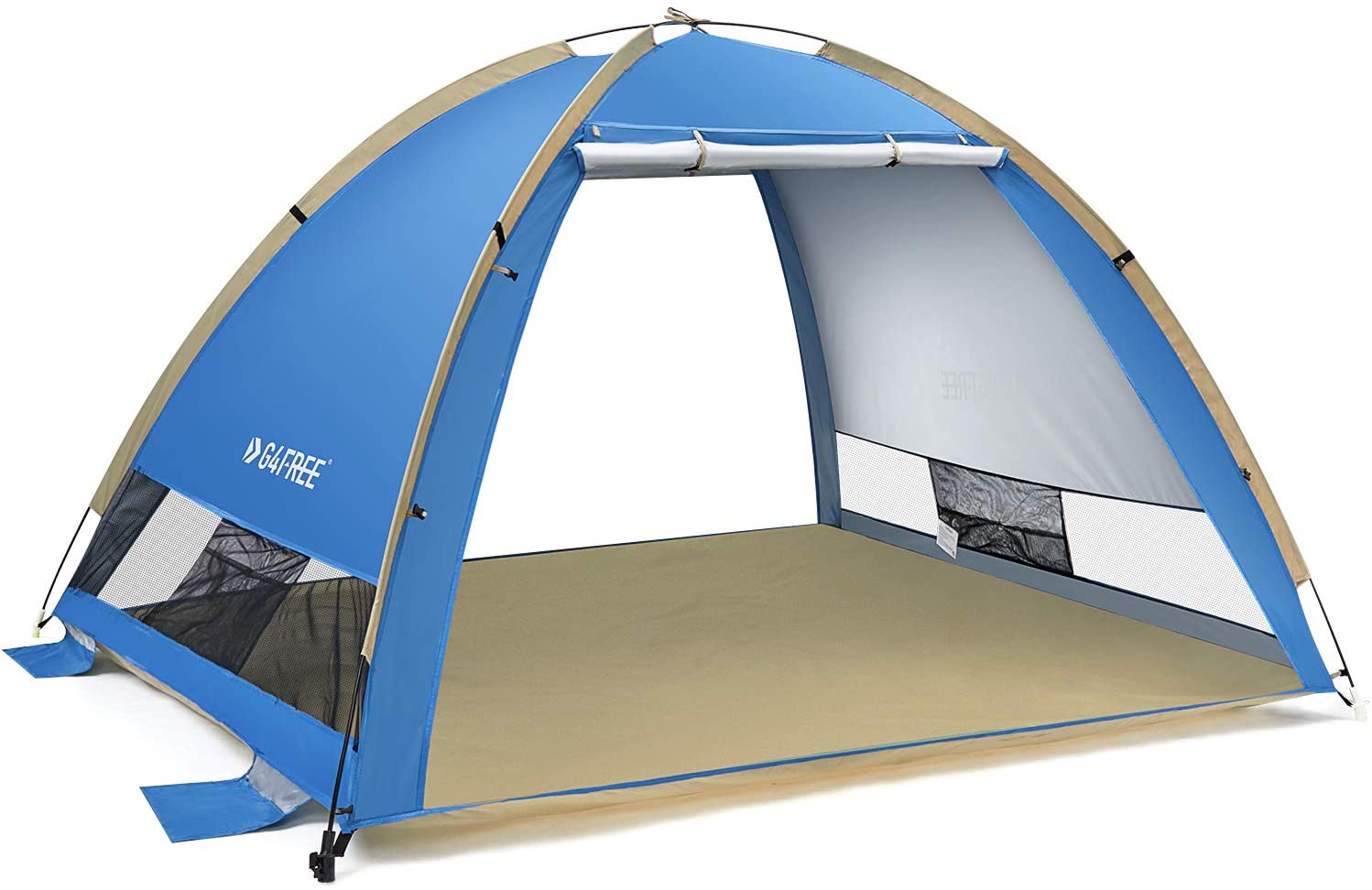 G4Free comes in with this affordable yet, solid tent, easy to use and functional in most weather conditions. Also, if you are a small group, this tent is right for you since it is capacity can conveniently house four people. The tent is also designed with openings for easy ventilation and stays sturdy on the ground, with its eight tent pegs and four sandbags.
This beach tent is easy to set up because it is a pop-up design; you get protection from the sun in a few minutes. When it becomes too windy, you can add more sand to the bags to keep them steady; unless the wind becomes too strong, then packing up your tent is best. Dissembling the G4Free tent is easy with the how-to video made available so that you can pack up your tent quickly. You can snag this beach tent on Amazon and choose from the three vibrant colors it comes in.
Key Features:
Space area; 86.6×74.8×51.1 inches
Two windows
Two doors
Sun protection; UPF 50+
4. Neso (grande) Beach Tent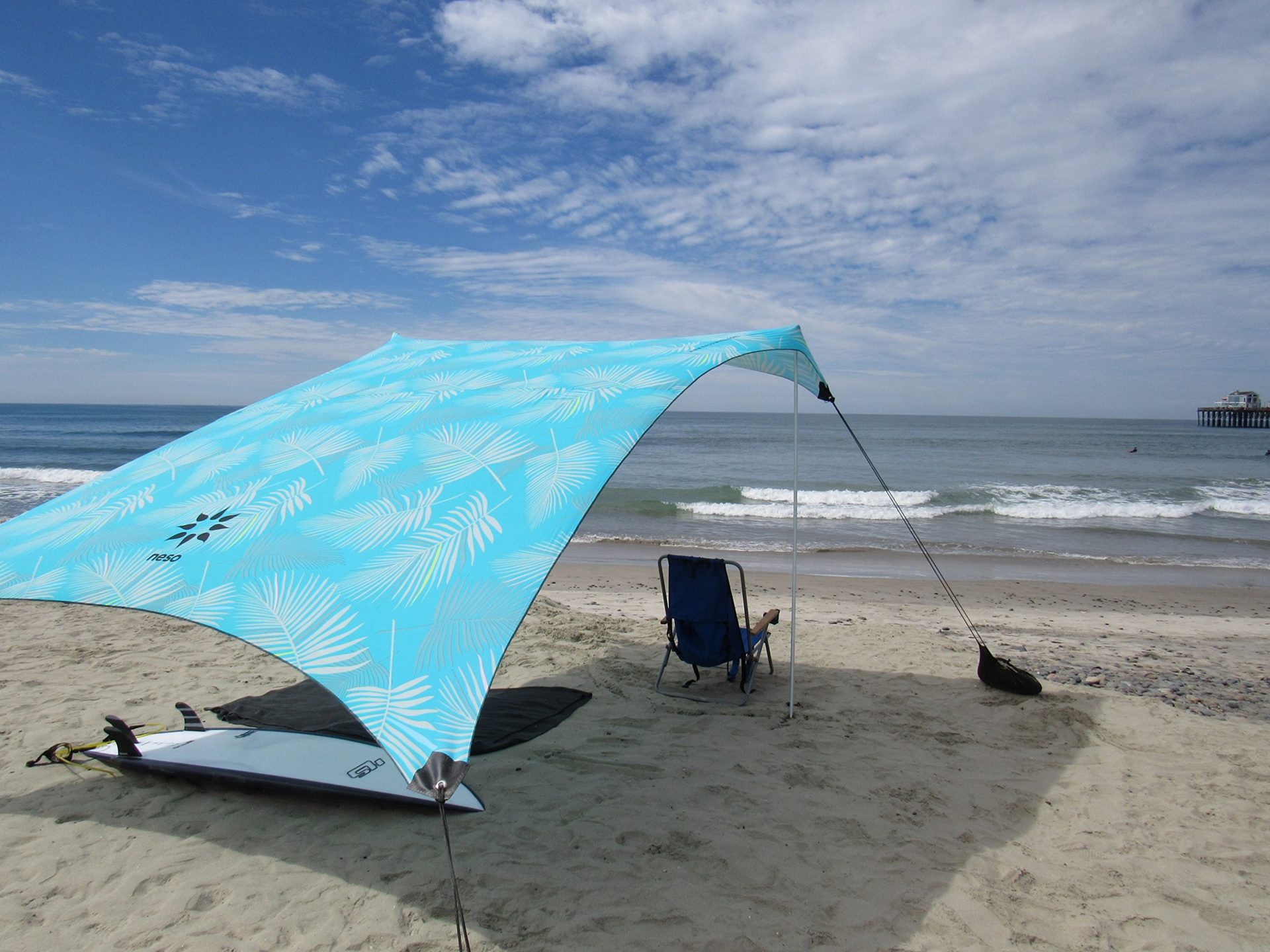 The Neso beach tent is a crowd favorite because it's lightweight and easy to carry for long trips. However, this isn't the only reason it made it to this list, because aside from its easy carry-on, the tent design can be set up by anyone in varying locations, so long there is enough weight on the anchor bags. If you plan on testing out new terrain, be sure to read on how to assemble the tent.
The Neso beach tent may easily be your companion for the outdoors. It is a simple 7×7 foot canopy with the ability to shield you and two others entirely from the sun. Visit the Neso store to select through up to 25 colors, including some beautiful prints of this beach tent.
Key Features:
Space area; 84×84 inches,
Sun protection; UPF 50+
Elevated angles
Portability
5. Sport-Brella: Portable All-Weather Canopy Umbrella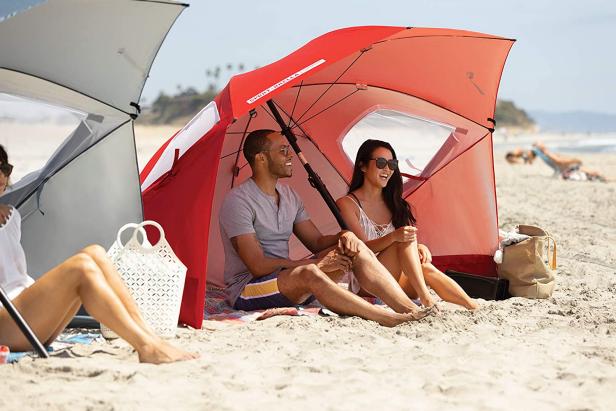 Unpredictable weather conditions are covered with this beach tent umbrella and canopy fusion. The brand successfully combined the design and ease of opening and setting an umbrella to the side covers and anchors that make a beach tent, forming a hybrid structure of one of the best beach shades you can find.
The tent stays secured to the ground through changing weather conditions. Durable material is made as to the coverage, so you are protected from the sun and rain since it's waterproof. When you get to the beach, in a quick motion of opening up the umbrella and anchoring the sides, you are all set. This unique beach shelter is available online at discounted prices to make more fun memories under the sun.
Key Features:
Space area; 54×4×4 inches
8 feet across
Sun protection; UPF 50+
Center spikes and stakes
Built-in vents
6. Pacific Breeze: Easy Setup beach tent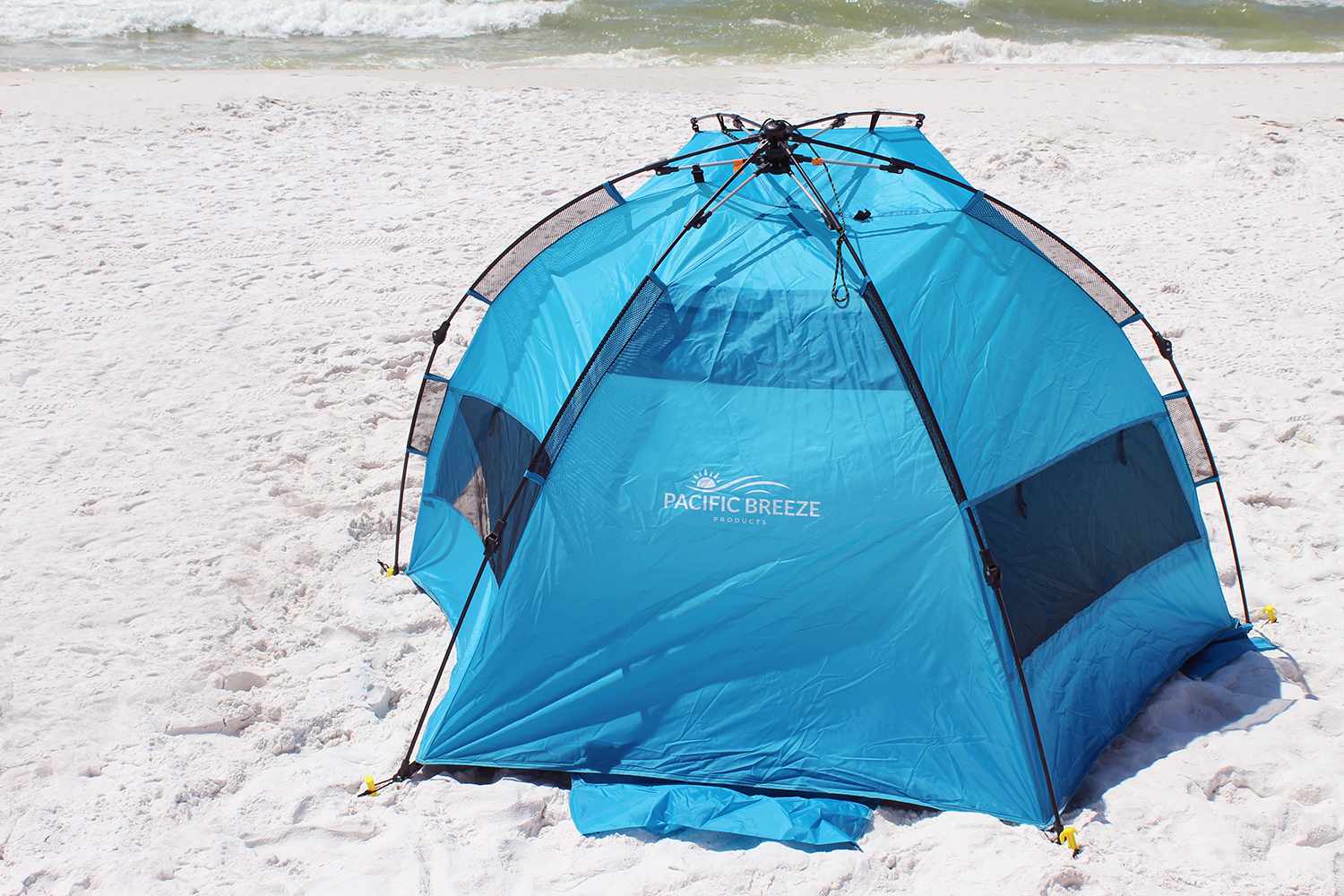 Beach days are about to get longer with an easy setup tent like this portable designed sun shelter. The tent frame makes it durable, coupled with its polyester shell covering. Going for this beach tent ensures you are protected from the sun and rain.
Although it has a limited space area and is ideal for two adults, there is enough room to house one-two child. As for the winds, the tent stays stable with stacks and up to five sand pockets. It also has roll-up windows with an elastic tie for added aesthetics.
Key Features:
Space area; 87×47×49 inches
Hook & loop fastener strips
Sun protection; UPF 50+
Mesh pockets
Fiberglass frame
7. WolfWise: Easy Pop Up Beach Tent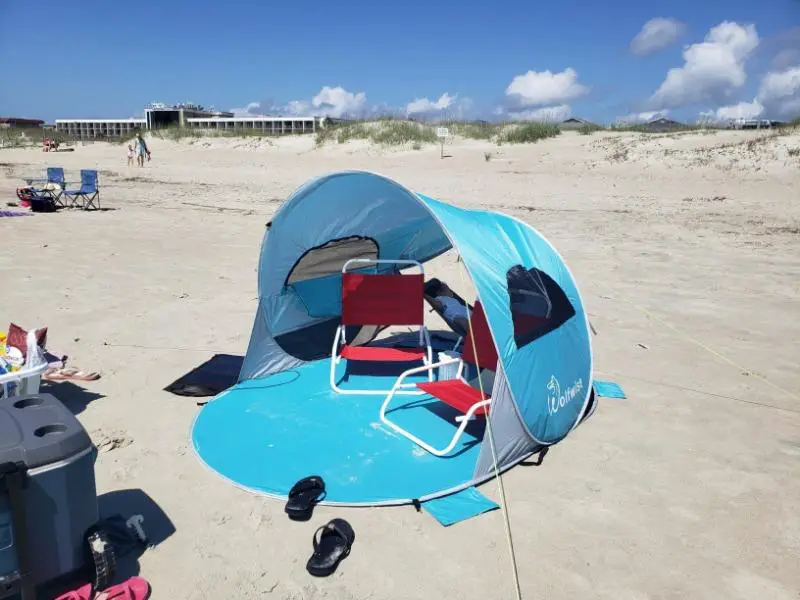 WolfWise proves to have figured out one of the most straightforward setups yet when it comes to pop-up tents. This design comes without poles and accessories, which does not compromise its ability to stay firm in the wind. It also has two doors for proper ventilation, so it is still airy even when there are up to five people in the tent.
You are protected from the sun and possibly rain with the cover material. If you like to keep essentials close by, such as sunglasses, sunscreen, and lip balm, you will love using the pockets added to store them.
Key Features:
Space area; 86×57×47 inches
Sun protection; UPF 50+
Anti UV material
Mesh windows
8. Lightspeed Outdoors: Sun Shelter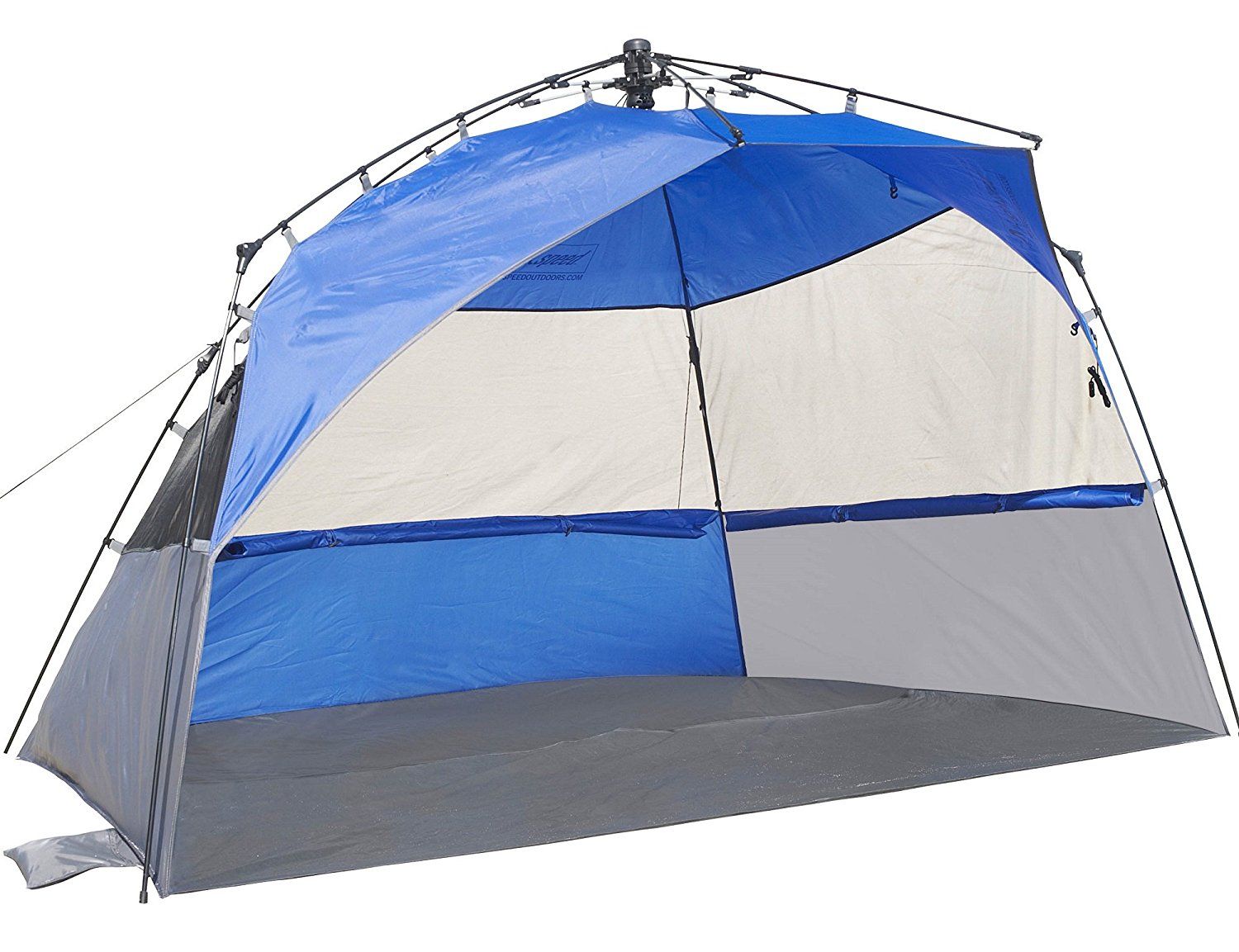 Lightspeed Outdoors canopies ends this list with an excellent quality beach tent that will serve any shelter you need outdoors in 2022. The updated design ensures complete coverage and protection from the sun due to its front porch. If you require more coverage, you can cover it up.
The mesh windows will keep the tent ventilated all through when closed. You also do not have to worry about the wind because the tent has stakes, guylines, and sand pockets to keep it steady. After a fun day at the beach, disassemble your tent easily with the side pull feature that also assists with setting up the tent.
Key Features:
Space area; 95×54×59 inches
Sun protection; UPF 50+ –
S60 degrees visibility
Side pull hub technology
Large overhang
Final word on the best beach tent
In summary, this list has been compiled based on the durability, the design, material used, sun protection, added features, and ease of use. These recommended tents featured all have the standard sun protection range of 50+. They are also made with durable materials, so you and your loved ones can enjoy extended fun times outdoors.
Do not put your skincare routine to waste by staying too long under the harsh sun rays. These beach tents are not just suitable for the beach alone, as they are shades that you can also use at most daytime outdoor activities, including; festivals, concerts, or the backyard. It is best to shop now before the summer rush comes.
You may also like to read this article, Best crystals for protection and How To Use Crystals For Protection.