Mugging stories are scary, especially when they happen to women staying over in hostels during travel; that is why I combed the internet for these 10 vital tips to stay safe in 2022.
If you plan to stay in a hostel for your next trip, then the question is, are hostels safe? It must have come to your mind. Generally, hostels are a cheaper accommodation option, especially if you have a budget. While they try to maintain safety by restricting guests and creating personal spaces, there is always a little doubt.
We hear several stories of missing items and all other bad experiences. The truth is hostels are not all that bad if you are careful enough and stay at a great hostel, from a safe environment to a secure room and dedicated team of staff. Usually, it has little to do with your roommates, as most of them are there to have an excellent time just like you.
Are you traveling soon to an unknown destination? Read this guide to learn how hostels are and how you can stay safe in them.
Related article: 7 tips for awesome trip photos as a solo traveler in 2022.
Why do people stay in a hostel and not in a hotel?
The decision to stay in a hostel is often personal because some people prefer not to splurge on accommodation, while others prefer to stay at the best hotels for comfort. Avid travelers always have a budget divided between food, lodging, and visiting great sites.
Staying at the wrong place can affect the whole trip, which everyone tries to avoid. Hotels are private rooms that offer personalized services if you can afford them. In comparison, a hostel is like university dorms, shared between travelers, so it is cheaper. They do not offer towels and other personal grooming supplies.
They are perfect for those who don't like to stay alone unless you choose private rooms. If the advantages that attract people to hotels, including tour services, free Wi-Fi, and breakfast, are offered in the hostels for a cheaper fee, it is no surprise that more people are choosing hostels.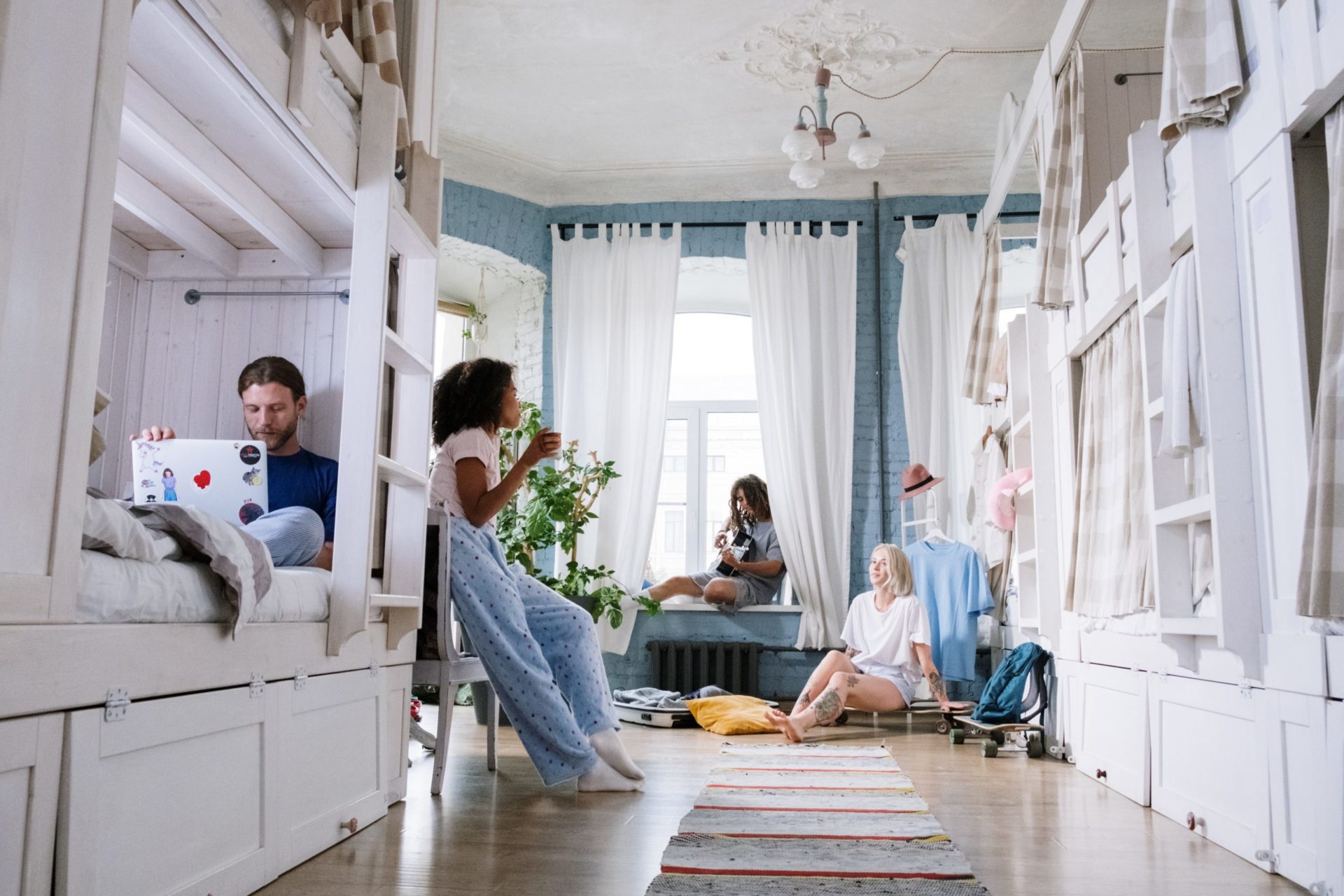 Are hostels safe?
There is no straight answer to the question because it can be safe and unsafe. Safety is determined by different factors and sometimes depends on how careful you are. Hostels are great for making new friends, especially if you travel alone.
It is fun and a great experience every traveler should try once to get a first-hand experience. Most hostel myths about being in a remote location and only for young people are wrong. If you don't mind sharing your personal space, a hostel is for you.
10 tips to stay safe in a hostel
The destination does not determine how safe the hostel will be, as you will need to keep both yourself and your belongings safe. So, if you have chosen hosteling, here are 10 safety tips from travel experts.
Your safety at a hostel starts from selecting a good hostel. The quality of the hostel automatically equals how safe the hostel will be. Before booking, check for ratings which should be at least 4.5 stars also, read all the reviews on the hostel you can find.
On the day of arrival, get there in the daytime, scout the surroundings, and familiarize yourself with the neighborhood so you don't get lost when you go out.
If you have the habit of spreading your belongings on the bed or all over the room, then a hostel might not suit you. Such an attitude can bring unwanted attention to you, making your hostel mates nurse the idea of stealing your belongings. In simple terms, avoid being flashy and careless.
Watch all your valuables with extra care, such as jewelry, money, passport, phone, and anything you hold dear. For backup, hide some money in different pockets of your clothes, save a copy of your travel information in the cloud or mail. Just in case you lose your stuff.
Try to come back early to prevent suspicious people from following back to the hostel when you go out. Do not let strangers into the hostel even when you get drunk, which you should avoid.
Please keep all your belongings in the lockers provided, and secure them with padlocks provided before stepping out. To be extra safe, come along with a padlock from home.
Do not be a snub; make friends and socialize with your hostel mates. Share stories, food, and other things you are comfortable with sharing. They are most likely to look out for you and protect your belongings.
If you know you will feel safer booking a same-sex hostel, some people feel more comfortable in such hostels rather than the mixed rooms.
Hostels are for backpack travelers, so you might want to carry your backpack along with you. Travel with a safe bag that has a protector that hinders theft.
Try to blend in with locals and ask for safety tips, as they can provide the best advice to stay safe, including the places to avoid.
Keep these 10 tips in mind when next you travel, and you should be safe. You may also like to read, Plus size carnival costumes ideas and where to shop for them.