People experience anxiety at various points in their lives; some people know how to handle this and also hide it from other people while in public, others will tap their pen or finger — which can be a distracting habit for people around. 
If you are suffering from anxiety or panic attacks, a fidget ring is something you should purchase as it helps to suppress your stress in a stylish yet subtle manner. Anxiety rings might sound complicated, but they are not. They are delicate rings that could come with tiny beads or in the form of multiple bands that you can twist or spin on your finger. 
What are anxiety rings?
The anxiety rings look similar to a normal ring, but manufacturers of the rings claim it has a special design that helps to combat daily stress and panic attacks. There are many different kinds of anxiety rings out there with spinner rings as the most popular; the spinner rings with a segment in the middle allows you to spin the ring with another finger. 
Do anxiety rings work?
As much as anxiety rings help with panic attacks and anxiety, it's not a replacement for in-person therapy. Anxiety rings are designed to help combat attacks by distracting and refocusing your brain from racing and overwhelming thoughts causing an attack. This help send signals to your brain to redirect your thoughts to the pressure or beads on your finger. 
The spinner rings are a great option for preventing a pain attack from becoming full-blown when noticed at the onset. When you are having a panic episode, just apply pressure to the ring on your finger to redirect your thoughts. 
Although the anxiety rings are known to help certain people, science believes more research needs to be done before it can be introduced in a clinical setting. 
Below are ten fidget rings that you can purchase. 
Fibo Steel 6-pieces stainless steel spinner rings
The Fibo Steel six-piece set comes in silver 316L stainless steel which is what is popularly used in making watches and jewellery because of its durability. The carbon component is lower making it more resistant to corrosion. The ring comes in different widths and designs and you can switch them up depending on what you are wearing.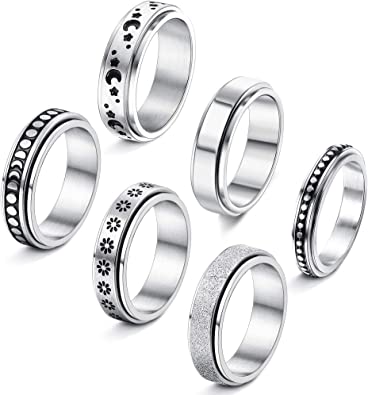 Mr Pen Spiky sensory rings, 10-pack
Although this spiky sensory design is not the traditional fidget ring, it can still bring you massaging relief. The spikes help to improve blood circulation around the finger. People who use the fidget ring say it helps them not chew their nails, rather focuses and offers a soothing massage. 
The Pen Spiky fidget rings aren't stylish for normal wear but they are great for working from home or lounging around. Don't worry, the spikes are not dangerous, it feels more like the tip of a pen or the end of a match. 
This set comes in ten rings of multiple colours and they are made of stretchy metallic material that fits most fingers sizes.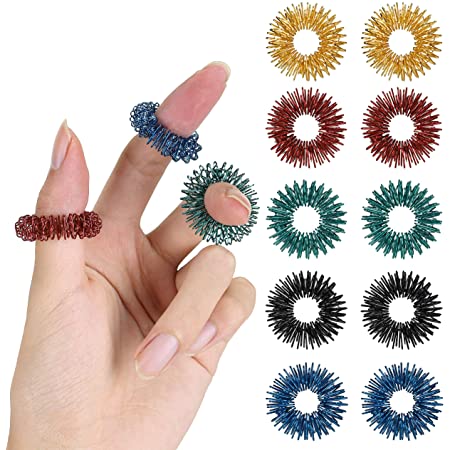 Nanafast 3-Piece fidget spinner ring
This three-ring set has a beautiful appeal; it is made from hypoallergenic stainless steel that does not rust or fade. Two out of the three rings are two-toned in silver and black while the third is all black with a grainy pattern that looks like asphalt. All three rings have different sizes to give your versatility in both size and design.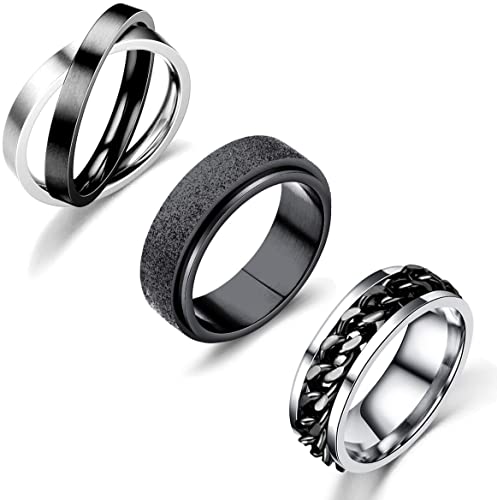 Novica 925 sterling silver, copper and Brass spinner ring
Novica is a well-known brand that produces rings with ethical standards; their fidget ring like all of their creation is certified fair trade and handcrafted by artisans. This tri-tone meditation spinner ring incorporates real sterling silver, copper, and brass creating a beautiful piece that looks more like fancy jewelry than a fidget ring.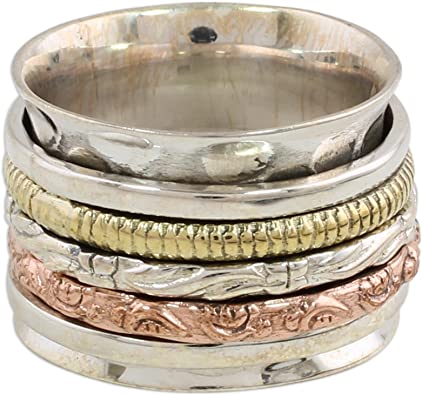 Alextina stress relief stainless steel spinner ring
If you are a lover of cats, this beautiful design will help to reduce your anxiety. The 316L stainless steel ring is available in rose gold and silver. The ring is resistant to scratch and does not rust allowing you to wash with soapy water when the ring is dirty.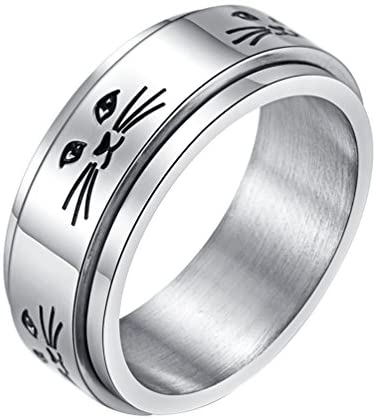 Rose gold fidget ring
This fidget ring is made with a tarnish-resistant silver-plated rose gold band and has the perfect beads for fidgeting. The beads will help you refocus and alleviate anxiety.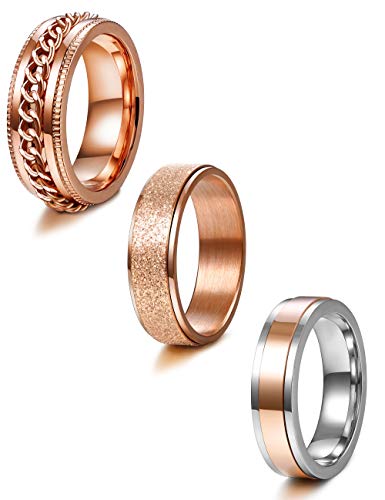 Roller ring
If you are not a fan of beads and would rather try a roller ring, an interconnected gold-plated brass band might be a better choice for you.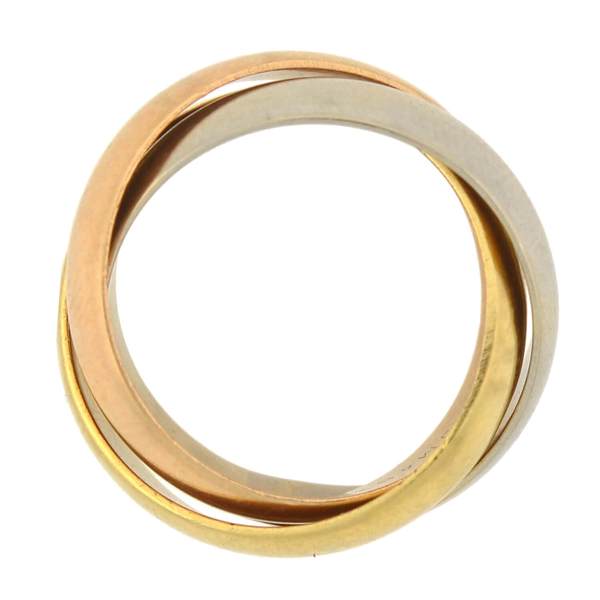 Mordsa anxiety ring
If you want to go for something bulky, try the four-piece anxiety ring set which has a heavier spin ring.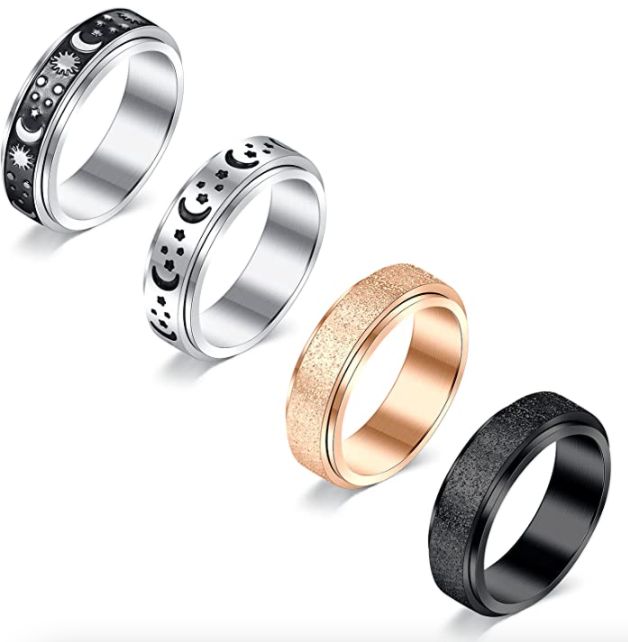 Rainbow chain spinner ring
For a bolder statement ring, opt for this beautiful rainbow chain fidget ring made from solid hypoallergenic stainless steel.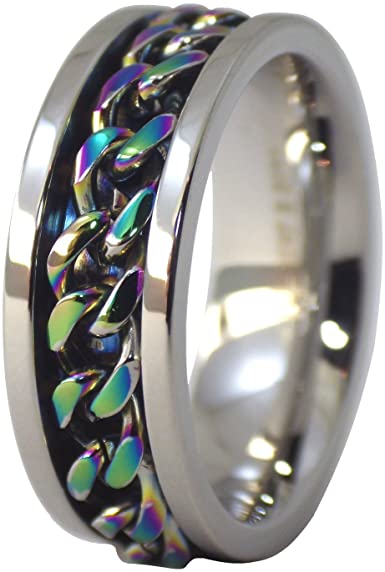 Opluenceline anxiety ring
The opluenceline dainty fidget ring is silver plated and adjustable. Looks quite fancy and matching with all outfits.