If you grow your hair long and cut it regularly, you'll appreciate how less time-consuming it is when trying to style it. A mohawk fade is a stylish haircut that doesn't require many styling tools.
People sought to shave the side of their heads in new ways, and that's where the idea of the mohawk began. In modern times, however, the hairstyle features spikes, like spikes on hair and a shaved part – and is sometimes referred to as the mohican.
The mohawk haircut suits almost every hair type, although straight hair or a wavy texture makes them look even better. Our hair is probably one of the essential features of our overall appearance, so it is worth making an informed investment.
If you decide to go bold, always have an idea of the hair length you wish to achieve – and don't be afraid to try a new style. It could be just the thing you need. This article will tell you how to cut and style a mohawk fade step by step and still, give you ideas to try your first look.
What is a Mohawk Fade Haircut?
A new haircut, hairstyle, or color can completely transform you and boost your confidence. Sometimes a trim is all that's needed, but sometimes it involves a complete transformation.
There are many new hairstyles, from mohawks to sharp undercuts. The mohawk is the most iconic punk variation of the otherwise hair-free shaved head that remains a long-term staple of edgy street style.
A mohawk haircut is a haircut in which hair gets cut so that it falls away from the head in a mohawk, usually forming an inverted V or straight line.
The hair around the sides can be cut very short, or the sides can be allowed to fall naturally. The back can be cut short or allowed to fall naturally.
A variation of the mohawk is reverse hawkmo, but the hair on the side is kept long. On the other hand, the faded hairstyle has cultural roots and was initially worn by men.
It has since become popular with women, who incorporate the style into various hair colors and styles. The men's version has a prominent shaved area at the top around the skull, which contrasts with the sides, which have longer hair that tapers down towards the back.
The 'fade' refers to the gradual reduction in length as the hair meets the scalp. The style is quite demanding to maintain if you are concerned about the perfect fade, which makes it less appealing to some people. However, for those with confidence, it can be a liberating and stylish look.
How to cut a Mohawk Fade Haircut
Before you can start cutting your mohawk look, here's what you'll need: clippers, a small comb, scissors, gel, or wax hairspray.
Step 1: Prep Your Hair
First, you will need to wash your hair with shampoo and conditioner. Then you will need to part your hair into sections – the top, middle and bottom – and spray the top with hair spray. Place some gel or wax in your hair and comb it through.
Then, cut a straight edge on the bottom half of your head, creating a line at the forehead. Now, comb the bottom half of your head back, following your straight edge, and brush out.
Step 2: Map out the Mohawk
You can use masking tape or an indicator to map out how wide the mohawk should be and where the fade should start. Now that you've got your center part, it's time to line up your stripes.
Start with your most extended piece on the top of your head and work your way down, creating a strip that's as close as possible to your natural part.
The smaller the stripe, the more blending you'll have to do when you're done. If the strip is too small, your details won't blend well, and you'll leave thick, visible lines at the crown.
Step 3: Cutting the Mohawk Fade
Make sure your hair is completely dry so that it's easier to work with. Get your comb and brush and run through the top layer, so the hair closes.
Now, grab your scissors, starting from the top of your head, and cut straight across to meet your ears. Use scissors to snip hair clean through the ends, leaving you with a sharp edge.
Create a slick back using a small amount of hair gel. Hold the buzz-cut hair with your fingers and comb the hair upwards, allowing the front part to fall over your forehead in a loose parting.
Next, trim the ends slightly beyond where your regular cut begins. Now you need to make sure that your line stays perfectly straight. Brush out your hair and use the comb to bend it vertically.
Step 4: Cutting the Fade
Gather your hair to the side, but don't cut too much off; go for 3-4 inches. Cut off the top 1/3 of the hair, then cut the bottom 1/3 of the hair. After that, please take note of the short lines together, then cut them around each other.
Keep repeating this process until you get the look you want for your fade. Use scissors to snip hair clean through the ends, leaving you with a sharp edge, especially if you want spikes.
Create a slick back using a small amount of hair gel. Hold the buzz-cut hair with your fingers and comb the hair upwards, allowing the front part to fall over your forehead in a loose parting.
7 Best Mohawk Fade Haircut Ideas
All these 7 mohawk fade haircuts are suitable for many different face shapes and from all walks of life, so if you're looking into changing your hairstyle and want to try something a bit different.
Try these seven mohawk fade haircut ideas below for a modern and speedy take on a traditional mohawk. In minutes, this style gives you a clean, sharp, and edgy look.
Classic Mohawk Fade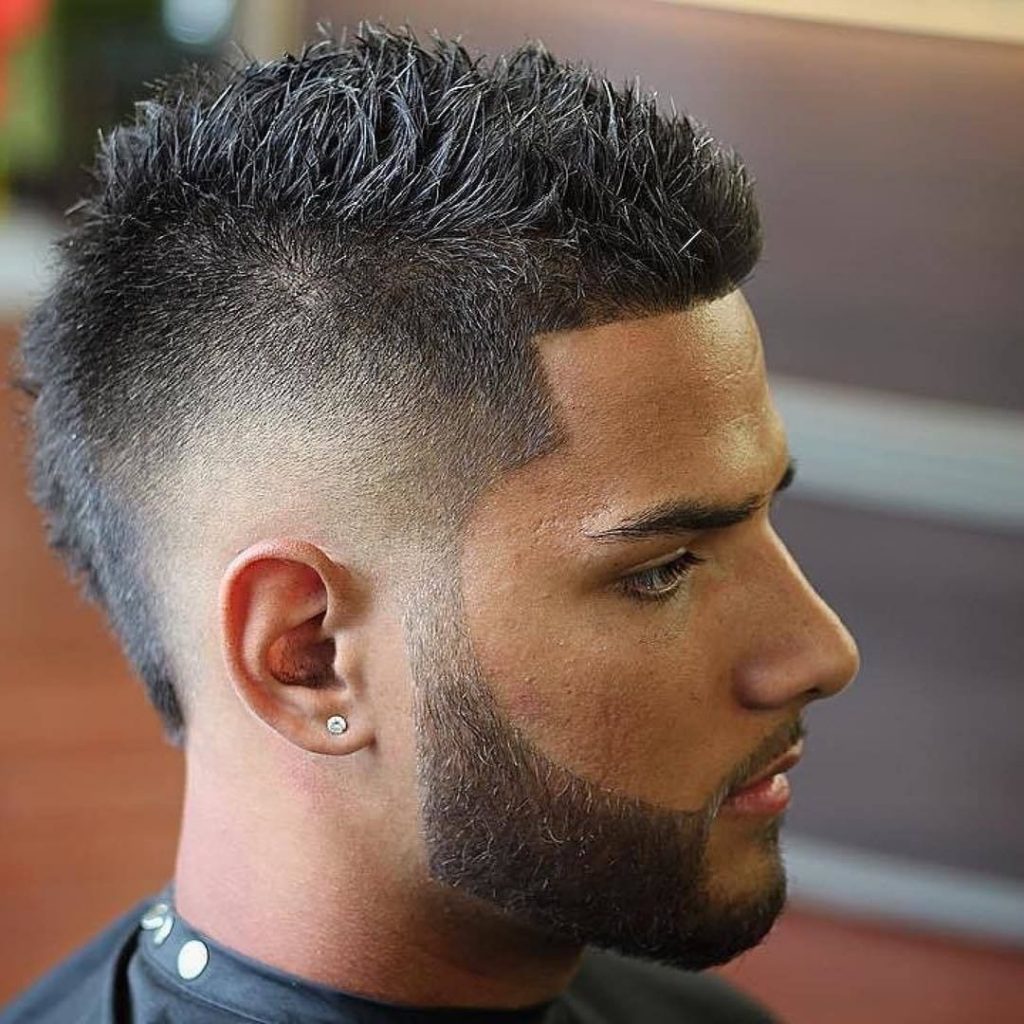 A classic mohawk fade hairstyle is ideal for people who care about their image and want to stand out from the crowd. This hairstyle looks great on any man. It emphasizes the man's masculinity and gives a unique style.
The fade area under the hair is a must if you don't want to go wrong. You can opt for longer stubble at the sides if you wish to look closer to a skater style. A short taper is a way to go if you want a casual look.
High Mohawk Fade
The best thing about the high fade hairstyle is that you don't need to spend much time styling it. You can easily do it in just a few minutes. The high fade hairstyle is best suited for people with round faces.
It keeps volume on top of the head and can help to make a face look thinner. The hair on the forehead should get cut with a slight rise, possibly in combination with other layers, and the hair fixed with a gel.
For best results, grow the hair to the sides until it is about an inch and a half long, and then shave the sides and back. The high fade haircut is a stylish option and creates a look that is both clean and modern.
Afro Hair with Mohawk Fade
Wearing a mohawk with an Afro hairstyle is an attractive style for a man, but don't forget that this haircut also needs proper maintenance. You can use pomade or wax to keep your hair in place. It is an edgy cut that often includes a shaved, low, or flattop.
Within this style, the hairline becomes shaved at the forehead, and the hair on top is tapered and styled.
Edgy Wide Mohawk Fade
The spikey hairstyle is very in now and shows no signs of letting off. The spike can get sculpted into many different styles but is usually sported to the side. It works best on textured hair, which is thick, comes a long way down the neck, and is paired perfectly with slicked back or permed hair. So, next time you head into the city, ensure your hair has some edge, as it is just too cool not to.
Curly Blonde Mohawk Fade Hairstyle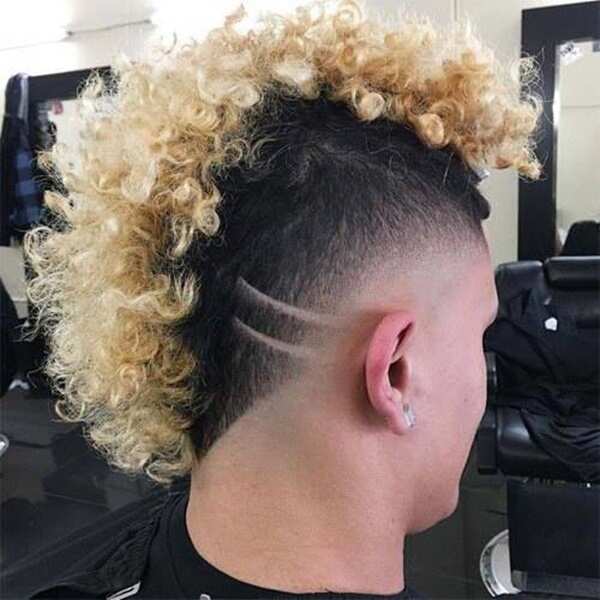 This unusual haircut will make you stand out in the crowd, whether you want it or not. It will surely draw attention, although not necessarily for the right reasons. Well, you will look fantastic, though.
The blonde version is excellent for women who want something different but looks great on dark-haired women. To complete the overall effect, ensure you use a curl-boosting cream to define the middle mohawk.
Long Hair Fade Mohawk with Beards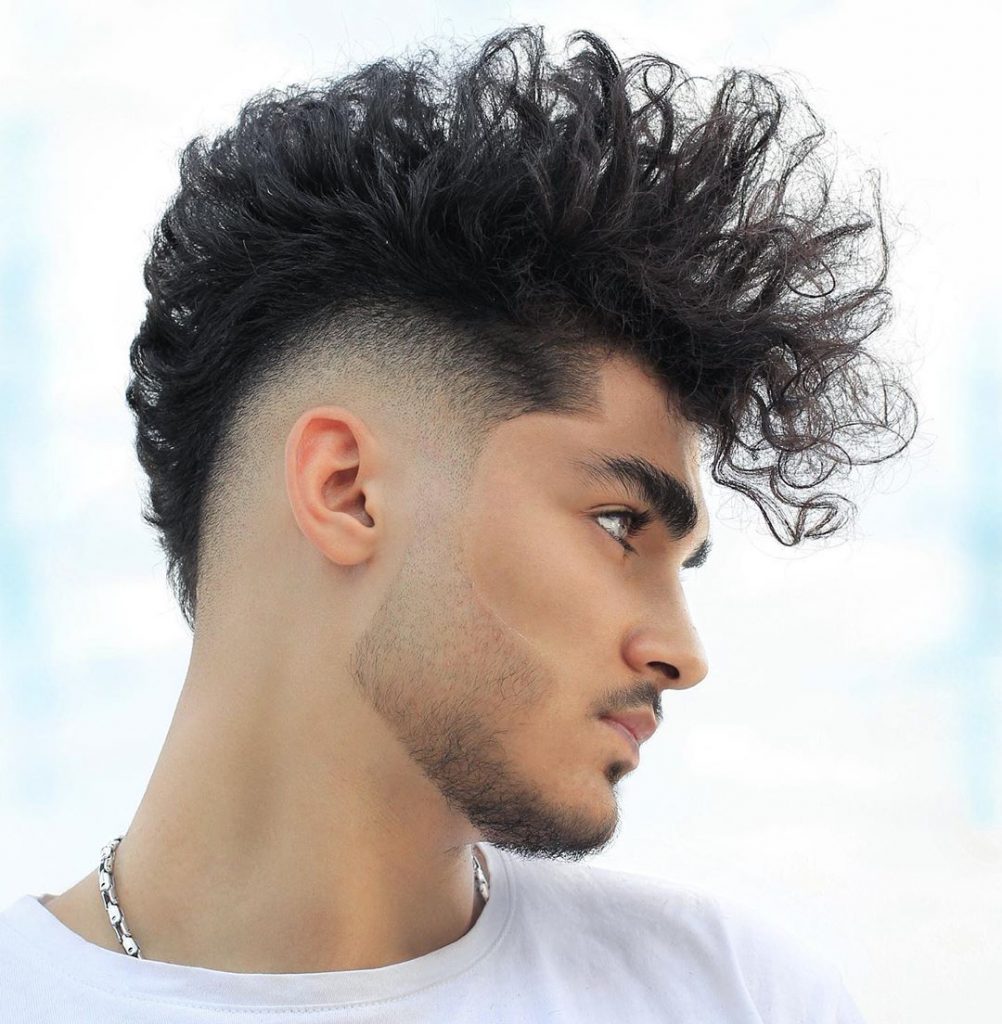 A beard is trendy now and can be seen in men of all ages. A long, full beard isn't quite as simple as having just the longest, thickest facial hair possible. Combining it with a stylish fade mohawk haircut would be best to achieve this look.
The sides of the head are brushed backward, and the back of the head gets brushed forward. As a faded hairstyle, the beard is its style but improves the mohawk. You can keep the hair on the top layered, and the beard can get kept long or short.
Spiky Styled Low Mohawk Fade
A spiky hairstyle is a suitable option for both youngsters and adults. It is perfect for men with shaggy or slightly wavy hair and works well with any hair color. You can part your hair slightly off-center, tease it on the sides, and then comb it backward and downwards to undercut the top.
It's perfect for those wanting a fun hairstyle. Your face shape is rounded, and long hair will suit you best. With this hairstyle, the hair is cut in such a random manner that it looks natural.
It also requires a lot of precision, so ask your hairstylist to use clippers or shears to achieve this look. This hairstyle is a shampoo-and-go look, which means that you don't need any heat styling tools, but you will need a good haircut or hairstyling products instead.
How to Style the Mohawk Fade
To make the haircut easier to manage, use a volumizing spray or sea salt spray to root lift and shape your hair.
Start by parting and drying your hair into sections. Wrap your sections around your finger or comb to give them texture. Next, apply a strong-hold cream if you make your hair stiff with spikes.
It would help your hair start from the center and create a deep side part on the opposite side to ensure the product gets to all areas. Then, work a product of your choice, from wax to hair growth products, into the middle section of your hair.
Pass a styling comb or brush through your hair to create volume and texture. Hold each section with two fingers and a medium bristle brush, and divide the areas if you plan on doing something extra.
Working your way down, sweep a small section of hair. Use a paddle brush to bring everything in place, and use your fingers to brush out any flyaways.
Tips for Cutting a Mohawk Fade
Make your first cut through the center, follow the thick guard, and shave the sides of your head. Start at the nape of your neck, and shave up your first diagonal line. Then shave down the diagonal line.
You can use a triangle shape between your hairline and your eyebrows, as close to the nape of your neck as possible. Finish with the comb guard, take your razor, and shave the hair on the sides of the scalp. Use a straight razor and shave off any excess hair.
You might also like to read: 
–12 Best Medium Taper Fade Haircut For Men
–19 hottest short natural haircuts with low maintenance for black women
–How To Stop Receding Hairline: Causes, Prevention, And The Best Treatment To Regrow Your Hairline
–Slacks: What Are Slacks How To Choose And Pair The Pants Effortlessly