When It comes to celebrities who embrace and look stunning in their natural hair, Viola Davis tops the list. Ditching wigs and wearing her afro in various styles is the style she has stuck to after stepping out on the red carpet at the 2012 Emmy awards with her crown of dark brown curls.
Not many African-American celebrities will feel comfortable attending award shows and events with their natural fro hair, but Viola Davis is a woman who doesn't mind being different. Understandably, she comes from an ancestry line of powerful black women who wore their afro with pride.
Before we look at some of her unique afro styles, allow me to do a quick introduction about this superwoman and why she inspires many women around the world.
Viola Davis Background
Viola Davis was born on August 11, 1965, in Saint Mattews, South Carolina, to Mary Alice and Dan Davis. She is the 5th child amongst the six her parents had. When she was two months old, her family moved to Central Falls, Rhode Island, where she grew up. She attended Central Falls High School and first got involved in the arts while there.
Director Bernard Masterson first recognized her outstanding talent while Davis attended the young people's school for Performing Arts in West Warwick, Rhode Island. After high school, she furthered her studies at Rhode Island College and eventually graduated in 1988 with a major in theatre. Then, she enrolled at the famous Julliard school and spent four years perfecting her craft.
Viola Davis didn't get her first professional stage role until she was 27; it was an off-Broadway production of William Shakespeare's comedy As you like it where she played Dennis. After that, she went on to play minor roles in several movies and television series in the late 1990s and early 2000s. In 2001, she won her first Tony Award for Best Featured Actress for her role as Tonya in the 2001 broadway production of August Wilson's King Hedley II and a revival of August Wilson's Fence in 2010 which co-starred Denzel Washington won her Tony Award Best Actress.
Related article: 15 Beyoncé hairstyle ideas for Christmas
Her big break came in 2008 when she was nominated for the Academy Awards for Best-Supporting Actress for her role in the film Doubt. She has since gone ahead to take on other parts that have earned her various awards, including being the first African American woman to win an Emmy for her role in the Television series How to get away with murder. She is currently the most nominated black actress in the history of the Academy Awards and the first black actress to have been nominated for Best Actress more than once.
Viola Davis is married to Julius Tennon, and they have a daughter, Genesis, who was adopted in 2011 as an infant. In more recent times, Viola Davis is portraying the former first Lady Michelle Obama in the upcoming television series The First Lady. The series will premier in 2022, and Davis is starring alongside Michelle Pfeiffer and Gillian Anderson. She shared a few images of herself on Instagram looking like Michelle Obama.
 

View this post on Instagram

 
Now that you have detailed background information about Viola Davis, let's talk about 5 of her unique Afro hairstyles.
5. At the 2012 Oscars Awards
Celebrities generally look forward to red carpet events to show their new hairstyles, wigs, clothes, and accessories. For the 2012 Oscars, Viola Davis stole the show when she ditched her wig and posed for the cameras on the red carpet in her teeny weeny golden-brown afro hair.
Before this event, she debuted her naturally curly hair on the cover of L.A.Times Magazine, at the Essence Black Women in Hollywood Luncheon, and the 5th Annual women in film cocktail party. Nobody expected her to pull off the look at the Oscars. This hairstyle is a good choice for you if you have really short hair and looking for ways to style it.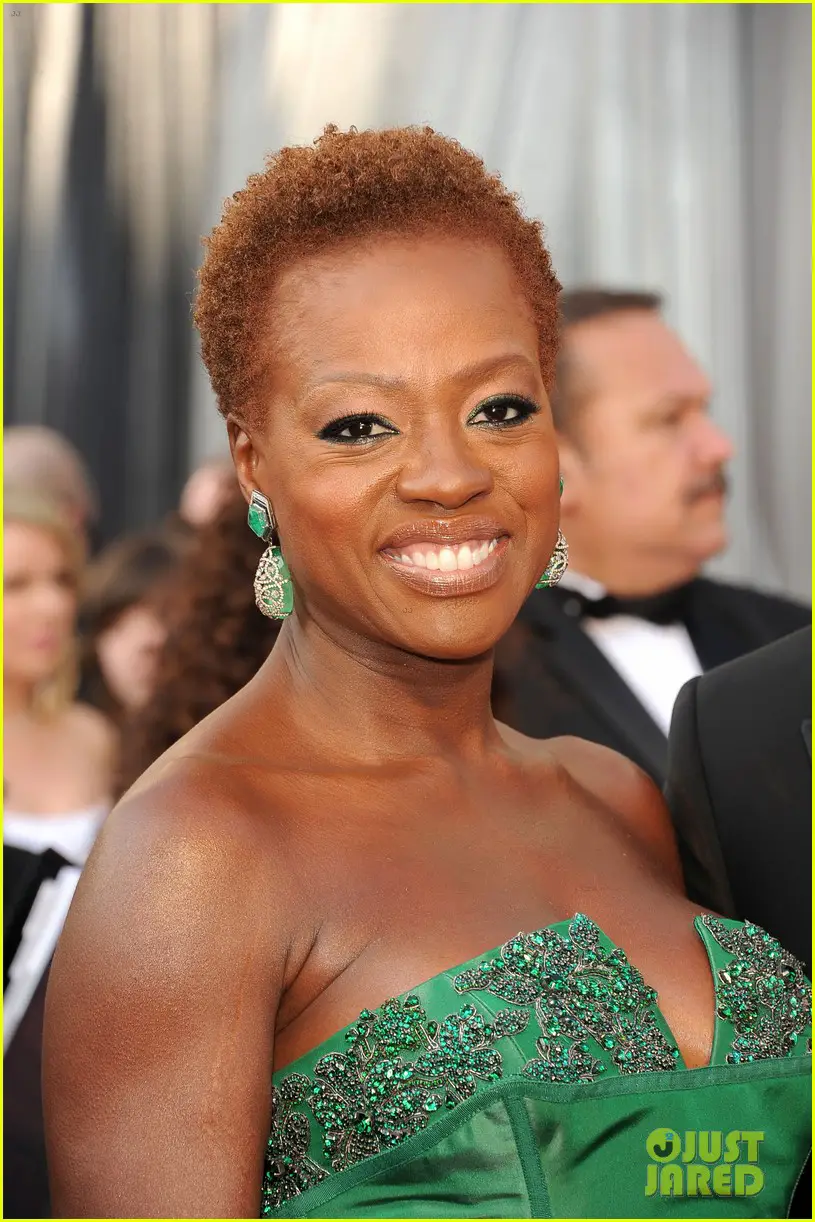 4. At the SAG Awards in 2015
Three years after her first afro debut on the red carpet at the Oscars, Viola looked stunning at the SAG Awards in her custom white Max Mara gown and her black Afro crown – she was a contender for the best-dressed female for the night.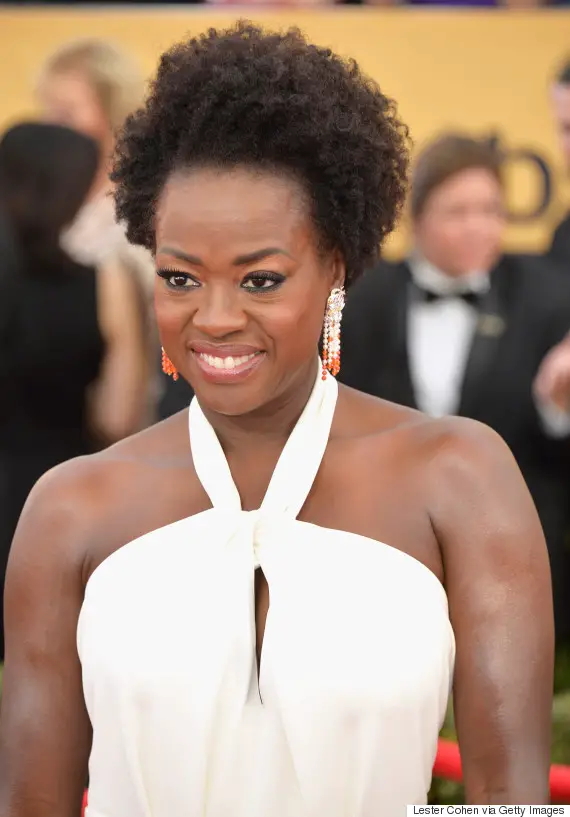 3. At the 2018 Golden Globes Awards
We love how Viola has maintained her hair over the years; it has grown from the teeny weeny fro it was in 2012 to a full crown that looks fierce, stunning, and attention-calling. For the 2018 Golden Globe awards, Davis rocked her big afro on the red carpet – styled to perfection by her hairstylist Jamika Wilson. 
When Refinery29 asked about her choice of hair, she said, "The movement of wearing black and standing in solidarity for all women was my inspiration. Their collective choice speaks volumes; they stood tall and unapologetic for their beliefs. And I wanted to create a hairstyle equally as bold and beautiful."
2. On the Cover of Vanity Fair Magazine in 2020
In July 2020, Viola Davis graced the cover of Vanity fair wearing her big signature afro. Her hair looked good and well maintained, giving her a fierce and powerful appearance.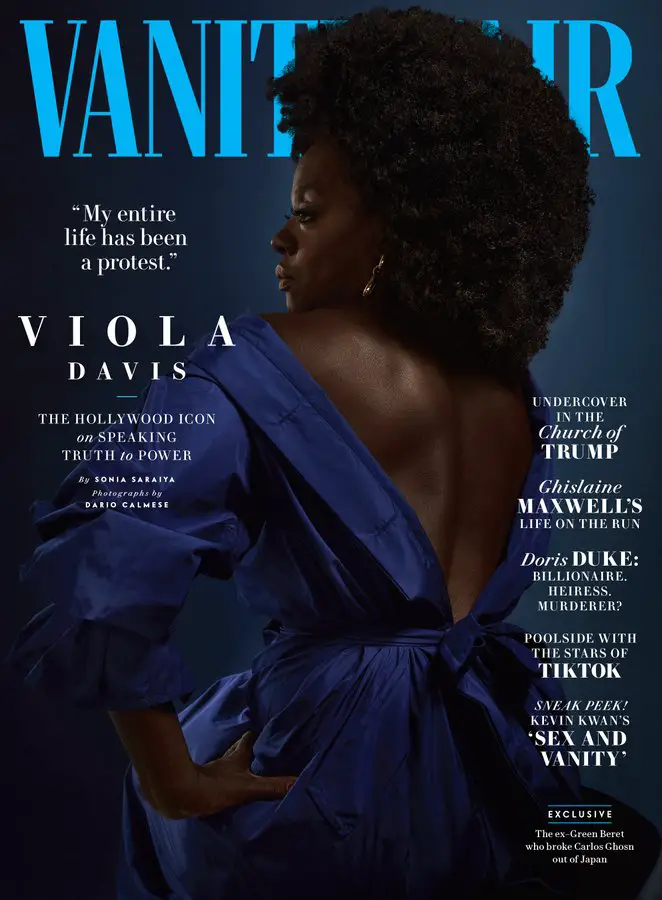 1. To the 2021 Oscars Awards
At the 2021 Oscars, the iconic screen queen wore her beautiful Afro hair differently; she rolled up to the red carpet wearing a white gown by Alexander McQueen, paired with a piece of Forevermark jewelry and a stunning fro-hawk on her head.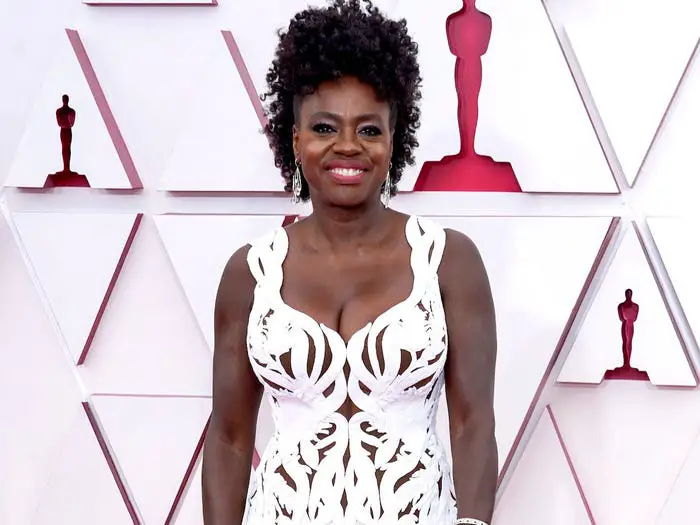 Viola Davis is regarded as a force in the entertainment industry and she unapologetically rocks her hair in the most significant ways. Which of her hairstyles would you rock, share in the comment section? You may also like to read, 7 health and fitness advice from Meghan Markle.