It can be pretty challenging to tame kinky Afro hair; sometimes, going for short natural haircuts might be the best option. You would be surprised how cute short haircuts appear with textured black hair. These are also easy to maintain than the glamorous hairdo. A simple wash and the proper hair product inserts are all you require to maintain healthy short haircuts.
There are several haircut styles that, due to widespread knowledge, were formerly viewed as masculine that you can work with as a female. You don't have to stick to the norm, as colors, curls, and other aesthetics pair well with such hairstyles. Below we have 19 low maintenance short natural haircuts for black women that are ultra-feminine.
Related article: 15 amazing red and black hair ideas for bold women to try in 2022.
1. Short Afro haircut
If your hair already has volume, this low haircut will look good on you. You can shape the edges to soften the cut. You only must activate the curl pattern to enhance the look. If you can't be bothered with that, bush in one direction after applying moisturizer, and you're good to go.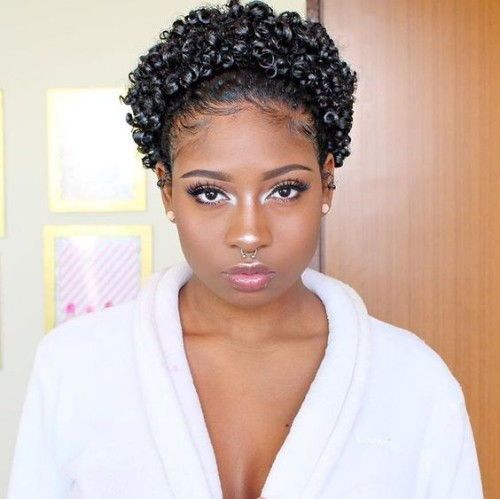 2. Short natural mohawk cut
Mohawks come in as another excellent haircut for short hair. They have gotten popular since the hair gives off a sassy and relaxed vibe. The stylist will probably shave the two sides very low and leave the middle with longer strands. This middle strip of hair may be broad or narrow; keep trimming until you get a style that suits you. If you do not like the average mohawk style, you can color or curl your hair to elevate it.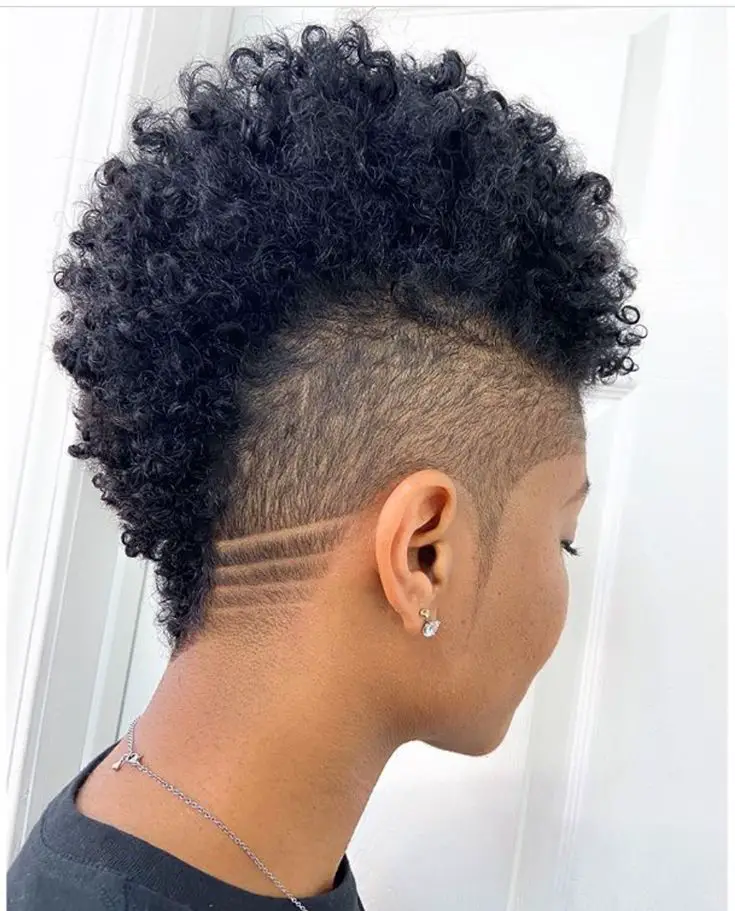 3. Buzzed short natural haircuts
You do not need to give up on your edgy style when you cut your hair low. It is pretty easy to leave the hair ordinary since you can easily navigate it. Adding hard lines will help you maintain your edgy vibe and help you ease into the short new look quickly. You can manipulate the lines to suit your face shape, so the hairstyle flatters you.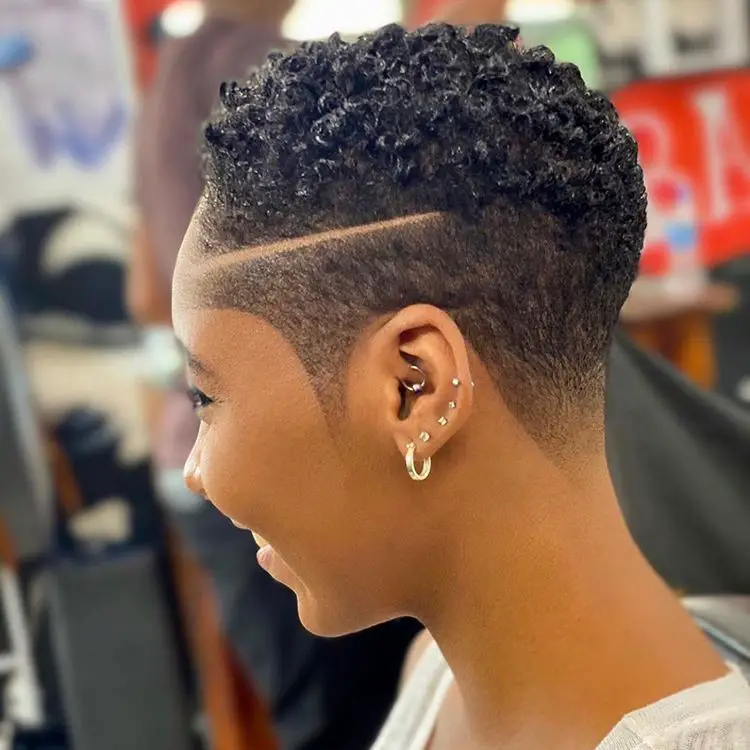 4. Short haircut with faded side
Committing to a short natural haircut just got to be the best way to start afresh. It is excellent to grow healthier strands, but you can slay with the short hairstyle before that happens after chopping the hair low, as a fade gives extra style details to the hair. The stylist will make the sides a bit lower than the middle, and both will ease into each other seamlessly. You only need some moisturizer to keep the hair hydrated and healthy for this low-maintenance haircut.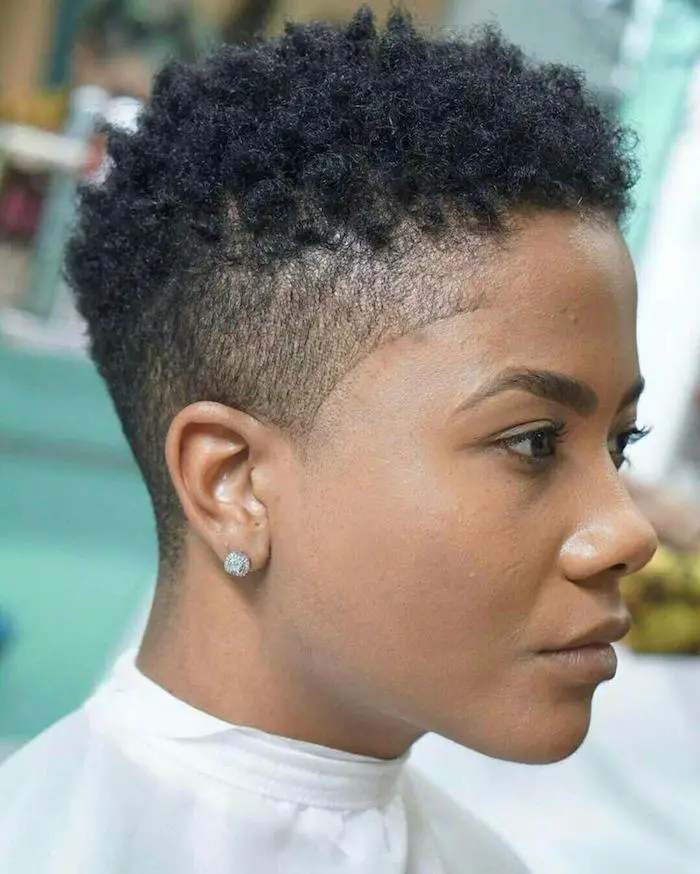 5. Cropped bob
The low cuts may not sound appealing to you, especially if you are unsure if they will look good on you. Then again, you probably are not ready for a big chop that will rid all your precious mane. You can opt for this trendy short hairstyle that requires stylish trimmings. You can achieve different styles with voluminous textured natural hair, from layered cuts to bangs and other chin grazing looks. Whichever you choose, it will leave you with a cute hairstyle, and the length allows you to switch to some short hairstyles.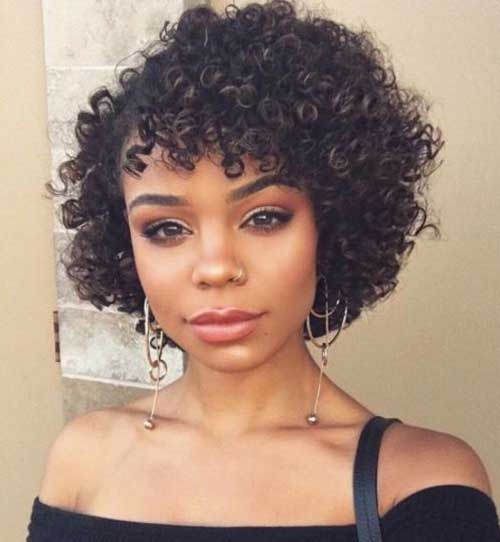 6. Short haircut with tidal waves
When textured African hair gets cut short, you can bank on the thickness to create several other styles. One such is the sporting waves or waves, which can be made to curl facing forward or groomed to go round the hair. You can add a shaved wavy feature to the hairstyle to complete the look detailed. It is also easy to maintain, you only need to add oils to the hair and brush, and you'll be out the door.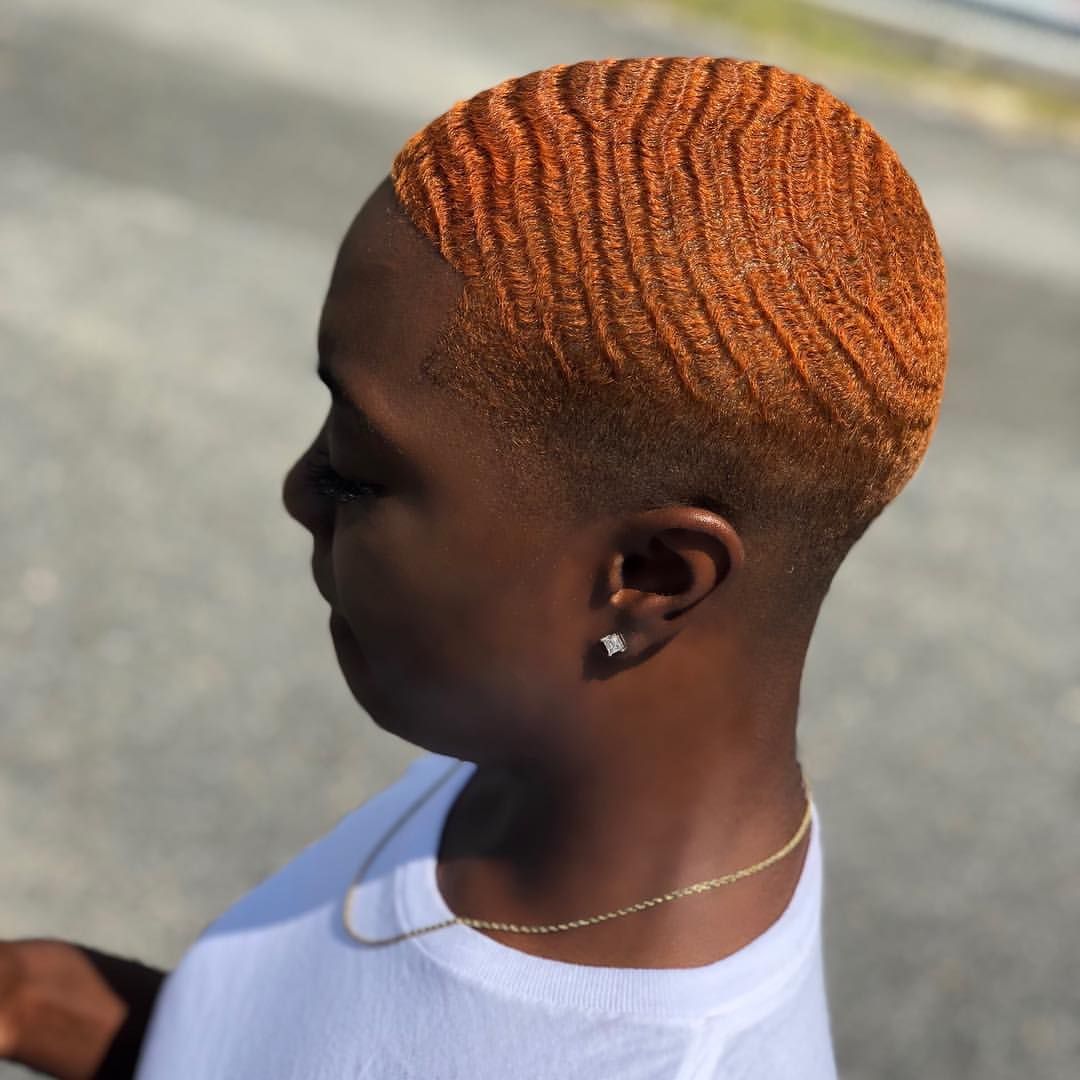 7. Colored tapered haircuts
Dyeing your natural is a bold look, and if you plan on chopping off the length, it should be a tapered cut. This style looks very beautiful with two colors, usually a light and dark color contrast. It keeps more hair on the upper part and shaves the under low. So, you can rock the double-toned look with ease. For more styling options, hydrate the hair, wear the more extended area in natural kinky locs with pride, or add some curls.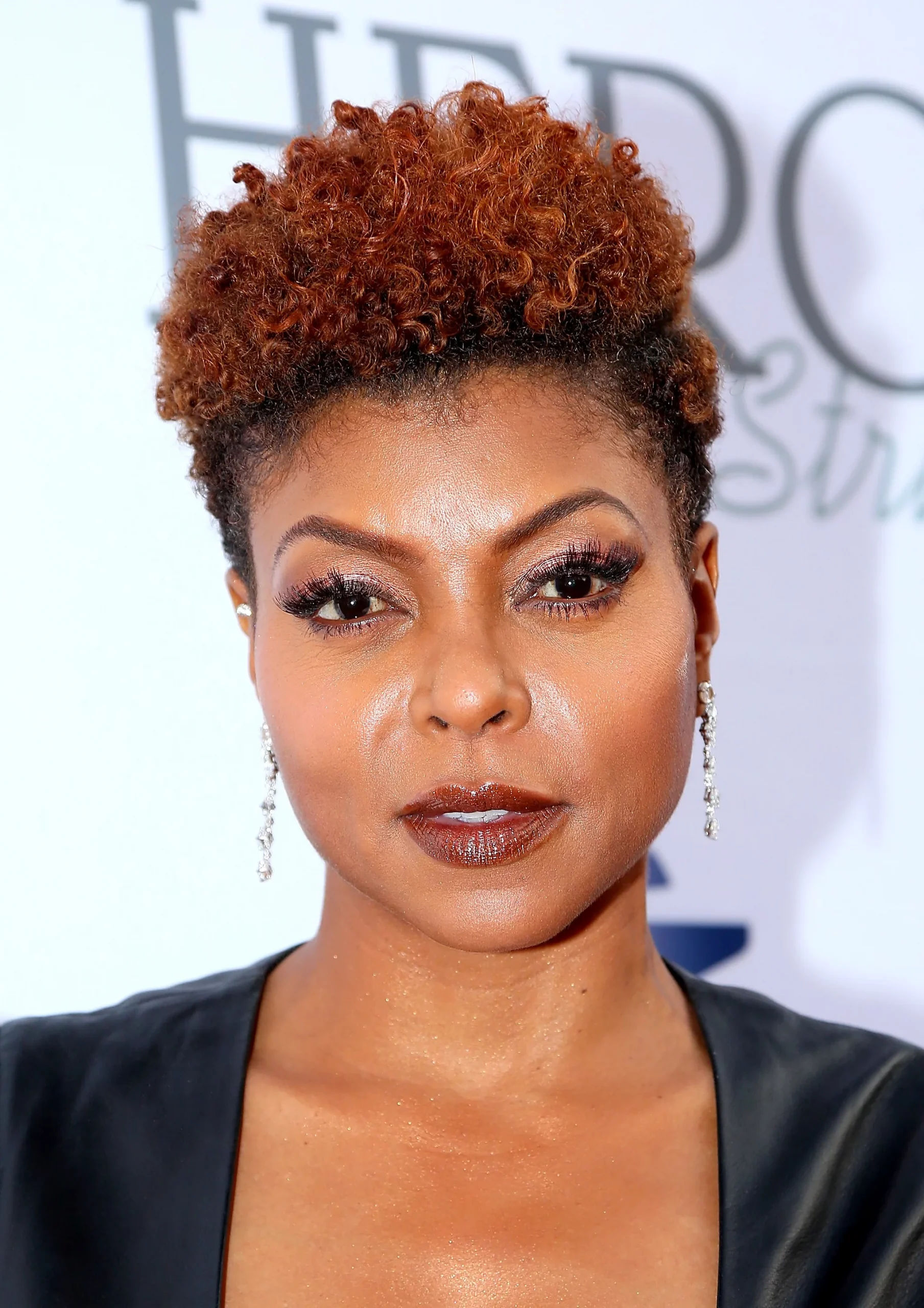 8. Short natural haircuts with bouncy curls
For this hairstyle, you don't only have to shave the sides low and maintain some length in the middle to create curls. You can use different ways to retain curls on naturally kinky hair, such as perm rods and easy twist-outs. Another great way to get bouncy curls is with Bantu knots, which involves wrapping your hair together in small sections to form knots. Moisturize and infuse some oils to keep your hair hydrated and sleek.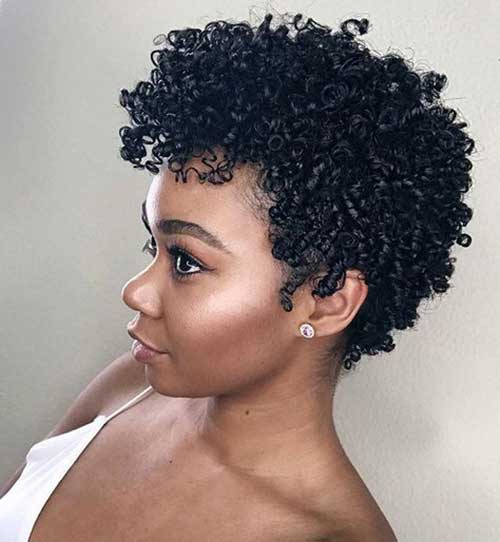 9. Short natural hair with undercuts
Add undercuts to short hairstyles to give enhance the overall shape and appearance. Volume is one of the many traits of black hair that gets used to accentuate your short hair. The hair becomes shaved, a more temporary layer, under longer strands to get the undercut effect. It gives your haircut more character, and you can even add coloring to tips for added style.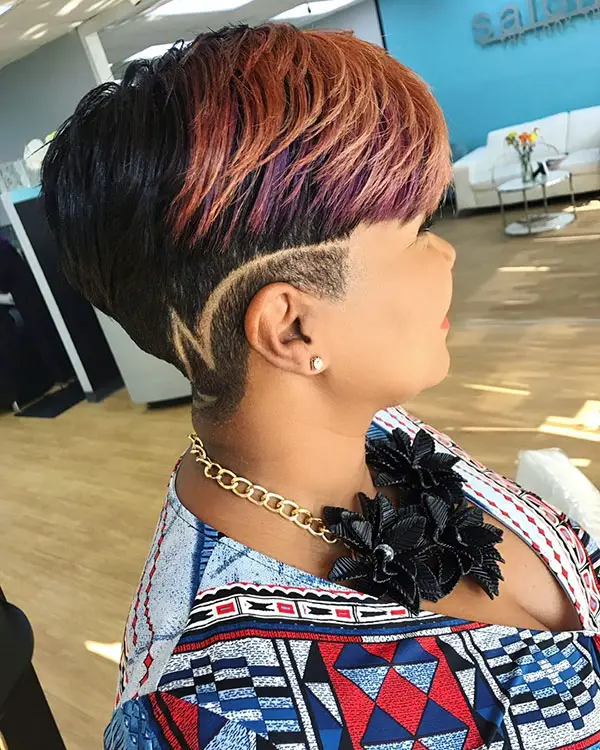 10. Natural short fade haircut with lines
Light accents on the sides are the most popular way to add style and sharp definition to the haircut. The fade can be V-shaped from the back of the head or the regular temple shaving. With one or two lines impute, turn it up to toughen up the look. You would have to rely on your accessories, from earrings to statement necklaces, to soften the look. Invest some time in sharpening up your makeup skills for such strong looks.
11. Short hair with shaved sides
Shave the sides of your low cut for statement-making features. You can opt for a straight shave or a little curved insert. It's way better if you shave using the shape of your head so it flatters your face. Add some color to tips if you want the style to appear bold.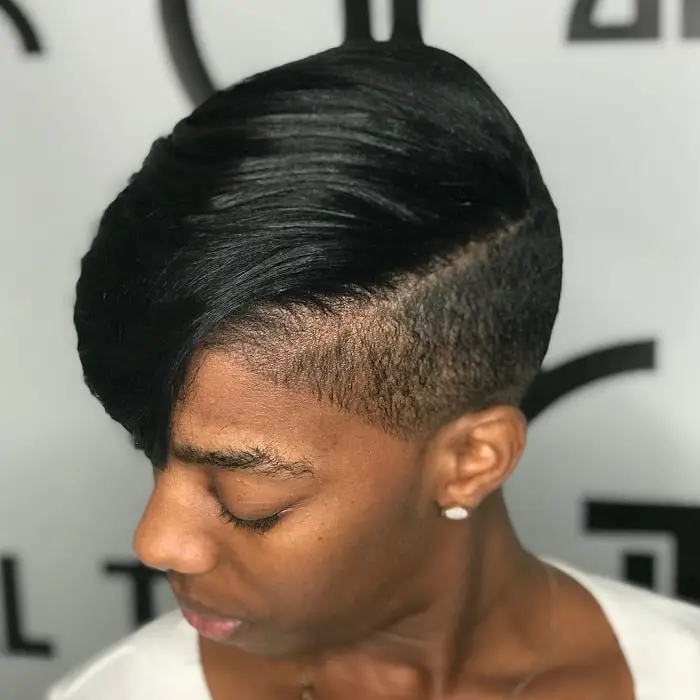 12. Tapered short haircut
If you plan on retaining much of the lengths on your hair crown, you will need tapered shaving on the sides. This will help define the more extended parts and accentuate the hairstyle to suit your face shape. Switch the simple haircut to have a beautiful and feminine feel, with curls. You can add rings such as twist-outs, tight, and other bouncy types you would love to flaunt.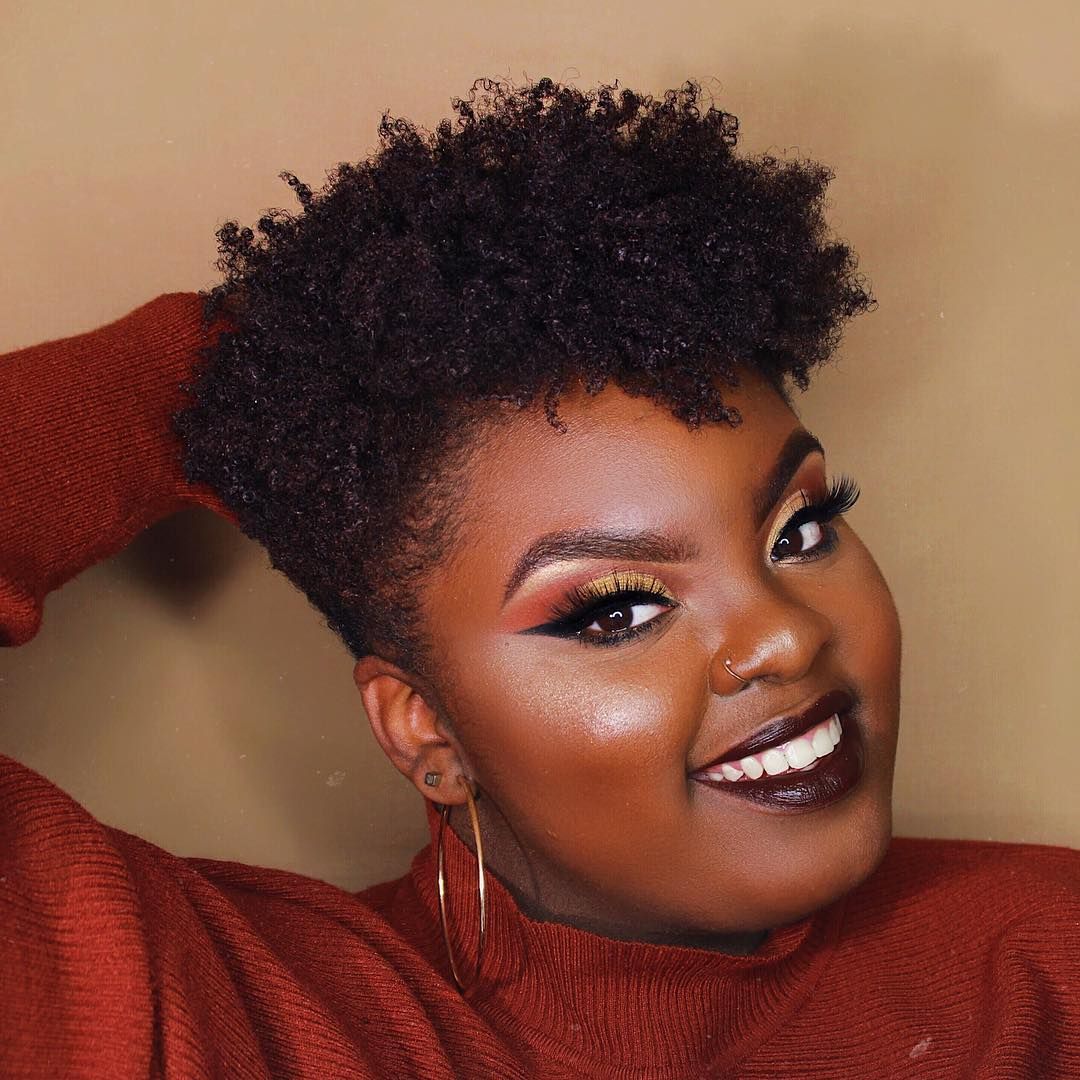 13. Short haircuts for Type 2 natural hair
One trait common with type 2 natural hair is the lack of curl pattern. So, many artistic pieces will look good when shaved into the haircut. Find a salon that can deliver beautiful and classy designs; it instantly updates the look to suit any event you have lined up. You will also find that adding such features eases you into a shorter hairstyle if you're new.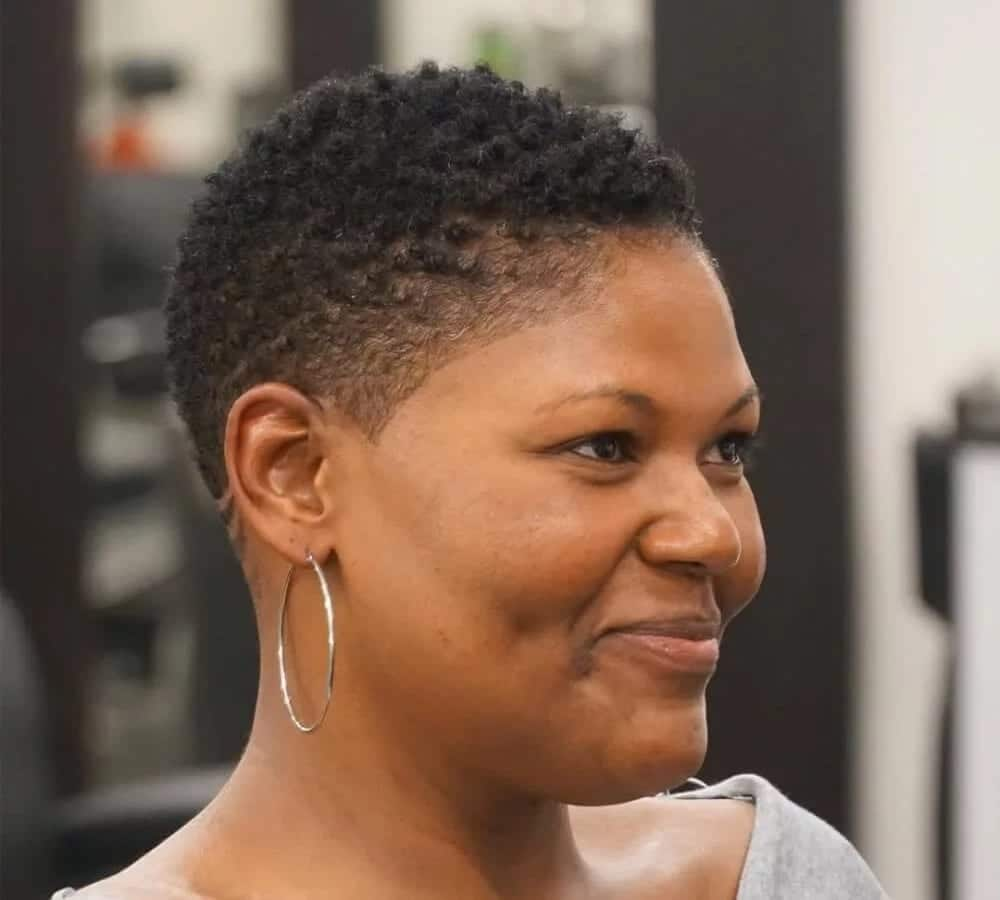 14. TWA (teeny weeny afro)
One of the most common short hairstyles for black females is the TWA. It looks like the average afro hair that requires low maintenance, only in a shorter length. You only need to apply oils, comb through, and you're all done.
15. Short natural haircuts with side parts
Regardless of the length, a curved side part gets needed to soften most basic haircuts. It adds dimension to the hair, especially if you plan on leaving out some distance. Update the look with some color highlights to wear everywhere.
16. Vibrant short haircut
All it takes is a bright dye added to your short haircut to make all the difference. You must make sure your stylist shapes the cut to suit your hairline. This will create an even look, hydrate your mane with moisturizers, prevent frizz before stepping out brush, and head out relying on your natural curl pattern or apply an activator to enhance them.
17. Natural haircut with designs
Going with a low cut might take a bit of getting used to. For a smoother transition, adding design elements will help. Leave the sides lower, and add spirals or wavy lines to make the cut trendy.
18. Short haircut for Type 4 hair
Haircuts are what you need to define your short natural type 4 coils. Get clean shave temples or a subtle undercut insert that will give the hair proportion. So, when you moisturize and fluff your curls, it looks great.
19. Short natural pixie haircut
This is a cute hairstyle for black females who love to rock their curls. It works for all hair textures and flatters almost all face shapes. You only need to activate your pixie curls and tame your edges before stepping out.
Conclusion
It takes a feat to tame when you've been blessed with coarse and texture hair before going out. The next thought should be low-maintenance short natural haircuts for black females. They help you save time on daily styling and might be a better way to maintain healthy strands.
If you are ready to take a significant step, we hope you find a short haircut that will suit your face shape. We have included some styles with dimensions and hair lengths if you are concerned with how your head shape will look on low cuts. You could customize your cuts by combining the types listed above.
You may also like to read, 15 hottest long layered hair cuts and styles in 2022.