The bathroom is often the last place to get full attention, but if you plan on making this space more feminine, you need girls bathroom ideas to channel your décor.
However, it is one of the most serene places to spend quality time on days when you need to unwind, but many people don't realize this. They treat the bathroom as where you wash off ASAP and leave.
When the space is not adequately decorated or structured, it can feel that way, but not with the 14 girls bathroom ideas we've got on the list. There is something for everyone, from the ones that love pink to the minimalist and ultra-modern aesthetics; this list won't disappoint you.
How to Decorate a Girl's Bathroom
You can consider certain factors when decorating a girl's bathroom since it's gender specific. Below are a few items that can direct your décor ideas.
Color: The main color theme of the bathroom is one of the first things to consider when decorating a girl's bathroom. Pink is one of the favorite colors for girls, but other bright colors like orange, yellow, green, and patterns can work. Colors like blue are considered masculine tones; however, it shouldn't stop you from using it if you fancy the cool shade.
Age: The girl's maturity can play a huge role in coordinating the décor and the colors. A small child still in the pink or glitter phase will not appreciate a white space. However, some teen girls might still enjoy the shiny ambiance, or you can direct it to patterns. Girls might find plain bold colors or neutral appealing when they grow older. Before you start decorating, ensure you ask for the favorite colors of the owner of the bathroom.
Storage: Usually, the space determines the storage in the bathroom. This will also give you an idea of the kind of furniture that will suit you for the area. Making the most of the bathroom storage space is very important, especially if you have a small room, as the bathroom storage can serve as space for towels, toiletries, underwear, and other personal items. So you might choose a wardrobe with several compartments and even wall decors that can hold some essentials.
Decorations: After the outline of the bathroom have been put in place, for the basic such as bathtub, wash basin, and furniture, you must think of accessories that will complement the space. You can use wallpapers, mirrors, curtains, flowers, vases, art pieces, candles, and the like. To enhance the room, you can add plants, fancy lighting, and trimmings at several spots around the bathroom.
14 Girls Bathroom Ideas
Contemporary Pink Girls Bathroom Idea
By now, most people expect adult girls to be done with all the pink inclusion in their space, but if you adore the color, you can always use it. The best way to do so is by choosing a contemporary design.
Start with light pink tiles and darker shades for the extra décor. A pink washhand basin never hurts anyone, so you infuse it and throw in some candles and silver hardware to add a modern touch.
The key to keeping things in check do not allow the pinks to clash by overusing them. The result will look fun yet with a hint of maturity.
Extensive Girls Bathroom Ideas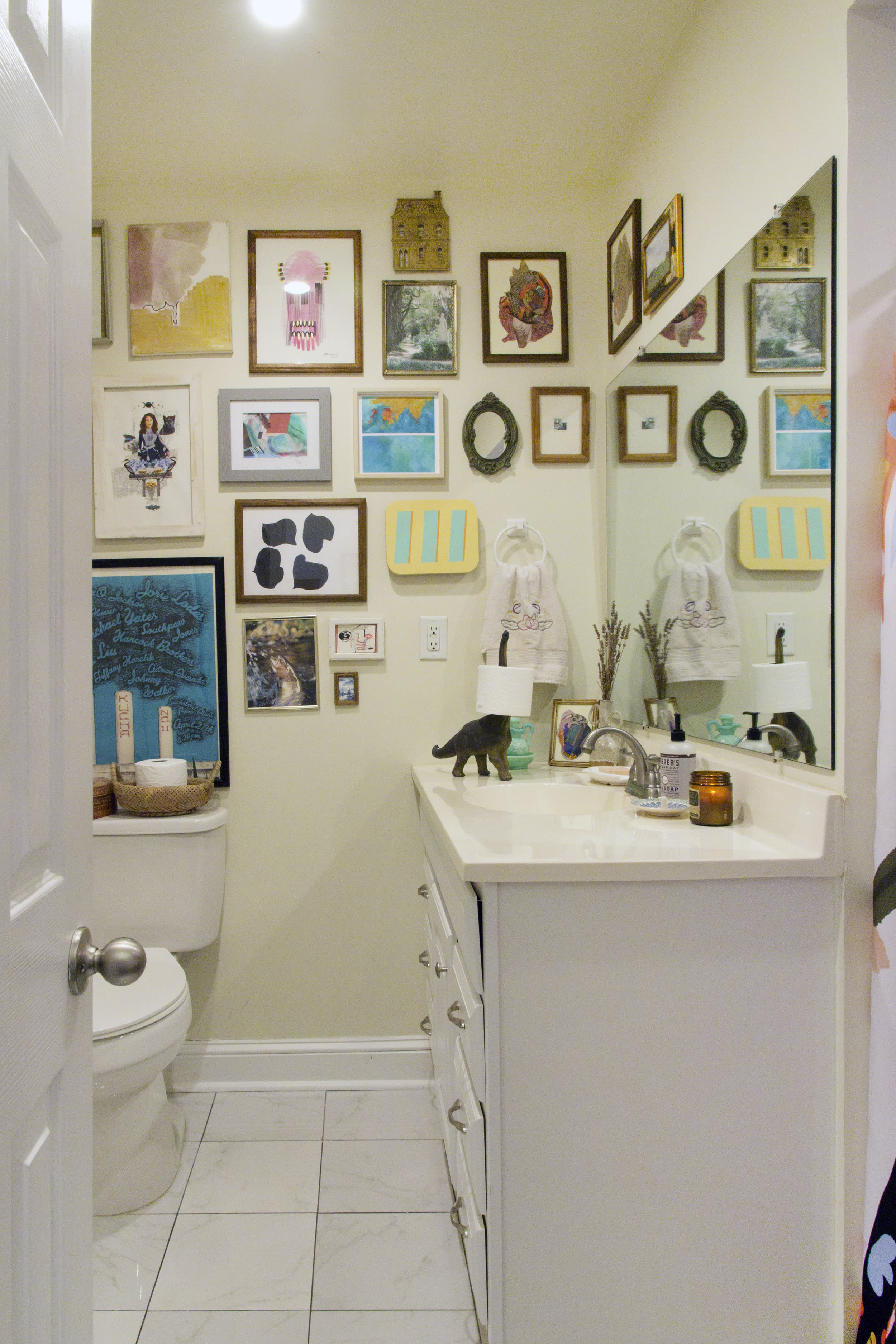 You could turn your bathroom into an artistic expression when you have the space. You could turn one side of the wall to the art gallery, where you can soak up your tub and enjoy the view.
Some of your beauty items and clothing can even make as side piece decoration. Choose dainty and rustic furniture and whites that will not overpower the art pieces on the wall.
You can add a chandelier in the middle or side for the ultimate stylish touch to make the room even better.
Accent Glam Bathroom Idea
If you like to spend time getting glammed, you could decorate your bathroom to reflect that side of you. Instead of always using the bedroom or the living room for your glam session, you could turn your bathroom around for this purpose.
You can paint the wall any color of your choice, a color that pops are red or orange shades, but your focus should be on the lighting and mirrors. So, one of the first things you want to add to the walls is a vast mirror in a well-lit area, preferably close to the window, for the much-needed natural light.
It would help if you also had a cabinet and high table with a matching chair so your products would be within reach. The wash basin also needs to be close by in case you need to fix up your glam job with water.
To finish, you can add an art piece or frame that keeps you grounded so that you can direct your attention.
Victorian Girls Bathroom Idea
Sticking with classics never gets old, and there is no better way to do it than going Victorian. You can infuse an 1800s vibe into the bathroom in several ways, from rose-patterned trimmings to the wash basin.
The plumbing can also reflect the times, with vintage faucets and shower heads. You could even take it up a notch to the bathtub shape. One way to nail the idea is with furniture with faded panels.
The old-school theme will make you want you or your daughter want to spend more time in the bathroom, especially if she likes the regency era.
Neutral yet Chic Girls Bathroom Ideas
Going with neutrals is trendy, but many people see it as dull, but not if you find a way to make it chic. You don't have to give up your love for fabulous shades, one combo that blends very well is the pink and grey match-up.
When your bedroom is already grey and white with a little black insert, extending the same idea to the bathroom is typical, but even that looks boring.
So, it is only suitable to use pink curtains, chairs, and décor placements to give life and feminine touch to the bathroom without ruining the original décor plan.
Black and White Girls Bathroom Idea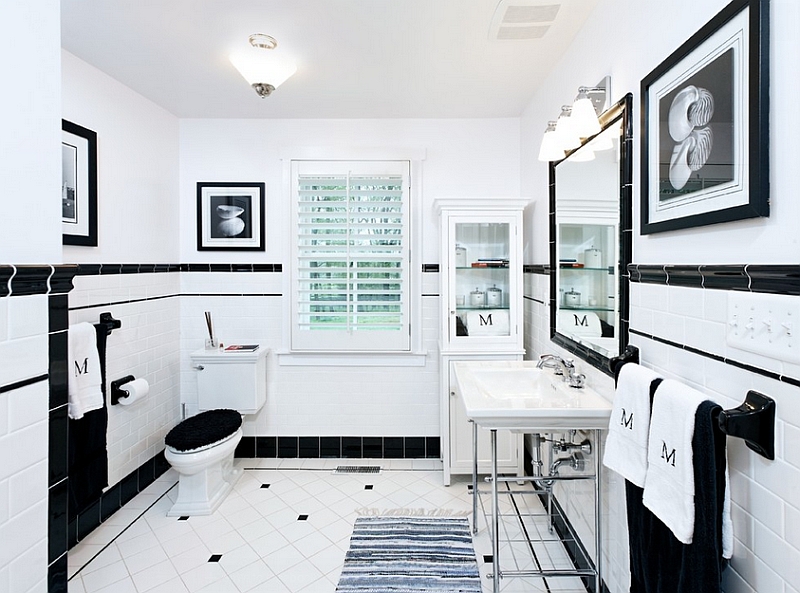 A black and white themed bathroom is s breath of fresh air from all the pinks and colorful patterns. It is also relatively easy to achieve if your bathroom is already painted white.
Stick with white furniture, tub, and toilet, then complete with black-colored lighting fixtures. You can also add black decorations that will contrast the bathroom's white.
White makes a small space appear more extensive, and its black tone is classy and suited for young adults.
Metallic/Chrome Girls Bathroom Ideas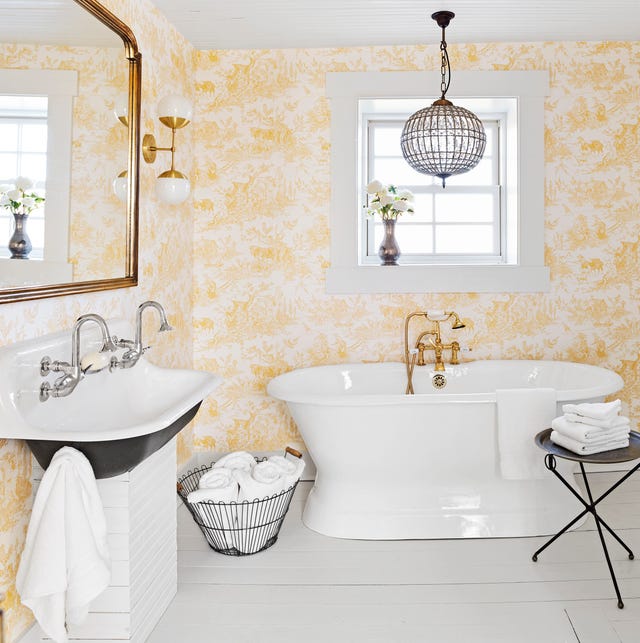 It is often hard to get a silver shade painted in the bathroom, but resisting the reflective yet cool shade is not easy. A foil shade wallpaper is the next best thing you can use to achieve this look; it pairs well with white and black and adds a touch of glam to the bathroom.
You can add decorative lighting and a chandelier to the room, with small flower vases that will match the space. The walls will help reflect the light, making your bathroom more visually appealing.
Zen Girls Bathroom Idea
You can transform your bathroom into a zen space for relaxation and meditation. Minimalism makes all the difference in this décor idea; hardwood finishing and the white wall should cover the room before you place the bathtub, preferably in the middle, so that the shower maintains the sides.
What makes space zen is the lack of clutter and the touch of key elements such as crystals, greenery, hot stone, and items that reflect a nature-based ambiance.
Blue Girl Bathroom Ideas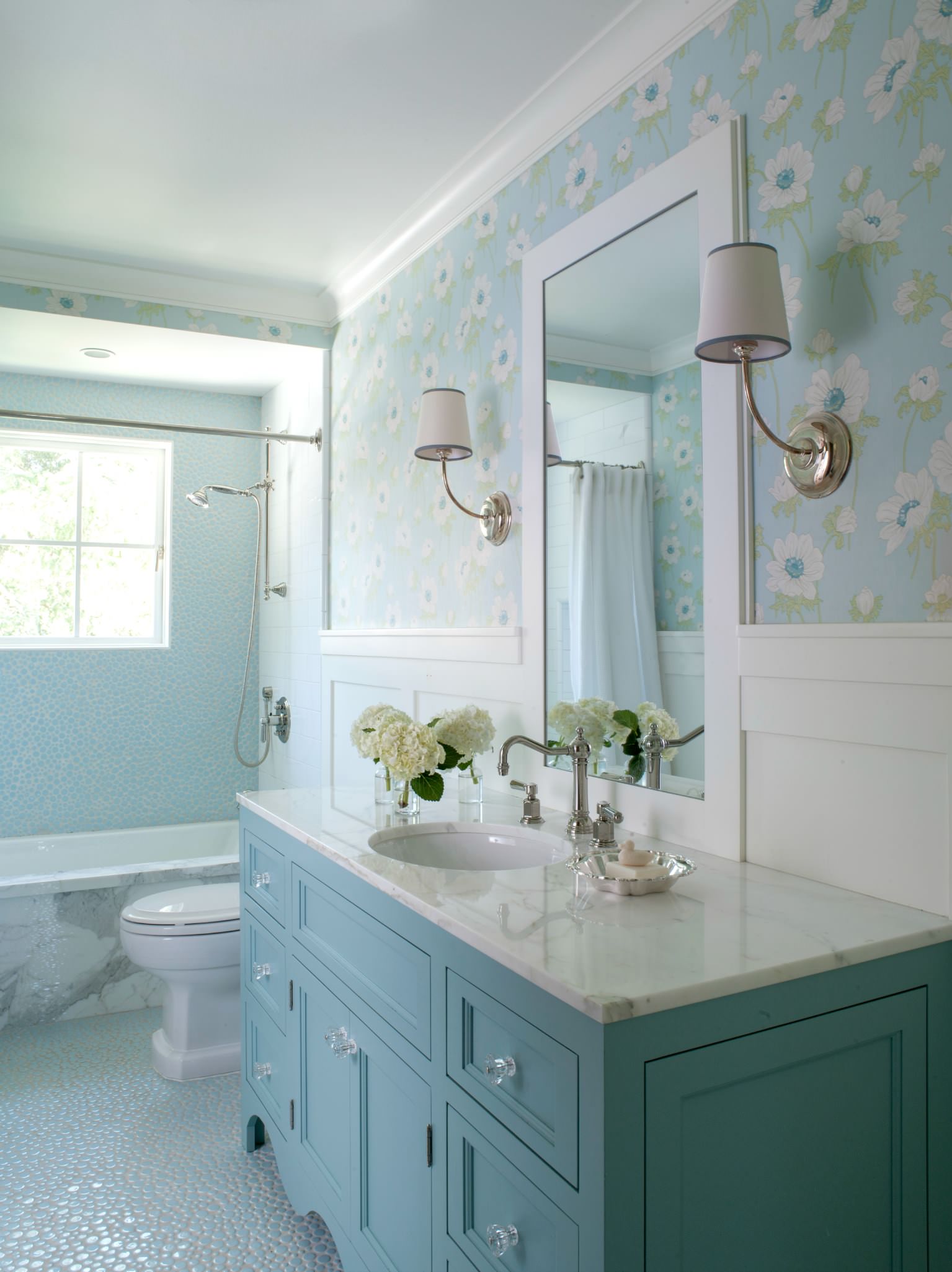 It can be difficult for some people to infuse blue into a girl's bathroom, but not if you pair it with the right colors. The easiest way to do this is to start with a white base, with a little black insert for the floor tiles, and add the blues as a significant part of the décor.
Using plain blue draping won't work, so you should infuse some patterns. Yellow and red floral designs look great on blue since it's a superb base for them to stand out.
Geometric Shape Bathroom Design for Girls
It is always fun to throw different shapes into your bathroom design, but many people don't know how to nail it. It would be best if you started with geometric-shaped tiles like a hexagon to infuse the theme into the background; then, as you proceed to the decor, throw in items of several shapes around the bathroom instead of going with the average forms that people might expect.
This unique bathroom design is the one that even college to adult girls can easily transition with.
Modern and Old Combination Bathroom Idea
If, like in an old house with red brick walls and planning to modernize the space, you can save some of the old structure and insert the modern touch.
Even if you don't, you can incorporate it afresh, so the result is one side looking like something from the past that leads to an ultra-modern shower and bath space. You can either choose an updated décor piece or do a mix of both to maintain a balance.
Purple Color-themed Girls Bathroom Idea
Purple is a fantastic color for decorating bathrooms; the rich hue can feel in colors such as pink, which looks just as fab. Instead of only a deep purple, you can go with several shades, such as pastel lilacs and plums.
You could start by painting the walls a light shade, but if you like dark-themed spaces, go with deeper shades. Add purple-themed, patterned, one-sided wallpaper or shower curtains to add some contrast to the room.
The furniture can remain white or a pastel shade of purple. You can throw some greenery if you like the ambiance fresh flowers bring.
Pink Power Girls Bathroom Ideas
A girl is never too old to be attracted to pink, and the vibrant color makes for attractive decorative options, even for a bathroom. Even if you or your teen daughter like everything in pink, you can find a way to make it pink-themed without overdoing it.
Choose three shades of pink to work with and throw in some silver or white to tone it down. However, the silver might make the space hint of bling that no pink lover will be able to resist.
Another way to unleash pink power in your bathroom is by covering your bathroom walls with pink motifs or pink patterned floral wallpaper. For such a busy wall, you need black and white décor to soften the pink with a rustic touch.
The best way to use pink is to ensure that the pinks do not clash.
Country Style Bathroom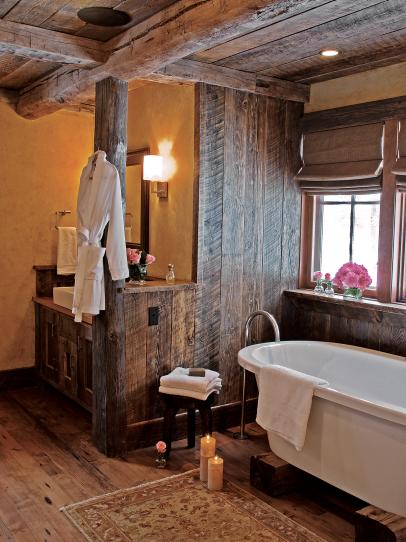 Going with a country-style design for an elegant lady will be a great option. However, it doesn't have to look stuck-up, as you can modernize it to brighten the space.
You can stick to the typical pattern where the bathtub's shape matches the mirrors and other accessories but doing a color mix of the tiles is one way to spice things up. You can further update the space by adding fancy furniture and decorative pieces.
Conclusion
Bathrooms deserve some love too, and you can do this by decorating them with warm colors that make them inviting. With the right décor, a bathroom can feel like a second room, beauty, or makeup closet, allowing you to spend more time and fully utilize the space.
You can experiment with a few girls' bathroom ideas or mix-match two on the list to get what you want. You might need to move things around to get the desired results, and that's still okay.
You might also like to read:
–The 19 Best Essential Oil Diffusers to Make Your Home More Aromatherapeutic
–The Truth About Anti Fatigue Mats + The 7 Best Fatigue Mats For Work And Kitchen
–10 Best Organic Pest Control For Your Garden And Their Benefits
-10 Best Water Ionizer, Reviews, Price, Benefits, And Features For Your Home
–How To Fix A Spring In A Paper Towel Dispenser + The 6 Best Paper Towel Dispensers