Shopping for bras can be a chore. The task doesn't get any easier if it's for a high-impact sports bra for women with large busts. Most women still find it hard to get their perfect bra size, which is no surprise as everyone has a unique body. If you like to keep fit, you are probably not a stranger to searching for a sports bra that can support you while you work out.
Sports bras are an essential part of exercise kits since the breast tends to move a lot without the proper support during exercise. Women with a fuller chest area are even more prone to this, leading to a saggy breast. For this reason, it is essential to buy the best impact sports bra suitable for you.
Whatever exercise you like doing, from jogging to yoga, wearing the right high-impact sports bra is vital to protecting you. This is why we have compiled a collection of the best of them that will keep you snatched, irrespective of how large your boobs are.
27 high impact sports bra you should be wearing
The criteria we used to judge included from the fabric to straps and under support, bounce control, and general comfort. So, to make this list, we also evaluated the sports bra based on how they will perform with several forms of HIIT exercises. While the looks were a secondary factor, the assurance of not worrying over bouncing or spill-outs with these sports bras was a priority.
Related article: Weighted hula hoop and how to use it for exercise.
1. Marks and Spencer: Extra High Impact Zip Front Sports Bra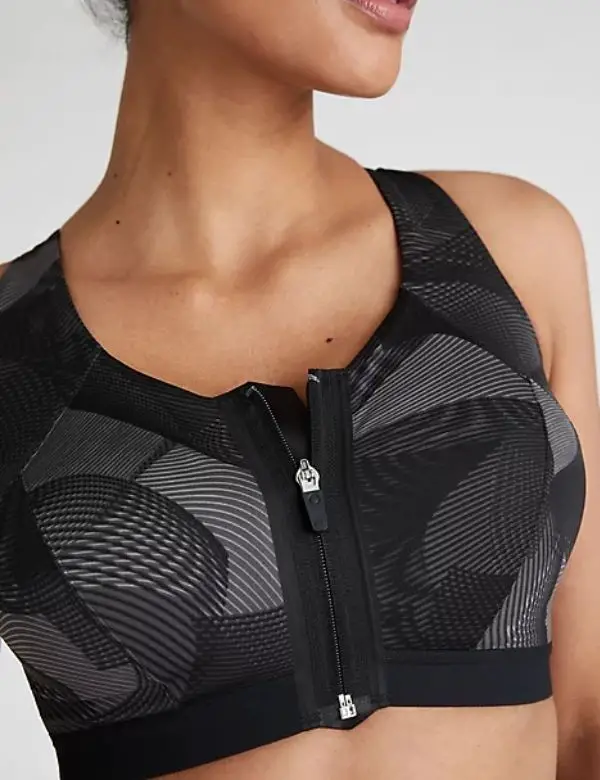 Only a few brands can nail functionality and value to create a unique piece for the fuller boobs gang. M&S has been able to achieve a good design, by coming up with a ribbed under-band to create a great support bra. Also, with a front zip for wearing easy, and a comfy fabric that doubles to absorb sweat.
2. Pour Moi: Energy Empower Bra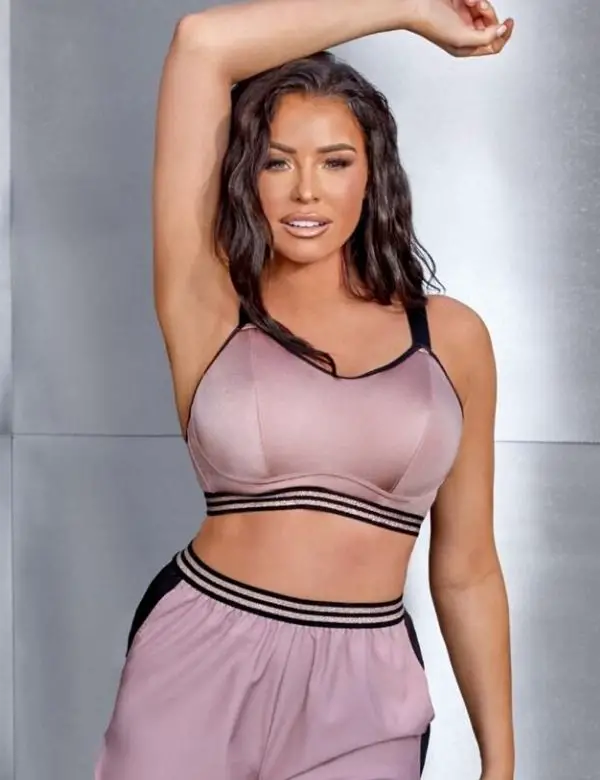 This is a full coverage bra with an underwire to give you great support. It is originally designed to be a medium impact sports bra but turns into a high-impact sports bra by adjusting or crossing the straps. While they are not suitable for taking a long run, you can safely use them for cardio and other intense workouts.
3. Knix:  The Catalyst Sports Bra
After testing and comparing their sports bra with almost a thousand others, the catalyst design finally launched. At the same time, it delivered on giving support through any shake and is easy to wear and take off. Its two unique features were ventilation and sweat-wicking. Also, Knix made it super size-inclusive, for up to 42G.
4. Sweaty Betty: All Train Sports Bra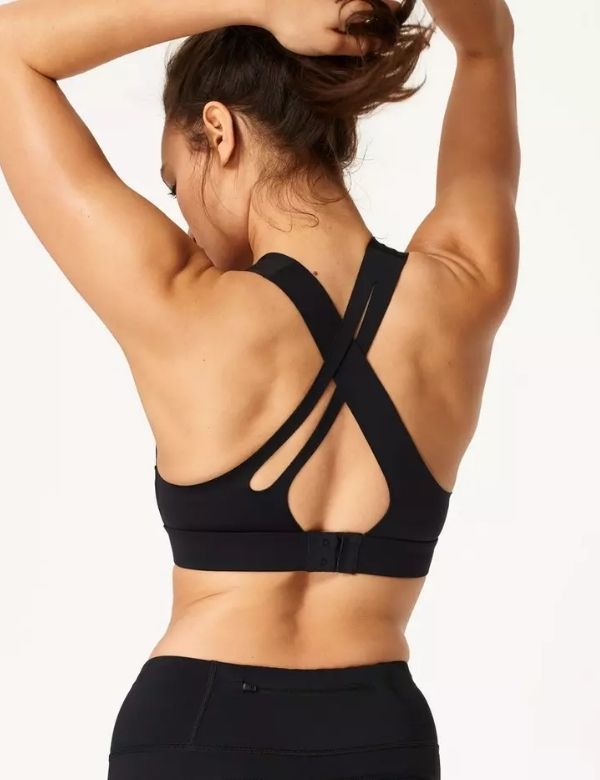 The all-train bra is your best bet if it comes to down to support for all kinds of high-impact exercises. Although, it is not the easiest to wear or take off since it is designed like a seamless top. The luxe sports bra packs in a lot of support for sizes up to 38F. It comes in a range of vibrant colors and black for a stylish addition to your gym apparel.
5. Reebok: Pure Move Bra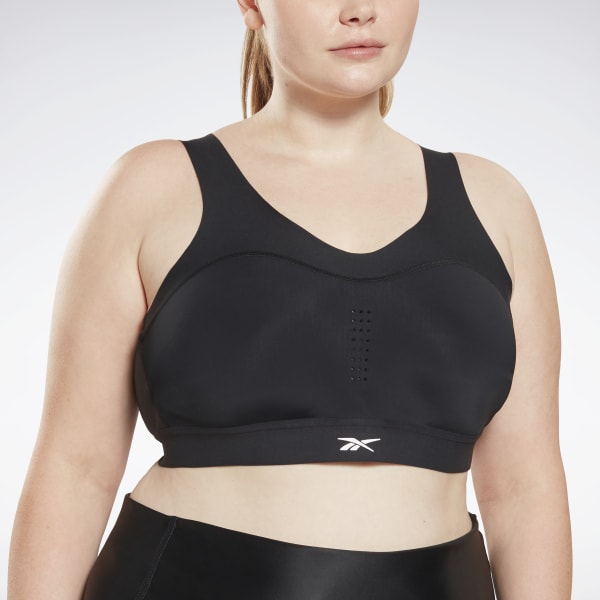 This updated bra from Reebok is one of the best sports bras for any woman with a large bust. It features a specialized unique fabric treatment that works like a motion sensor. This makes the bra tighter when you are on the move to prevent the breast from jumping and still manages to remain comfortable.
6. Wacoal: Underwire Sports Bra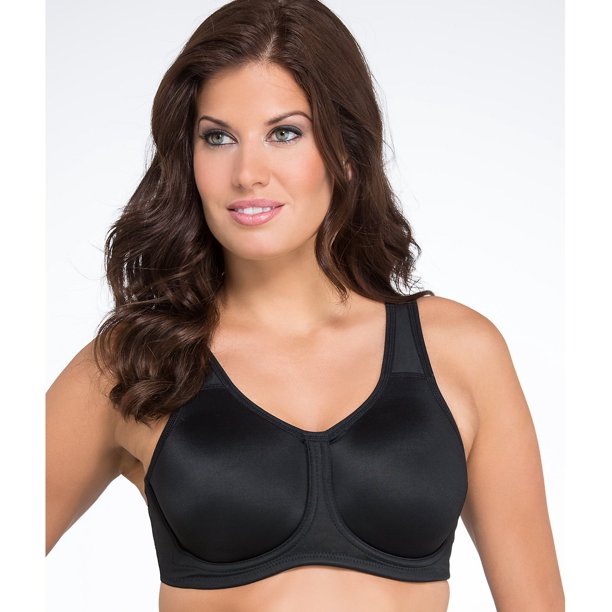 Have you ever owned a sports bra with the underwire on the exterior? If no then this sports bra will convince you. The design serves the double purpose of giving extra support and canceling out the idea of a poking underwire. It also comes with a bonus feature of detachable clasps, so you can switch the straps as suited.
7. Marks and Spencer: GoodMove Extra-High-Impact Serious Sports Bra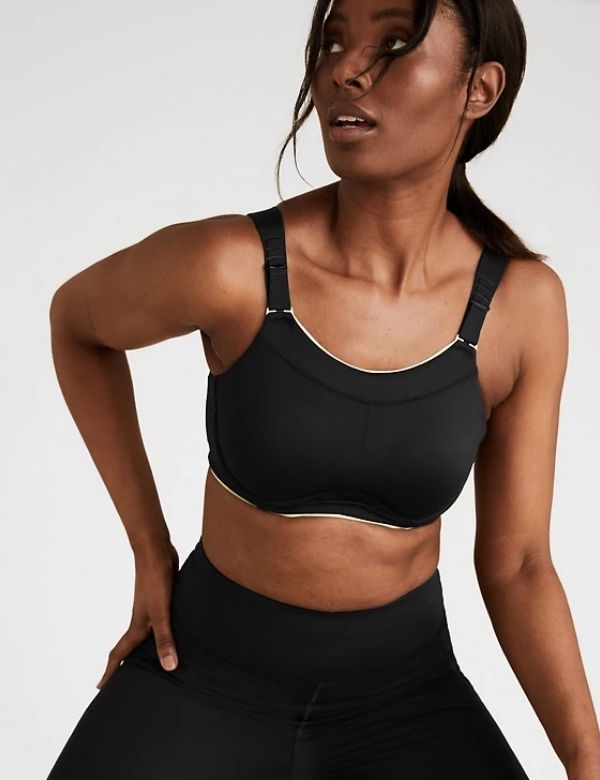 A great addition to your bra collection is this extra high-impact serious sports bra from M&S. They are suitable for all forms of workouts, as well as running. It is designed with four hooks for extra grip, wires for under boob support, adjustable straps to keep the bra fitted and comfy. They only come in two colors and are not showy side, but this extra sports bra is very reliable to prevent the boobs from jumping for up to G sizes.
8. Bravissimo: Inspire Sports Bra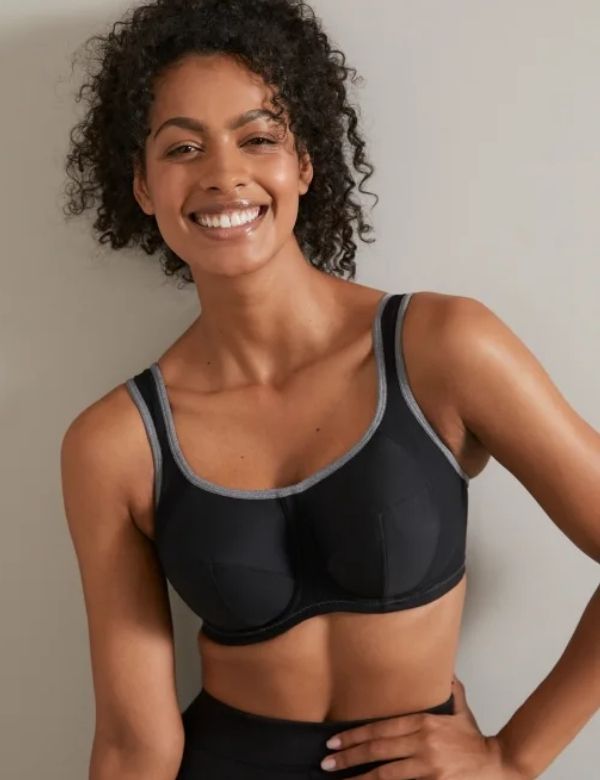 If you like a stylish sports bra, the inspire bra may not appeal to you, but if you value support over flashy for a larger bust. Then you will love this thoughtful bra specially designed to provide support for more fuller boobs, with sizes up to L cup as the encapsulation cup and supportive straps are all you need.
9. Freya: Dynamic Sports Bra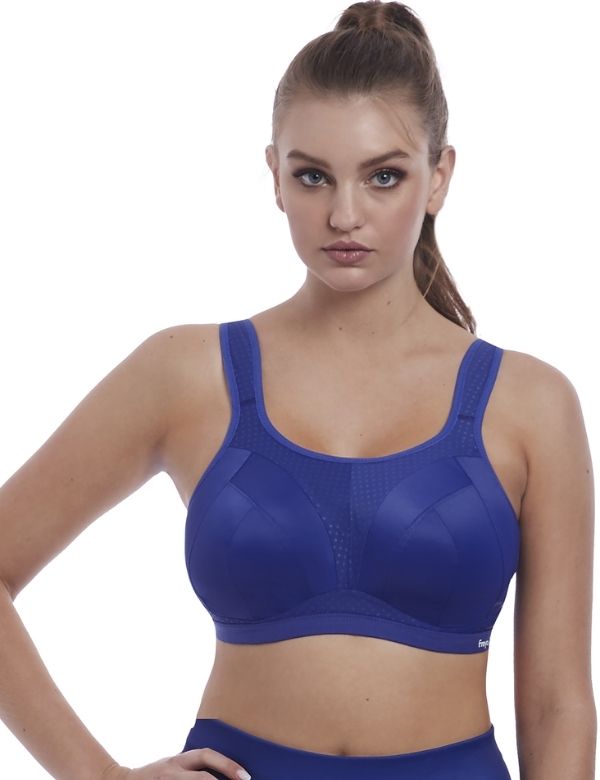 Anyone with big boobs will appreciate this tailored bra to cater to them. A compressive cup combines with the cushioned straps and adds four hooks to keep the breasts in place. The support can seem tight without adjusting the straps, but you are secured in a comfortable fit to work out with the straps sorted.
10. Royce: Impact Free Sports Bra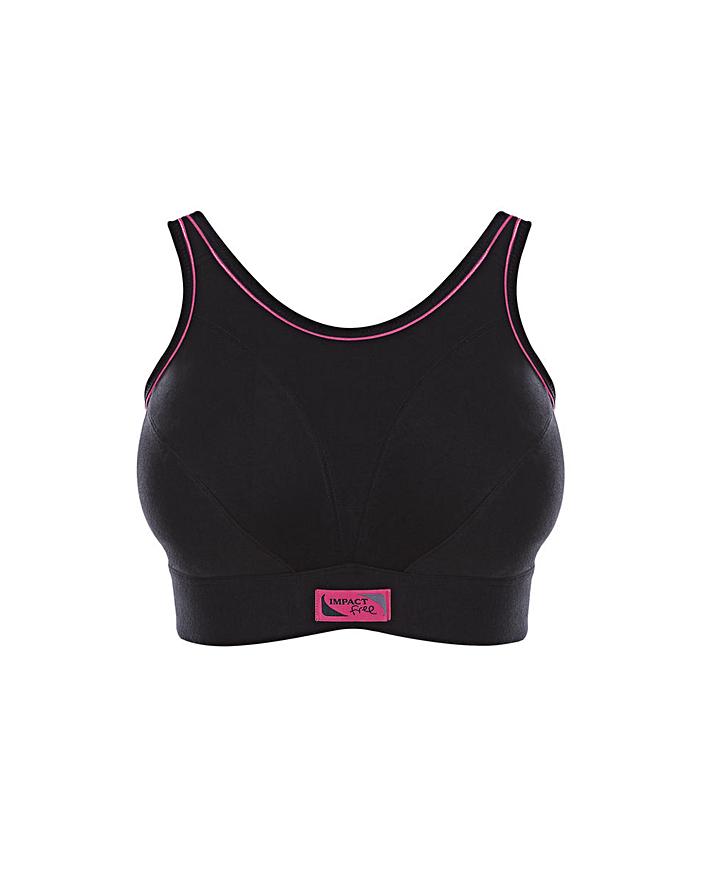 The impact-free sports bra delivers on being a supportive bra that has good coverage, with users comfortable in mind. Even though it has no underwire, its under-band, and defined cups give this sports bra all the support, it will need, with a firm fit, which offers you high-impact support for a wide range of sizes.
11. Runderwear: Easy-on running bra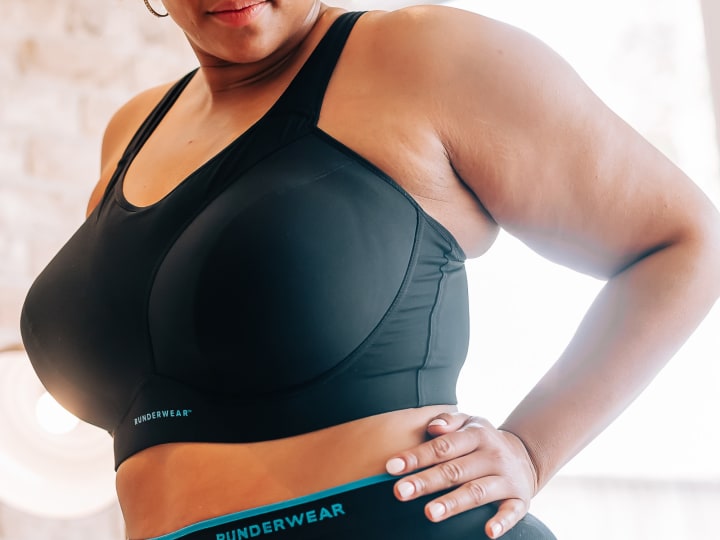 Anyone with a bigger chest will be appreciated, this high-impact sports bra for all types of workouts. It is specially designed for running and other exercises that require lots of motion, with a protective system enabled by the molded bra cups and support band.
12. Lululemon: Enlite Bra Weave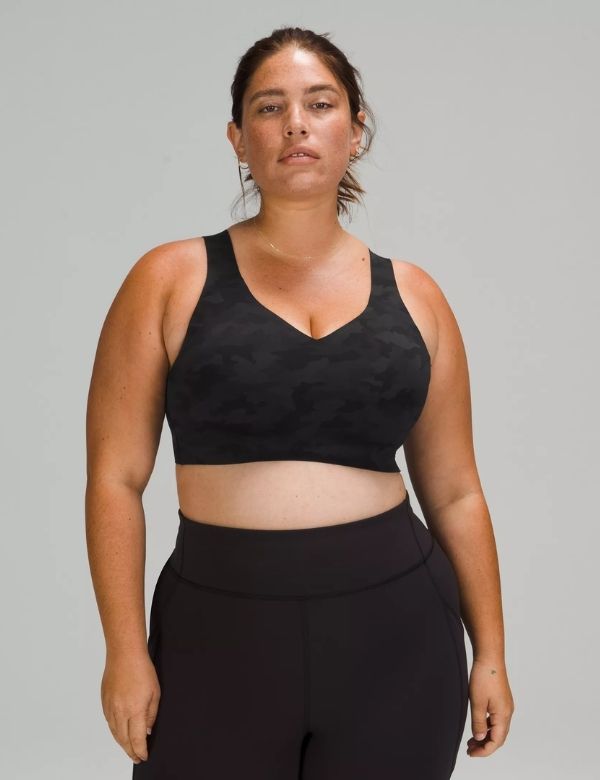 Although this sports bra is on the pricey side, you can guess from its name. It is worth the splurge as the bra is made with a unique fabric called the ultralu that dabs sweat and offers the right amount of stretch. So, the enlite bra gives a comfortable tight fit; you can use it for any high-impact sport, including boxing.
13. Shock Absorber: Ultimate run bra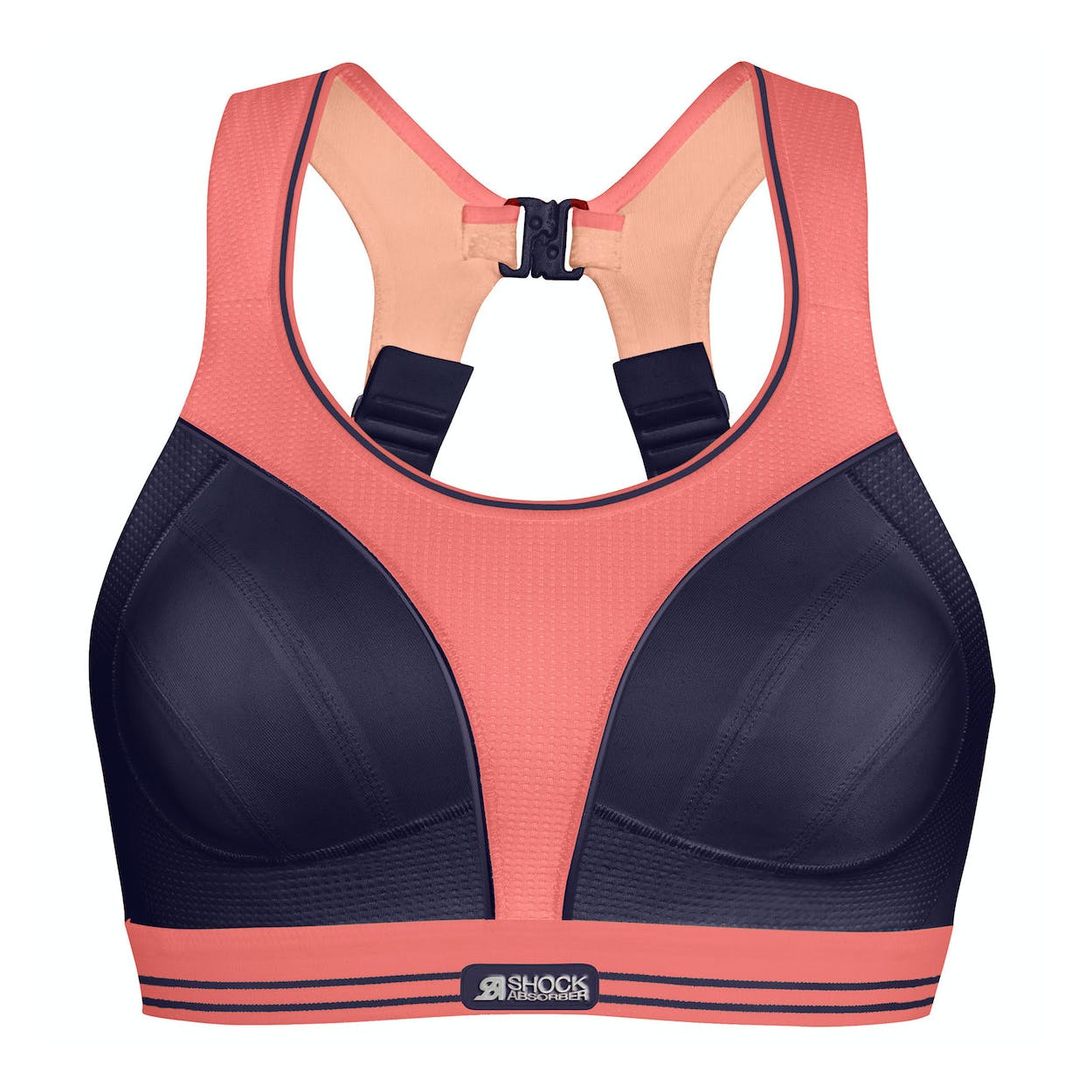 This bra lives up to its name for being one of the best bras that keep the boobs secured through any motion. The sports bra focused on the technicality of a high-performance bra and featured a unique clasp that works together with the straps for the ultimate support. It also has compression pads to make you comfortable.
14. Syrokan: High Impact Workout Bra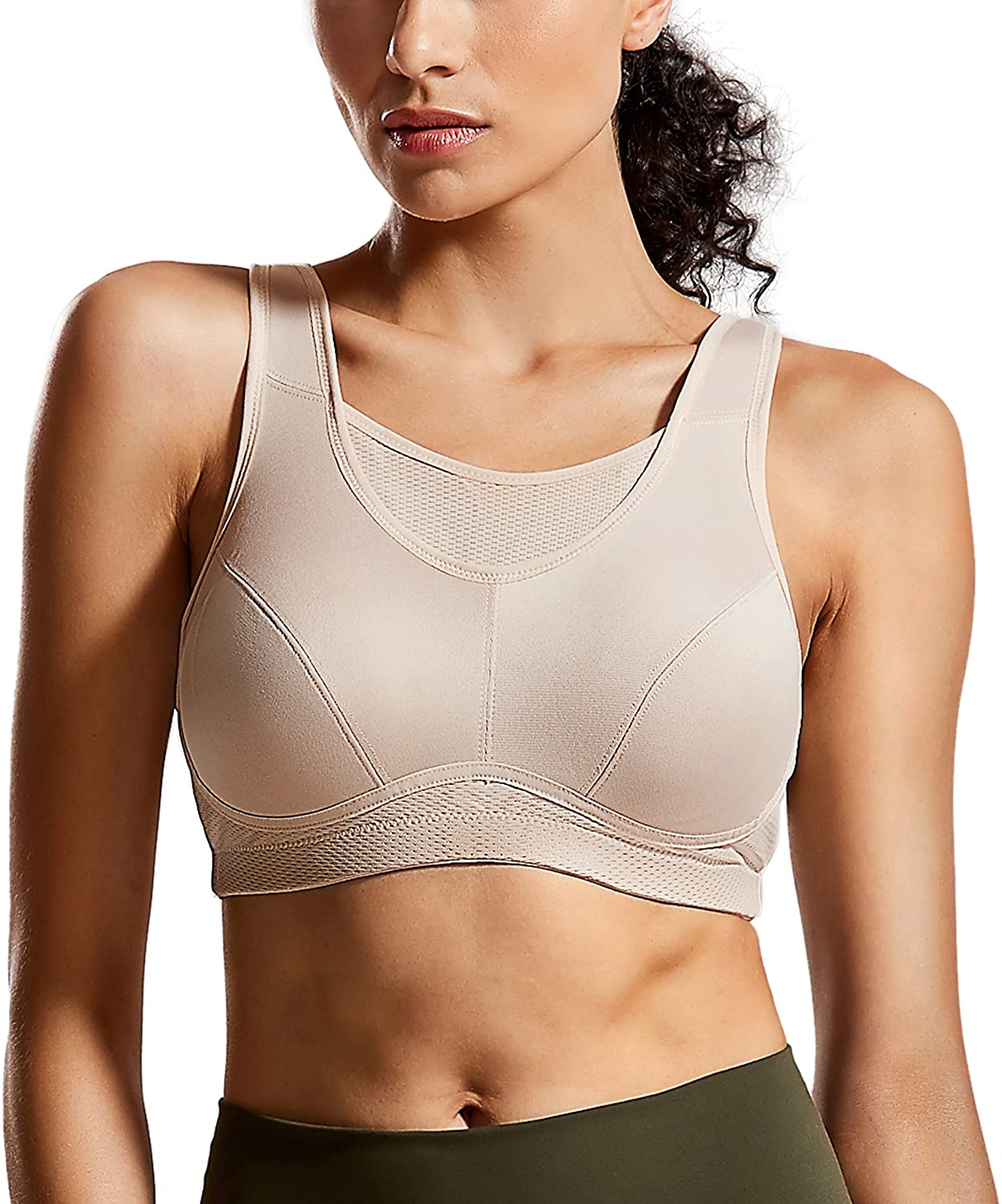 Syrokan put a lot of thought into this sports bra design, including a soft fabric, ventilated sides, and mesh panels. To help wick sweat, reduce chafing, and cool you down as you work out. The added detail on the racerback gets you through any intense workout.
15. Sweaty Betty: Ultra Run Sports Bra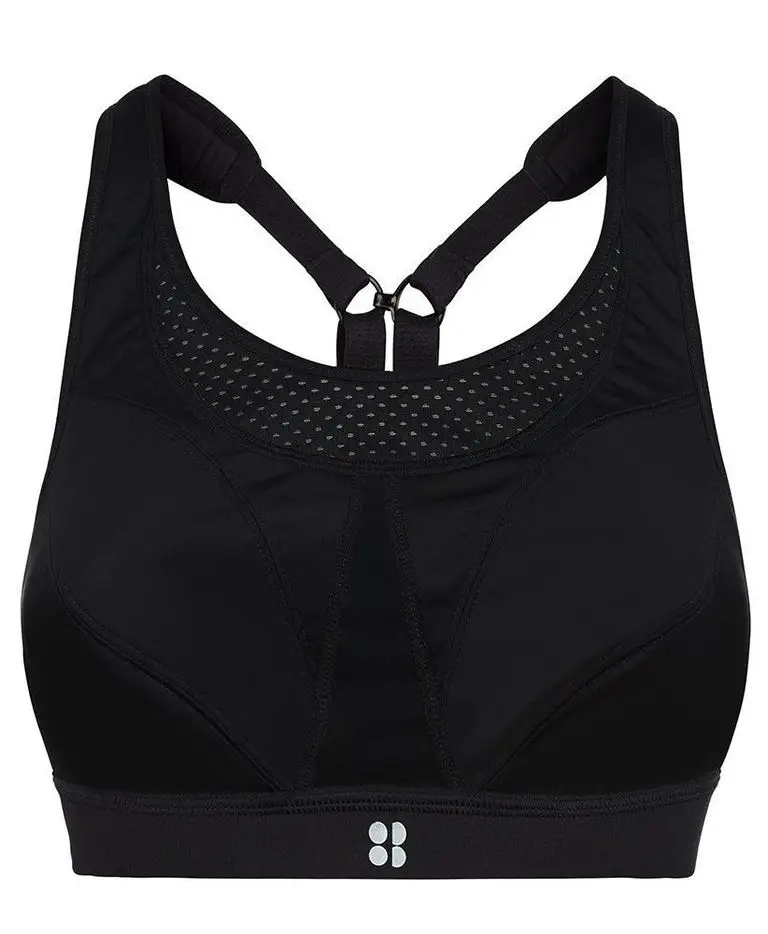 This ultra run bra is one of the best works for sweaty betty, combining an enclosed bra cup with an engaged panel, which results in a compressive yet comfy fit bra that cools as you work out. Just adjust the straps until you get a proper fit for all exercises.
16. Maaree: Solidarity High-Impact Sports Bra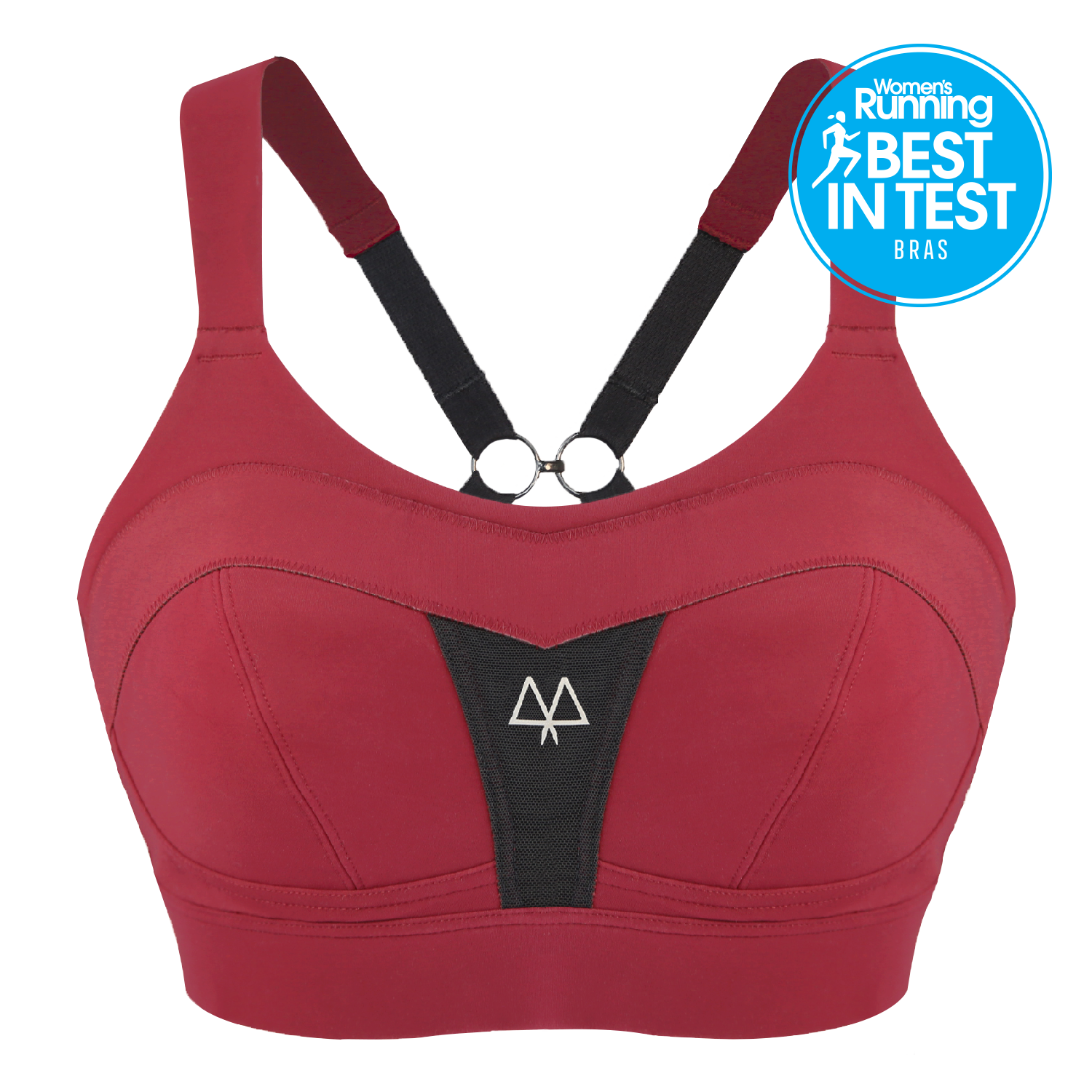 With the solidarity sports bra, keep your breast trapped in a high-quality, comfortable cocoon for all kinds of workout routines. Its advanced design has a band that settles on the chest, which you can tweak till you get excellent support. Also, the adjustable straps help the bra stay firm in all sizes. So, you don't have to worry about your breast bouncing around ever.
17. Royce: Aerocool Sports Bra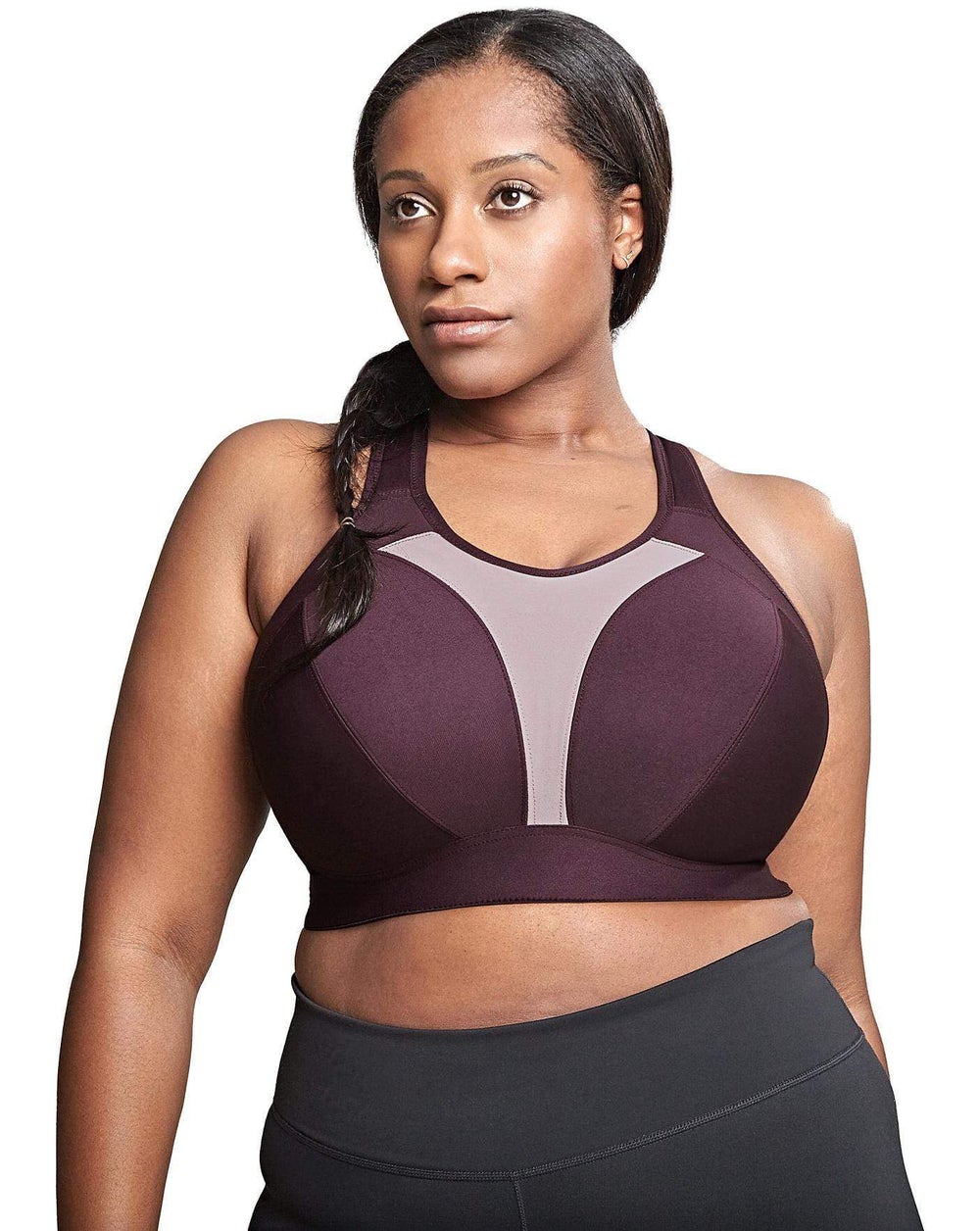 This sports bra is one of the best that offers comprehensive support for the gym. The ultra-supportive design secures the boobs snugly for up to K cups. With compression and a racerback clip, working together with its adjustable straps, you will get a bra that does not fits true to size but supports that remains sturdy.
18. Elomi: Energise High Impact sports bra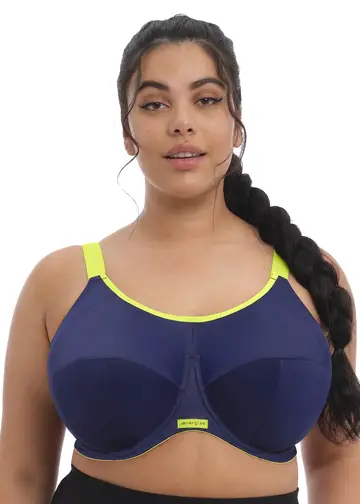 This sports bra was designed with big boobs in mind, as it has excellent coverage and support with an underwire feature. It is not big on compression, but its silky soft fabric makes it a comfy choice you will want to wear for extended hours. When you work out, change the straps to racerback with the clasps to give extra support.
19. Nike: Alpha Sports Bra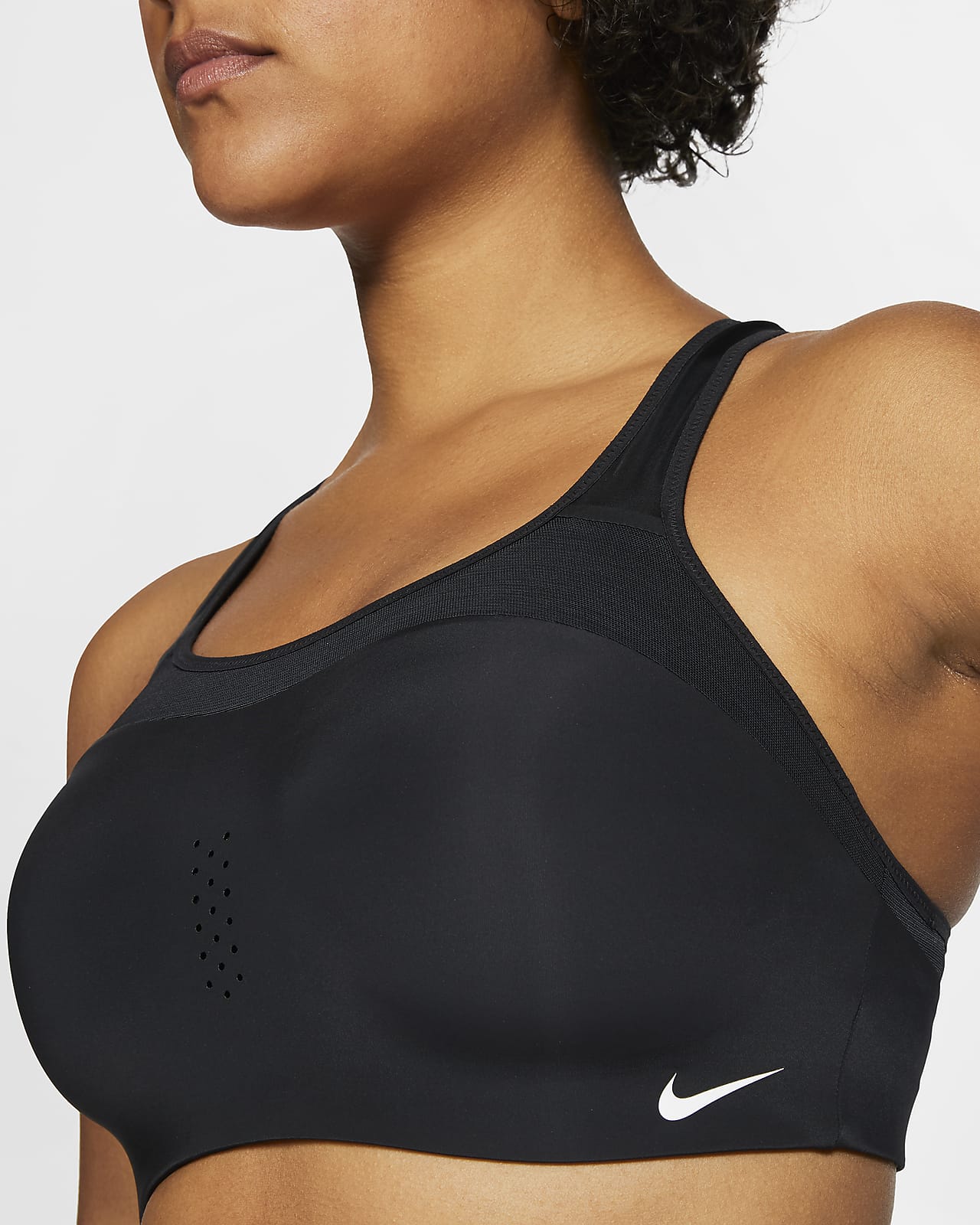 This bra is a full-coverage bra that shields you from the sun while providing all the support you'll need. Its four hooks and eye feature keep the breasts in place and an under-band for more help. The band may need a slight adjustment until it fits perfectly, but it doesn't compromise the support.
20. Shock Absorber: Active Multi Sports Support Bra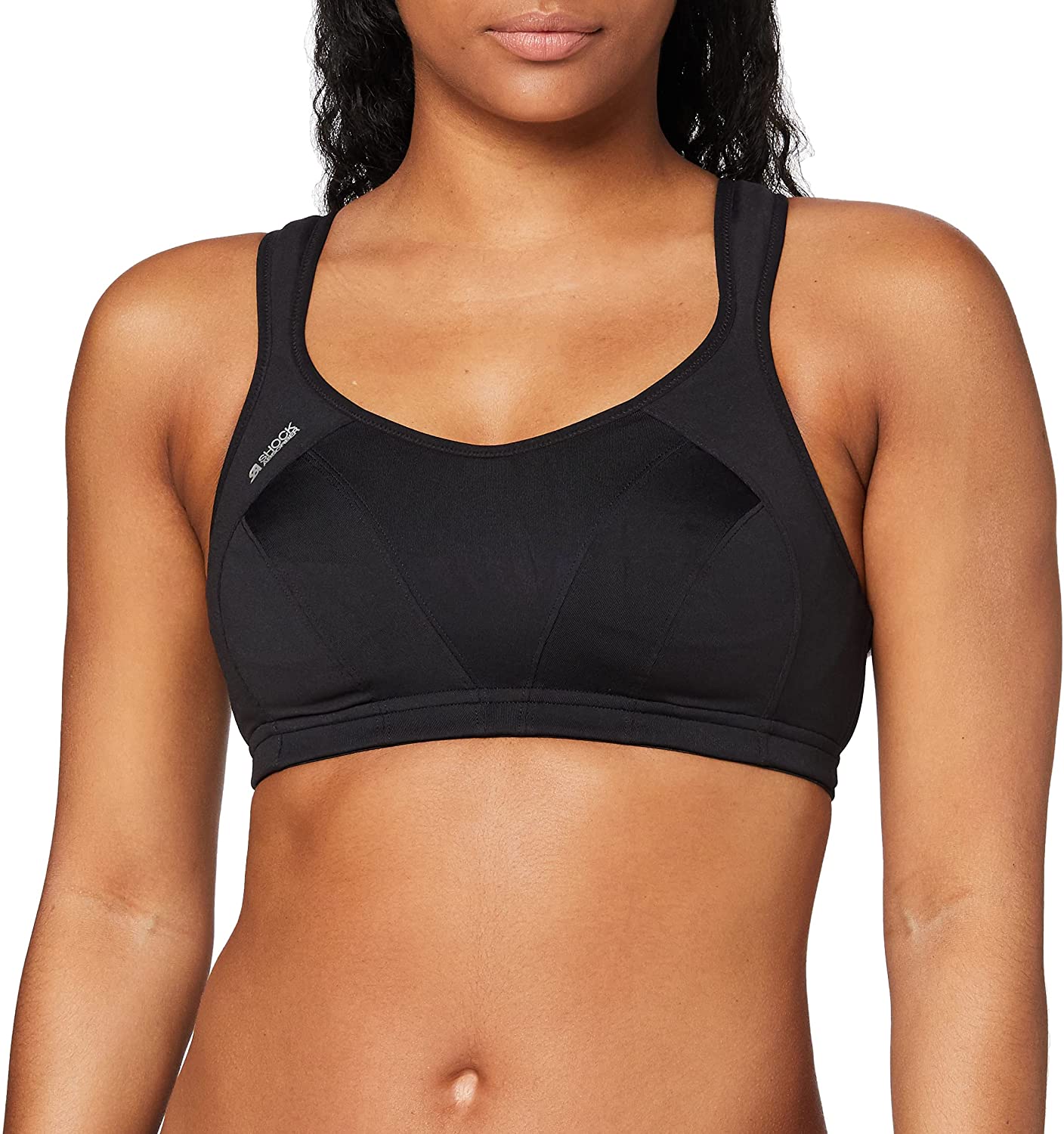 This sports bra is a sure support-proof bra that will hold you down through any exercise routine. Its contoured cups help reduce unwanted bouncing of the breast. While it full-coverage structure makes it a versatile choice with good support for up to double H sizes.
21. Yvette: High-Impact Criss-Cross Sports Bra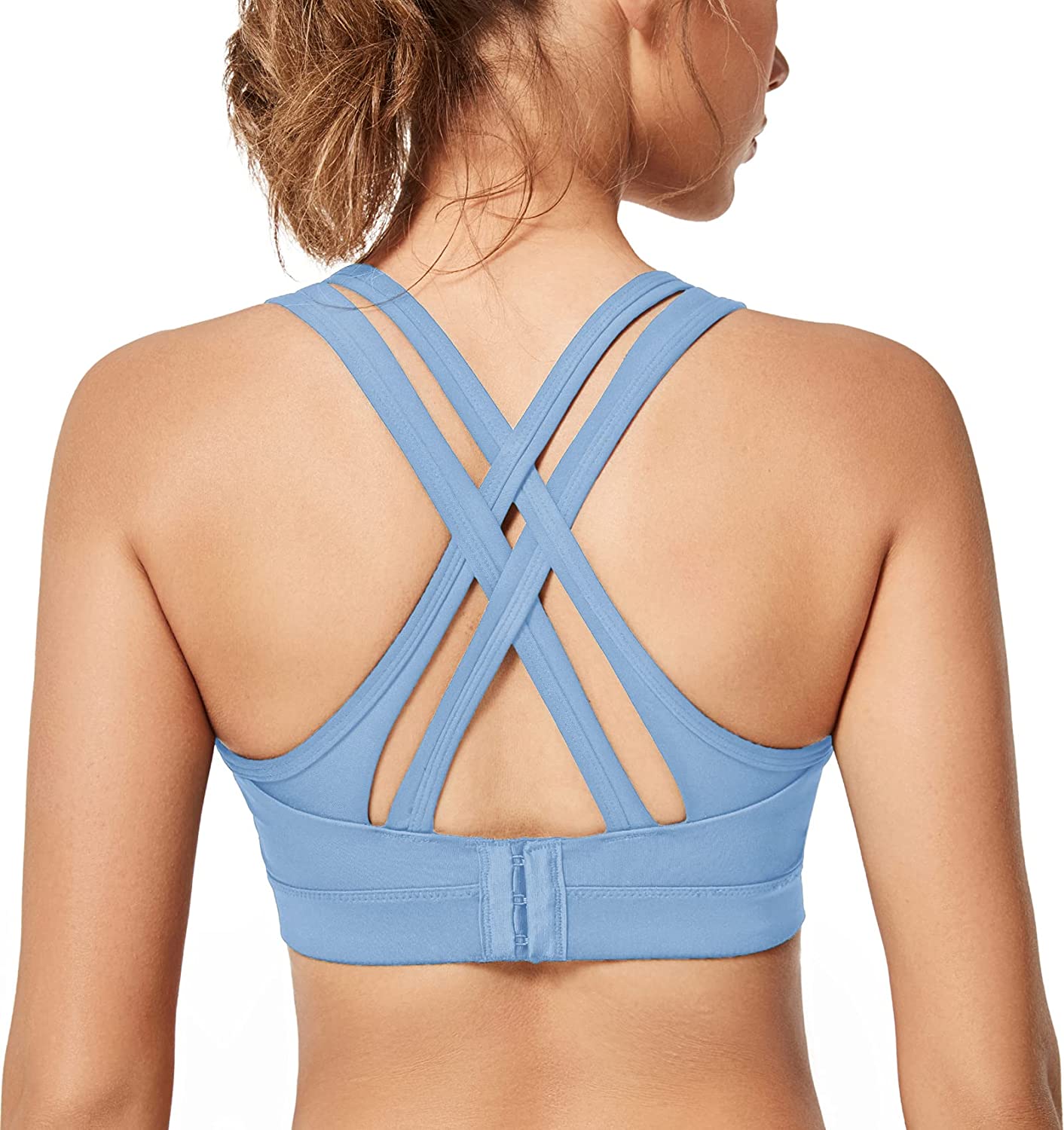 Clear off any horrible experience with a strappy sports bra with this high-impact iteration from Yvette, as it doesn't just look chic but serves the purpose of getting you through workouts with your breasts unmoved. The thick straps, hook and eye, and padded full-coverage cups ensure you are secured.
22. Athleta Glory 2.0 Bra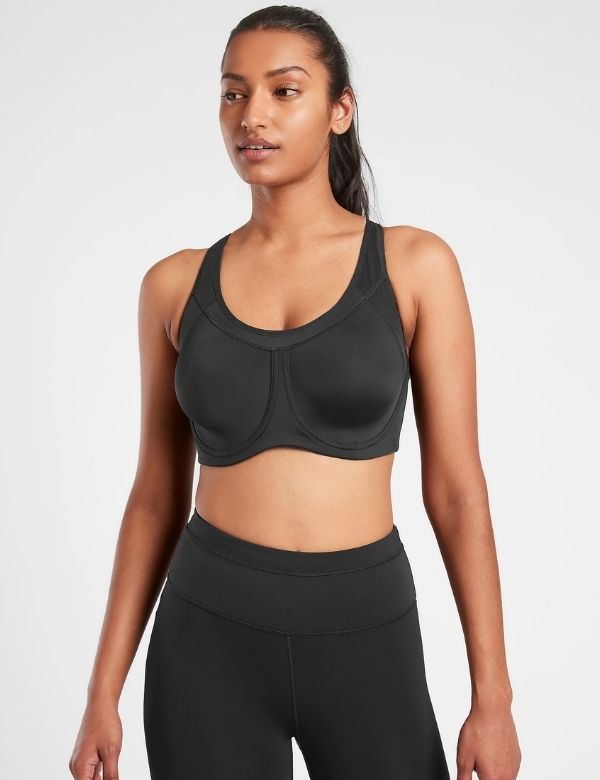 For bras that rely on underwire to give support, the glory 2.0 is one of the best out there. It is made of a smooth nylon and spandex blend that lines the underwire to not dig into your skin while you work out. This sports bra also gives a little lift to the boobs as a bonus.
23. Panache: Wired Sports Bra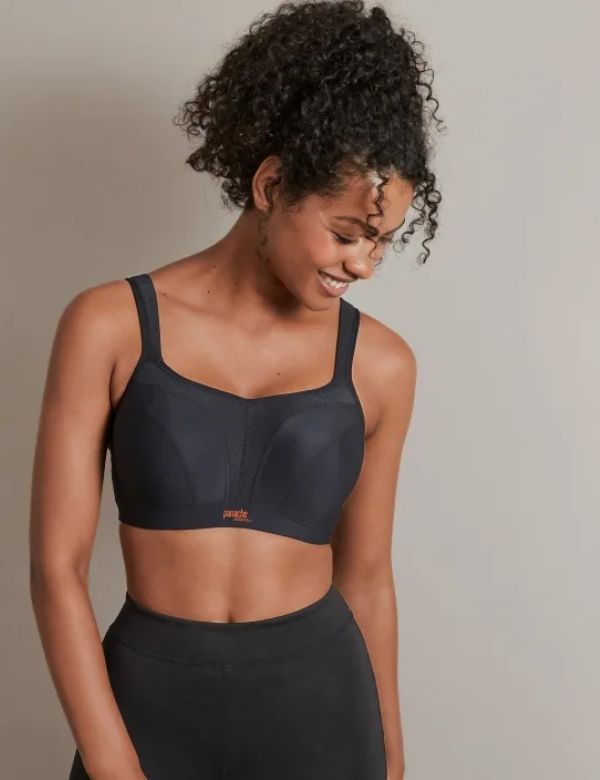 Most women with big breasts prefer a bra with underwires but soon regret the action when it starts digging into their skin. This downside is eliminated here with soft padding covering the underwires. For extra comfort, the straps are cushioned, so they rest nicely on your body while you work out. You can switch the straps between the standard U-shaped and racerback style to give you bounce-free boobs through any shake.
24. Lululemon: Run Times High Support Bra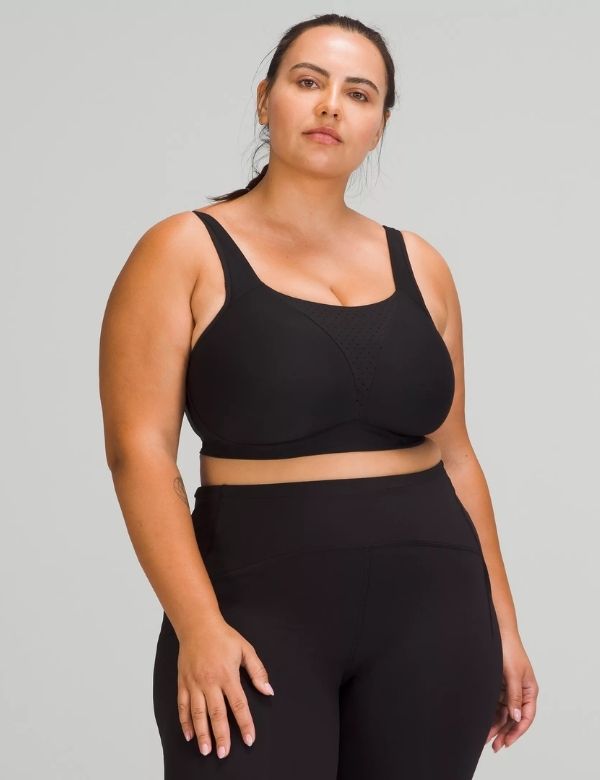 The run times bra is the best bet for those hot days, as it doubles as sweat wicker while keeping your breasts in place. It is also made with breathable fabric and extra padding in the straps for ultimate comfort. You can also transform the hands into a crisscross position to give a perfect fit.
25. Glamorise: Full-Figure No Bounce Sports Bra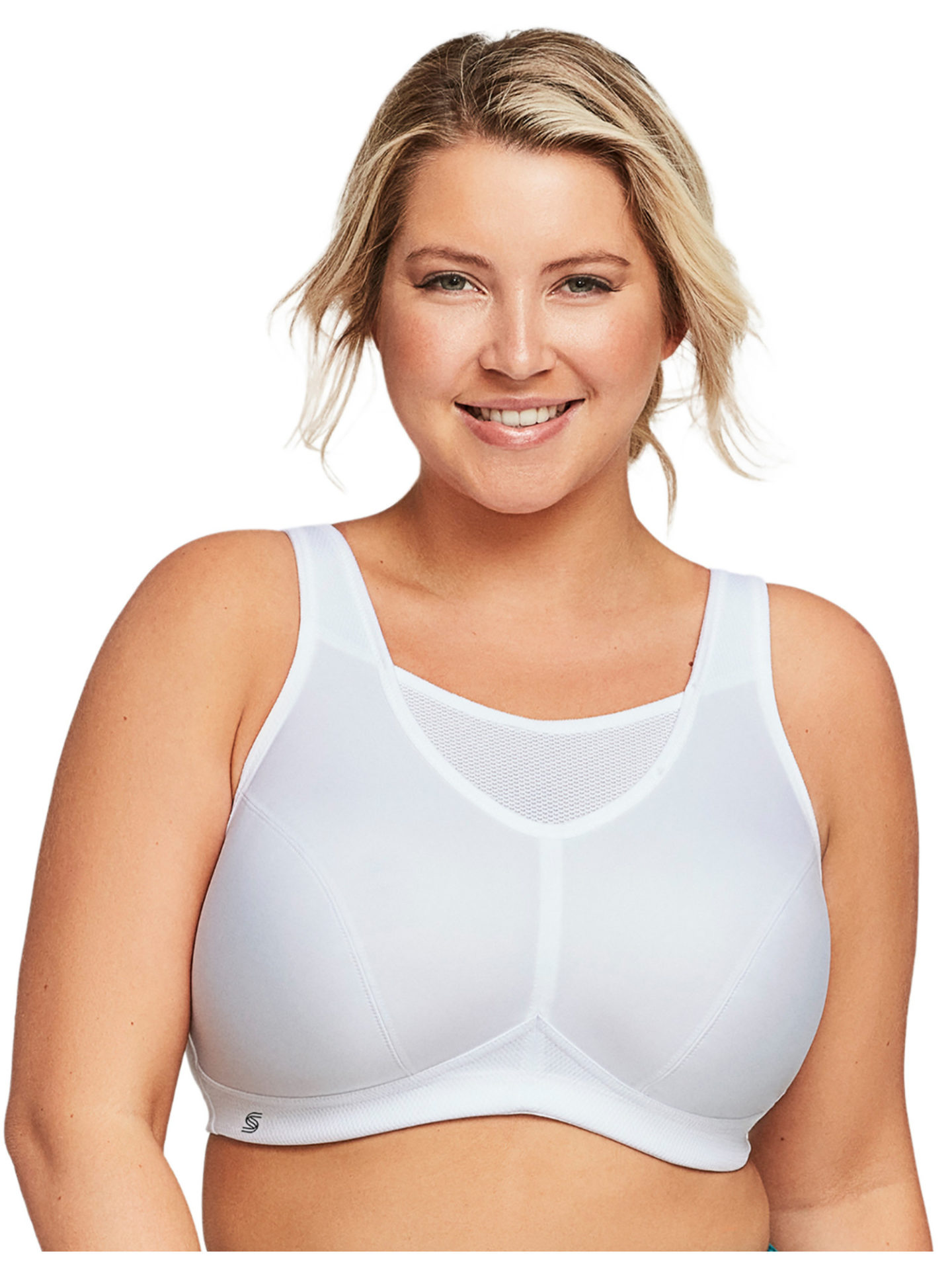 No matter the high-impact activity you have planned for the day, trust this bra to deliver it no- bounce promise, which is made possible with a non-stretchable fabric, adjustable straps, and built bra cups. It is also has a wide range of sizes from 34C- 50J and trendy colors to choose from.
26. Enell: High Impact Sports Bra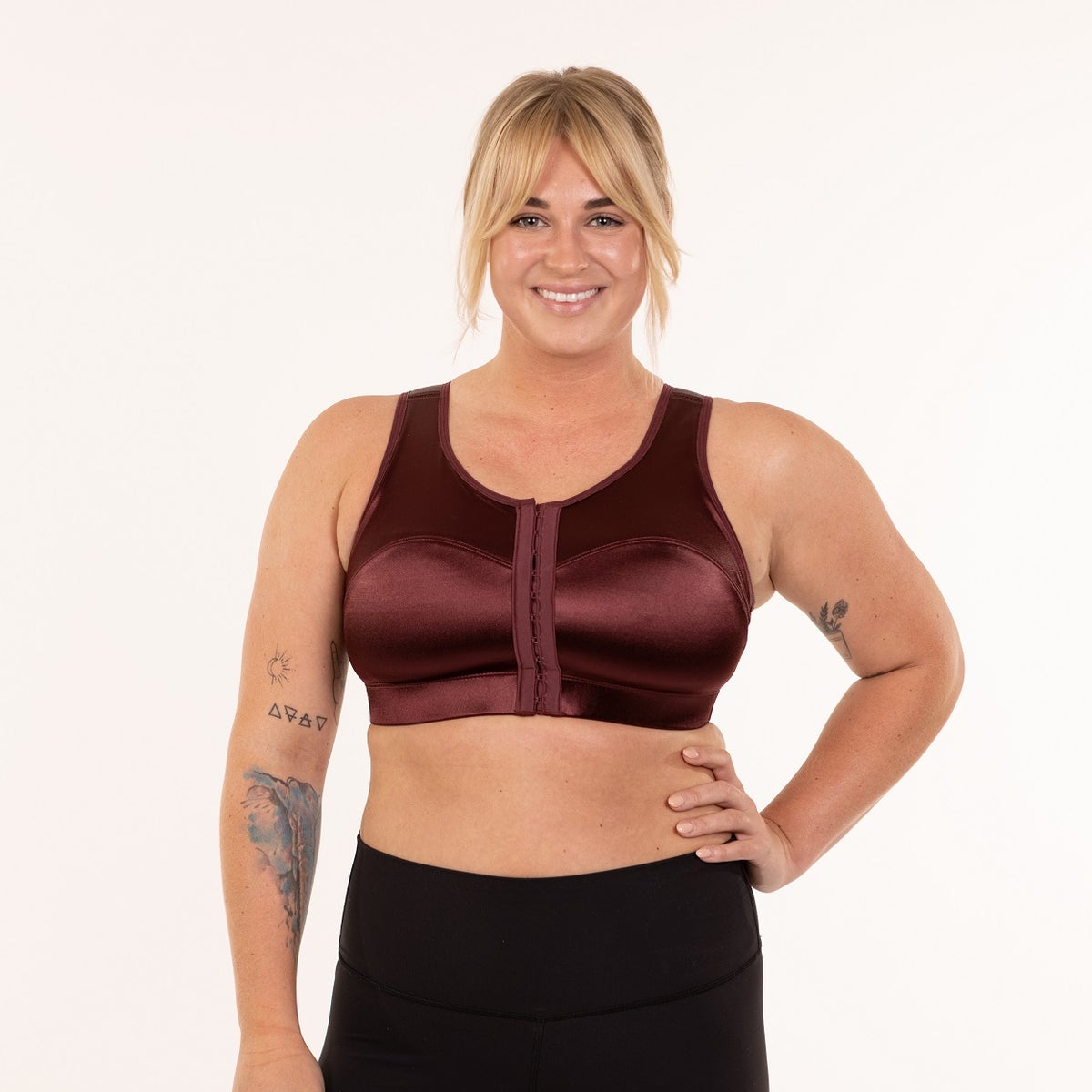 Enell brand describes this bra as a trifecta, which offers three essential functions; stability, security, and support. These functions are achieved with enclosed cups with the hook and eye in front. The bar is made with a blend of nylon and spandex for shape retention. Also, they have wide straps to give extra support to carry out any workout for sizes up to 40H comfortably.
27. Under Armour: Infinity High Sports Bra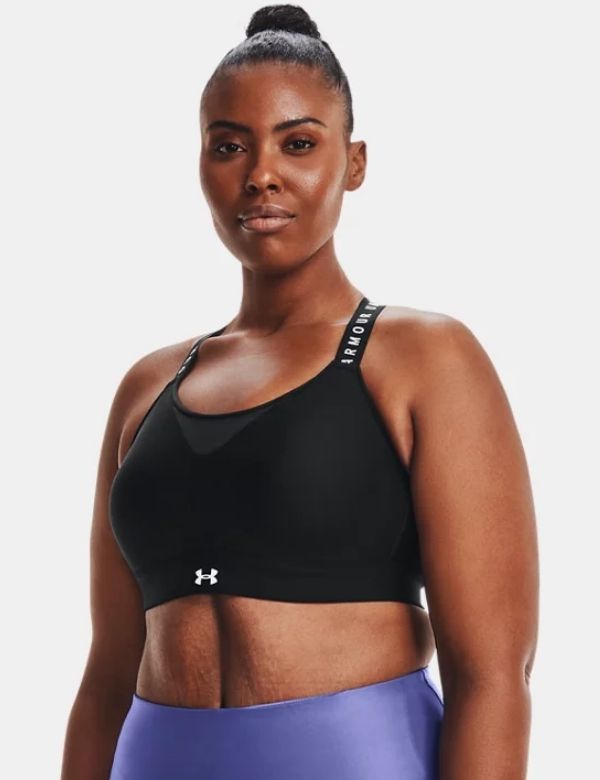 The infinity sports bra is a reasonably new design from UA sportswear brand. Their modern take on padding and molding cups over encapsulation will make a great addition to your sports bra collection, which keeps your breasts confined in breathable fabric without constriction. At the same time, offer maximum support for all your HIIT routines.
You may also like to read my latest article, 15 different pleated skirts and how to wear them with anything.