The best pants are the ones that are comfortable and easy to style. While you search for such bottoms, you should know that there are several options to add to the rotation cycle, such as linen pants for women. These are made from light and breathable fabric.
Linen pants are a summer and vacation favorite because they do not stick to the body during hot weather and can be worn all year round. Their free-flowing and colorful form presents versatile styling options, with many designs to suit different silhouettes. Anyone can add a linen piece to their wardrobe, and here are ten pants to get you ready to style a linen outfit.
White linen pants are a classic pair every woman should own, like this straight-leg pair, as they are easy to dress up or down. You can wear them with a thin-strapped top with a jacket thrown over them or with a dramatic top that has layered sleeves to steal the show. Any footwear of choice, from mule to heels, will look good with this pair of pants.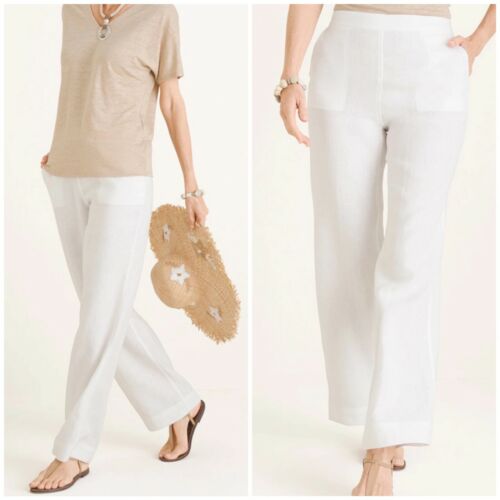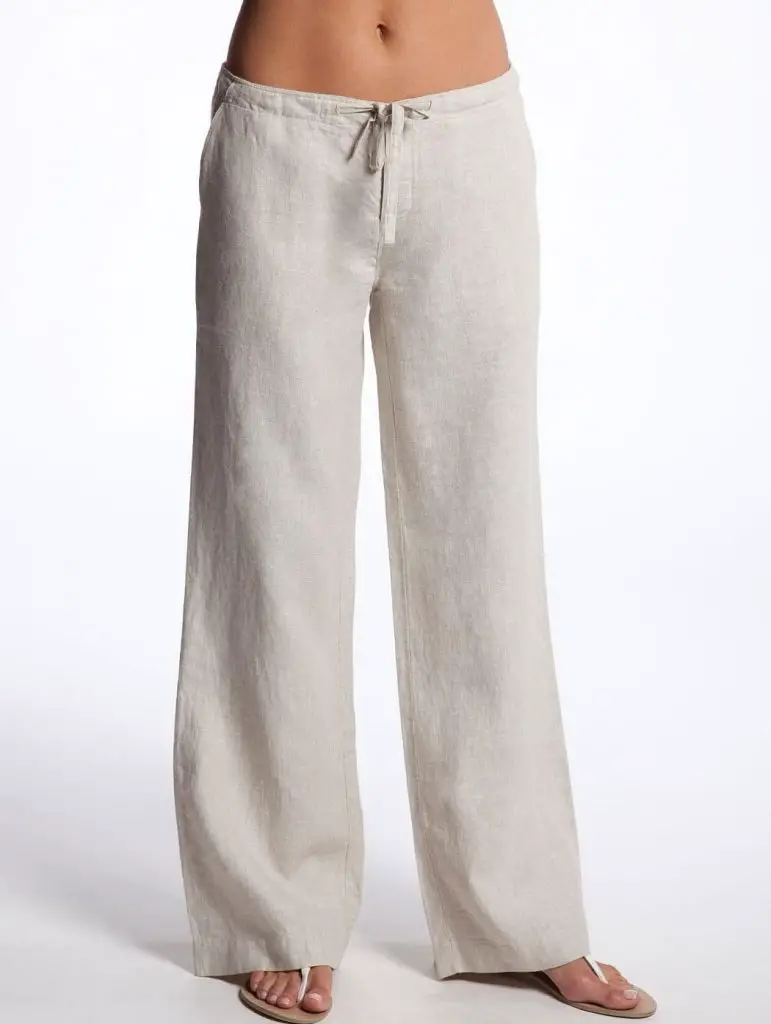 These are the perfect pants to lounge in and attend casual events. They are loose and wide-legged, which makes them comfortable lounging pants, especially when paired with simple tees. They can be dressed up with stylish blouses for brunch, errands, and beach outings. The drawstrings give the pants a casual and cool look. Pair with sneakers to complement the laid-back outfit.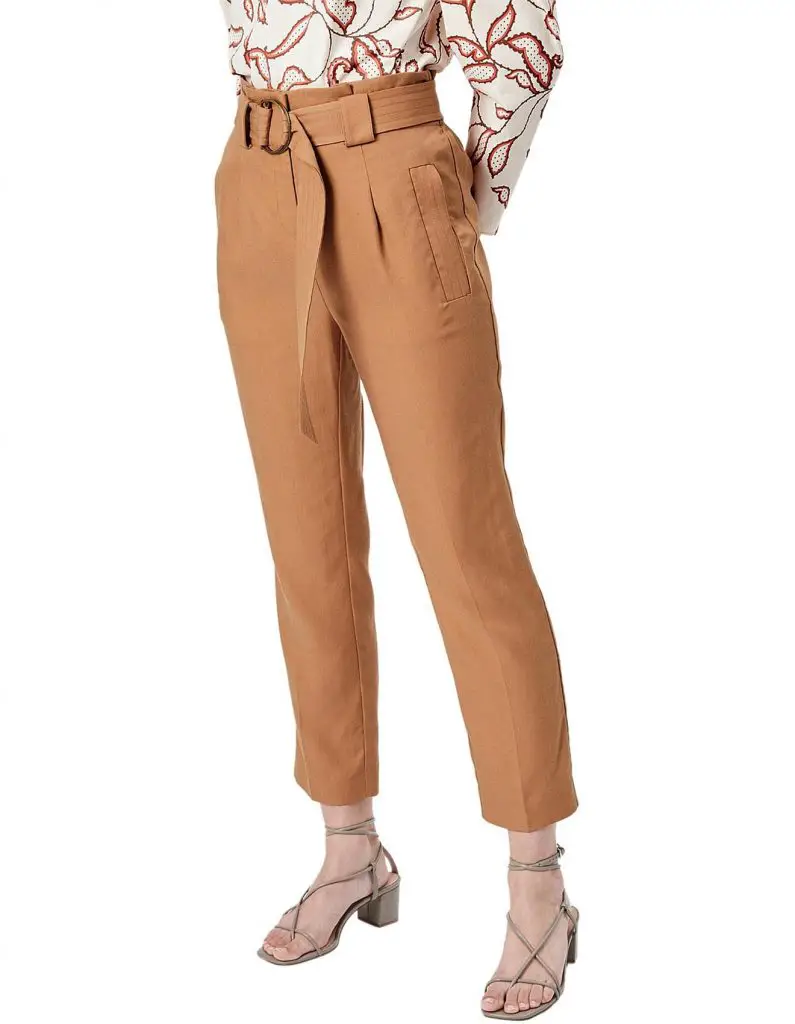 This belted linen pants design should already be in your wardrobe, as it is an elevated take on linen pants. It features a belt and a high waistline. They are a bit dressy and should be pulled out when a dressy occasion is in view.
You can easily style this with a camisole and blazer and transition to evening happy hour by taking off the jacket. Wear with a puffy-sleeved blouse and heels for a formal event.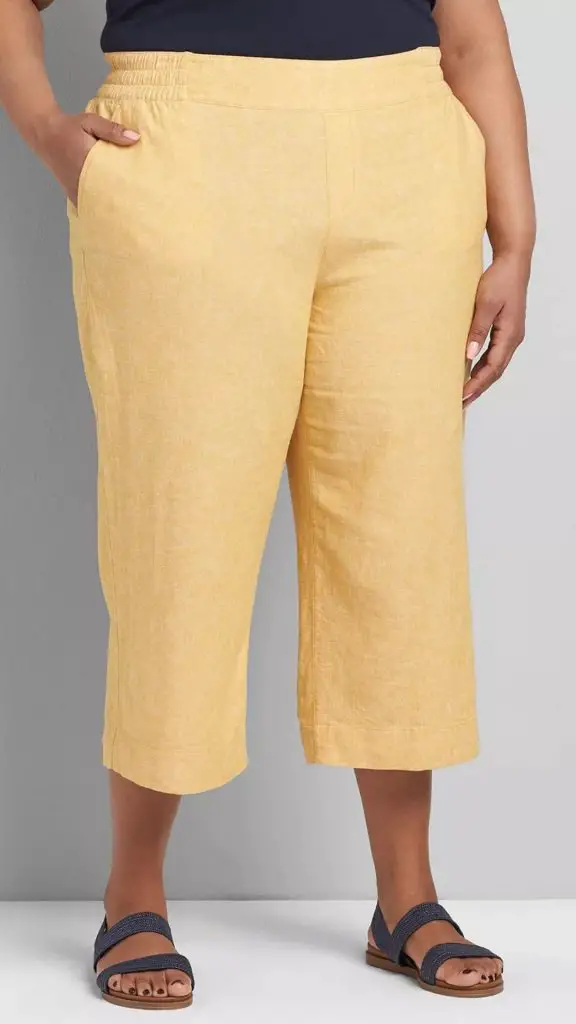 Cropped versions of linen trousers are next on the list — they are the ultimate relaxed trousers for any woman. They can be styled boho style with cropped tees and sandals, for the beach and casual strolls. When you pair them with a fitted top, they look easy casual without appearing off kilter.
5. Cuffed Hem Linen Pants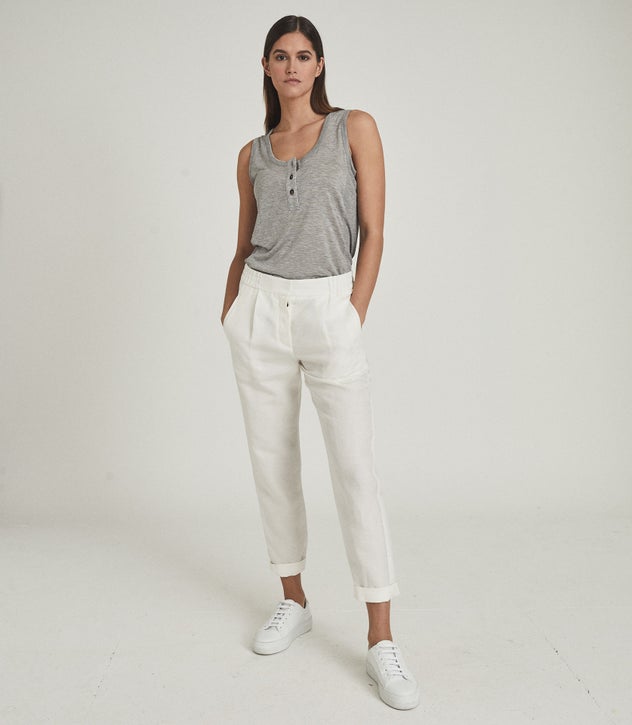 The cuffed hem designs are chic as well. The cuffed details make them a bit casual but they can be paired with button-down shirts and dress shoes. Find a pair with a hidden clasp so you can style it for a business casual look. You can also style it with a simple blouse, for a chic look. The focus should be on the trousers for its cuffed detail.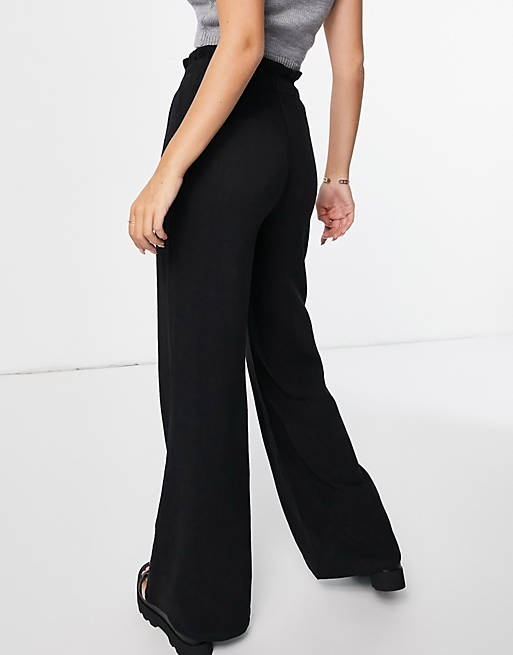 If you want to try the wide-leg trend, consider these black wide-leg, high-rise pants. They are comfortable and are the perfect bottoms to complete many outfits since black is a versatile color to style. These black pants can be your go-to trousers for a quick and elegant look. This pair of pants can easily be worn for different seasons all year round.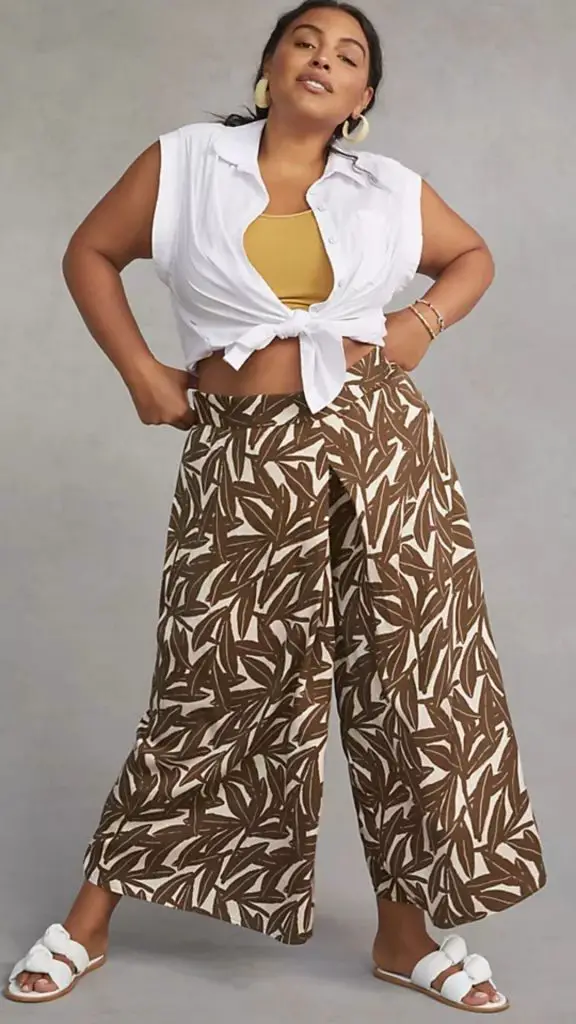 Most times linen comes in plain colors as they come in one threaded shade. Not these floral print pants, because they are unique and a statement that should be part of your linen collection. Style with neutral tops, and shop only for your perfect size so it flatters your figure.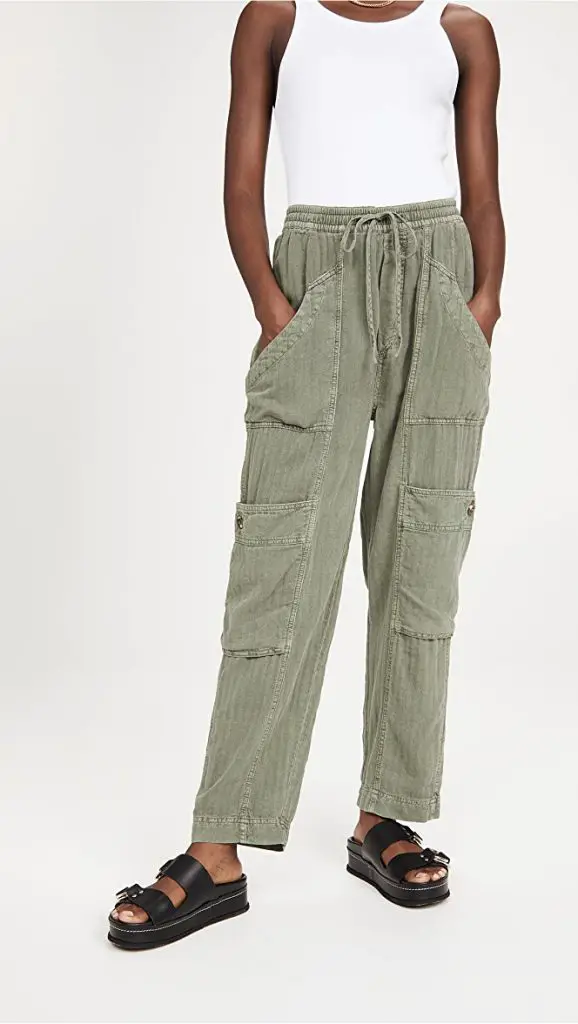 This pair of linen pants with pockets are a must-have for every woman. They do not look like regular trousers with hidden pockets, rather, larger draped stitch pockets are the design details that elevate these trousers. Wear with simple tops like off-the-shoulder tops, tees, and any chic top of choice, with sandals for a casual day. Transition into the night with a change in footwear, and you'll be reaching for these pants most times.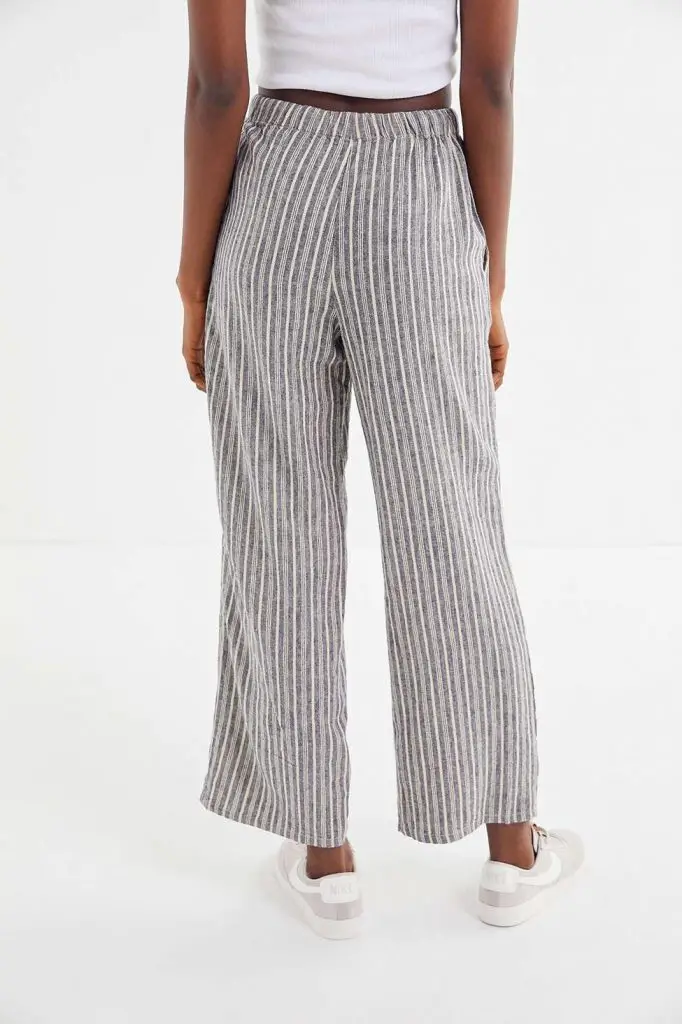 If the prints are too bold for you, opt for a striped pair of linen pants. This is a great choice if you desire some patterned rotation added to your wardrobe. It is a blend of cotton and linen that makes this pattern chic. Pair with a crisp white tee and any jacket of choice for an easy cute outfit.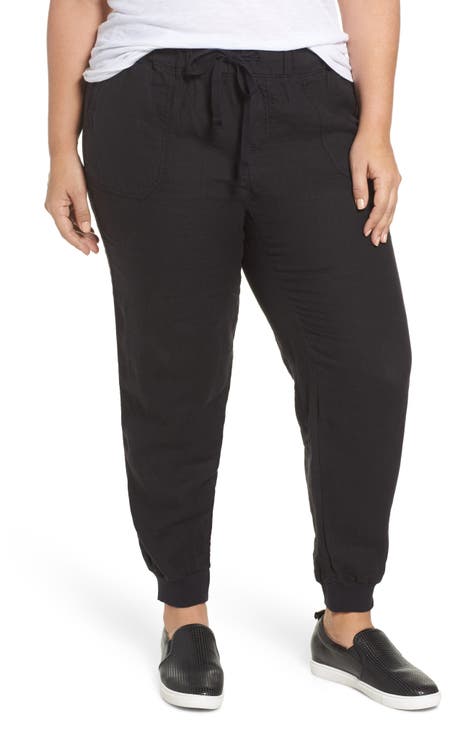 Put together a chill athleisure outfit with these linen track pants. Find a pair that features jogger-style pants, with a pull-on elastic waist or the upgraded pairs that have a pleated waist. You can wear them to perform a light exercise but are better if you don't have to do the actual exercise. Pair with fitted tops to get a chill and smart look.
When you get your linen pants for women, style each trouser choice with a top that complements it. Always wear a nice dressy top for formal events and only pair it with t-shirts for casual outings.
What to read next:
–10 linen dresses to live in during your next vacation
–Beach Dresses: 18 Cute Beach Outfits for Summer 2022
–20 Terrific faux leather pants that'll make your butt look great