The rose flower symbolizes love and romance; this is probably why sailors from the 1930s used them to symbolize the women in their lives. Rose tattoos are one of the most popular tattoos people get because they look appealing to many. Most of the designs are suitable for both genders and can be worn on any part of the body.
Iconic designs are made with the rose flower since they can be recreated to take any unique form you want, whether it's a full blooming rose, a stemmed piece, the whole bouquet, or just the bud. If you're thinking of committing to a permanent rose inking, here are 10 designs to inspire your next body art.
1. Traditional rose tattoos
This is the original rose design, made to look like a flower with the leaves, stems, and thorns made visible on the tattoo. Thick lines and all the details bring the pieces together and make it a strong art piece you will wear with pride. This is a complex design showing the rose flower in all its glory.
 

View this post on Instagram

 
2. Gem black rose tattoos
A statement piece is a black rose tattoo infused with a colored gem. The dark shade of the tattoo will show the parts of the rose flower while the pop of color from the hem will blend into the rose to create unique body art. Make the inking big to showcase the full beauty of the tattoo design.
 

View this post on Instagram

 
3. Red rose tattoo
The classic red rose design, just like the flower itself, is a beautiful piece to wear on your skin. Add some leaves to affix some spice to the rose petals. The stems attached to the flower are another style variation you can try as well. Make it unique by making the leaves black, it gives a new meaning to the tattoo. You can hardly go wrong with this choice.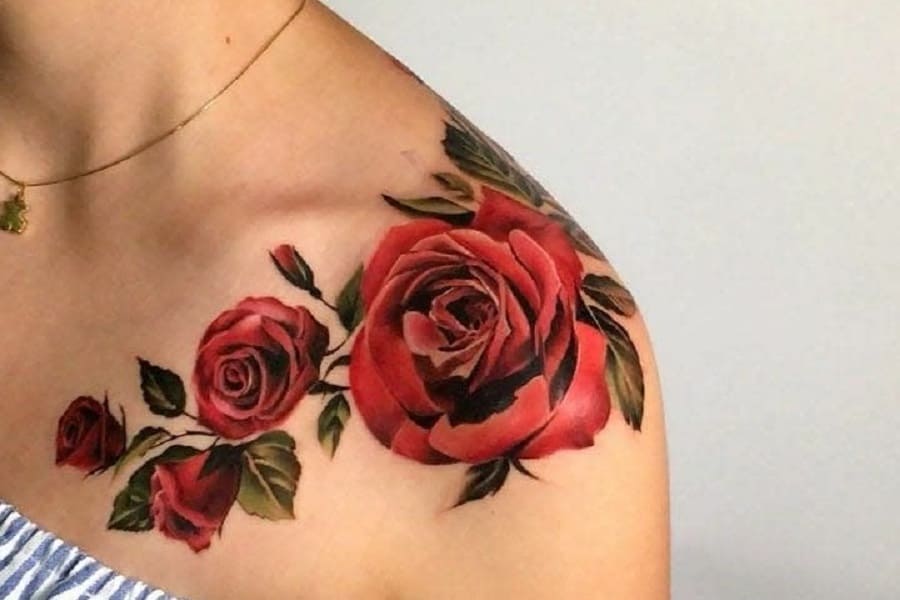 4. Realistic rose tattoos
This design does not look like a tattoo but like a picture printed on the skin. You can choose any type of rose flower but go for colors, so the vivid patterns of the design shine through. If you're going for a piece that will draw attention, then a realistic rose tattoo will do that for you.
 

View this post on Instagram

 
5. Skull and roses
Show your love for the darker side of life with an artistic design of a skull infused with a rose tattoo. This design passes a strong message as well. It is a design that signifies life and death, the good and the bad. The way the rose intertwines with the skull just shows we live, as there is always bad trait in everything good. It is such a fun way to tell your story.
 

View this post on Instagram

 
6. Name designed roses
Rose tattoos are a delicate way to create an intricate design with a name. This might be your name or that of a loved one. The name can form the flower stem, or be written on the petals. It is a beautiful tattoo you will love to show off.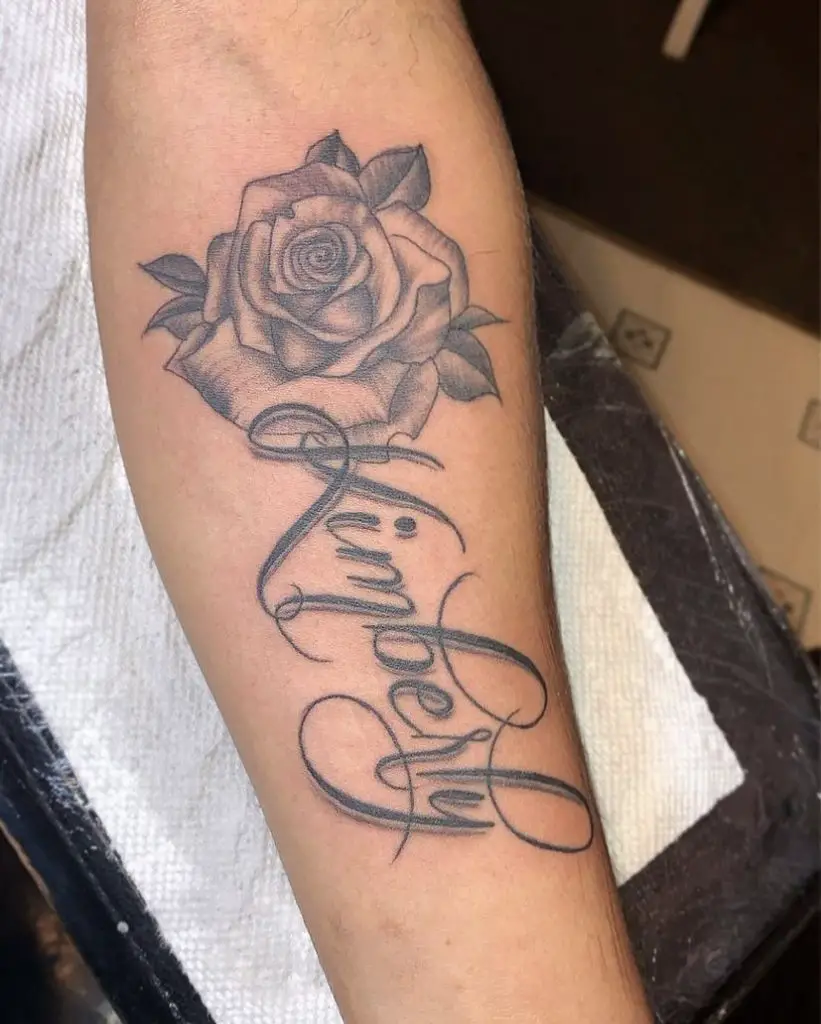 7. Simple rose design
Little can be made more with a simple rose tattoo. Few lines and details are required to achieve this design. A single rose bloom that features a few petals is all you'll need. Make sure this dainty piece is placed on a visible area of your body, so you can subtly show your tat in style.
 

View this post on Instagram

 
8. Butterfly rose tattoo
A rose and butterfly tattoo is hitting two tattoo trends in one design. Asides from that, the design holds great significance in the cycle of life. Infuse the butterfly however you want, or better still, draw the butterfly landing on the flower so it depicts the role they play in nature. The meaning of this design is not lost in its beauty.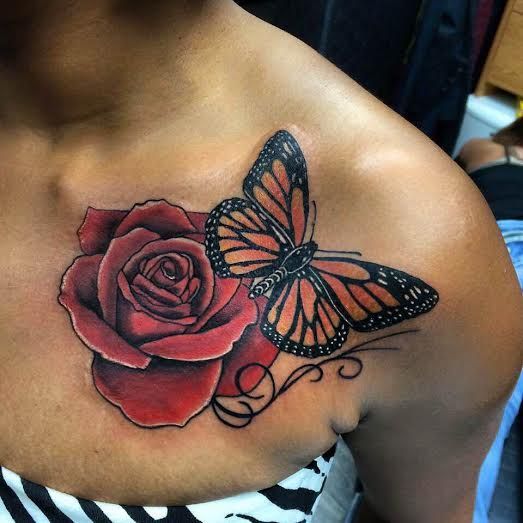 9. Geometric patterned roses
If you're into geometric pieces, then a geometric outlined rose tattoo would be a great option for you. Fine tune the details of the floral design drawn with shapes like squares or triangles. Add to some shading or colors to soften them. It is a cool way to show your style through tattoo art.
 

View this post on Instagram

 
10. Roses and heart design
A rose tattoo in a bigger heart design is a cute design that shows true romance. You can use the heart to outline the rose flower or use them to form the flower petals. The language of love is expressed with this piece of body art. Drawing on the arms is wearing your heart on your sleeves.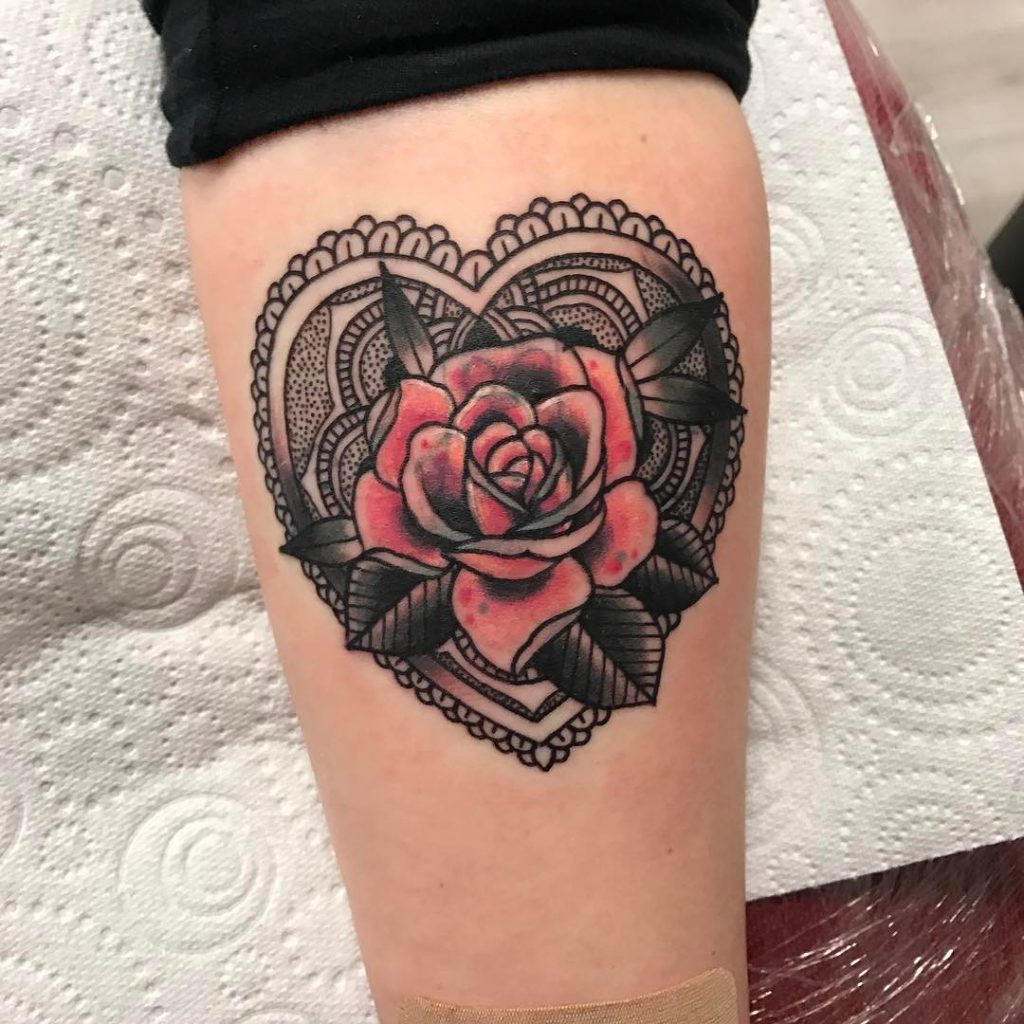 Conclusion
Rose tattoos have a different meaning for cultures and religions all over the world. The colors of roses hold significant meanings as well: red is the classic for romance, pink for gratitude, black for death, blue for rare, purple for royalty, and white for purity.
Draw a remarkable piece but do not forget, whichever color or design you choose to go for, holds a message. For more tattoo inspiration, check out these mandala tattoo inspirations.