Body art in the form of tattoos is nothing new — while different designs keep springing up everywhere you look, the watercolor tattoo designs are our focus today for the bright colors, details, and artistic feel it has.
It has become a great way to add a pop of color to different tattoo designs since it gives stunning results for its paint bush effect instead of ink. If you are thinking of getting one, let these twelve head-turning designs inspire you.
1. Floral watercolor tattoo
Floral designs never go out of style, and with the variety of flowers, there is no shortage of designs. Their colorful petals look great with a watercolor infusion. You can draw a single flower or full blossoms since they always look stunning whether small or large. Since they are delicate and symbolic you can place them on any part of your body.
2. Watercolor butterfly
Butterfly tattoos are quite common; who wouldn't love their graceful appearance and strong meaning? With watercolor, they become a work of art as their colorful wings get a well-needed painting. Add floral details to complete the design and the result will be a beautiful and unique design.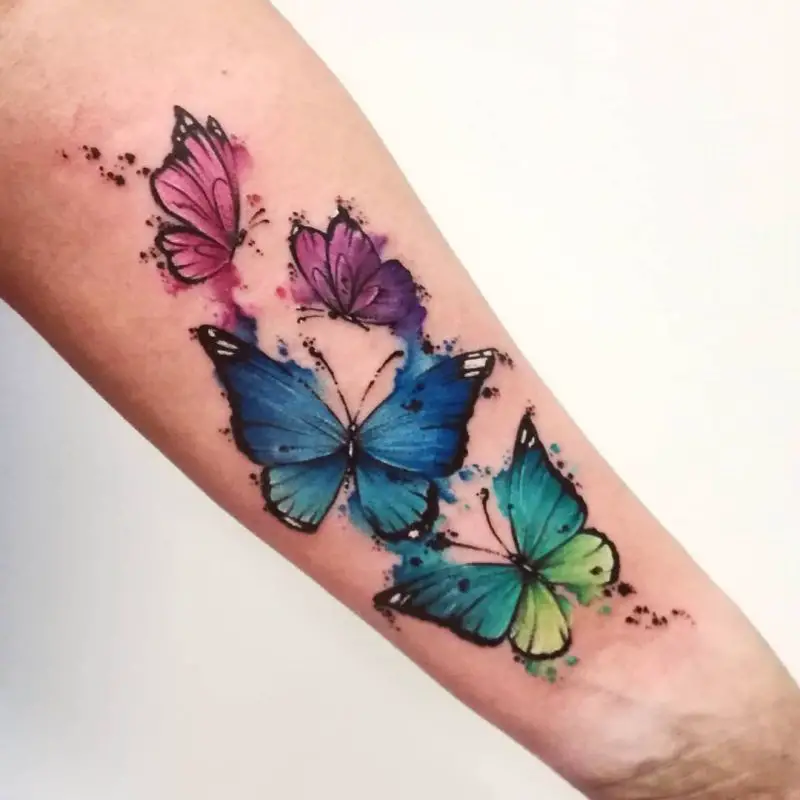 3. Abstract watercolor tattoo
Make your body a canvas worthy of being displayed at an art gallery with a stunning abstract design. Combine different colors and allow the tattoo artist to paint a personal expression on your skin. The lines will settle with the strokes to give a modern arty vibe. Your only thought will be placing it in a broad and visible spot.
4. Quotes with watercolor
Color your quotes with a splash of watercolor, it will grab attention. Write the quote in black on your favorite watercolor shade base. Many people are into adding quotes to their skin, but yours will be one of a kind.
 

View this post on Instagram

 
5. Geometric watercolor
If you love the edgy vibe of geometric tattoos, then it is time to try something new by adding some watercolor. Do not worry as the edginess is not lost on this design. Triangles, squares, and all other shapes are not left out either. While watercolors can be used to fill the shapes, using them for the outline is great too.
6. Rainbow theory
When you are unsure of what to get, this color spectrum will not fail you. Be mindful that this design is for people that love many colors. You can add watercolor of seven colors of the rainbow, different shades of your favorite color, or allow the tattoo artist to add random colors. This design is perfect because it can be done in circles or stripes.
7. Watercolor birds
If you take look at most birds, you will notice the natural blend of colors of their feathers. It presents a great opportunity to add vibrant watercolors to your tattoo designs. The hummingbird is a beautiful bird to express a display of colorful wings. While some people will prefer a phoenix for their mythical connection; whatever bird you decide on, let watercolor finish the design.
9. Watercolor portrait design
Watercolor can be used to make portraits come alive, be it a random sketch, a tribute, or one of you. Watercolor can be used for 3D shadings and for other extra details the tattoo will need. The design will be stunning and attention-grabbing.
 

View this post on Instagram

 
10. Nature background
Many nature-themed designs become breathtaking in watercolors such as the supernova sky, the moon reflection on the sea, skyline, and trees. The extra details were drawn with watercolor, lines, shadings, and life forms, making this design a piece to add up immediately.
11. Watercolor Elephant
Beloved elephants have been tattooed in different iterations as the meaning is not lost however you decided to ink them. Get the normal whole elephant or just the head and add splashes of watercolor. You can as well get a cartoonish elephant design with watercolor drops around the animal. They will both look beautiful.
12. Charm watercolor design
As you grow through life, certain items bring a smile to your face. It might be ballons, bow-tie, keys, ships, gems, dogs, or any other thing. While they make a good combination for a charm bracelet, they can also be a beautiful tattoo waiting to be inked. You can choose to draw one or more of the charms, make sure it is realistic and shaded in watercolor to achieve the best results.
In conclusion, getting a watercolor tattoo is just like getting any other tattoo, but with a colorful splash. Tattoo colors are prone to fading quicker so you might want to protect your new addition from direct sunlight while following all the aftercare routines. Enjoy your beautiful tattoo for a long time.