The moon is a unique design to have inked as there is beauty in the different forms and phases in which the astronomical object appears. Tattoos with moons are very appealing to get, aside from the deep message of power, growth, and creativity that it passes, down to the different myths that surround the moon.
While you can opt for the full moon designs, the half-crescent shape is also having its moment. There is a wide array of ways you can incorporate a moon into your tattoo design. Here are ten designs for you to check out.
1. Tattoos of moon phases
Get inspired by inking the moon in different phases for a transitional effect. It features seven tattoo pieces that show how the moon appears at different times of the month. The shading and shape of each piece are all the details the design need to pass the message. It can be linked to life, death, and other things in-between.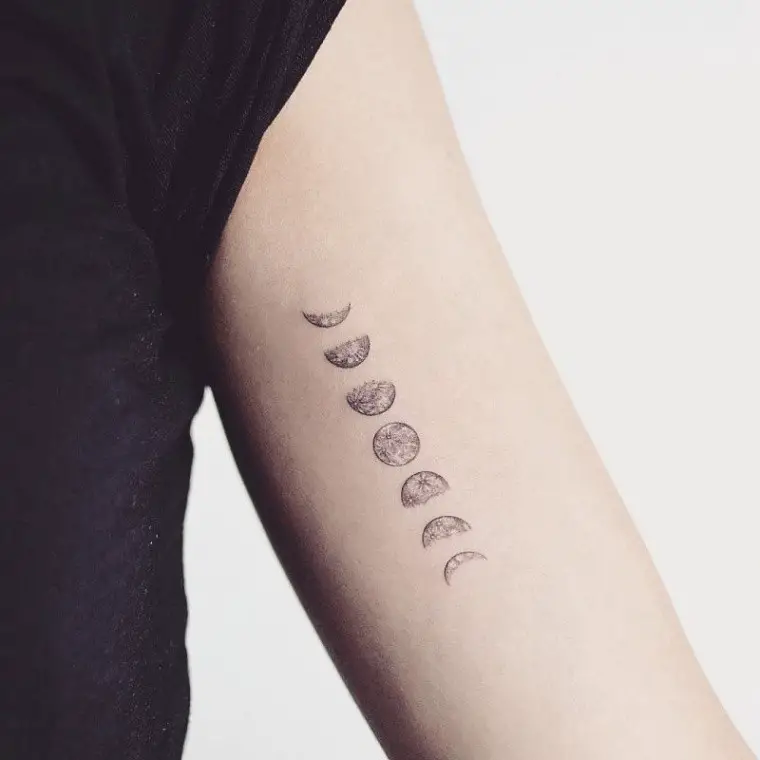 2. Full moon with natural elements
A full moon design presents a great opportunity to add different elements. A full moon means a change in time and other spiritual ideas. When natural elements are added to it, such as trees, a map, or significant objects, it makes the design unique and special to you. The ink should be large to allow the artist to add fine details to the design.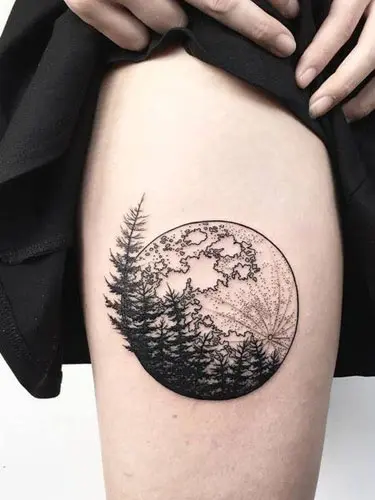 3. Tattoos with moons and sun
Adding the sun to moon tattoos is very fitting, putting its meaning aside. At a glance, it shows how both elements pair with each other and how the sun gives way for the moon to take over at night. Give the moon and star some character, including eyes and a sort of facial gesture. You can also include flowers and other extra details to make the tattoo more attractive.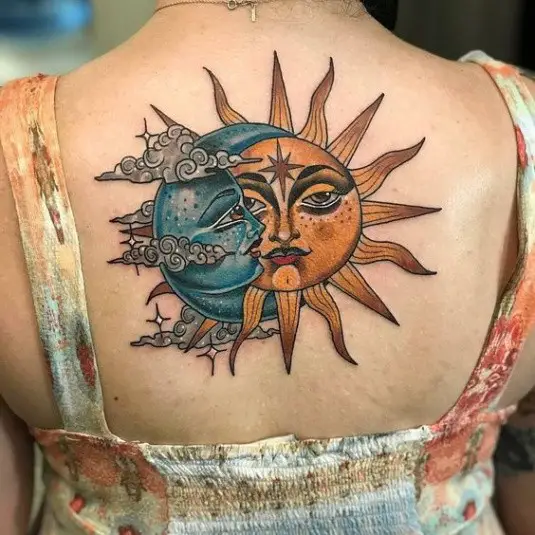 4. Flower tattoos with moons
Adding flowers to the moon tattoo is an unexpected design you should try. In essence, many beautiful flowers can be added to make your moon tattoo more intricate to form a stunning tattoo. Roses are a great example; the blooming petals and stem details look attractive when added to the edge of a crescent or full moon. Other flowers can be the inner details that cover the moon — it will be feminine and appealing to you and admirers.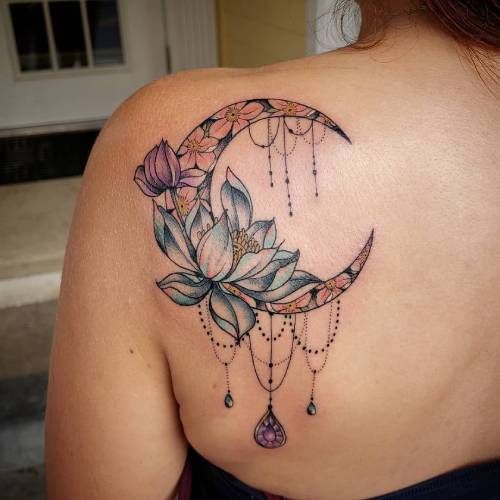 5. Shaded half-moon
Of all tattoos with moons, a shaded half-moon is one of the best ways to symbolize transition and growth. While it is a delicate design for a lady to get, it passes a great message effortlessly. The shading makes it stand out from other half-moon designs.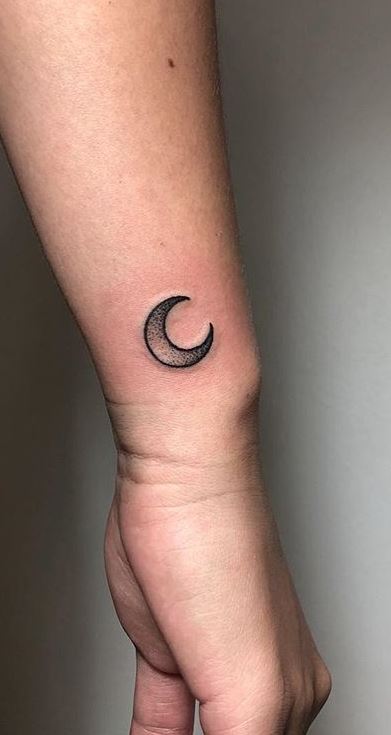 6. Blackout tattoos with moons
The blackout tattoo trend can be infused into the moon designs. The moon can be the lighter circle in a full blackout design. They can also be used to express the rare black moon phenomenon. It is drawn in dark shades of a quarter moon, with its blotchy details peeking out of the blackout space.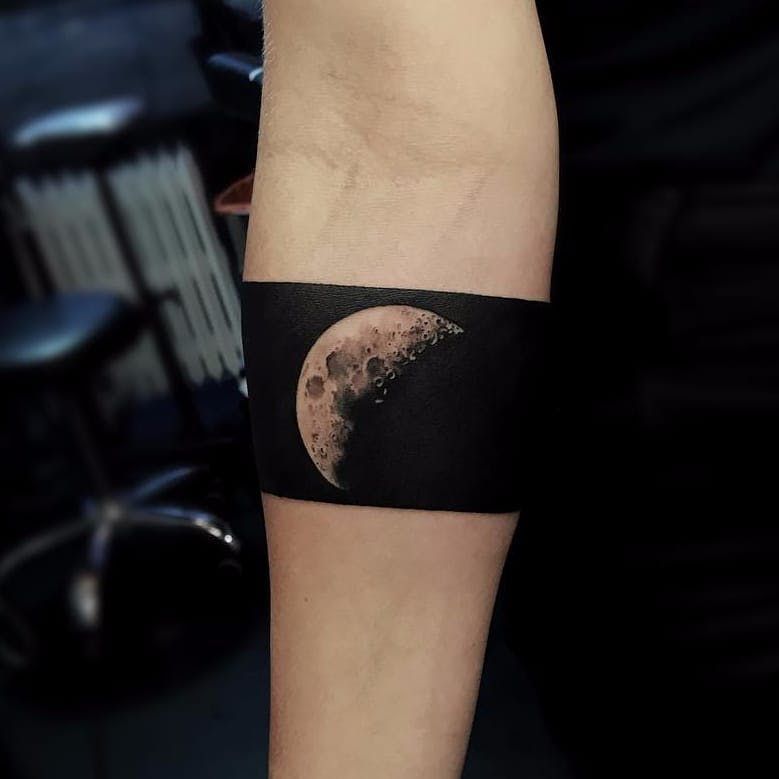 7. Simple moon tattoo
If you're a minimalist, this simple moon tattoo will do the trick for you. The beauty is not lost on this design, as even it is a basic lined moon. Such design does not require shadings and extra details. Simple geometric lines can be used to upgrade the design if needed. The message it passes and the cuteness of the moon are both still evident.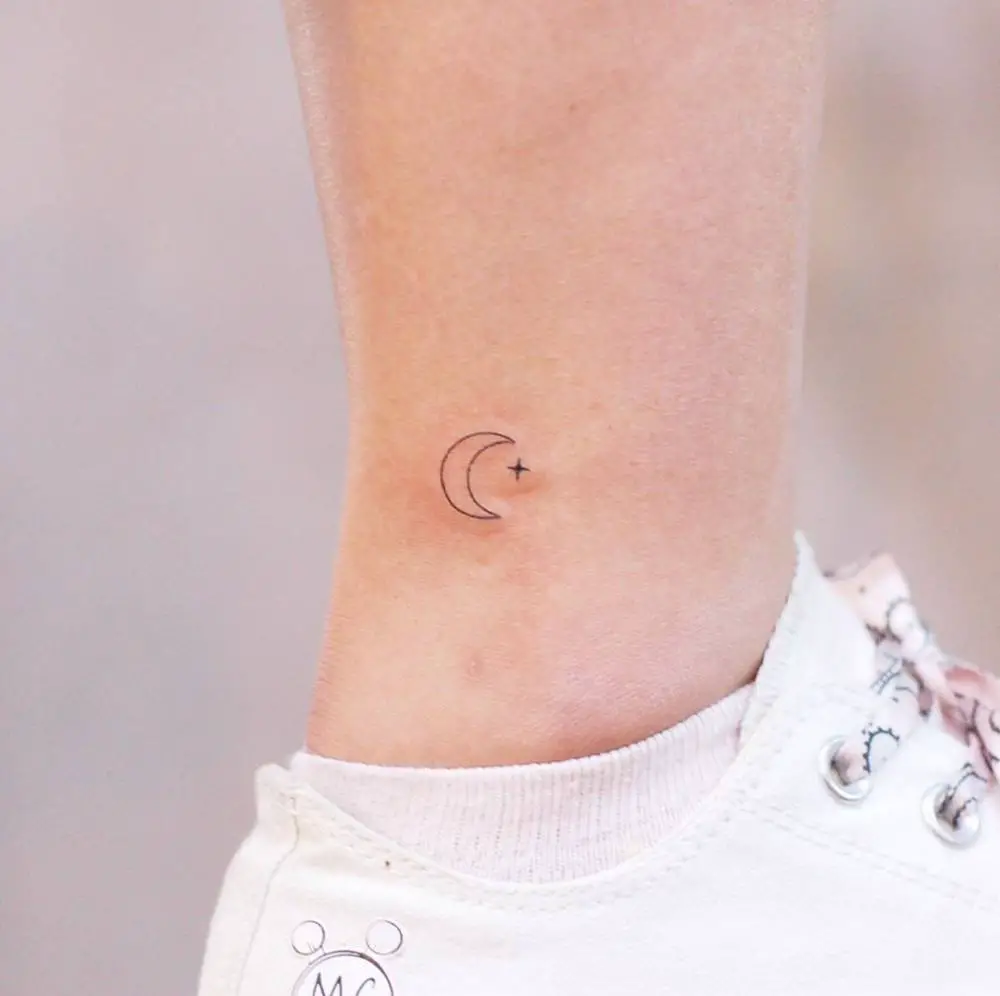 8. Moon and star design
Adding stars to tattoos with moons is cute, and there are many ways to add the design to your skin. You can choose a large expression with the stars lining the moon. The crescent moon works well for this design, with one or two simple stars. It is a simple tattoo that can be placed on any part of the body since it is beautiful and charming.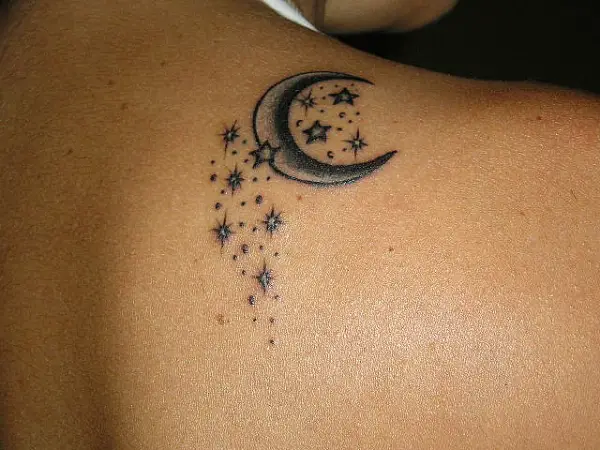 9. Animal tattoos with moons
Several animals can be used to elevate a moon tattoo and vice versa. While bats, owls, and other animals look great with it, nothing can beat the strong connection it has with wolves. Separately, the wolf symbolizes family and staying together and the moon stands for birth and life. Together they are a powerful combo you should get.
Inking a wolf and moon on the same spot is a powerful design. The wild predator has always been associated with the moon, to exhibit some traits.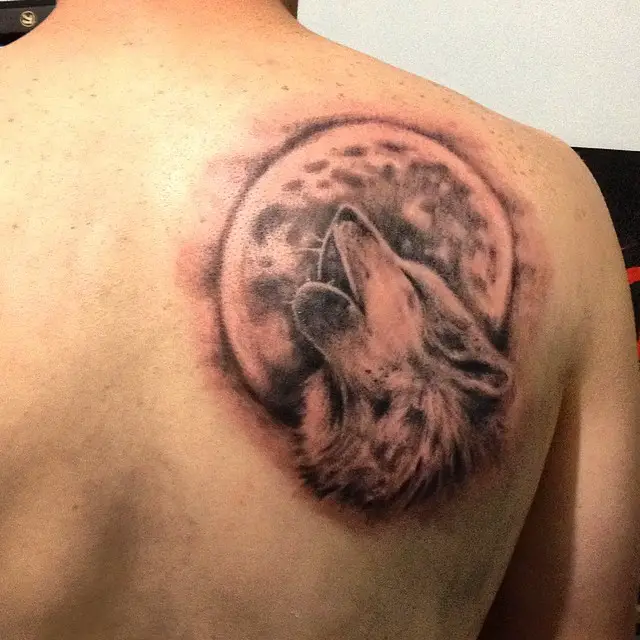 10. Ornate tattoos with moons
Ornate patterns look great when added to a moon design. Mandala and tribal details can be used to form intricate patterns around the moon. It results in an attractive design that you should try. Colors can be infused into the design to make it stand out.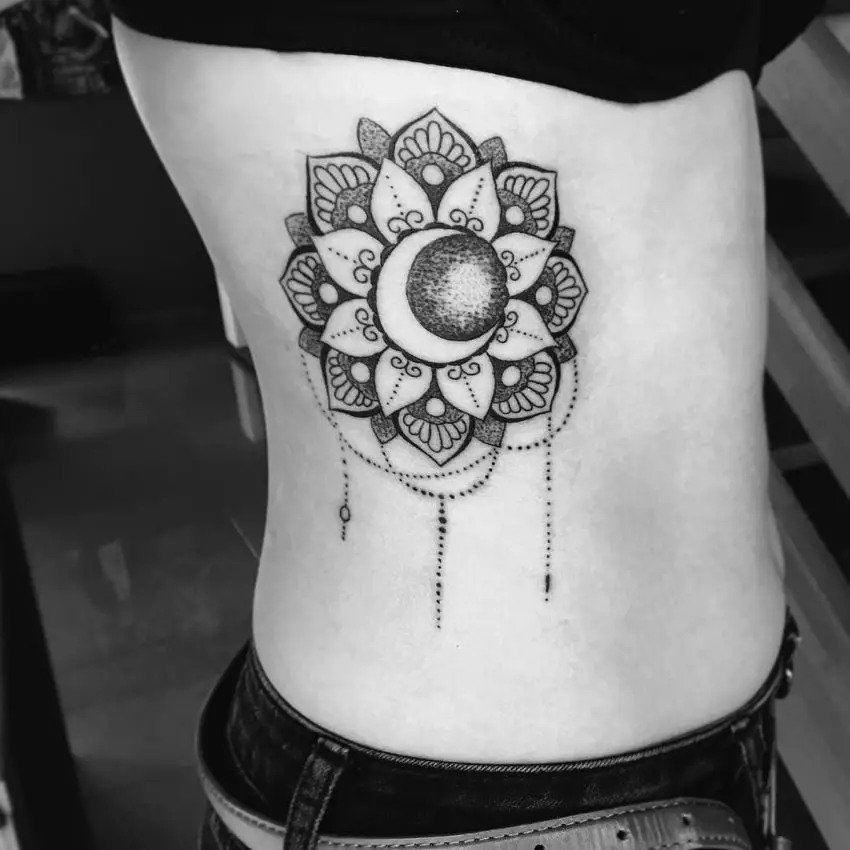 Conclusion
The moon is a celestial part of nature and as such, it is appealing to get them inked on your skin. They can be placed on any part of the body since they are always cute to show off. So, any design you decide to get will be a great choice.
Before you make your choice, double-check if the meaning speaks to you. If not, find a design that tells your truth. You can as well get a random moon pattern tattooed as moon designs are all pleasing.