In Sanskrit, mandala means the shape circle, which shows infinity and balance. It is a unique design that uses a circle as the piece to connect other shapes.
The roots of this design can be traced back to religions from old, as it is drawn on windows and walls of prayer rooms for the different meanings it holds. As a form of body art, the mandala tattoo is done from the center starting with circular patterns that go outwards, with a combination of other shapes, designs, and symbols.
It is not just about the beautiful blooming design, mandala tattoos hold great depths, and mean different things to different people. They are thought to reflect on life, eternity, femininity, growth, and even rebirth.
Mandala tattoos are part of many cultures, with no shortage of designs, so they are a perfect inspiration for your next tattoo.
1. Tribal mandalas
The traditional mandala designs make for good chest tattoo placement. Go for intricate dots, consistent thickness, and lines to finish off the mandala design.
Personalize it by adding a touch of your style to it, to complement the whimsical floral design. They are so cute you can go for two, placed on each side of the chest.
2. Half mandala tattoo
This is like the half version of a full blooming floral pattern design. It is easily achieved because the tattoo is drawn in symmetry.
This way you get to see the clear cut of the central circle in half. It is unique when you use a detailed style to outline the other parts of the tattoo.
 

View this post on Instagram

 
3. Animal mandala tattoo
An unusual design for the tattoo is the animal duo. You can make an intricate design with your favorite animal from a bird to a cat. One with a strong meaning is the wolf, woven into the mandala design, which is ancient and holds strong meaning to most tribes.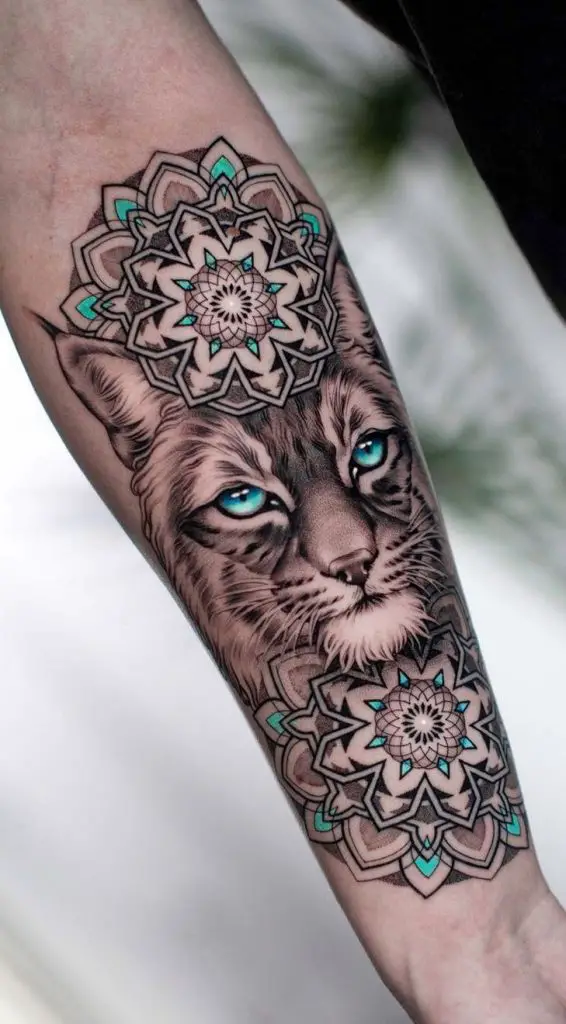 4. Dharma/Om design
This design adds the dharmic tradition associated with meditating to the mandala art. The intricate design can be fitted to take the shape of your shoulder so it appears like it is resting or growing out of the shoulder blades.
You can also place it on your back, stomach, or legs; it will stand out beautifully when you show them off.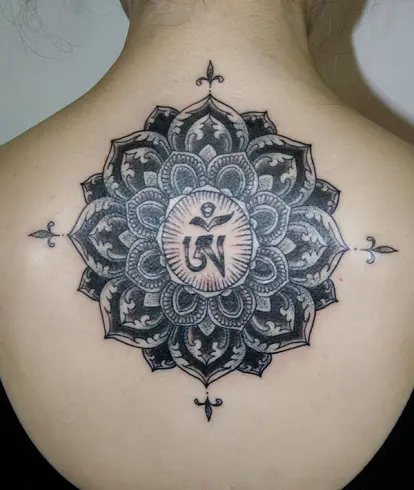 5. Dotted mandala tattoo
Dots are a great detailing for this type of tattoo. It gives a more delicate feel than lines for the extra details. This design will look good on the hands and thighs, for a subtle yet loud take on the tattoo design.
 

View this post on Instagram

 
6. Simple mandala tattoos
Paring your designs down to the minimum, and making them simple can spark some interesting sights. You can make them tiny so it feels like an inked charm adornment, rather than a tattoo.
You can space them out, so you emphasize different places with tiny and simple designs.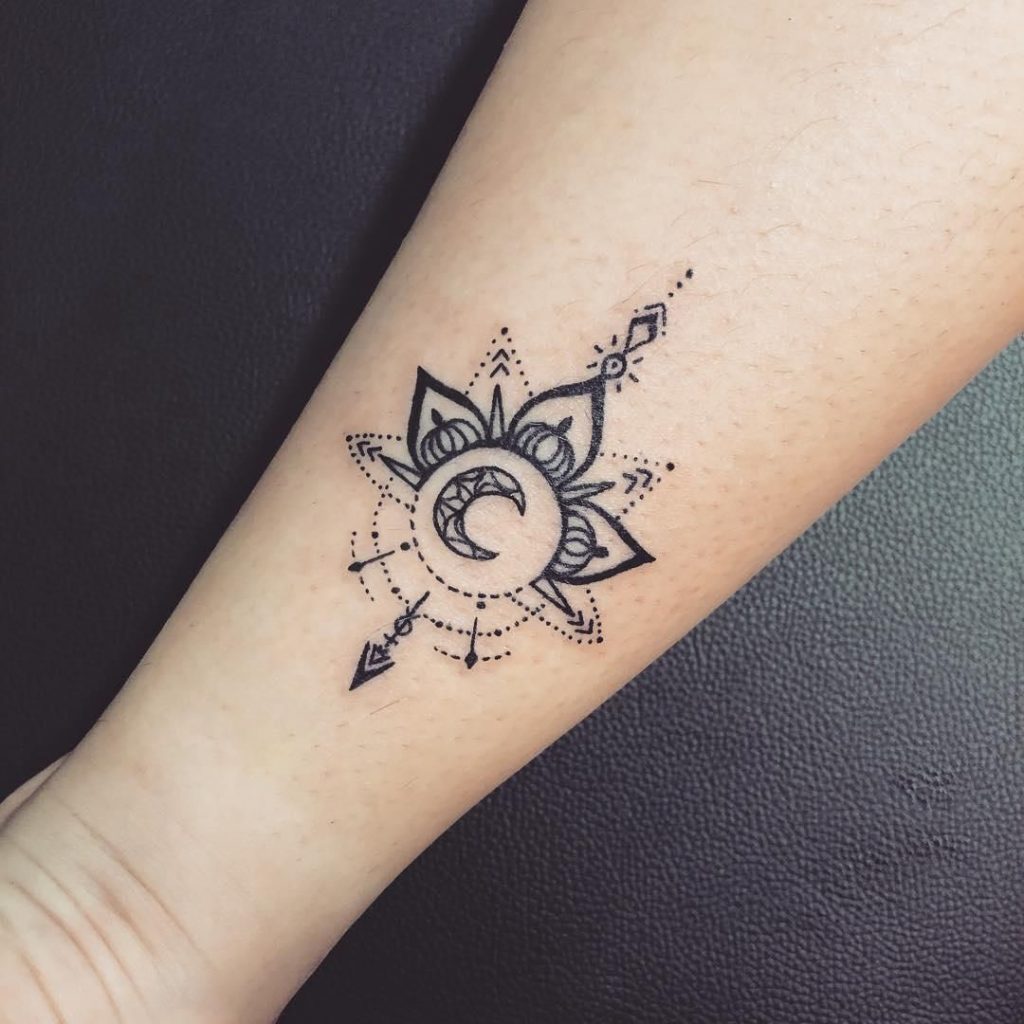 7. Mandala and nature
Connect more with nature through your tattoo design by adding pieces from nature to your mandala art. You can add flowers such as roses, lilies, and the likes—draw them close together to make it seem whole.
If you fancy it, the sun and moon are also perfect to incorporate into your mandala design. You can show your love for nature through such designs.
 

View this post on Instagram

 
8. Mandala spiritual tattoo
The spiritual meaning that mandala art holds can be tattooed as fashion accessory to adorn your body. Be at one with your spirit and the universe by adding a spiritual line to the intricate mandala design on your body.
Place on a strategic part of your body so you will not only flaunt a beautiful piece of art but also pass a message to onlookers.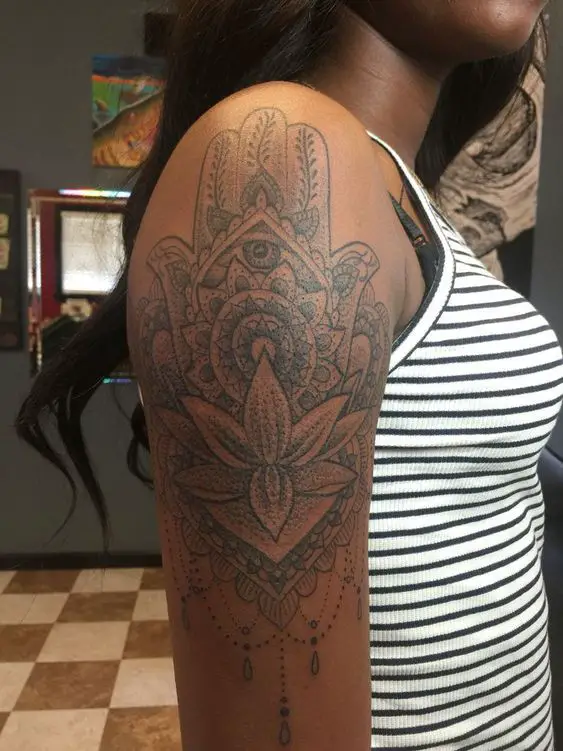 9. Color infused mandalas
Colors are a nice feature to add to your tattoos. It can start with black ink as the base, then a splash of different colors on it to spice it up.
You can also use colors for the inner shading of the design so it pops or as the final touch, for more details. It won't look like the traditional mandala tattoo, but a more beautiful version of it.
 

View this post on Instagram

 
10. Complementing sets
Any type of mandala design can be done in matching sets. From flower to portrait and more geometric details. You can opt for halves of a mandala tattoo, placed on the same spot of each arm or leg.
They can also be used as a show of commitment between two people. It doesn't have to be in two halves, as you can choose two different designs that complement each other on separate sides.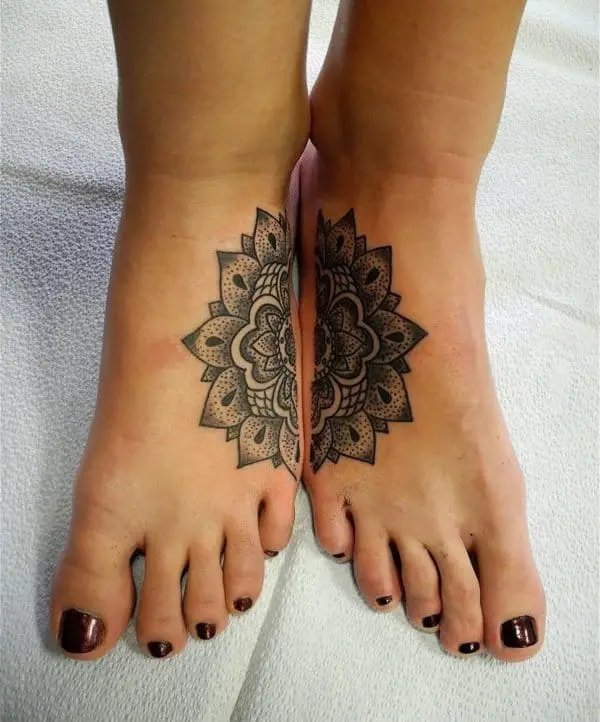 Conclusion
Any design you choose will be special, as there are hardly ever two same designs. Information from reliable sources says the best placement for mandala tattoos should be the chest or the back. Both are flat with a wide area to show the design in detail.
This doesn't mean you cannot get it done on other parts of your body. You can always personalize your design to make a statement. Get creative as you decorate your body with this geometric blooming tattoo art.