Who doesn't love a good delicatessen? We bet you do, and you only need to gather all the unique charcuterie board ideas to ace your next party hosting. Nowadays, everyone seems to be featuring charcuterie boards in their parties, if socials have anything to say about it. Slowly but surely, they have risen to popularity and are sure here to stay, so you best get acquainted with them.
More chefs are putting their spin on it; you, too, can customize your board with a few ideas. The most common being a holiday or season-themed charcuterie boards; even those you can still put a unique spin on them. The great thing about them is that you can easily make them visually pleasing to the eyes, which your guest will not be easy to resist.
If you're looking for inspiration on how to proceed, we have unique charcuterie board ideas coming right up. First, let's discuss what the board is so you're clear on why it has become trendy.
What is a charcuterie board?
Charcuterie, pronounced as Shahr-Ku-tuh-ree, originated in France and describes meat preparation. This method describes the preservation of meats before refrigerators got invented. This meaning got thrown out when the board became added to the term, and we now interpret it differently.
As we now know, Charcuterie boards are artfully arranged with food and fruits board. They can include biscuits, bread, spreads, salami, vegetables, and meat slices. Sometimes the board may be curated with just sweets or may not contain meat to make a vegetarian charcuterie board.
How to make a charcuterie board?
Making a charcuterie board goes as far as your imagination can take you. While you get creative with the platter, ensure it has a balance between all the elements and textures on the board. This is often the key to creating a perfect charcuterie board. Below are some tips to get you started.
Always have your cured meats like prosciutto handy; that's the essence of charcuterie and the meaning of the name. So, it is only fair to incorporate them on your board unless it is vegetarian-themed.
Be generous with your cheese selection; go for different textures and tastes.
Trust on the selection of greens to add color to your board, aside from being a healthy choice.
Fruits are always a welcomed addition, from fresh to dried variants. They give taste and color to a charcuterie board; you cannot do without them.
Make room for some filling foods such as slices of bread, biscuits, and nuts. Your favorite choices are crackers, baguettes, and other finger snacks.
Bowls of dips, syrups, honey, jam, or the likes, should be placed on the board to balance out the board.
Remember to add a serving spoon or attach a picker to the items on the board for ease. Sometimes placing a label close to each item will help guests warm up to trying it out, as their pretty appearance can deter some people.
If you're going with a seasonal board, you could start your board with the season's fruits. This means that your option for summer could be strawberries and winter pears. After which, you must ensure your meat selection blends with the fruits and other vegetables on the platter. On the other hand, you make your boards colored themed for seasons and holidays. The board meant for fall should include browns, orange, and yellow food and fruits items. So, it should follow other themed boards such as St. Patricks Day, Halloween, Valentine, and the likes.
10 Unique charcuterie board ideas for all events
Usually, no two charcuterie boards look the same if you adapt them to suit your taste. Not unless you choose to copy aboard; while doing it, you might feel the need to add or remove something. When such happens, unique charcuterie board ideas get created each time.
1. Thanksgiving charcuterie board
If you're one of those who look forward to thanksgiving because of the turkey, by now, you know the true meaning of delayed gratification. The main meal will most likely not be ready until late into the afternoon, so you need a charcuterie snack board. It will serve as an appetizer before everyone comes in for the main meal. You will have a giant board to load in lots of snacks; for easy serving, include some small spoons and knives.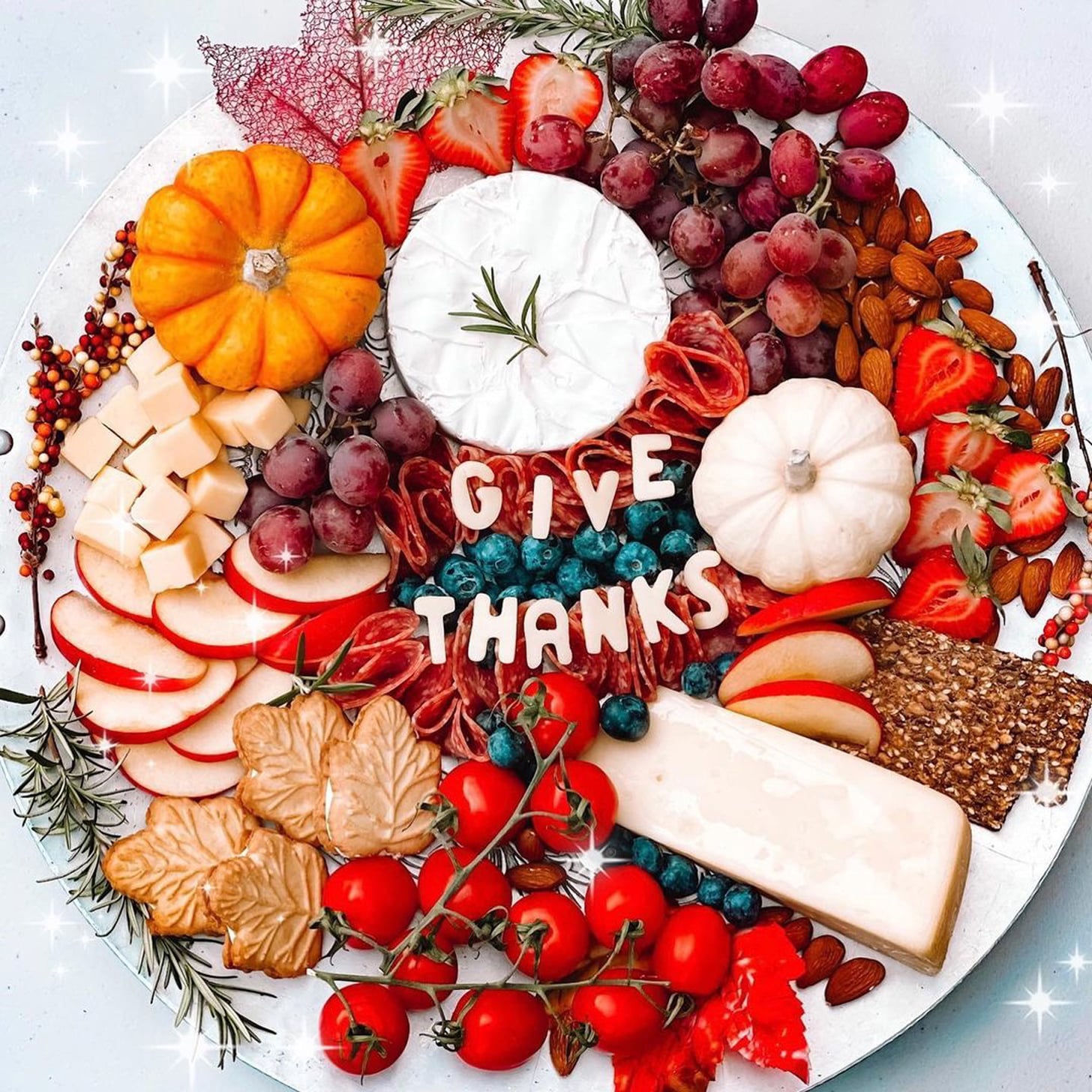 The key to an excellent thanksgiving board is creating a savory yet sweet, healthy mix. First, prep some brussels sprouts and green beans with little olive oil and salt and pop them into the oven for 15 minutes before placing them on the board. Add an assortment of cheese of different textures and shapes to the board. Close to it, roll some bacon to create flowers. Throw in some figs, slices of other fruits, grapes, and crackers to fill up the space. Pair this board with fruity alcoholic drinks, and you'll be the perfect host.
Related article: 10 best Carla Hall recipes for healthy eating
2. Unique charcuterie board ideas for evening party
Give your guest an appetizer/light dinner in a beautiful selection for your next evening's hosting. You can choose different themes, such as seafood, tropical, and random finger foods. Most snacks will work for the charcuterie board, and you don't need any special arrangements for the foods. However, you still must put in a little effort to ensure it has artful results.
Get an assortment of cheeses, and place them at a strategic point around the board. Place some salami and smoked salmon next to it; add a shrimp cocktail for variety. Add some nuts in a bowl, and in another some marinated mushrooms. For more filling foods, throw in some pretzels or quiche or add some chips and dips to the board. You don't necessarily need to add fruits, but if you feel like then why not.
3. Unique valentine's day charcuterie dessert board
The day set aside to celebrate love should be intimate, and what better way than just the two with dessert. Add something sweet to the mix with a desert board that your partner will love. Even if you decide to invite a few friends, it will still make sense. For fruits, add fresh raspberries, strawberries, and cherries. Drizzle on some syrup to add a cute effect.
Throw in some red-colored candy and even some pink sprinkles to add a pop of fun to your board. Close to the sweets, place some chocolate truffles and cookies. You will also need ice cream of either chocolate or raspberry flavor, but it will be better if you can get a bucket that combines the two flavors. Do not add it to the board until you guys are ready to start eating to prevent melting. Although not necessary, you can add some red velvet or chocolate cupcakes to complete this swoon-worthy board.
Related article: 20 Valentines Day Gift Ideas For Him
4. Christmas charcuterie wreath board
Have you been hosting bland Christmas parties? Then you haven't thought of incorporating a charcuterie board. Of course, you will find many ideas for Christmas boards, but you can still make them unique by arranging them like a wreath. You will need lots of meat like prosciutto and salami, cut into cute shapes like you would the cheese.
It is best, to begin with, greens such as beans, fresh mint, and thyme to form the shape of a wreath before placing the meat. Net up, add your cheese, crackers, bread, chocolate, and other cookies in a circular shape to fill up the space. Close up the circle with some colored candies and some greens to make the perfect wreath.
5. Halloween charcuterie board
It would be best to have a charcuterie board with a balanced amount of beautiful and creepy. Just because it's meant to get served on a spooky day does not mean it shouldn't have some cute elements. Before choosing a board with some Halloween details instead of the regular panels, even if it's just black, add your meats, such as a capicola, cured sausage, or spicy salami, before your cheeses. The cheese can be an assortment of blue stilton, a fresh mozzarella you can decorate to look like eyeballs, and any other shaped weirdly.
You will need fruits with dark colors, such as figs, blackberries, and dried apricots. Add nuts or a store-bought fall trail mix containing fruits with fall colors for texture. Now it's time for the snacks; you can throw in some candy corn, dried bruschetta toast, water crackers, sweets and pumpkin spice cookies. Add some ghosts and bats, potato snacks and artificial skulls, spiders, and webs to make the board creep.
6. Charcuterie board for summer
On summer days, when you're just lounging around the house or the beachside, you can nibble on small bites, and it calls for unique charcuterie board ideas. You can get everything you will need because what is summer if not lazy about doing whatnots. So, locate a great store with the most ingredients and snacks you and your friends and family will love.
The essential items on your board should include salami or prosciutto that you should arrange stylishly. To spread on bread and biscuits, you can't skip the cheese, such as cheddar and other creamy types. Throw in some pickles, olives, and cherry tomatoes that will soften the inclusion of toast and crackers. If you wish to make the board unique, you can throw in some spicy peach.
7. Pancake breakfast charcuterie board
If you love pancakes or want to impress some overnight guests, you need a unique charcuterie board idea for pancake-themed. Start by placing your pancakes on the board. Make sure it fills up one end to the other. Keeping it straight is basic; make the pancakes the show's star by forming wavy lines or diagonal shapes. You will need fruits to brighten up the board, such as blueberries, strawberries, apples, and orange slices.
Banana slices also make for cute garnishing spread across the board. What's pancake without syrup? Fill up a pretty jar with a generous amount, such as buttermilk syrup. You can throw in some granola bowls and fresh yogurt for more variety. Layer on with more fruit selection till all the spaces get filled up.
Related article: Is instant oatmeal good for you?
8. Sweet charcuterie board
It's time to suspend all your diets for this sweet attack, which is the perfect blend of fun everyone needs occasionally. This board is suitable for a family event with a mix of kids, teenagers, and adults who will love to dig in. Go big with this idea and shop for a large charcuterie board, layer on marshmallows, and mix the color with some chocolate.
Scoop up your ice cream into big bowls and the topping into small bowls. You can have sprinkles, M&Ms chocolate, whipped cream, peanuts, shredded coconut, and chocolate chips. For some crunch, add some Teddy Grahams and waffle cones. If you still have space, throw in more sweet and topping assortments, a bit of everything the crowd will love.
9. Winter Charcuterie board
Your days curled around the fire in the winter need a significant upgrade with a charcuterie board. Even if you plan to host a party, the board will fit right in. You don't need anything fancy to create it. Start with some seasonal fruits like persimmons, grapes, and pomegranates. Next, the cheeses come in; try some French blue cheese, Swiss cheese, or a colorful cheese fusion.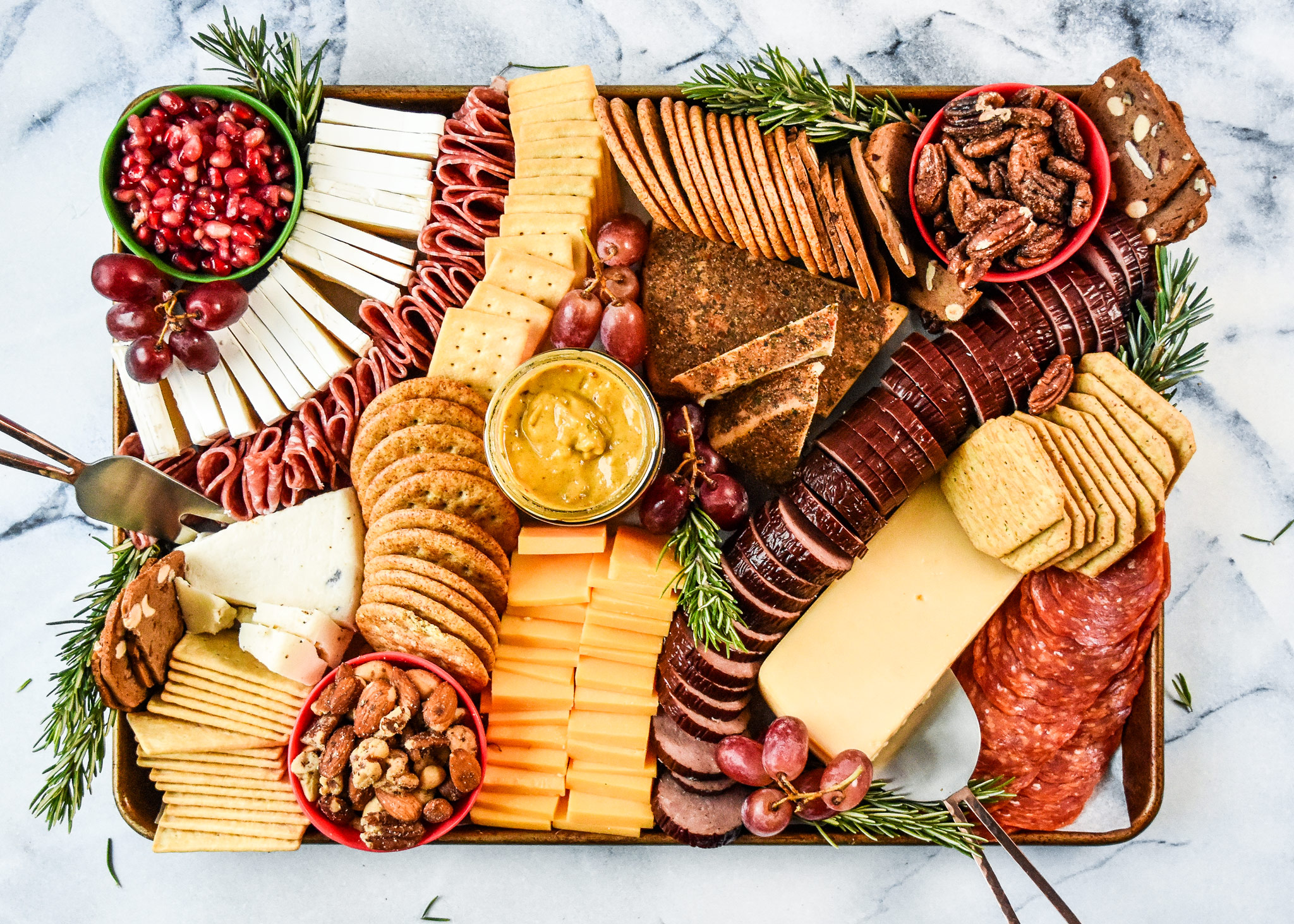 You cannot miss out on some good charcuterie meat such as salami and prosciutto. Add some baguette bread, crackers, nuts, and honeycomb to balance the hardness. Since it's winter, you can indulge in dark chocolate to soothe your sweet tooth.
10. Taco charcuterie board
A taco board is excellent for brunch and dinner, especially if you and the gang like Mexican food. Come on, who doesn't, and since you're playing with a unique charcuterie board idea, you can customize the board. You can go all out and arrange your board so everyone can get a favorite filling. Some people might like chicken, others beef, and you also have the vegetarians. If you think you can manage, make provision for such variations on the board.
After that, you will need to decide on the taco shells (hard or soft) and some essential dipping such as guacamole and tomato sauce in a bowl. Make the board savory and add some cheese and sliced vegetables. Place some sliced roasted chili, black olives, and lime slices around the board for garnishing.
With these unique charcuterie board ideas to take care of your future parties or social gathering hosting, you're all set. Mix up the inspirations, and you'll get a new board idea; feel free to share the results in the comments.
You may also like to read: 2022 Best 15 Alcoholic Sweet Fruity Drinks For Women + Recipes