Beauty is a selling point for the ladies in Hollywood, leading to unnecessary standards. The rumors of Sofia Vergara plastic surgery shouldn't be surprising, but they sparked our curiosity. Can anyone look this good after years of actively being in the entertainment scene? 
We love her Columbian accent and the hourglass figure, especially because curvy girls rock. However, most of the speculation has been about her facial lines, and she appears older today and so much younger in a few weeks. Only surgery surely can give such visible results in a short time, we all need help sometimes, so maybe that's the route that Sofia took.
It's time to track the timeline of the ultimate queen of Modern Family if she has gone under the knife or not. Read on to find all the juicy details we have gathered about Sofia Vergara's plastic surgery.
Who is Sofia Vergara?
This 50-year-old Columbia/American actress needs little to no introduction for being the highest-paid actress for seven years, from 2013-2020. She got her first break by starring as the star for a Pepsi commercial after a photographer discovered her at 17. The allure of showbiz called to her, so she decided to take acting lessons. 
Sofia dabbled into modeling, showing off her hot body, and did several hosting for Spanish television, which made her rise to prominence. Her first significant movie role was for the film Chasing Papi back in 2003; she featured in two of Tyler Perry's Madea movies, but it was the Madea Goes to Jail that got a nomination for the Alma Awards. 
Vergara only became a household name after she appeared in the series Modern Family which ran from 2009- 2020. Other notable works include New Year's Eve, Hot Pursuit, and Chef. In more recent siting, Sofia Vergara has been a judge on America's Got Talent, a position she assumed in 2020. 
Her personal life has not been smooth, from getting a divorce from her high school sweetheart back in 1993 to getting an engagement called off to marrying Joe Manganiello in 2015. She also managed to get her American citizenship while struggling to keep her brother from drug addiction.
Sofia also had a scare with her health when she got diagnosed with thyroid cancer. She had to get surgery to remove her thyroid gland but is that the only surgery she has done? 
Sofia Vergara Plastic Surgery: Botox Injection for Fine lines
It is common knowledge that Latinas have good genes, but no one can fight nature and the lines that come with aging. We can only reduce or make them less visible, and with how Sofia's smiles have been looking thus far, she might be relying on Botox to keep her looking on point. 
So, when she smiles, there are no lines, which is precisely what Botox injections do. They make the facial muscle so relaxed that you won't notice signs of aging like wrinkles and crow's feet. Many celebs subscribe to the wonders of injections to maintain a flawless smile. Sofia's option for the shots is nothing if she has ever indeed gotten one. 
Sofia Vergara Plastic Surgery: Nasal Labial Contouring to Smoothen her Upper Face
The face sells the big names in the entertainment industry, so it is only suitable for the hot mom to feel like she needs to meet beauty standards. One of the first things people notice on the face is the forehead and the nose, and with a possible perfect smile, these other places need to match the same flawless-looking skin. 
A few Aha's can work wonders to smoothen the face, and a dermatologist thinks that is at play here. The injection supports the reworking to get the lines out of the forehead and polishes up the nasal labia folds.
The result is an age-defying look that looks natural, so there is usually no tell-tale sign to prove that she indeed goes this procedure done. We are guessing the dermatologist is only saying this based on experience with plastic surgery that goes together and the face looking all tucked and young.
Sofia Vergara Plastic Surgery: Cheek Filler to Plump up her Lower Face
Most times, after getting one type of plastic surgery done, you need a second or third to complement the alterations. Maybe it's just one way for our bodies to remind us that we are perfect, and making changes only calls for more.
That's why most people feel like Sofia Vergara had to add cheek fillers to the combo to get her desired look. When the lines are gone, the cheek should live up to the task if she plans to show off a younger-looking face, and we are guessing that's what she did. 
When she got spotted with fine lines and aging signs, her cheeks looked hollower, but with the new face, Vergara is flaunting; maybe Restylane or voluma is at work here.
Such injections contain antiaging ingredients like hyaluronic acid and other things that can lift the face up, which helps the surgeon shape her face by lifting it from the bottom, so it is all centered.
This involves some bit of contouring work; just like you can use makeup to shave off some part of your face, the doctor hides flaws on the cheeks with this injection and contouring. Well, it seems to be working for her as her beauty looks natural, as always.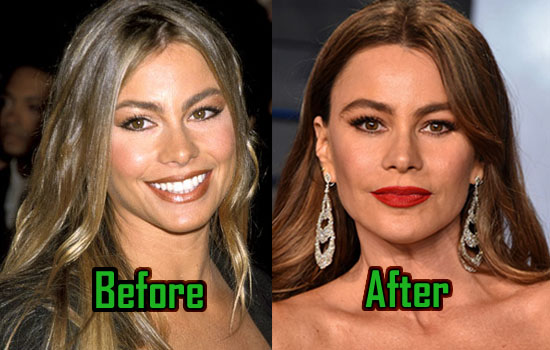 Sofia Vergara Plastic Surgery: Boobs
If there is one thing that Sofia Vergara has always talked about is her giant boobs, and it has been both a blessing and pain. She has publicly hinted several times that she might get a breast lift or any other surgery that can aid her with moving around with her large bust size. 
In an interview, The Emoji Movie star stated, "Yeah, eventually I'm going to have to have it. Something's going to have to be done. It's going to be uncomfortable to walk with [them] hitting the knees!"
Getting the surgery will significantly improve her health and overall figure. This does not only prove that plastic surgery might be the solution a group of people needs to make their life slightly better.
Although she has not gone through with it yet, it is nice to see that Vergara is not anti-plastic surgery and might have done others she has not revealed to the public yet. That's because a while back, she hinted that she is down for touching up some body parts if necessary.
"Yeah, I would definitely do something. Not something crazy but little things here or there. Hopefully, when I'm considering it, there will be even better treatments out there when the time comes." She further went on to say, "Why not? I mean, not yet, but maybe [I'll do] my under-eye bags in my 50s".
We'll see what I need, but I'm not saying no." She will not be the first to have considered plastic surgery to tackle some of the issues she thinks needs to be corrected.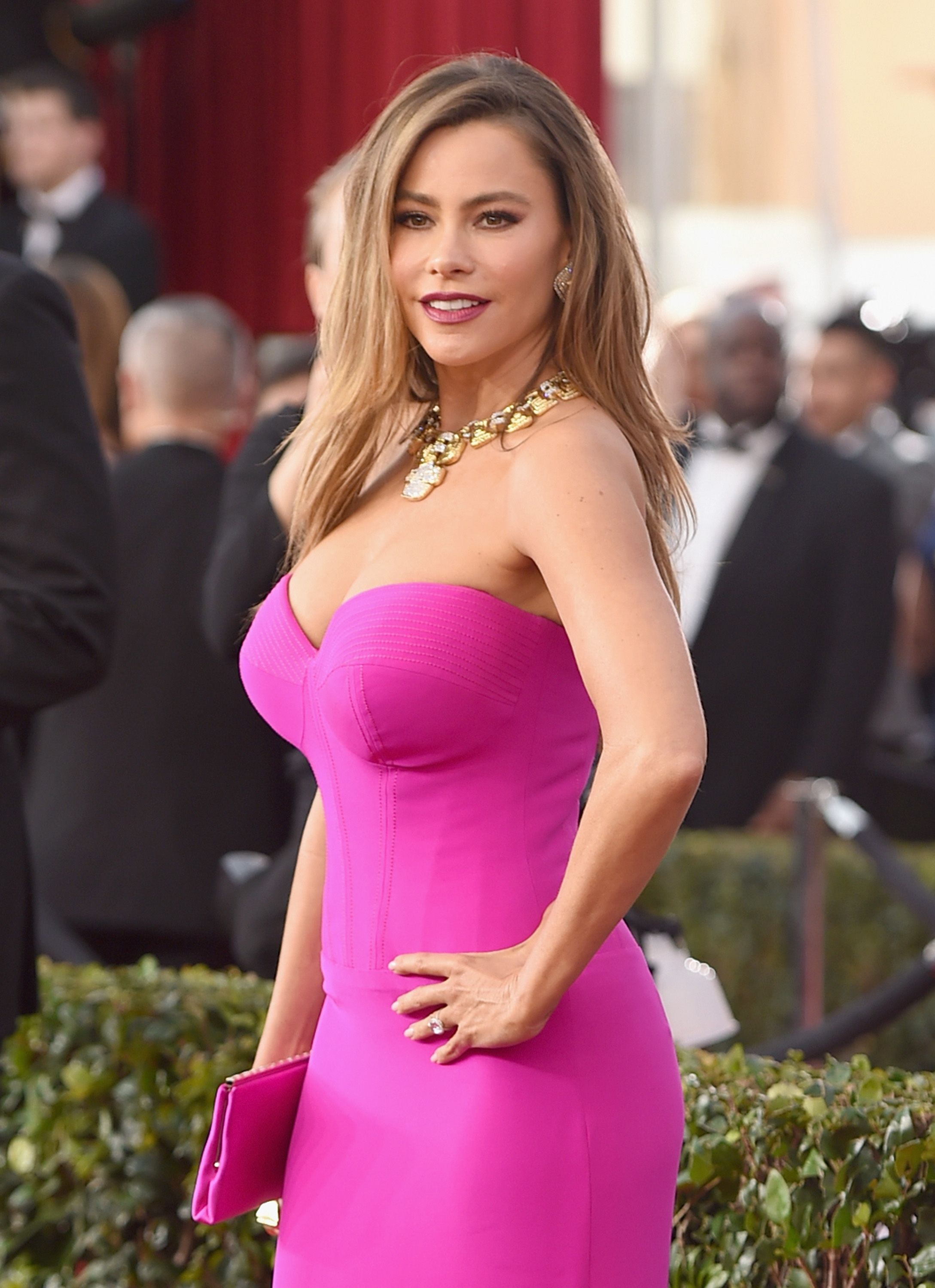 What Sofia Vergara had to say About the news of her Plastic Surgery
Almost every celeb has had to deal with an overbearing fan or the frequently used slang a troll. In Sofia's case, the fan commented on a picture she posted in her element, looking cute as ever. The fan suggested that she had done something to her, stating that she looked different.
Of course, she fired back, saying, "It's called aging," that ended that open gaslight pretty soon. However, a plastic surgeon stuck by the sexy star to state that she doesn't look much different, and he's sure that Sofia is not showing signs of anything drastic.
With her genes, a great diet and skincare routine can be the key to a younger-looking face, as she already got the goods. Her countless beauty products account for something, not to mention all the extra glam she doesn't skip.
Conclusion
Over time, the body is bound to change and reflect time; for some, this might alter how the face used to be. Sometimes not every slight change you see in people results from plastic surgery, and for the Sofia Vergara plastic surgery news, it might be true. 
Embracing the difference that comes with aging is a huge step that everyone should adopt. It is not always about fighting off the lines that are creeping up when it's only natural. The star has often revealed that Sofia dedicates time to her skincare routine, as well as her investing in some time for good makeup.
Some of the differences over the years can be attributed to that. To ensure the make gunk does not affect her skin, she always uses a soft sponge she changes weekly to scrub her face with a gentle soap—the routine ends with moisturizing, essential in keeping the face hydrated, and a retinol-packed serum. 
Read more celeb plastic surgery scoop:
–Jennifer Lopez Plastic Surgery: How Many Cosmetics Procedures Has JLo Done?
-Madonna Facelift: What Plastic Surgery Has Madonna Had? See Truth Here!
–Lady Gaga Plastic Surgery: How Much Has She Had Done With Her New Face?
–What is a BBL, how does it work, and why is it so popular?!
–The whole truth about k Michelle cosmetic surgery