Pop culture could never reach its status or gain its depth without the influence of superstar Madonna. Fans worldwide have always praised Madonna for her musical talent. Recently ahead of her turning sixty-four, Madonna facelift is taking over the scenes for how good she looks.
We couldn't help but get curious and check out the news concerning the Icon. It is common for celebs to reinvent themselves as the year passes, and their appearance is often a big part of it. So, in this case, the rumors of Madonna plastic surgery are not so surprising.
Madonna has always expressed a free spirit, a source of inspiration for many, especially women. She is also not one to care about criticism or get shy over starting a controversy, so we cannot rule the Madonna face lift speculation out due to her persona.
Come with us as we uncover everything you need to know about her current appearance of Madonna as of 2022. 
Who is Madonna?
Madonna spent her younger days topping music charts; she was born Madonna Louise Ciccone in Bay City, Michigan, on August 16, 1958. She is a sensational singer, songwriter, actress, and dancer, who has influenced, several artists with her versatile music style. 
The singer started chasing a carer in dancing when she first moved to New York in 1978. She tried her hand at music after she performed with the rock bands Emmy and Breakfast Club. This led her to release her first Madonna album in 1983; her next album, Like a Virgin, came the following year and was also a success. 
She has amassed 14 albums throughout her career, and a few notable ones include Ray of Light, Immaculate Collection, and Confessions on a Dance Floor. She remains the most successful solo artist and female recording artist. Madonna has starred in several movies, including Dick Tracy, A League of Their Own, and the Award-winning Evita. 
Her personal life is filled with so much flare, like her career and being a mother of six kids. Her first marriage to actor Sean Penn didn't yield any children. However, only two are her biological children, Lourdes for then-boyfriend Carlos Leon and Rocco from her marriage to director Guy Ritchie, which lasted from 2000-2008.
Madonna has four adopted children, David, Mercy, and the twins Stella and Esther from Malawi, all in honor of her charity, Raising Malawi. She is the owner of the entertainment company Maverick and has managed to touch every aspect through her music, from political, to sexual, religious, fashion, and social themes.
This has often stirred up controversies and caused her to push boundaries. After spending time living in Lisbon, her most recent album, Madam X, was released in 2019. This year is significant for the actress; she is marking her 40 years of career with a remix album, Finally Enough Love: 50 Number Ones.
We got to enjoy the classic "Frozen" in March 2022, where Madonna released a remix of her song featuring Fireboy DML, and Sickick made the song viral through a Tiktok post. Who Fingers crossed biopic film she has teased and confirmed is in the works. 
Madonna Plastic Surgery
The "La Isla Bonita" singer has never admitted to going under the knife; that isn't new. You hardly see celebs spilling their secrets. Madonna seems to be aging well in her most recent photos circulating online, so it wasn't long for the beauty experts to chip in. 
While some believe that it is possible the pop icon is just using photo filters, others are saying it might be plastic surgery. Social platforms like Instagram and Snapchat have several filters that enhance one's look. You can achieve flawless photos by combining such filters with good camera angles and makeup. 
So, could it be that the sixty-three-year-old has mastered the art of taking good pictures? The argument of the possible plastic surgery surpasses that of images since professional surgeons have cited that the surgeries began at a young age. So, we will be breaking down some of them. 
Read related articles:
–Lady Gaga Plastic Surgery: How Much Has She Had Done With Her New Face?
–Lil Kim Before Plastic Surgery
-The whole truth about k Michelle's cosmetic surgery
Madonna Brow Lift
When Madonna was still in her 30s, surgeons believed she got a brow lift. The procedure is done by creating a small incision around the hairline, allowing the surgeon to adjust the skin tissue. This helps the skin reduce skin creasing, wrinkles, and forehead furrows. 
There is no sign of incision on Madonna's face as it should be in plastic surgeries like this. Her hair has naturally covered it sign that she got a brow lift done. So, if you are searching for evidence, her younger-looking face should be enough. Getting a brow lift done at such a young age effectively keeps aging at bay, and it has proven to be an excellent thing for her general face.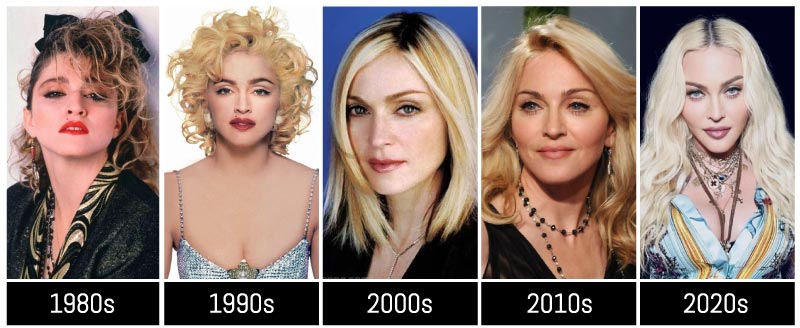 Madonna Facelift (Rhytidectomy)
The possible facelift of Madonna is the most popular of all her plastic surgeries. Plastic surgeons think that Madonna has undergone several facelifts over the years. That's because facelifts usually last for only ten years before you need another fix. 
Facelift surgery can reduce sagging and folds in the skin, impacting the cheeks. The procedure usually requires a skin flap of your face sides to get dragged back. Then they will work on the skin tissues, manipulated and contoured to reveal a more youthful plump.
The excess skin gets cut off, and the face tucked into position. It doesn't improve the skin's condition but will slow down aging drastically. It is often accompanied by a neck lift to create a more uniform look. Facelifts have several side effects like hematoma and nerve injury.
However, if indeed Madonna has gotten a facelift, she got one in her late thirties, another in her late 40s, and most recent, probably in 2020. It seems to be working for her as she didn't suffer from any of the severe side effects, but just scarring. Close-up shots show a scar near her, which is the only tell-tale sign we can link to the possible Madonna facelift. 
Madonna Botox and Filler Injections
Botox injection is always flying around our favorite celebs; what is the perfect smile without a Juvederm or two occasionally. So, we can never rule out that Madonna has had a filler injection. The combination of the facelift and the Botox has now reshaped her face.
Most people say it almost makes her look like an alien. That's because Madonna Now pictures show that her lower face is narrower than her upper face. The evidence supporting the Botox injection claims was in 2016 when she might have reacted to filler injections with how puffy her face looked. 
Madonna Boob Implants
We are sure we weren't the only ones that saw the massive rack Madonna was flaunting at the 2021 MTV Music Video Awards. The buzz that followed Madonna's breast spilling out of the dominatrix costume was that she had breast implants. However, we think not as the breast could result from a practical push-up bra.
Her butt made the crowd grow wild when she turned around, leaving us wondering if she had done something. Even if she had a butt implant, it must have been small because she only has a minimal increase. That wasn't the first time she was her Madonna's butt made it to the headlines; back in 2018, after Madonna did a surprise New Year's Eve performance at the Stonewall Inn New York.
When she noticed how viral the rumor of her butt implant had gone, she addressed the issue on her Instagram with a caption stating. "Desperately seeking no one's approval and entitled to free agency over my body lie everyone else!" she wrote, along with the hashtags: "freedom," "respect," "no fear," and "no discrimination."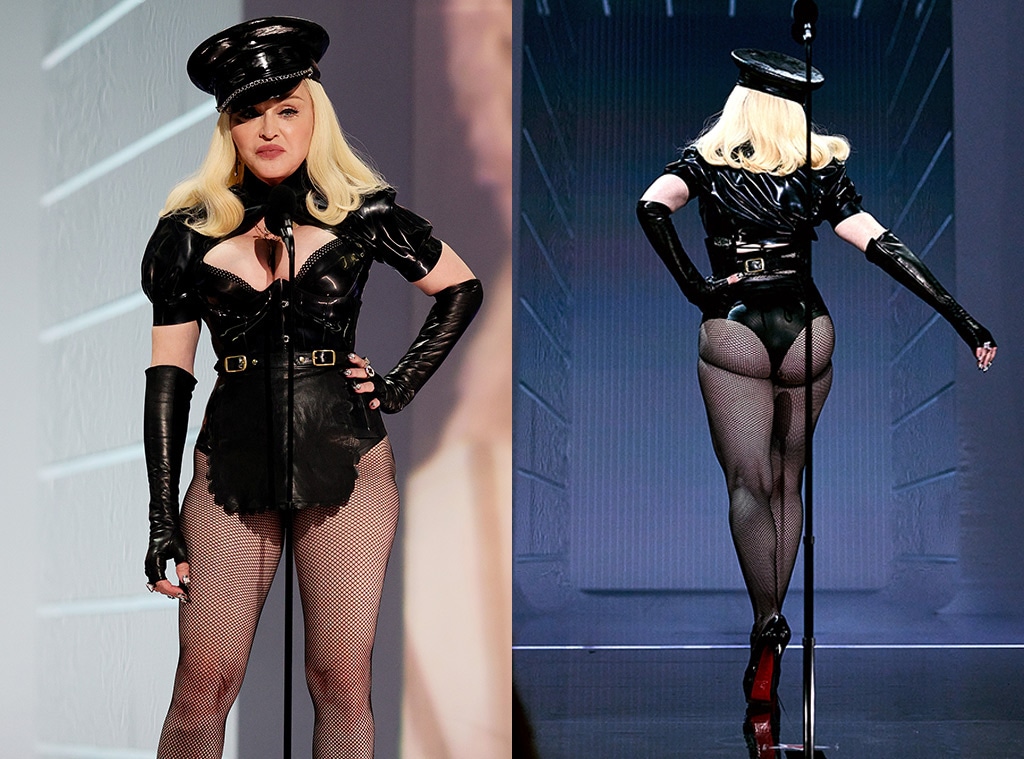 Conclusion
The glitz and glam of Hollywood and the need to stay beautiful seem to have caught up with Madonna despite her strong personality. She started doing her surgeries at an early age to reduce the impact. While the Madonna facelift and other plastic surgery might be a subtle attempt by the queen of pop to look younger, it hasn't gone unnoticed.
The singer said in an interview, "I am certainly not against plastic surgery. "However, I am absolutely against having to discuss it." For Madonna's physique, she tilts toward Ashtanga yoga and interval training, combined with a macrobiotic diet.
Also, read our latest articles: 
–Matthew McConaughey Hair Transplant, Movies, and Reginix Review See All The Surprising Details
–Salma Hayek Boob Job: See Why The Actress Breast Have Increased Over Time
–10 Biggest Waste Of Money You Still Practice-Without Realizing