Fashion choices are unique to every individual, and they should make you look and feel incredible with yourself. There are many things to consider when shopping for clothes, especially if it is plus-size dresses for teens, which are not so great because there are often limited styles available to cater to such needs.
Thankfully a few fashion brands have started rolling out size-inclusive lines, but there is still an under-served market for plus-size dresses for teens since the number of full-figured teenagers has gone up recently. The feeling of liking a piece of clothing, but doesn't fit right, is the situation anyone should not go through. This article will discuss ways to ease the frustration of getting the right clothes and some stores to snag some great finds.
How to shop for plus size dresses for teens
Some children gain more weight in puberty, as the teenage years mark a transition into adulthood. Plus size dresses for teens will likely come in standard sizes, based on the general body records.
The first step to shopping for plus size is recognizing your body type and the designs that will work best. Straight sizes may not cut it because children-to teens clothing is sized based on age, which does have extra space for bigger breasts and tummies. When this is out of the way, there are other factors to keep in mind, which include;
1. Size chart of the brand
Brand sizing is not a novel experience for those who shop a lot, but it is worthy of note, as most people still get the sizing wrong. Brands are fond of creating a size chart unique to their clothing line, often tagged "juniors," which tweaks the basic sizes you are used to.
Related article: How to use Peach Perfect foundation and where to buy.
This means one person can have a different size range from other brands. If you shop based on the correct size, it helps to reduce the stress of finding dresses. However, it is no guarantee that it will be the perfect fit, as you might be more prominent in the up or bottom. When next you shop, use the combined Knowledge of Size chart and a great understanding of your body to get a great outfit.
2. Discover brands that offer plus size dresses for teens
The best shopping experience is gotten from high-end fashion brands; if you can afford it, you will use the advantage to slay in comfortable pieces you love and don't have to settle for. In the real world, not everyone can get custom-made clothes. Apart from being too much hassle, it is not possible to shop that way for every item in the wardrobe.
You don't have to shell out so much cash to get dresses and other clothing items for teens. Several retail and online shops are super size-inclusive, that would like to have something nice for plus-size teens. Some examples are; Khol's, American Eagle, JCPenny, Land's end, RoseGal, Torrid, and the likes.
3. Research on the brand/ clothing line
When you decide on a fashion brand that features the clothes design you want, researching the brand should follow. This way, you'll have all the information on your fingertips, from fabric to style pattern. If you can, you can visit the store beforehand to get a personal feel.
As a mother that shops for a girl teen, you might have noticed a few things that do not fit the style needs of your kid. Create a checklist, and rule out all these items. Doing this will save you from exposing the teen to the harsh reality of not being fashionably inclusive.
4. When everything else fails, try the upsizing trick.
It is possible that you have all the information handy and still struggle to find the perfect outfit for the teen. The trick takes two forms: getting the ideal size and a few other larger sizes to try on. On the other hand, you can get clothing of the same size from different brands to compare. Regardless of the size on the label, allow her to try different things until you get the best fit. Even if they shop themselves, throw in the upsizing trick for finding nice clothing.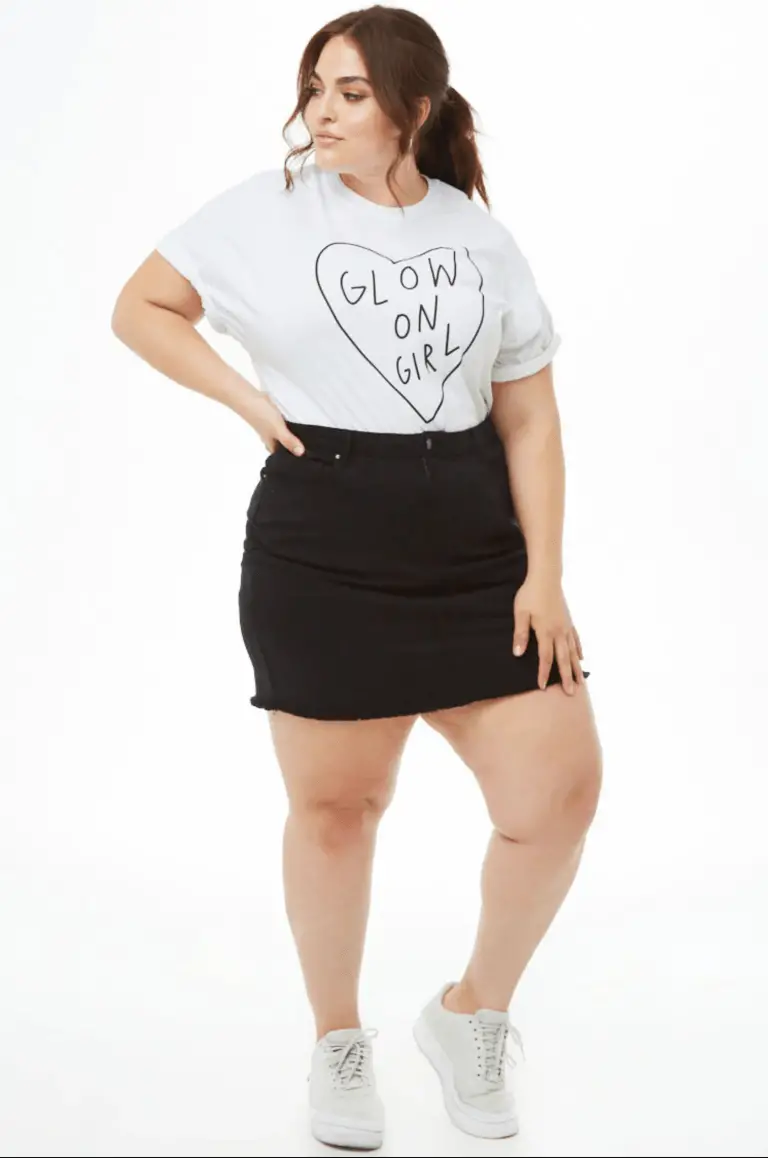 What clothes should plus-size teens wear?
The idea of brands shelling out unflattering clothing for curvy girls can make you confused about what you need to wear, but the truth is there are no unique clothes that plus-size teens should wear. It would be best if you shopped for any clothing design that appeals to you, from pencil skirts, leather dresses, bodysuits, mini dresses, and another modern fashionable item.
The only thing you should check out is if it fits your body correctly and how comfortable it makes you feel. In the end, outfits should make you feel beautiful to rock them with confidence. You may also like to read, Top 10 Black fashion bloggers you should follow in 2022.