The Matthew McConaughey hair transplant rumor is not surprising. After all, how did the actor go from bald to hairy goodness in a few years? We are curious just as you are; this post is dedicated to the Hollywood hunk's hair. 
There was a time when it looked like Mattew didn't have much going for him in the hair department. The star even recalls that he was going bald, prompting him to act. So, what is his secret to the healthy mane the fifty-two-year-old seems to be rocking now? We reveal that shortly; first, let's run through some movies featuring Mattew McConaughey. 
Mattew McConaughey Movies
Mattew started in media by doing Tv commercials back in the 1990s. Two years later, he features in the music video "Walkaway Joe," a song by Trisha Yearwood, and in one episode of Unsolved Mysteries. He did get his big break until 1993 when he starred in Dazed and Confused.
The following year he was cast in the two movies, Texas Chainsaw Massacre: The Next Generation and Angels in the Outfield. In 1995 we saw Mattew in Herbert Ross's Boys on the Side and Scorpion Spring. 
McConaughey touched his Texas roots in John Sayle's Lone Star in 1996 and upgraded to the role of a lawyer in his next feature in the movie A Time to Kill, based on the courtroom crime novel by John Grisham A Time to Kill. The film did well when it premiered, grossing over 108 million dollars.
That same year he starred in Larger Than Life and Glory Daze. Moving into 1997, Mattew featured in the films Contact and Amistad. We only saw him in The Newton Boys in 1998. The 1999 film EDtv that starred Mattew McConaughey and other A-listers did not perform well.
In the 2000's we saw the lover boy side of Mattew come to life in movies like How to Lose a Guy in Ten Days and The Wedding Planner. As he progressed, he acted in Tiptoes, Two for the Money, and Sahara. After the Sahara movie, he got the 2005 title of "Sexiest Man Alive" from People's magazine.
Mattew Starred as a football coach in We are the Marshall, and in the romantic comedy Failure to Launch in 2006. 2012 marked the year he became an established actor in Hollywood after getting invited to the Academy of Motion Picture Arts and Sciences.
This followed the successful movie Magic Mike co-starred with Channing Tatum.2019 was the last time we saw Mattew Starring in a movie role, and he did Serenity, The Beach Bum, and in 2020 The Gentlemen.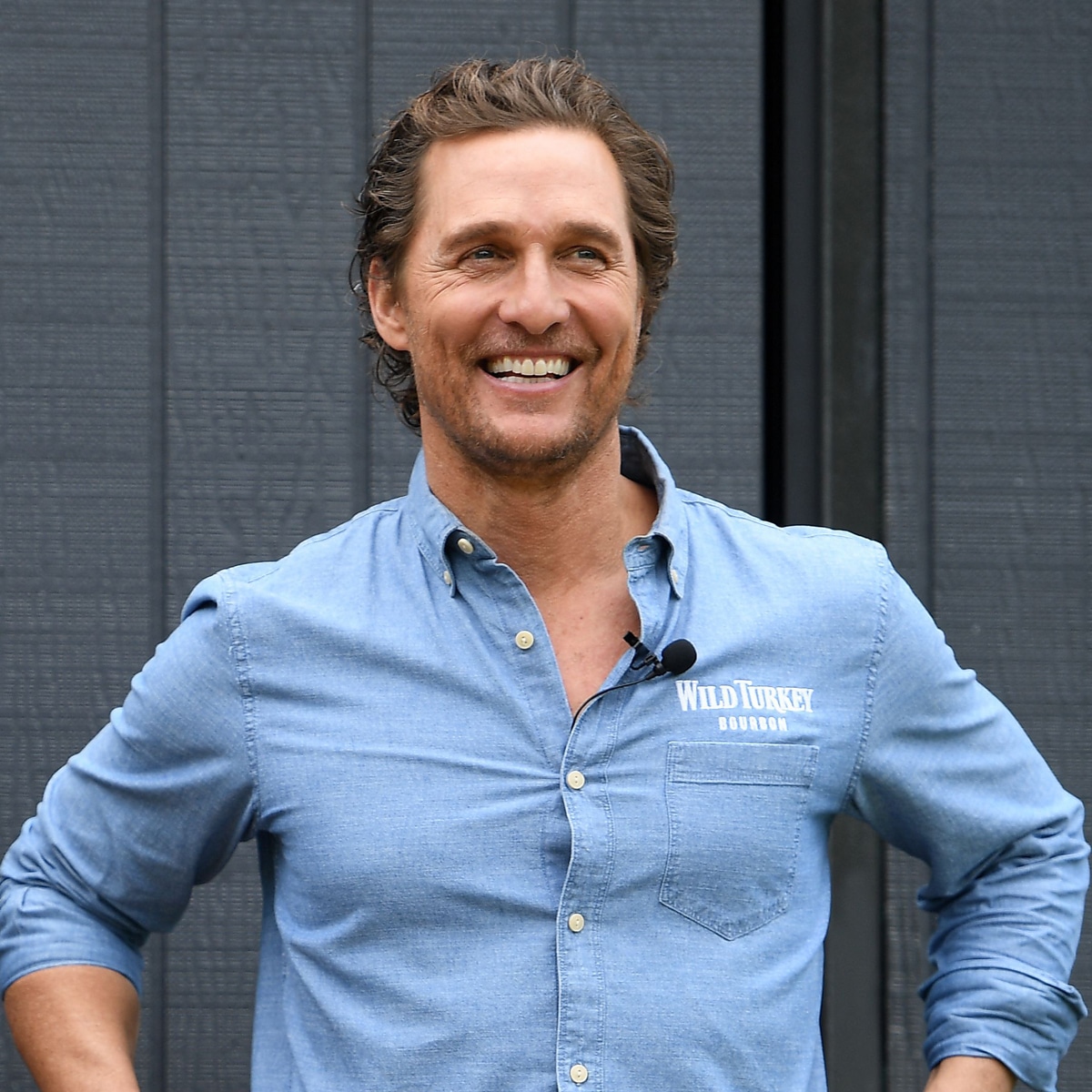 Mattew McConaughey's Awards
One of his most outstanding performances was in the 2013 film Dallas Buyers Club, where he lost almost 22kg to portray a man dying from AIDS. He got several awards, including an Academy Award for Best Actor and a SAG Award for Outstanding Performance by a Male Actor in a Leading Role.
Mattew also snagged the Golden Globe Award for Best Actor-Drama, cementing him in the entertainment industry.  The next time we saw Mattew was in The Wolf of Wall Street. Fast forward to 2014, he starred in the crime series True Detective. McConaughey won the Critic's Choice Television Award for Best Actor in a Drama Series. 
Read related articles: 
–Hair Loss Specialist: How To Become A Trichologist? + Best Treatment For Hair Loss
–How To Detangle A Super Knotted Hair + Natural Home Remedies
–4c Hair Men: Grooming, Styling, And Hair Care Tips
Matthew McConaughey Hair Transplant
Back in the day, the actor was battling with a receding hairline. His fans knew, and so did he; in an interview, he admitted to already losing hair in 2001. In McConaughey's words, "You can go back and look at things like The Wedding Planner and those things; I mean, you'll see, I was losing."
In his tell-all memoir Greenlights which is a must-read, Mattew reveals he had already begun losing his hair in the late 1990s. However, it struck him to act after attending a party and looking good at himself. "I got a picture: Turn of the millennium party in 2000 in Jamaica, I was looking down laughing, and there was a baseball-sized bald spot on the top of my head."
So, when he got the great advice that he had to start afresh if he wanted to cultivate healthier hair, Mattew shaved off his coat. Do you remember those days when the golden boy of Hollywood rocked a shaved head effortlessly? We all thought he was sampling a new look. Now that we get the real story, it turns out it wasn't a fashion statement after all, but the start of the operation saved Mattew's hair journey. 
Did Mattew McConaughey Achieve the Voluminous Boost Just by Shaving off his Hair? 
Well, it is certainly not that easy to achieve; we would do that repeatedly to reboot hair problems. Undoubtedly, shaving down to scalps helps; you must add an effective hair care routine, precisely what Mattew did for his hair. The actor revealed, "I get this topical ointment (sources say it is regenix) and rub it into my scalp once daily for 10 minutes. I was fully committed to it—no Propecia, nothing, just manual labor.
"All I can tell you is it came back. I have more hair now than I had in 1999." "I started rubbing my head with this stuff called Regenix, and damn if I didn't bring my hair back," Mattew said in an interview."The same thing I was rubbing it down with I still do today," Mattew had high praises for the topical ointment he still uses."I'm not gonna quit to see if like, 'Oh, do I need to do it anymore?' I'm not taking that chance."
Following this statement, it is evident that he remained consistent in applying the product, got the results he wanted, and continued, so it does not relapse. The success of Mattew's hair garnered attention; hence, why doctor the news of his hair transplant spread quickly. Even a hair transplant surgeon told people he was the doctor responsible for the surgery. He didn't even hear about it until he ran into a doctor based in Beverly Hills.
The doctor revealed how his colleague had been spreading the news of being his hair plug. Unknow to Mattew McConaughey, and he is famous not only for his movies but for always being a reference yearly when they had the international Hair Transplant Convention. For confirmation, the doctor ran a check on Mattew's hair, saying, "Can I just look at your hair? Can I Just feel it and see?
"He didn't see a reason to refuse, so he allowed him to run the check on the hair. "I said, 'Yeah, man.' He goes, "You don't have transplants.' I said, 'That's what I said; of course, I don't." After the doctor saw that he didn't have the transplant, The doctor added, "I can't wait to bust this guy's nut next year when he raises his hand." Mattew became happy to clear the hair and support the surgeon saying, "He's busted, man!"
How Does Reginix Work?
Reginix comes packed with minerals, vitamins, and extracts from chamomile tea, Aragon, tea tree oils, and citrus, all of which promote hair growth. The formula is also free from chemicals, drugs, and chemicals, which makes the chances of causing any side effects very slim. 
According to the brand, they derived every ingredient that goes into making the product naturally. Also, because everyone has a unique scalp, the brand customizes products for their customers from the answers to the survey.
From there, they would be able to curate the type of shampoo, conditioner, and topical cream you must apply. You should be able to see results within eight months when you follow the routine diligently.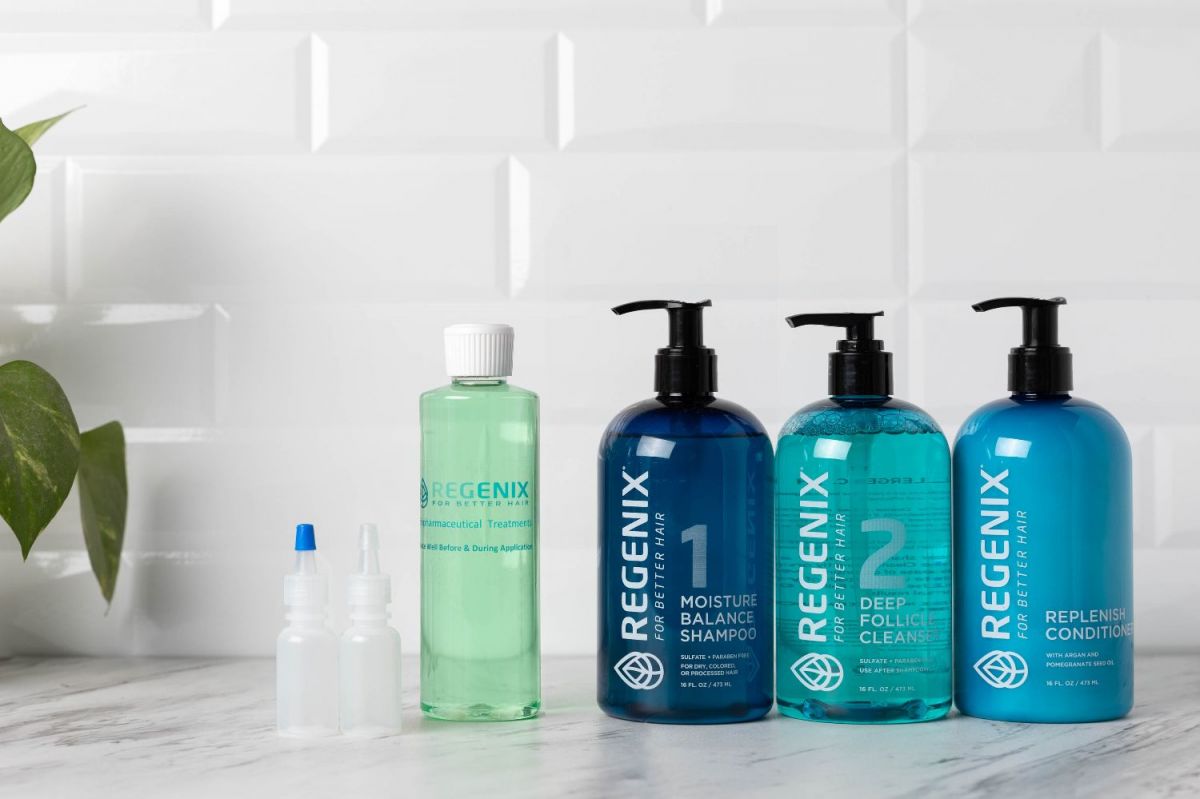 Can You Trust Reginix Like Mattew McConaughey?
The brand prides itself in its effective formula and boasts of having helped over 500 people improve their scalp and hair issues. There is no clear path of how reginix works, but the ingredients are supposed to count for something. Although the customized treatment does not reveal much about how they work, the treatments do show results as Mattew McConaughey claims.
In a report by Medical News Today, a top firm that evaluates all things in medicine, they stated that no firm evidence backs up the effectiveness of the treatment. This claim is nothing new since the FDA does not regulate traditional herbal supplements such as reginix. 
Another doctor from California who works with Orange County Hair Restoration feels the hype surrounding reginix does not have medical backing. Also, if any plans to follow the testaments of Mattew McConaughey, should remember that he is an actor and not a medical doctor. 
In addition, the doctor strongly advises you to visit the hospital and consult with a dermatologist or trichologist for proper diagnosis and treatment. He also stands by the trusted brands that doctors would usually recommend, which include, Propecia, Finasteride, and Minoxidil. 
Another hair restoration doctor supports the effectiveness of reginix because it contains biotin and plant extracts that can restore hair growth. So, for Mattew McConaughey to say that reginix works are just as influential because he is putting his reputation on the line. 
Conclusion
Mattew McConaughey has debunked claims of going for any hair transplant. He opts for a topical ointment reginix which he has remained dedicated to for over twenty years. While some doctors support his decision, they feel it is a slow and more expensive method.
Some are even of the opinion that it is that effective and suggest going for a transplant to solve hair loss issues without going through the manual labor as the star did. Whichever you choose to go with, it is never cool to battle with hair loss, so you should find the best treatment option to treat the issue. 
Also, read our latest articles: 
–Human Hair Wigs Vs. Synthetic Hair Wigs: Are Human Hair Wigs Better Than Synthetic Wigs?
–Salma Hayek Boob Job: See Why The Actress Breast Have Increased Over Time
–How To Pop Lower Back: Easing Tension In Your Spine Like A Chiropractor