Oily scalp is not a novel occurrence as many people struggle with it daily. Oversecretion of sebum is the cause and it may be caused by genes and some lifestyle choices. Once you notice this about your hair, you have to invest in a great shampoo that is specially designed for oily hair to deal with the excess oil.
Asides, from feeling greasy to the touch, excess oil leads to buildup, making the hair dry and flaky which can eventually turn into dandruff. This is where the use of only specific formulas for oily hair comes in, which can help keep the oil secretion in check while maintaining hair moisture levels.
This article contains a list of ten products that will change the course for your oily hair.
This formula is infused with kaolin clay and salicylic acid to remove excess oil and exfoliate the scalp. This makes it one of the best products for any type of oily hair, even combination hair. This product cleanses the hair down to the roots with a gentle touch. You are bound to get smooth and purified strands after an encounter with this extraordinary clay formula.
Banish any form of dirt, oil, and buildup from your hair with this Bumble and Bumble Sunday shampoo. It thoroughly cleans the hair and scalp and leaves you feeling refreshed. You can lather on this product every other week since it is good for the mane, unless you have chemically treated hair when you should use it with caution.
This anti-residue shampoo made it to this list for its deep cleansing powers. One wash with this formula eliminates any scalp residue, oil, and dirt. It is also packed with glycerin to hydrate and maintain hair moisture.
Apple cider is the star ingredient here for its numerous advantages to the hair — it has bacterial control abilities, reduces dandruff, and adds shine to the hair. Extended use of this product guarantees soft hair, free from oils and buildups. Although it contains silicone, it still nourishes the hair.
Wash day delight is an award-winning shampoo due to its gentle cleansing abilities in all types of hair. It stripes the scalp of oils but still preserves moisture since it contains hydrating glycerin, micellar water, a gentle cleanser, and aloe that soothes the scalp. This makes the product suitable for any form of sensitivity in the scalp.
Sometimes dandruff is caused by an oily scalp that leaves residues in the hair. This formula targets such residues and cleanses the hair, resulting in a revitalized scalp and balanced PH hair levels. If you aim to control dandruff and oils then this shampoo for oily hair is your best bet regardless of its sulfate and silicone properties.
This is one of the best eco-friendly shampoos out there as it comes in a compact small bar. You just have to add water to your hair then rub until it forms a lather, after which you should massage the formula down the roots then rinse. After, you will enjoy a clean scalp and softer hair. It ensures longer use since it is a bar of soap rather than a solution.
Take care of any greasiness in your hair with this invigorating formula from Aveda. Washing your hair with this shampoo provides a therapeutic session for your scalp because it contains peppermint and rosemary that brings a chilling sensation and a sweet-smelling fragrance. Combined with the other ingredients such as white wine vinegar used in formulating the shampoo, sebum, and buildups will have no place in your hair.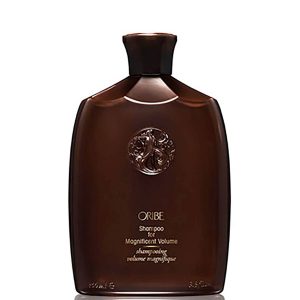 If you are in search of a natural-based product with the power to grow your hair, then this Oribe shampoo is the one. It is infused with plant extracts and proteins that add volume to the hair. Those with fine hair can use this product more frequently, but if the hair is chemically treated you should reduce the usage.
A rich green tea formula you should try is this balancing wash shampoo which will not only control your oils but will also protect your hair from environmental pollutants. It is also infused with other natural extracts that cleanse and moisturize the hair. Be rest assured that every time you lather on this product, your tresses are being nourished.
Shampoo for oily hair should contain clarifying ingredients such as salicylic acid and other gentle ingredients rather than the dry shampoo versions which block the pores and cause hair damage. When shopping for such shampoos to care for your oily mane, avoid products that contain silicone, parabens, and certain natural oils.
For the most effective result, it is recommended that you wash your hair daily and reduce the frequency of your hair wash.