Tracee Ellis Ross is an American actress, singer, and producer. She is a famous name in dramedies, her specialty being series, and she rose to the limelight in 2000, when she got the lead role in the comedy series Girlfriends. Tracee continued working on several TV shows until the ABC hit series Black-ish, from which she co-created the prequel Mixed-ish. Also, her singing abilities were evident in The High Note movie and its motion picture soundtrack.
While she conquers the media scenes with several awards under her belt, Tracee is famous for her banging body and sharing her workout routines on Instagram. She has been dedicated to the Tracy Anderson Method for nine years, a dance-based strength training exercise. It includes planking and lifting weights, kickbacks, and cardio dancing.
The toned abs on Tracee at 49 is all the encouragement you need. Don't be fooled by the smile on her face as she works out; it only shows her amazing body feels.
We all want a flexible and healthy body like the actress. So, if you're ready to get some sweat on, read on as we break down the workout routine of Tracee Ellis Ross.
Related article: Stacey Abrams weight loss – lessons in body positivity.
Tracee Ellis Ross workout routine
It is easy to follow Tracee's workouts since she is consistent with her Tracy Anderson method (TA method). Also, with the world gone digital, you can enjoy the same experience as a personal trainer without hiring one; you only have to be committed for the whole ride. However, Tracee still adds the services of a personal trainer to her workout.
TA method is divided into three segments depending on your level of fitness. You can start with the beginner level, before upgrading to intermediate, and then advanced. For each of the segments, you are required to repeat routines over seven times before upgrading.
Tracee Ellis has said she works out three to four times weekly, and you can choose to workout daily if you feel your body can take it or want to advance quickly. The TA method is quite fun because the instructor always has different exercises every time.
Tracee Ellis Ross butt and leg workout routine
The workout starts with warm-ups, which include a series of arm and leg stretching, and so on—then, some weight lifting follows. You might want to keep your desired pound of dumbbell and workout mat close by, as you will be using it as the exercise progresses.
It looks simple, but the amount of time you will spend doing this first stage will have you reconsidering the exercise. TA method is all about the small repetitive sequences that target small muscles.
You will move on to doing the standard leg raise and triceps kickback, such as the donkey kick-get on the mat: getting on all fours and raising your knee at a ninety-degree angle. Then move on to the single-leg bridge, which will have you lie flat on the mat, with your hands on the side, raise your knees, and maintain a bridge position. Then raise your pelvis and one leg at a time for a few minutes.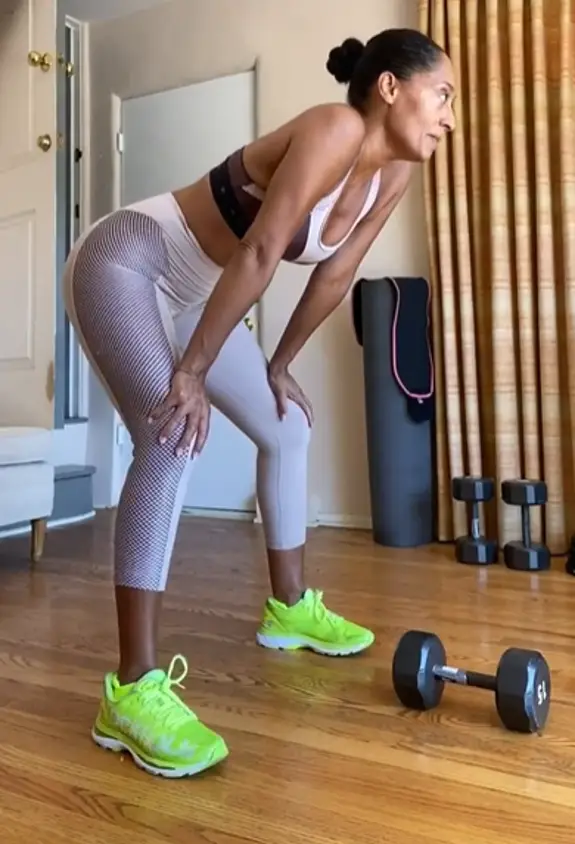 Move on to the fire hydrant routine to strengthen your hips before doing the lateral work. You will need a resistance band on your calves to hold you in line to complete the rep of this sideways squat walk. This step is followed by reps of marching bridge, side-lying lift, narrow squat with a back kick, and basic squat with side-leg lift.
Trust Ellis to throw in an elbow plank with leg lift to finish it up. These exercises will make you sweat and burn the needed calories. The TA method understands the human anatomy, and if you succeed in following the routine, it works on the abs, lower body, and arms.
Blood flow restriction cuffs exercise
The Black-ish star tried the new cuffs technology in her workout while she forward pushed a weighted sled from one end to the other. This sled push exercise is used to enhance power and endurance.
Meanwhile, the blood flow restriction cuffs she placed on her thighs reduce oxygen flow to the muscles and trigger the body to lift heavier objects, which also aids muscle recovery. Other celebs have been seen using the cuffs, but you should first speak to your doctor before trying it on.
Tracee Ellis has always complained of having bad knees, but that has never stopped her from working out. She still finds time to add dance aerobics-cardio workouts to her regime.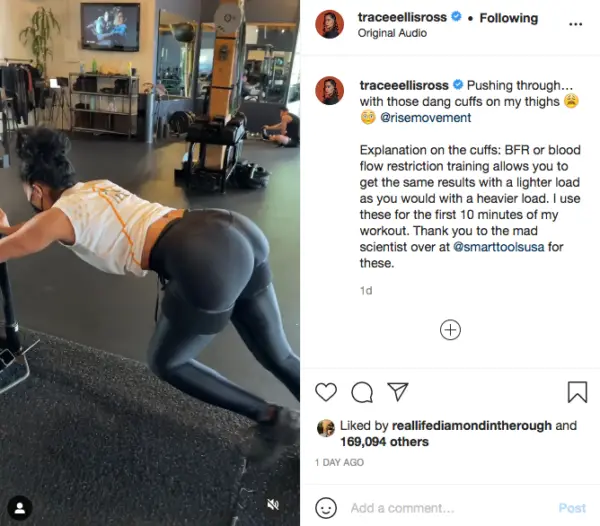 Conclusion
What does Tracee Ellis eat? A good workout routine is supported by a good diet, and if you wish to follow Tracee Ellis Ross's diet, here is a simplified way to put it: 
She drinks about four liters of water daily.

She eats a special cereal and almond milk for breakfast. 

She has a berry protein shake for a post-workout snack.

Her lunch can consist of eggs, veggie mix, and nuts. 

If you need to snack, then it should be a pink lady apple or avocado toast. 

Tracee's dinner contains an arugula salad and steak. 
It is not compulsory to follow this menu to a tee, and you only have to eat the right calories for your body. You may also like, 10 best Carla Hall recipes for healthy eating.