You might have never thought you would search for the best incontinence underwear for women until now. Life happens, and struggling with incontinence shouldn't disrupt your life much if you make the right fashion choices.
You also shouldn't feel lost, as urinary incontinence affects both old and young women but is more common with aging. Judging by research, from age 65 and above, 4 out of 10 women might have lost the ability to control their bladder.
Every woman's life is plagued by pregnancy, childbirth, and menopause, and it has gotten linked as the cause of incontinence. So, there isn't much defense against the condition, amongst the other underlying health causes.
Speaking to a doctor about the condition can help you explore treatment options and ways to avoid leakage. Most women now like to use adult diapers and pads to manage incontinence, and organic and washable ones are available.
But if stylish yet functional underwear is what you are searching for, we have the best incontinence underwear for women coming up. From discreet designs to fashionable panties, this list won't disappoint you with whatever it is you need. 
What is Incontinence?
Before we start recommending the best incontinence underwear for women, we found out it helps to understand the condition better. Urinary incontinence means the act of losing control of your bladder. It is an inconvenience that can cause embarrassment.
It happens in several forms, and the severity varies, from the sudden urge to pee and the inability to keep it in to leakage induced by physical activities. Below are some types of incontinence so you know what exactly you are dealing with. 
Stress Incontinence
Stress incontinence is an involuntary leakage that occurs when you laugh, sneeze, cough, or do other physical activities. It affects women as they age but can be prominent in pregnant women. If you suffer from this type of incontinence, you can choose from treatment options like surgery and Kegel exercise if it happens often. On the other hand, when stress incontinence is not induced often, you can manage it effectively with incontinence underwear.
Urge Incontinence
Urge incontinence occurs when the need to urinate comes instantly and frequently, and the bladder can now not bear the pressure. It occurs mainly in aged women who have experienced menopause or those with health conditions like urinary tract infection, diabetes, and multiple sclerosis.
A doctor is the best person to advise you on treatment options, including surgery, medications to relax the bladder, and dietary and lifestyle changes. When struggling with this type of urinary incontinence, the best way to manage it is with adult diapers, mainly if your mobility is restricted.
However, you can get high-quality pull-up incontinence underwear to help you quickly control the condition. 
Fecal Incontinence
This type of incontinence is not common, but it occurs when a person's bowels leak fecal substances when they laugh, cough, or sneeze without knowing. It is like stress and urges mixed, but you do the number 2 instead. Fecal incontinence is higher in men and women who have crossed the age of 65 and have had reason to remove their gallbladder due to an illness.
It will most like occur when a person has a chronic sickness that renders them incapable of handling themselves. Smoking can also increase a person's chances of having this type of incontinence. You can choose to manage this condition with pull-up incontinence underwear, but the most common way to handle it is with adult diapers/briefs, liners, and pads. 
Types of Incontinence Underwear
Due to the different types of urinary incontinence that people struggle with, brands have made it easier to manage the condition. They produce several styles of incontinence underwear, suitable for men and women, including plus sizes. 
Pull up Underwear
A pull up incontinence underwear is the most common type produced by most brands since it is favored among people who are still mobile. It is also the first resort people turn to when they realize they are struggling with urinary incontinence because it looks like regular panties, only they are made with leakproof materials.
Some of this pull-up incontinence underwear can even feature a tear-away seam, with each brand having absorbency strength. They are great to wear under tight clothing like jeans and can even serve for overnight purposes. However, it might not be the best choice if you require assistance wearing and taking it off. 
Pads, Liners, and Guards
In the world of incontinence underwear, guards are produced for men, while pads and liners are designed for women. Like the regular sanitary pads, they have an adhesive under, only they become extra fortified in this case so that they can rest on regular underwear. They protect against leaks and are an excellent choice for you when struggling with stress incontinence. 
Adult Diapers
Adult diapers are also commonly used to manage urinary incontinence, especially in nursing homes and hospitals. Also known as adult briefs, they usually feature tabs on the side for easy wear and removal and are easily adjustable. Adult diapers are best for inactive people who cannot help themselves to the restroom. It offers double leakproof protection for urine and fecal urge incontinence, which is a plus. 
The Best Incontinence Underwear for Women
We considered several factors to compile this list of the best incontinence underwear for women, so there is something for everyone. Among the various elements are quality, comfort, functionality, and cost. It would be an epic failure to buy a product that doesn't serve its purpose.
Even though you are struggling with a condition, you shouldn't have to compromise on your comfort. Without further ado, we present the best incontinence underwear for women you should own. 
One noteworthy feature of the Attends band is triple protection against moisture. The brand still took it up a notch to ensure it manages odors and keeps your skin healthy from diaper rash. If you are concerned about comfort, they didn't leave that unchecked with breathable sides, plush linings, and a flex tab fastens. 
Take control of your bladder leaks effortlessly with the ranges of incontinence underwear from Lily Bird, with up to 5 absorbency levels. The brand combines gentle elastic sides and its hourglass shape to ensure it is leakproof and comfortable. You can easily choose from their disposable underwear and soft pads by shopping monthly or opting for a discrete subscription plan.
Dry direct is a famous incontinence brand for its high absorbency levels, which means you go longer between changes. They are designed with soft elastic cuffs to ensure they stay in place throughout the night. What's better, the pull-up underwear style locks in odors. 
If you are searching for the best incontinence underwear for women, look no further than Tena Protective Underwear. The brand takes comfort into high consideration, with its soft cotton paddings and comfy waistband, so it fits snugly. 
When absorbency is a core criterion for choosing incontinence underwear, you need the "Maximum Absorbency" variant from Depends. The underwear features a stretchable panel that adapts to your body contours and becomes comfortably cushioned.
With the high level of absorbency, you would expect a thick, coarse material, but that is not the case here, with its rustle-free clothing. 
6. Just'nCase By Confitex-Best Washable incontinence Underwear For Women
Incontinence is already a thing to consider, but you mustn't compromise on function and style. Confitex understands this and produces a wide range of seamless leakproof underwear that functions effectively.
They use a textile technology, which features a sealed absorbent fabric, which the brand has been hushed about since its patented. You can wash the underwear in the washer safely without damaging it, which is something you don't find in other brands.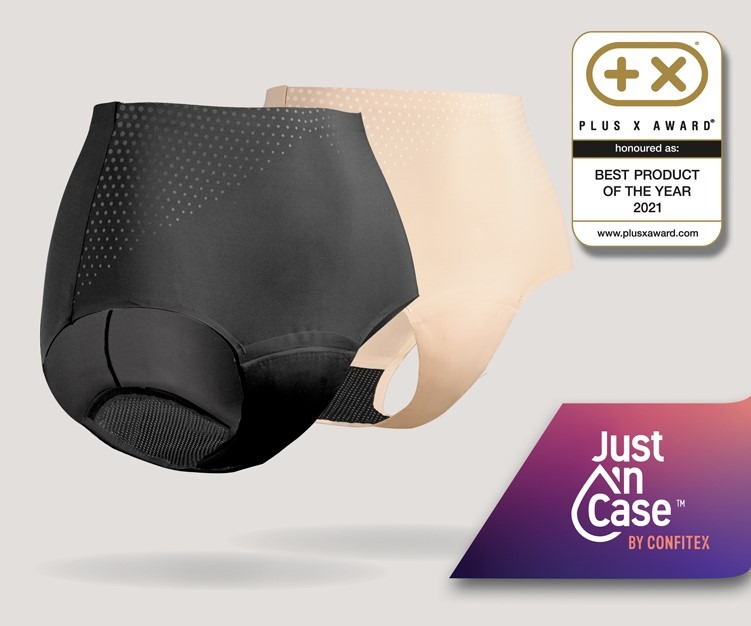 This underwear set has received many positive reviews for its fashionable style and functionality. Not every day do you see incontinence underwear with a sleek design; this brand made it happen. While you may not be able to use heavy leakages, you can rely on them for light moisture proofing. As a bonus, you also get odor protection from these undies. 
What to Consider When Shopping for the Best Incontinence Underwear for Women
If you are still confused about which incontinence underwear is best for you, we have created a checklist to review before making your choice. Urinary incontinence can cause lifestyle changes, but you can look stylish and comfy while struggling with it. 
Absorbency: An incontinence purchase isn't made for pleasure, so it must be functional. This criterion is essential and should align with your condition's severity. A pad with regular absorbency will work fine when you struggle with minor leakages. If it has become more severe, you want to invest in adult briefs with a high absorbency rate. You can get different ranges of absorbency and incontinence underwear types to adapt to situations without embarrassment.
Comfort: The comfort has to do with the style of the incontinence underwear. There are a variety of underwear styles available that rival the average underwear. It helps to search for incontinence underwear styles that resemble your regular underwear to keep you comfy. The fabric used in making the underwear is also substantial, especially if you have sensitive skin. 
Ease of mobility: If you have full mobility and can wear and take off incontinence underwear yourself, you can go for any underwear you want, even the stylish kinds. When you are sure you won't be able to go to the bathroom quickly, it is best to go with adult diapers and briefs. 
With these criteria, shopping for the best incontinence underwear for women should be easy now. If you require your underwear to do more, consider checking for features like odor elimination, closure fit, and backing material. 
What to read next: 
–How To Stop Receding Hairline: Causes, Prevention, And The Best Treatment To Regrow Your Hairline
–What Is Low Impact Exercise: Types, Benefits, And Tips To Get Started
–How To Pop Lower Back: Easing Tension In Your Spine Like A Chiropractor
–The Best Chicken Matzo Ball Soup Recipe For A Nutritious Meal