Curvy Black actress Jill Scott has proven times without number that you can appreciate your size and still look dashing.
You can find Jill Scott as Hazel Rachelle on BET's running comedy television series First Wives Club and as Lady Eve in the just-concluded series DC Comics Black Lightning. Also, on several different movies and series, including Tyler Perry's Why Did I Get Married?
The Philadelphia-born singer has been gracing us with her singing, poetic and acting talents for more than two decades. From her first Grammy-nominated album, Who Is Jill Scott?: Words and sounds Vol.1, she has gone on to make several musical projects.
Her singing prowess helped promote the R&B-soul fusion to the big stages. This fusion is a part of the sub-genre described as neo-soul, which music icon Erykah Badu identifies with, a=so, it was only fitting for Jill and Erykah to pair for the female Verzuz battle Instagram live show.
As Jill wins us over with her vocals, her curvy girl fashion is noteworthy. From her signature afro hair down to bold outfits that accentuate her curves, the multitalented celeb has several style moments that we are inspired to recreate. Upcoming are ten of Jill's best looks.
Related article: 5 Unique Afro Hairstyles Inspirations By Viola Davis.
10. Blue dress with lace details
The Black Women in Music event had a style stamp when Jill wore a blue midi-length dress with lace details around the neckline down to the sleeves and hemline. That night she also received a music achievement award, but her shoes were another highlight of the night, as it was a black strappy heel with contrasting blue and yellow.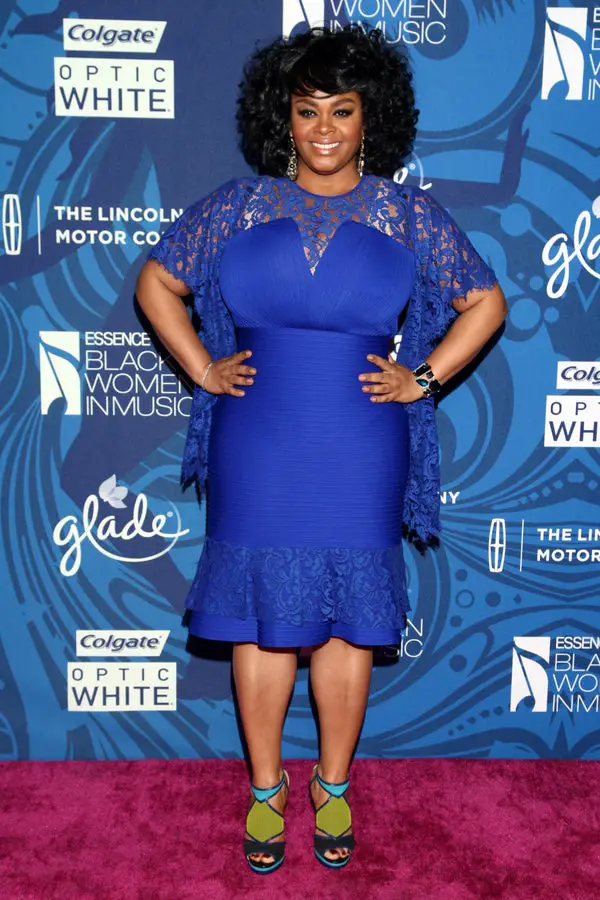 9. Two-piece suit
Jill Scott was a stunner at the 59th Grammy Awards, in a grey blazer and matching trouser set in crossing patterned lines. It was one for style magazines as the look was unexpected and chic. The blazer jacket featured a notched lapel that made Jill spot some major cleavage as we get a peek at her camisole. A curve-hugging, full-length trouser was the perfect piece to match the outfit.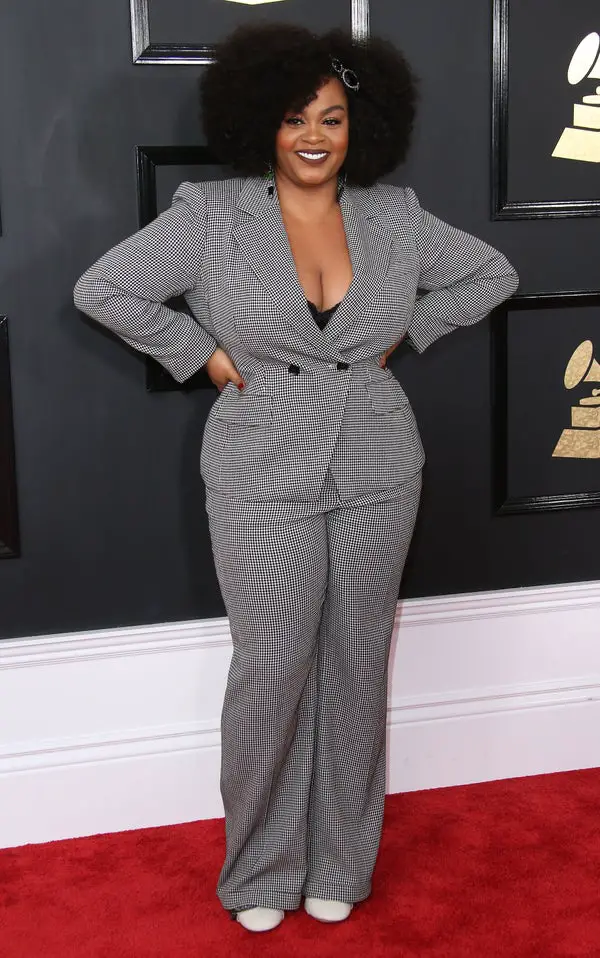 8. Ruffled black dress
When there is a formal event in mind, the black dress Jill Scott rocked to the premiere of the Get On Up movie is all you need. The snug fit dress accentuates the curves and has ruffled details in the right places, an excellent fit for any occasion. Style with sparkling accessories, like this dropping earring on Jill, and you are on your way to stealing the spotlight.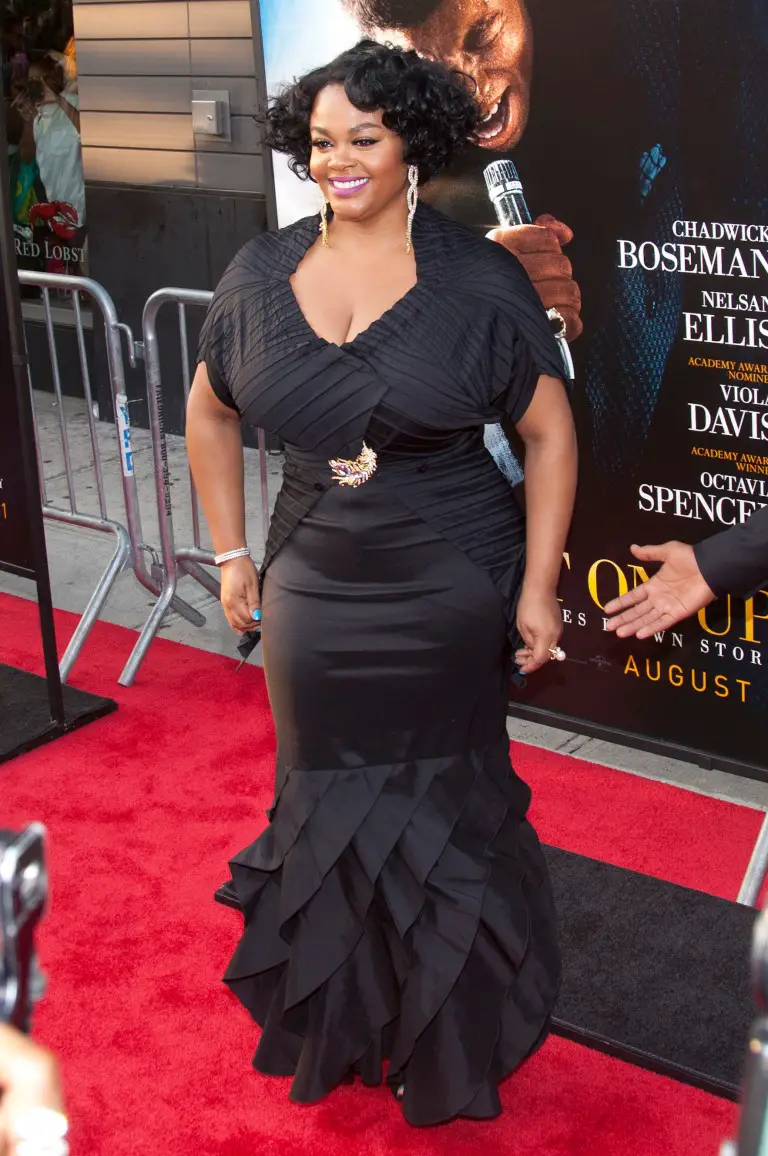 7. Jumpsuit outfit
We have seen many jumpsuits on the red carpet, but this piece that the singer donned to BLACK GIRLS ROCK! scores style points for comfy and fashionable. The black jumpsuit, which had long sleeves, and a deep V-neck, looked beautiful on her, and the white feature on the sleeves and sides, coupled with the middle line band, flattered her body. She chose bold flower print heels to complete the look for extra details.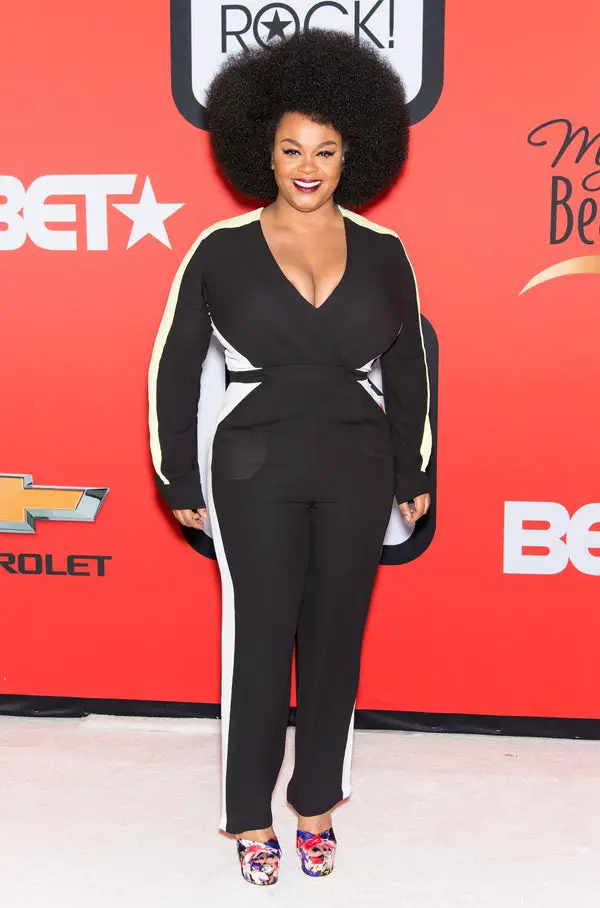 6. Snake print dress
Posh and classy outfits never looked so effortlessly good like this little snake print dress Jill is wearing in the photo below. Trust her to keep things interesting, with a belt to enhance her curves and a cut-out feature. You can easily wear this dress from work to brunch and evening plans.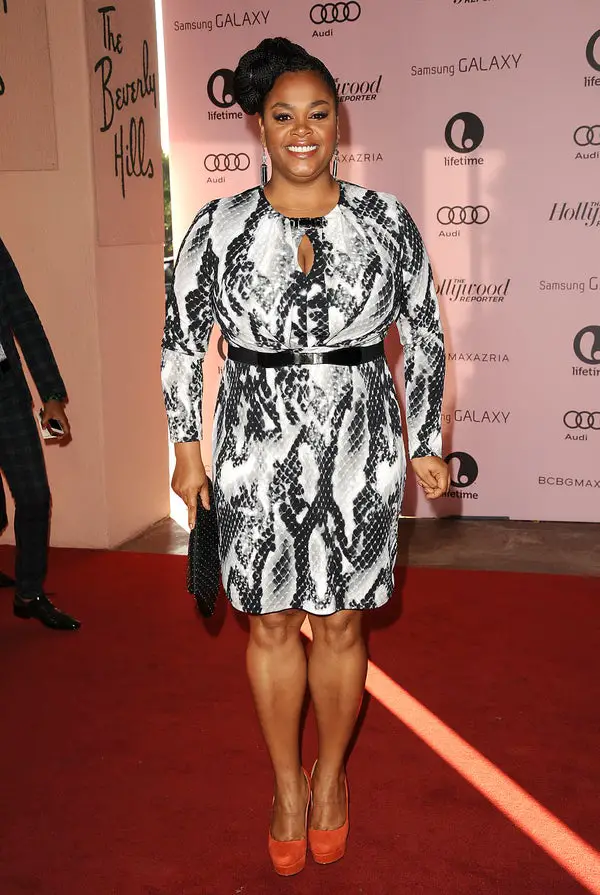 5. Body con Jill
Jill Scott debuted a new look when she was featured in the September 2014 issue of Essence Magazine. Her trimmed curvy body in a black body con dress and blonde pixie cut hair combo was a bold fashion move that is ever trendy. The stretchy sheer panel dress mini dress is for anyone looking to try a new look.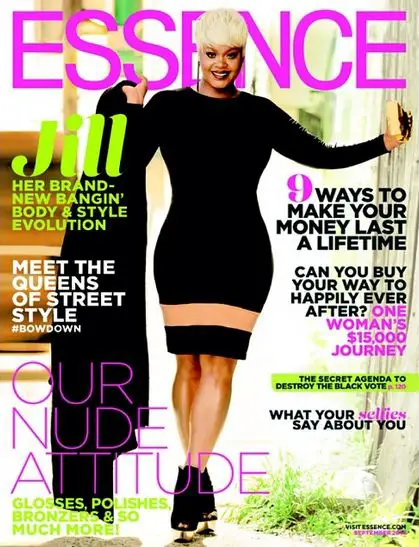 4. Red maxi dress
The red maxi dress is a prim and proper look you will want to keep at bay unless you are trying to impress. A shawl collar leads to the wrap details at the upper area, to the straight fit lower full-length dress. Gold strappy sandals and earrings were the accessories Jill chose to elevate the look.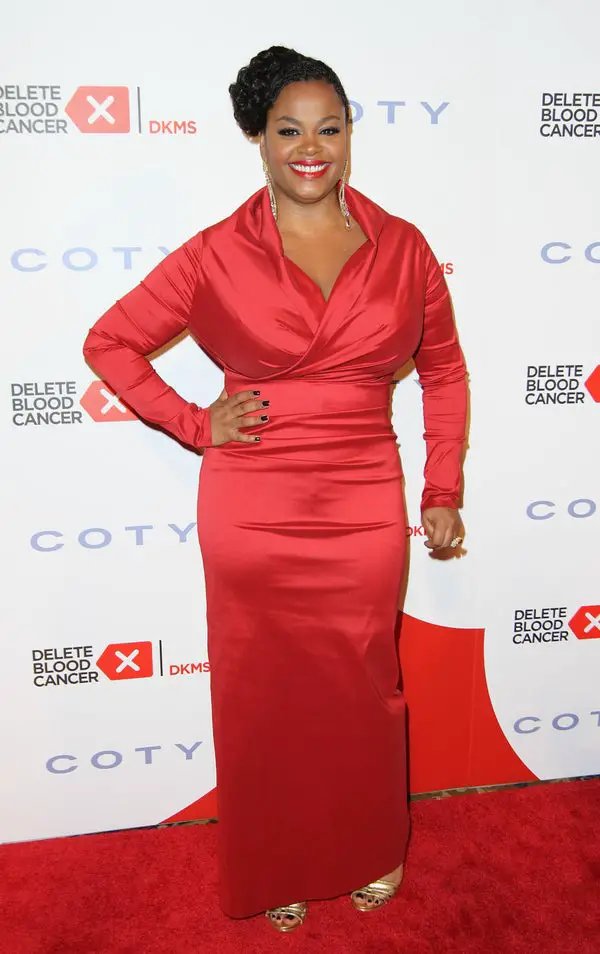 3. Kimono style dress
If you need any more convincing that kimono-designed dresses look cute on curvy women, then let this Jill Scott shimmery number in blue-green hue convince you. The billowy full sleeve and the open front pair give the dress a sexy appeal, and instead of having a loose finish, the dress flowed fittingly.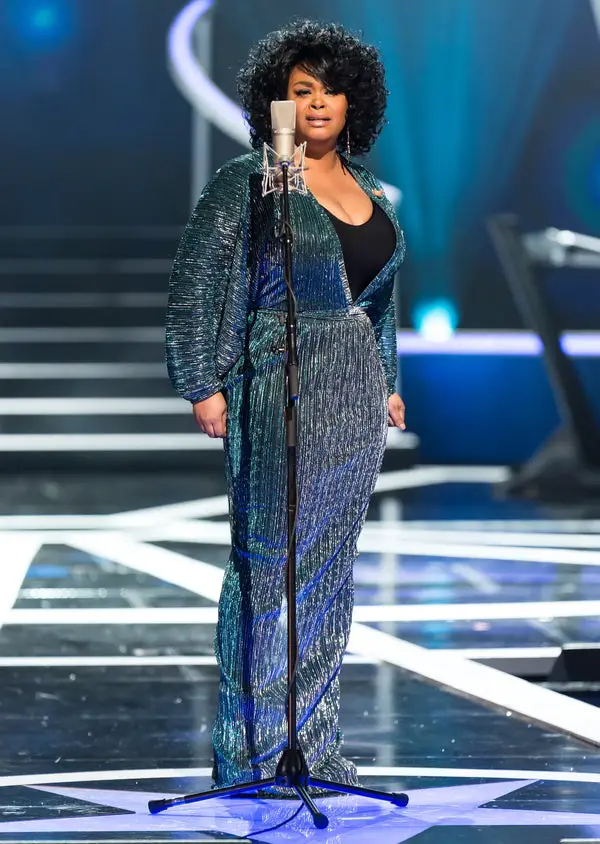 2. Zip-up front suit
Dress up in a relaxed and cool way, just as Jill in this jumpsuit. The contrasting color print looked good with the sleeve and side-lined details. While the suit had a drawstrings waistline to flatter her figure, the outfit's star was the zip-up front feature. Rock this to casual and relaxed outings for a sexy and effortless look.
1. Not so sheer dress
Jill has always been confident in her fashion choice and loves to slay in her curves. So, when she wore this sheer illusion dress to the pre-Grammy Gala, she nailed a unique look. The trimming details framed the neckline to the body and hemline to create a stunning dress that the singer finished with platform heels.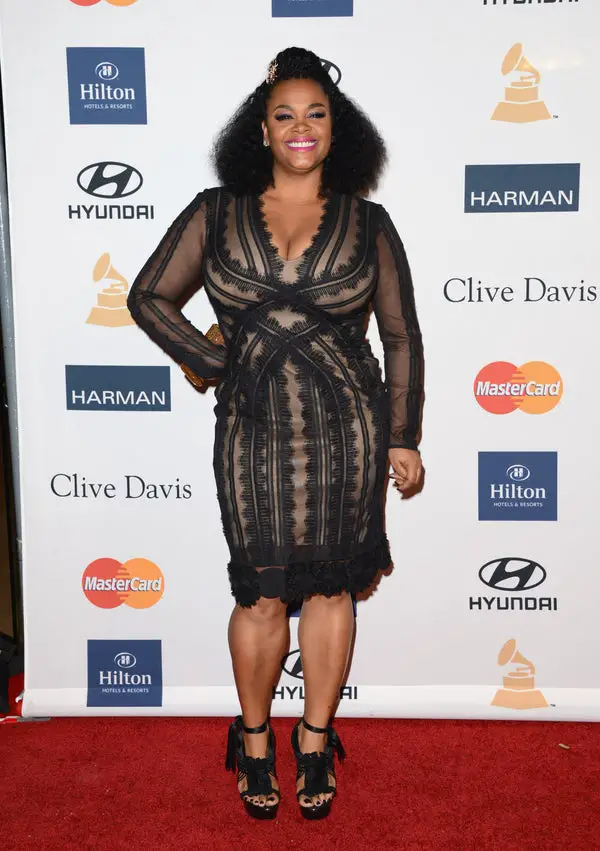 Living the dream of most curvy ladies, these ten looks prove that Jilly From Philly is all that. You may also like to read, 7 mother-daughter style inspirations from Gabrielle Union and Kaavia.