Halloween nights are full of fun thanks to all the trick or treating, parties, and spooky activities one can get into. Top off the night with a Halloween pajamas set that will keep your spirits high into the next morning.
On the other hand, you might just need breathable wear to lounge but still be a part of the festivities. Pajamas can help you achieve that, from pumpkin prints, silk ghost sets, and skeleton onesies, your minimal Halloween night will be effortlessly elevated.
A memorable night like Halloween demands you sleep in Halloween pajamas, which is like the icing on the cake. So, check out these ten great selections just for you.
Graphic ghoulish set
Get the boo! on with a ghost print Halloween pajama, it will be all you want to wear for the night. This two-color matching set looks beautiful on anyone. Score extra points if you can find ghost prints that glow in the dark. They will be scarier and more effective for anything the night has in store.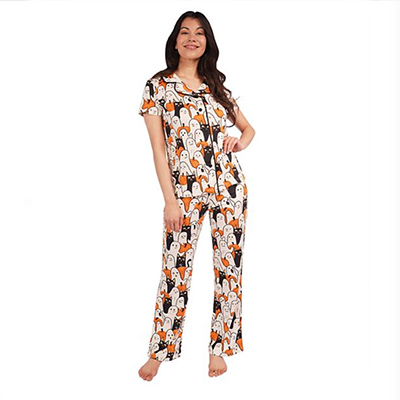 Skeleton onesies
Stay scary and comfy with a skeleton print onesie which gives the illusion of showing off your bones. The skeleton is printed in white, just like an X-ray would on a piece of black cotton fabric. You will be warm while looking ready for Halloween spookiness. Ensure you buy your perfect size so the bones are aligned with the right spots. This will give the full effect of the skeleton print.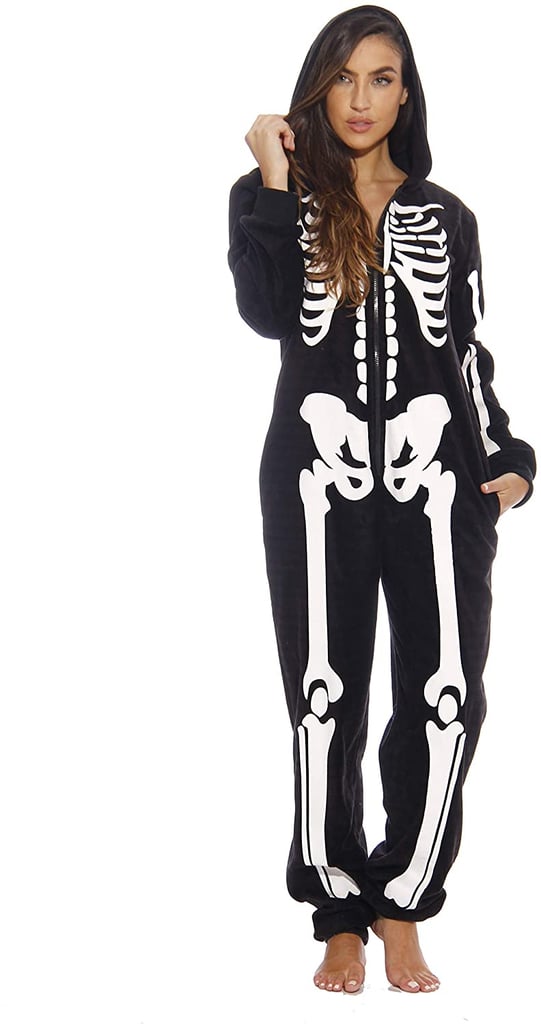 Pumpkin print pajamas
Pumpkins are Halloween-themed plants; their bright orange color is seen everywhere on Halloween. They are used for decorations and also as print designs for pajamas. You can find one that has the whole fruits printed or carved out into scary pumpkins. So even when you don't have plans, the pajamas can be the comfy companions to get you in Halloween cheer.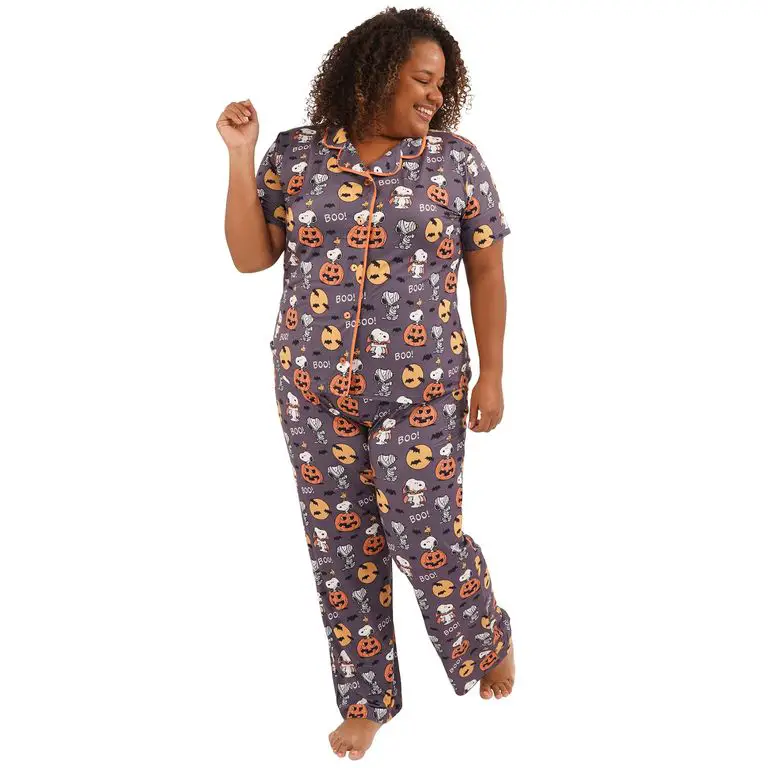 Hogwarts Halloween pajamas
Show your love for witchy things by opting for Hogwarts harry potter themed pajamas. You will look magical and ready for the night's activities. Throw on a matching robe and the witch hat for a full measure and you can easily turn this into a simple Halloween costume.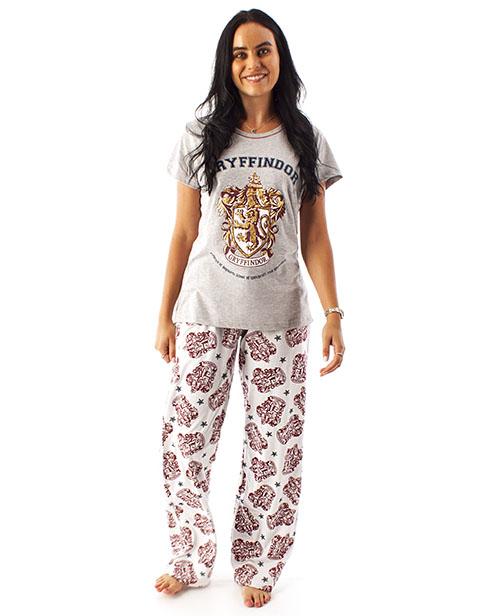 Bats Halloween pajamas
Bats are one of the featured animals of Halloween night since they are spooky creatures who love the dark. Wearing a bat print pajama will get you in Halloween spirit. They can be made to take different bat gestures, such as hanging upside-down, wings spread for flying, or with their spooky eyes peeking at others.
Superhero costume pajamas
Get in on the action and go for a costume superhero set that will double as a Halloween costume and sleepwear. Shop for your favorite hero and dress up like them in comfortable pajamas. They are an effortless piece you can throw on not just for the spooky night, but all year round.
Plaid pattern pajamas
If you are looking for something that is not spooky but still carries the Halloween vibe then these plaid pajamas will get the job done. The orange base with black and white lines forming the stripes plaid pattern looks cute. Plus, the fabric is comfortable to sleep in and lounge in all day.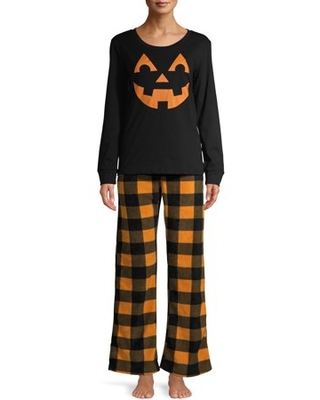 Skull prints jammies
There is no easier way to represent the meaning of Halloween than with skull print pajamas. It pays tribute to the saints and also keeps the scariness of the night alive. If a black-colored skull seems a bit much, you can go for the colorful skull prints. You will look chic and fashionable while keeping the Halloween spirit on.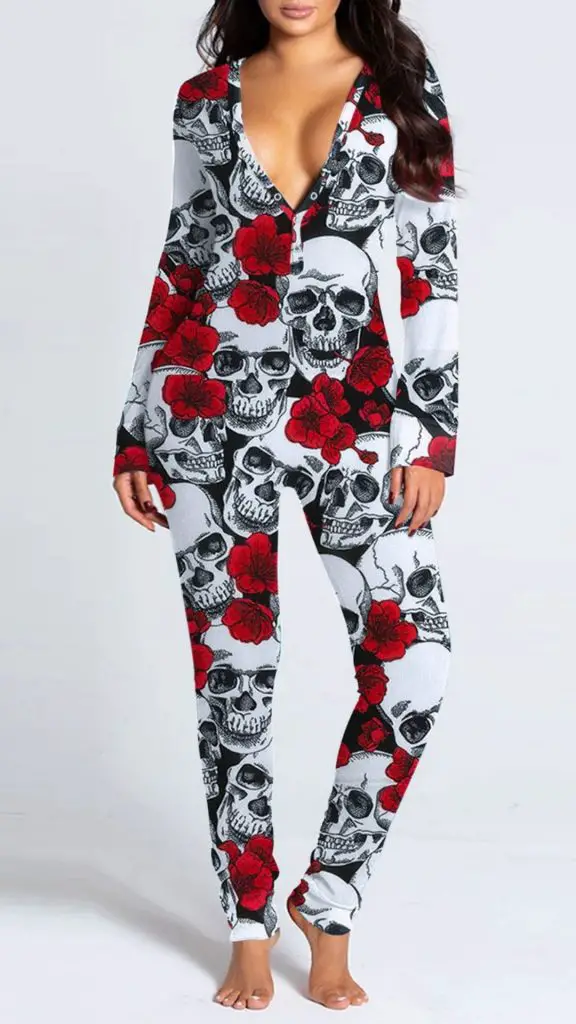 Crawling spiders pajamas
Most spiders are harmless but their crawling nature makes them creepy to many people, which is why they feature in every Halloween celebration.
Get this spider print set to join in on the fun. It has spiders all over the trousers, with their webs, hands, and legs spread and ready for an attack. The pajamas are made less scary with the plain top, which has just one spider. Comfy and subtly scary are the best words to describe this sleepwear.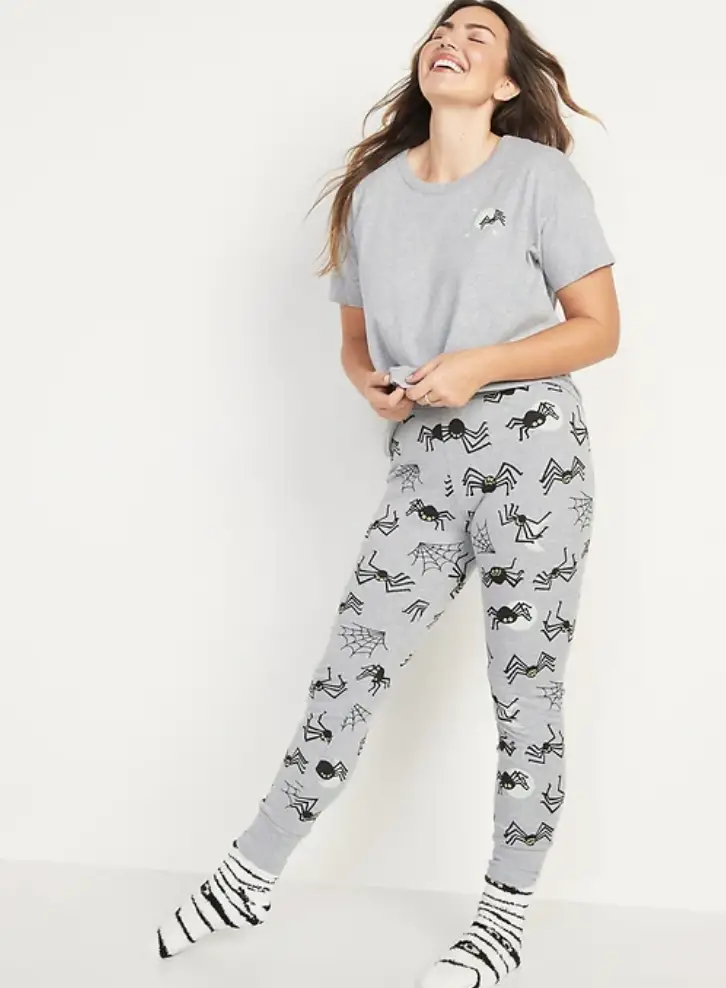 Mummy pajama sleeper
Being wrapped up like a mummy never looked so cute, with the eyes peeking out of different places. The meaning of night is interpreted with pajamas like this since the graphic print has you wrapped up like a mummy. Some are printed just on the hands, with other elements to make it less scary.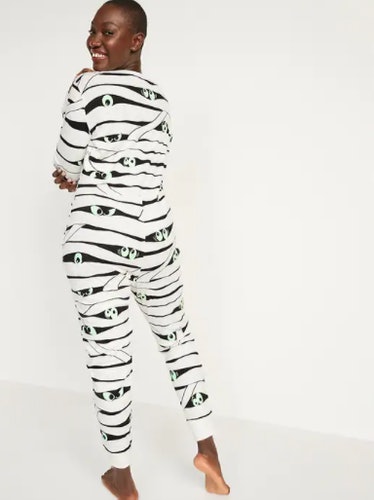 These pajamas prove you can enjoy Halloween in a cozy item of clothing as most of them are made with soft fabrics like silk, cotton, and fleece. You get to enjoy the festivities of the night with a simple piece that is fashionable and appropriate for the night.
Whether you get matching sets or not, a scary print t-shirt with flannel or sweat pants will do. The bottom line is staying comfortable and snug to celebrate the night.