If you need to sell an engagement ring, you may be wondering where is the best place to do so. Many options are available, but not all offer the best return on your investment. This blog post will discuss some of the best places to sell an engagement ring and how to get the most money for it.
How to Know When it's Time to Sell Engagement Ring
It can be tricky to know precisely when to sell your engagement ring. After all, it's not just a piece of jewelry – it's a symbol of your love and commitment. But there are bits you can keep in mind that may help you decide. 
First, think about your reasons for wanting to sell. If you're looking to upgrade to a bigger or better ring, it might not be the right time. But if you're selling for financial reasons – like you need the money to pay bills or buy a house – it might be worth considering. 
You should also take into account how long you've been married. The longer you've been together, the more sentimental value the ring might have. So if you're only a few years into your marriage, you might want to wait a bit longer before selling. 
Of course, ultimately, the sale decision is up to you. If you feel like it's time to sell, go for it! Just be sure to do your research and work with a reputable jeweler. You can rest assured knowing that you're getting the best price for your ring. Keep these things in mind, and selling your engagement ring will be a breeze! 
If you're still undecided, it never hurts to consult with a professional. A jewelry appraiser can give you a better idea of your ring's value and help you decide. They can also provide you with advice on the best way to sell it, whether that's through a private sale or an auction house.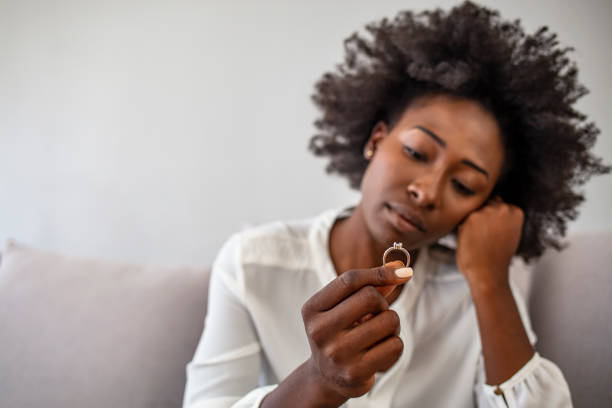 The Places to Sell Your Engagement Ring
1. Sell your ring to a jewelry store
Find a reputable jewelry store that buys back rings to start on the right track. Make sure to bring all the documentation that came with the ring when you purchased it. It will help prove its authenticity and value. Once you have found a store, schedule an appointment to meet with a buyer. 
Be prepared to haggle over the price. The store will likely offer you much less than what you paid for it, so be firm in your asking price. If you can't agree, try another store. Eventually, you'll find a buyer willing to pay what you're asking for. If you are in a bind and need cash quickly, this may be your best option. Once the sale gets finalized, use the money as you see fit. You can put it towards a new piece of jewelry.
2. Sell your ring online
Another option is to sell the ring online. Many websites allow you to list your ring for sale, and there are often buyers who are willing to pay more than what you would get from a jewelry store. This is an excellent option if you have the time to wait for a buyer and if you are comfortable with selling online.
First, take into account the value of your diamond. The Four C's (cut, color, clarity, and carat weight) will affect the resale value of your stone. Next, consider the metal type and karat weight of your engagement ring's band – these factors will also play a massive role in how much money you can get for your ring. Finally, research different jewelers and sellers to find out where you can get the best deal for selling your engagement ring.
-The best place to sell engagement rings online (
Worthy.com)
If you're looking for the best place to sell your engagement ring, look no further than Worthy.com. At Worthy, they provide a safe and secure platform for private buyers and sellers to connect and transact. In addition, you find a team of experts on hand to help you through the selling process from start to finish. 
3. Sell the ring privately
Lastly, you could always try selling the ring privately. This option can be a bit more challenging, as you will need to find a buyer willing to pay your asking price. However, if you can find a private buyer, you may be able to get more money for your ring than any of the other options.
When you're ready to sell your engagement ring, keep a few things in mind:
It's crucial to find a private buyer willing to pay what your ring is worth.

You'll need to be prepared to negotiate the price of your ring.

Ensure you have all the paperwork and documentation related to your ring before meeting with the buyer. 
No matter which option you choose, make sure that you do your research and compare prices before selling your engagement ring. Doing this will ensure that you get the best possible price for your ring.
Read Related article:
–Palm Reading Guide For Beginners: How To Read Palm Lines
–Everyone is going to Pagosa Springs hot springs in 2022, see 10 reasons why!
–Astrological Compatibility Between Taurus And Cancer
4. Sell your ring to a pawnshop
If you plan to recover the most money for your ring, a pawn shop is probably not the best option. However, if you need to sell your ring quickly and don't have time to deal with the hassle of selling it privately, a pawn shop may be the way to go. Here's what you need to know about selling your ring to a pawn shop.
It would be best if you start by researching pawnshops in your area. Google "pawn shops near me" or check out Yelp reviews to get an idea of reputable shops and which ones to avoid. Once you've spotted a few potential options, it's time to start haggling.
When you walk into a pawn shop, the first thing the clerk will do is offer you a low price for your ring. This is their opening offer, and it's up to you to negotiate from there. It's important to remember that the pawn shop's goal is to make a profit, so they will not give you top dollar for your ring.
If you're not comfortable haggling, you can always ask the pawnshop about their policy on returning items. Some shops will allow you to bring your ring back within a specific period (usually 30 days) and get your total purchase price back, minus a small fee.
Once you've sold your ring, it's essential to know that most pawn shops will require you to leave some form of ID behind. So, they can contact you if the ring is stolen or sold to someone else. Make sure you're comfortable with this before leaving your ID at the pawnshop.
Selling your ring to a pawn shop isn't ideal, but it's a quick and easy way to get some cash in hand. You do your research ahead of time and know what to expect when walking through the door.
5. Sell your ring to a family member or friend.
You can always sell your ring to a family member or friend. It can be a great option because it allows you to get some money for the ring without selling it yourself. Plus, you also get to keep the ring in the family. If you decide to go this route, make sure you set some ground rules with the person you're selling it to.
For example, you'll want to agree on a price upfront and make sure that they understand that the ring is only being sold for financial reasons. This will help to avoid any hurt feelings down the road.
6. Sell your ring on marketplaces
Selling on marketplaces like Etsy, Amazon, and eBay can be a great way to get rid of unwanted items and make some extra cash. But before you start listing your stuff, there are a few things you should keep in mind. First, take good photos. You cannot skip this vital step if you're selling something like jewelry or clothing, where buyers will want to see all the details.
Ensure the lighting is good and that the item is well-centered in the frame. Next, write clear and concise descriptions. Again, buyers will want to know what they're getting, so include as many details as possible. If you're selling handmade jewelry, describe the materials used and the approximate length or size of the piece.
Finally, set a fair price. Take a look at similar items that have sold recently to know what buyers are willing to pay. Don't forget to factor in the shipping cost when setting your price.
When is the Best Time to Sell the Engagement Ring?
The best time to sell an engagement ring is typically when the relationship ends. It could be for several reasons, such as a divorce or simply because the couple has decided to go their separate ways. However, there are a few other things to consider before selling an engagement ring.
For example, if you or your fiance purchased the ring recently, it may not have been appreciated enough to make selling it worth your while. Additionally, if you still have strong sentimental attachments to the ring, you may want to hold onto it for personal reasons. You can decide when to sell an engagement ring because it is a personal one that should get based on your circumstances. 
Factors that will affect how much you get for your ring
Selling an engagement ring can be a difficult decision. Multiple factors will affect how much money you will receive for your ring. We will discuss some of those factors to understand better what your ring is worth. The value of your ring will also be affected by its diamond quality. If your diamond is certified by a reputable organization like the Gemological Institute of America (GIA), you can ensure its quality is high.
However, assessing its quality and value will be more challenging if your diamond is not certified. Overall, the better the quality of your diamond, the higher the price you can expect to get for your ring.  Another factor that can affect the value of your ring is its metal type. Platinum and white gold are typically more valuable than yellow gold, but this is not always the case.
The weight and purity of the metal will also play a role in determining the value of your ring. Finally, the brand of your ring can also affect its value. If you have a ring from a well-known and respected jeweler, you can expect a higher price than if you have a ring from an unknown or lesser-known jeweler. That's because the brand name itself adds value to the piece. 
When determining what your engagement ring is worth, keep these factors in mind. By taking all of these factors into account, you can better understand your ring's worth. Keep in mind that the final value of your ring will depend on the specific buyer, so don't be discouraged if you don't get the total amount that you're asking for. Ultimately, as long as you're happy with the price you get, that's all that matters.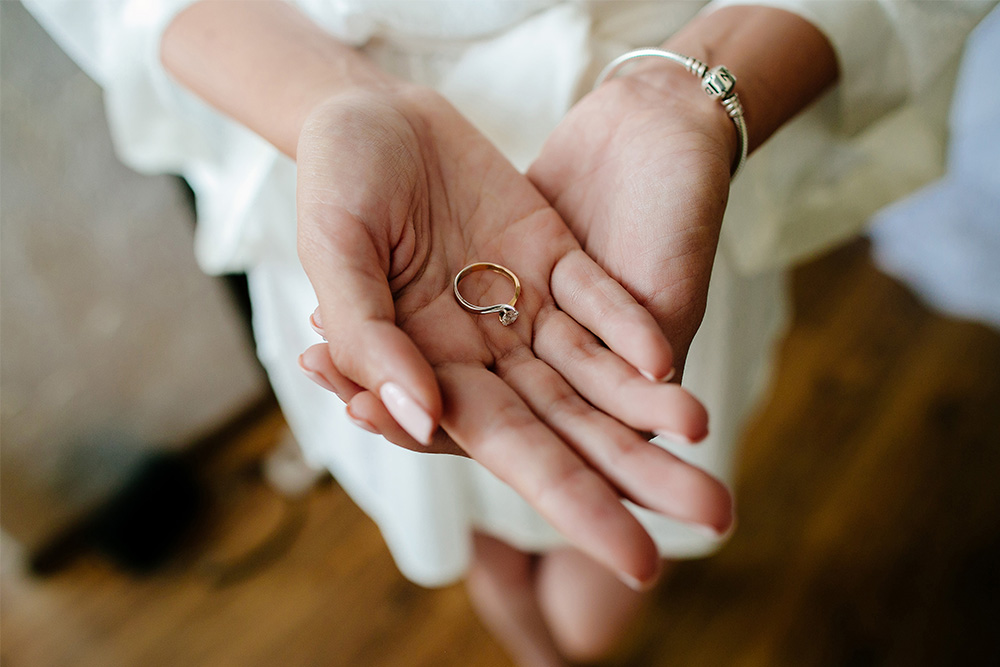 What to do with the money from the sale?
When you sell your engagement ring, you may be wondering what to do with the money. You could use the money to pay off debts, such as credit card debt or a mortgage. This can be a great way to get rid of high-interest debt and save money in the long run. Talk to a financial advisor if you need help deciding.
They can help you figure out what will work best for your situation. You could also use the money to invest in yourself. It could mean taking a course or investing in new equipment for your business. It could also mean taking a trip or going on an adventure that you've always wanted to do.
Whatever you decide to do with the money from selling your engagement ring, make sure it's something that will make you happy. After all, it's your money, and you deserve to do something with it that makes you happy. 
Do engagement rings hold their value?
When you get engaged, you may be wondering if your engagement ring will hold its value. The answer is maybe. You may not get the total value you paid. However, keeping your engagement ring and passing it down to future generations could be worth more than what you paid. 
The resale value of an engagement ring depends on several factors, such as the quality of the diamond, the metal used for the band, and the current market conditions. It would help if you also did your research to determine its worth. 
If you are not planning to sell your engagement ring, you don't have to worry about its resale value. You can enjoy wearing it and knowing that it symbolizes your love for your partner. 
Also, read our latest articles:
–Maximalist Interior Design: The Best Guide To Maximalist Interior Decor
–Karma Spa: A Guide To Their Facials, Massage And Specials
–What Does A Taurus Man Find Attractive In A Scorpio woman?