Karma Spa is a unique massage that offers facials as one of its many services. Karma's philosophy is that beauty comes from within, and its team of experts strives to help you feel your best. They are designed to rejuvenate and refresh your skin.
Their organic products are gentle on the skin, and their team of experts will work with you to customize messages and facials that meet your needs. This blog post will guide you to Karma's facials, plus some massages and specials.
What is Karma Spa?
Karma Spa Carlsbad is a hidden gem in Southern California. With its convenient location and top-notch services, it's no wonder that Karma Spa Carlsbad is one of the most famous spas in the area. Jessika and Conrad Bester are the proud owners of Karma the space.
The Karma Spa is a full-service spa that offers various services, including facials, massages, manicures, and pedicures. The Karma Spa provides its clients with the highest quality service possible. Jessika and Conrad Bester have been in the business for over 8 years, and their experience shows through in the level of service they provide
The Karma Spa has two locations at 2614 El Camino Real Carlsbad, CA 92008. And the other is in San Diego3969 1st Ave San Diego, CA 92103. For more information about Karma Spa Carlsbad or to book an appointment, please visit their website at karmamassagespa.com.
Karma Spa is your place if you're looking for a unique spa experience. It is the perfect place to unwind and relax with its commitment to organic products and a relaxing environment.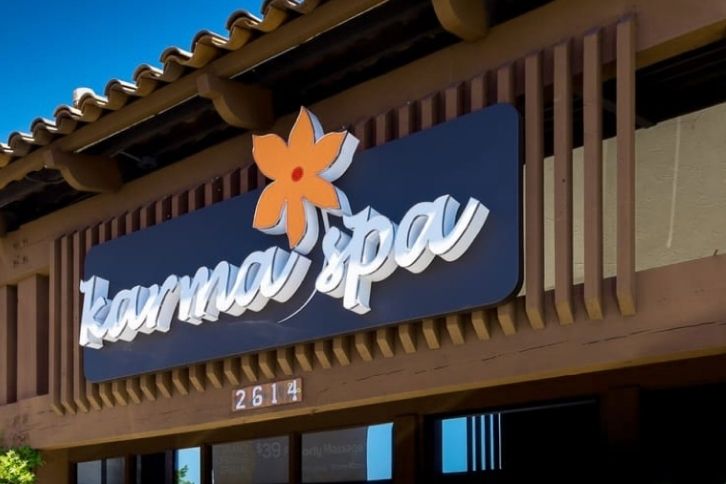 Services offered at Karma spa
Massages
Acupressure Massage is an ancient Chinese healing practice that uses pressure points on the body to relieve pain and stress. Karma spa is one of the few places in the city that offers this unique form of massage. If you are looking for a way to relax and reduce stress, acupressure massage may be correct.
This type of massage can help improve circulation, relieve tension headaches, and even ease symptoms of anxiety and depression. At Karma Spa, the therapists will use gentle pressure on specific points along your body to restore balance and promote relaxation.
They offer 60-minute and 2-hours sessions to choose the length of time that best suits your needs. The prices range from $70 to $260, depending on the duration of your session.
At Karma Spa, they offer both chair and body massages. The skilled masseuses tailor the massage to your needs, whether you're looking for a relaxing experience or relief from pain or tension. Chair massage is an effective way to reduce anxiety and promote relaxation, and you get it done in a short amount of time.
That's because you keep your clothes on for the massage. It cost $25 for 15 minutes and $45 for 30 minutes. Body massage is more comprehensive and can provide deeper tissue manipulation. If you're unsure which type of massage is right for you, our staff can help you decide.
There are few things better than a Karma Spa hot oil massage for relaxation. This luxurious treatment leaves you feeling invigorated and provides numerous health benefits. The experienced therapists will use warmed oil to massage your body during a Karma Spa hot oil massage.
The heat of the oil helps to loosen tight muscles and ease tension headaches. The oil also nourishes and hydrates your skin, giving you a radiant complexion. In addition to providing physical benefits, Karma Spa Hot Oil Massages also offer psychological benefits.
The warmth of the oil promotes feelings of comfort and security, while the massage itself can help reduce stress and promote peace of mind.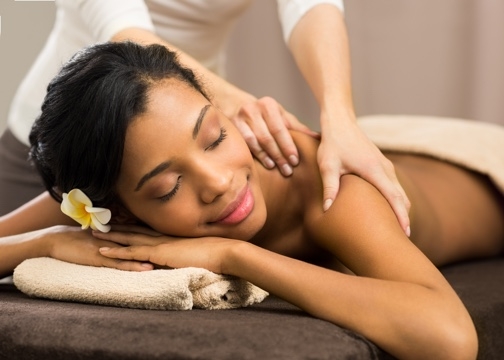 Ashiatsu is a barefoot massage that uses the therapist's feet to provide deep, broad pressure strokes. The therapist will use her body weight to apply pressure while using bars above the massage table for balance and support. Ashiatsu massage is performed either with you lying on your stomach, side-lying, or seated.
This makes it a versatile modality that can address various issues such as muscle tension, headaches, and fatigue.
Swedish massage is a common and popular type of massage. It involves long, flowing strokes to the muscles. It can be done with or without oil, depending on your preference. If you choose to use oil, karma spa recommends using a light, unscented oil such as jojoba or almond oil.
A Swedish massage is an excellent option for those looking for a relaxing experience. The long, flowing strokes help ease tension in the body and provide relief from stress. If you have never had a Swedish massage before, karma spa suggests that you book an appointment with one of their qualified therapists. They work with you to ensure that your Swedish massage gets tailored to your specific needs.
Karma spa also offers a variety of other massages, such as Deep Tissue Massage, Hot Stone Massage, and Prenatal Massage. If you are unsure which, massage type is right for you, their skilled therapists can help you choose the best option based on your needs. You can also opt for the massage packages and specials which combine three services and a sauna room visit.
Carlsbad Skincare Services
Karma Spa offers various skin care services designed to meet your individual needs, whether you're looking for a facial, waxing, or other benefits.
Karma Spa's Signature Facial Karma Skin analysis is the perfect way to relax and rejuvenate your skin. This facial includes a cleanse, exfoliation, extractions, facial massage, mask treatment, sunscreen, toner & moisturizer, and lip & eye treatment.
The experienced and professional staff team will analyze your skin and customize this facial to meet your specific needs. Your skin will thank you after the experience. 
If you're looking for a facial that will leave your skin feeling refreshed and radiant, the O² Facial at Karma Spa is the perfect option. This luxurious facial uses oxygen, electrical currents, and LED light therapy to cleanse and rejuvenate the skin. You'll see an immediate difference in your complexion after just one treatment.
During the O² Facial, oxygen gets delivered to the skin through a unique device that emits negative ions. This helps to kill bacteria and promote cell turnover, resulting in brighter, smoother skin. The electrical current and LED light therapy stimulate collagen production and reduce inflammation.
Hydra-Dermabrasion Facial
Look no further than the Hydra-Dermabrasion Facial at karma spa if you need a facial that will leave your skin feeling refreshed and radiant. This luxurious facial combine two powerful exfoliating treatments – hydra dermabrasion and diamond microdermabrasion.
They both deeply cleanse and brighten the skin. The result is a complexion that looks and feels softer, smoother, and more youthful. During the treatment, the aesthetician will first use hydra dermabrasion to gently remove dead skin cells and impurities from the skin's surface.
This becomes followed by diamond microdermabrasion, which uses fine diamond particles to buff away any remaining dead skin cells. A hydrating mask is applied to replenish lost moisture and leave the skin looking and feeling its best.
At Karma Spa, they believe everyone deserves to feel like a VIP. That's why they offer clients the very best in luxury spa treatments. The Dermaplane Facial is no exception. This luxe facial includes a dermaplaning treatment that will leave your skin looking and feeling its best.
If you've never had a dermaplaning treatment before, you're in for a real treat. Dermaplaning is a gentle exfoliating treatment that removes dead skin cells and vellus hair ("peach fuzz") from the face. This results in smoother, brighter skin with improved texture and tone.
Related article: Dermaplaning: Pros and cons of shaving your face
Karma Spa's Pumpkin Peel Mask is a great way to exfoliate your skin and get rid of dead skin cells. This mask contains natural enzymes that help break down dead skin cells and reveal brighter, more radiant skin. Pumpkin is also rich in antioxidants, which help to protect the skin from free radical damage.
Free radicals develop as unstable molecules that can cause premature aging and cell damage. Antioxidants neutralize free radicals and help to keep the skin looking young and healthy. The Pumpkin Peel Mask also contains lactic acid, an Alpha Hydroxy Acid (AHA).
AHAs are known for improving the appearance of fine lines, wrinkles, and uneven skin tone. Lactic acid helps to exfoliate the skin and stimulate new cell growth. If you're looking to brighten your complexion and get rid of dead skin cells, Karma Spa's Pumpkin Peel Mask is a great option.
Waxing can get done on any body area where you have unwanted hair. Karma spa offers various waxing services for both men and women, and they have something perfect for you. If it's your first time getting waxed, it's normal to feel nervous. At Karma Spa, they will make sure you're comfortable throughout the entire process.
If you have any questions, you have the staff ready to answer and walk you through everything step by step. 
Conclusion 
Karma Spa offers affordable indulgence in two locations in Hillcrest and Carlsbad, offering 16 different rooms, including couples massages. You'll also find a spacious waiting area and an infrared sauna (or steam). There are Vichy shower facilities, too – if you need some time away from work or want to relax after taking care of business downtown, and there's no better place than Karma spas.
Its mission is to provide excellent customer service by bringing peace of mind through deep tissue therapeutic bodywork sessions that leave clients feeling refreshed both physically & mentally.
You may also like to read:
–14 Best Skincare Routine For All Skin Types
–Strawberry legs: ‎causes, ‎symptoms, treatment, ‎prevention
–Benefits of cold and steam showers