The best teeth whitening kits whiten your teeth, brighten your smile and keep tooth sensitivity to a minimum.
Teeth brightening or bleaching is also a part of self-care after all, a pretty smile starts with pearly whites.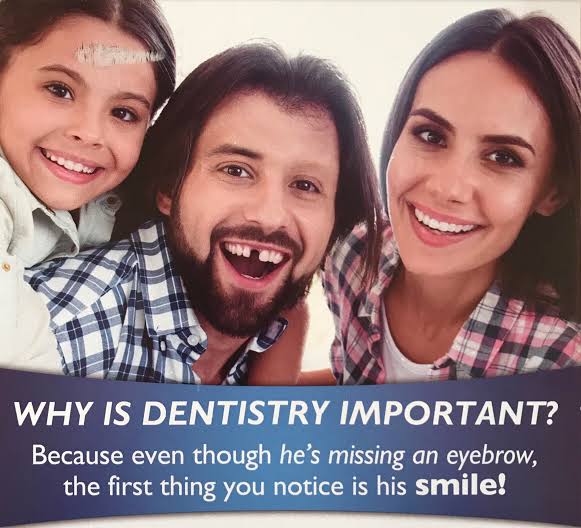 But just because your smile is more noticeable than a missing brow doesn't mean you should have your bows looking hairy caterpillars, here's the perfect guide on how to shape your brows.
Ideally, all it should take to get your teeth pearly white is brushing it daily, twice for maximum effect. Alas, this isn't enough, as things like coffee, tea, tomato sauce, and others can leave your teeth stained.
Professionally brightening your teeth will always be the most effective option. However, DIY teeth brightening can be a more convenient and cost-effective option while also providing powerful results.
Teeth whitening kits come in various formats from toothpaste, strips, pens, etc. With the different forms available, you're sure to rock a smile as confidently as possible. Just brighten your teeth, rub on your favorite lipstick, and let your pearly whites shine.
Related article: Dentitox: Everything you should know before buying this oral health product.
What is teeth whitening?
Teeth whitening is the process that removes stains from your teeth and makes them whiter and brighter.
Is teeth whitening with teeth whitening kits safe?
Brightening your teeth yourself with brightening kits is totally safe and effective if you follow the manufacturer's instructions to use a T. A professional teeth whitening procedure is done in a dentist's office in about an hour, and it involves applying a tooth brightening gel. The tooth bleaching gel contains about 25% to 40% hydrogen peroxide, the active ingredient.
You should avoid using such high amounts of hydrogen peroxide unless you're at the dentist's office. High concentrations of hydrogen peroxide can damage your gum tissues or wreck your internal organs if mistakenly swallowed. But professionals, on the other hand, take the necessary precautions and have the tools to make sure your gum tissue is safe during the brightening procedure hence why they can handle higher amounts of the active ingredient.
After applying the gel, the dentist aims a unique heating lamp at your teeth for 3 to 20 minutes intervals and reapplies the gel between intervals. A protective barrier keeps your lips, gums, and tongue away from the brightening gel, so the gel stays on your teeth alone.
Though teeth whitening is totally safe, temporary tooth sensitivity and gingival inflammation are the most common side effects you might develop from it.
That said, other popular teeth brightening DIYs such as activated charcoal or lemon juice may have adverse effects.
Activated charcoal and baking soda are abrasives. They work by scraping off stains stuck on your teeth—if they work at all. This scraping might take off healthy enamel, leaving your teeth prone to sensitivity. Lemon juice and apple cider vinegar are acids that can weaken and damage your enamel.
Can yellow teeth become white?
Yellow teeth are caused by several factors such as:
Diet:
The computer term GIGO (Garbage In Garbage Out) applies here. Things you eat can color your teeth. Foods high in tannins, such as red wine, can cause yellow teeth. Other foods that can discolor your teeth are coffee, tea, berries, etc.
Smoking:
Smoking is one of the top causes of yellow or brown teeth. The tobacco present discolors and stains the teeth.
Medication:
Particular medications cause yellow teeth, like cancer patients undergoing chemotherapy for head or neck cancer may develop yellow teeth. Other drugs like tetracycline or prescriptions for asthma or high blood pressure can cause yellow teeth.
Poor oral hygiene:
Not taking care of your teeth well enough can have you develop yellow teeth.
Age:
Even the most diligent brushers and flossers can still develop yellow teeth simply due to aging.
If you've developed yellow teeth due to any of these reasons, you can rectify this issue by whitening your teeth. However, you should consider the cause of your yellow teeth together with your teeth whitening expectations.
Things to note before whitening your teeth
You should only whiten your teeth if you have a healthy mouth situation. If you have cavities, periodontal disease, or other oral health conditions, whitening your teeth isn't the right choice for you. Also, if you whiten your teeth just after having your teeth cleaned at the dentist, you'll be whitening your enamel instead of the tartar or buildup on it.
Hence, it's good to have a thorough oral examination done by your dentist before performing a whitening procedure on your teeth. Consulting your dentist before choosing any brightening method will be highly beneficial to you and your teeth. Your dentist can recommend the best teeth brightening method that suits your needs and meets your expectations.
You should, however, note that the time it takes to safely brighten up your teeth depends on the type of discoloration you have and the method chosen to whiten your teeth.
Something else to note is that you can't permanently whiten your teeth. You'll still need whitening treatments every now and then. Also, these teeth whitening products are meant for natural teeth only. If you have dentures or implants, you'll have to discuss the best way to get a uniform color with your dentist.
Here are 10 of the best teeth whitening kits to splurge on without further ado.
10 Best teeth whitening kits that are safe enough to use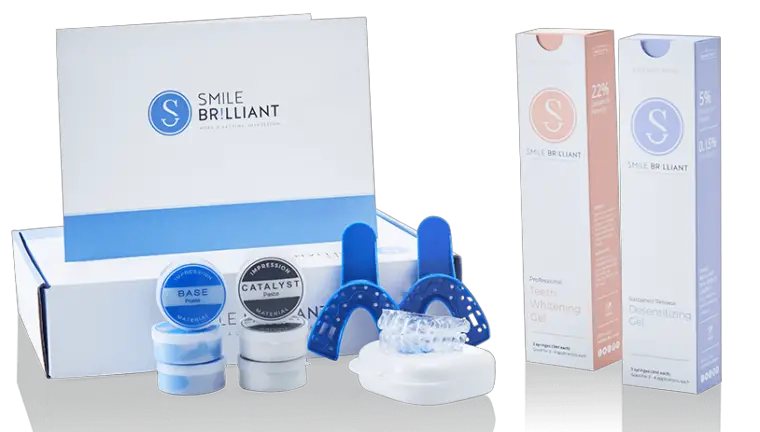 The Smile Brilliant Professional Teeth Whitening Kit looks like a dentist's office in a box. It features a tray format that fits the teeth and allows for better contact between the bleaching gel and your teeth. It also comes with the option of regular brightening gel or sensitive brightening gel, especially for those with sensitive teeth.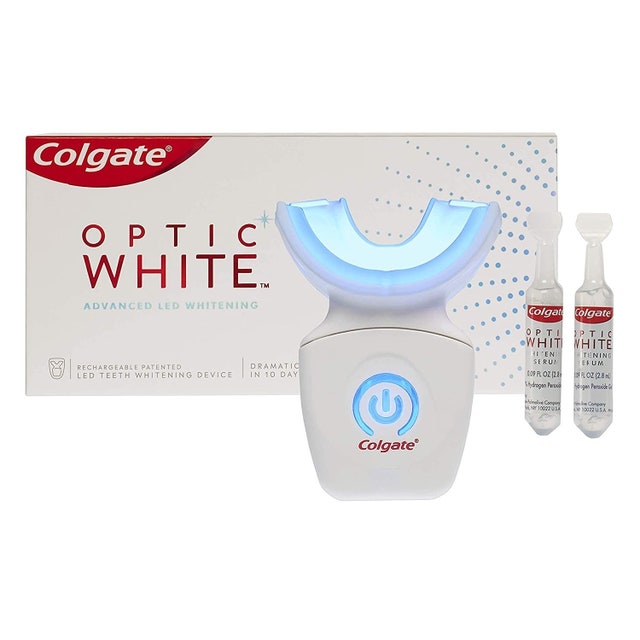 This at-home kit boasts of a combination of LED whitening light with blue light technology which activates the stain-removing hydrogen peroxide gel. With this, you're set to showcase your newly brightened pearly whites.
It features a rechargeable tray that you'll use to apply the gel to your teeth, making application easy.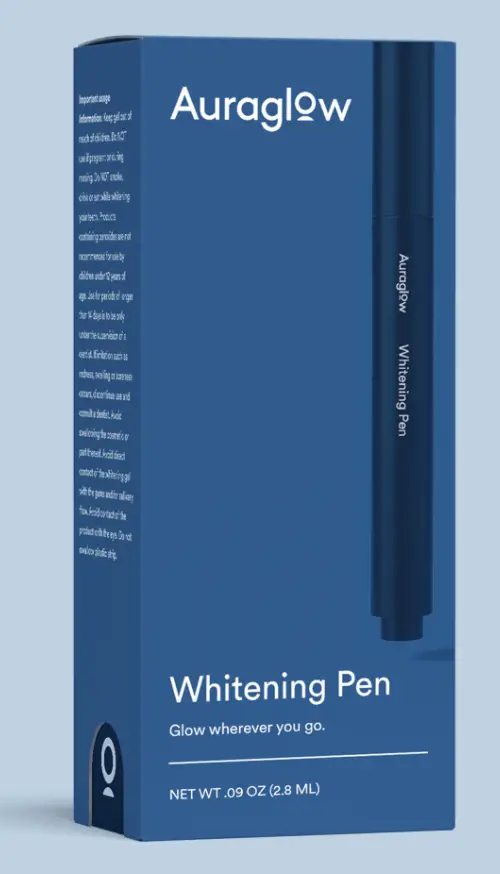 If you'll be on the road and are looking for a quick fix, the AuraGlow Teeth Whitening Pen is the best whitening tool you can use. You can coat your teeth quickly with it quickly and easily and still get great results.
Here's an easy-to-use and very portable teeth brightening kit. All you have to do to get a radiant smile is brush whitening gel on each tooth with the aid of the portable brush, and you're good. The flexible bristles of the brush help you hit the crevices between your teeth, making removing stains relatively easy.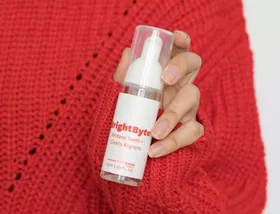 This is a 3-in-1 foam cleanser, whitener, and breath freshener, so your entire mouth is well taken care of. Byte BrightByte is safe enough to use with Invisalign or any other type of clear corrective aligners. So you both get straighter and whiter teeth, the best of both worlds.
Looking for a sustainable, eco-friendly teeth brightening kit? Look no further than Bite Whitening Gel Teeth Whitening Kit, the eco-minded best teeth whitening kit. It features a glass bottle that comes complete with a compostable brush, making application quick and easy.
It has a vegan peroxide-based formula that is gentle enough to be used by those with sensitive teeth. Gentle, yes, but effective. Apply it for two minutes, twice a day, and watch it work its magic.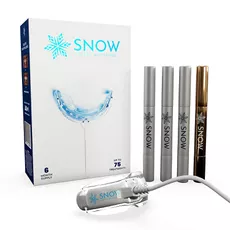 Snow Teeth Whitening Kit With LED Light effectively breaks down dark stain using the combination of a unique wavelength of light delivered through the mouthpiece combined with the brightening gel. As an added bonus, it is safe to use for those with sensitive teeth, braces, caps, bridges, and crowns.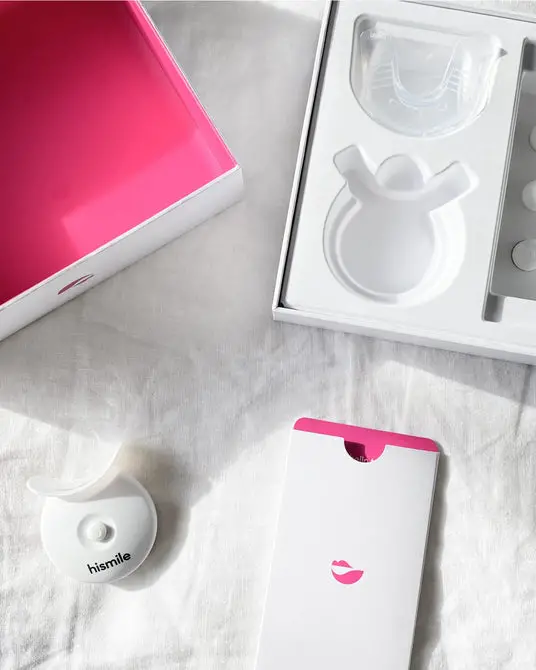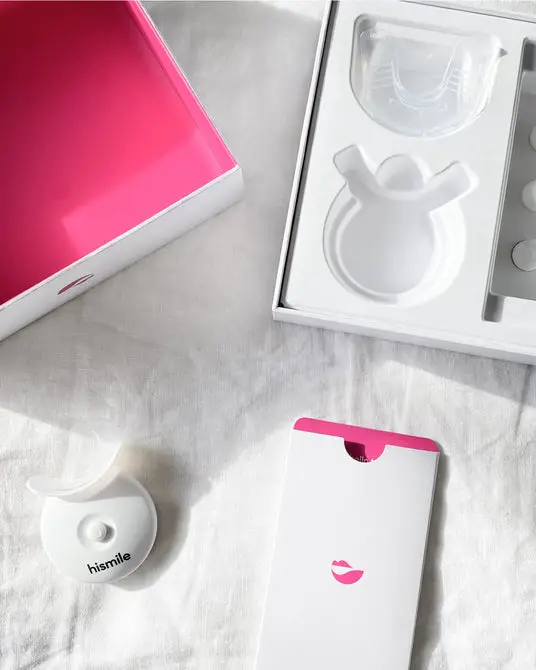 Hismile teeth whitening kit is an easy-to-use, peroxide-free teeth brightening product. It bleaches and brightens your teeth using three enamel-safe ingredients:
Hydroxyapatite (nHAp) rebuilds the protective layer of teeth and replaces lost minerals.
Phthalimidoperoxycaproicacid (PAP) whitens teeth without sensitivity or gum irritation, unlike hydrogen peroxide.
Potassium citrate helps reduce pre-existing sensitivity and provides long-term protection.
Though peroxides are usually the active ingredients in teeth brightening products, they tend to cause teeth sensitivity which can be painful and uncomfortable. But Hismile teeth whitening kit was designed with no peroxide, yet it delivers powerful results while causing zero sensitivity.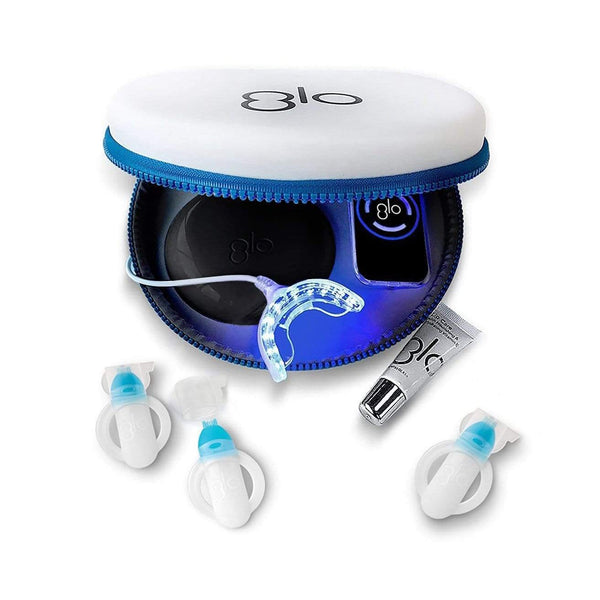 Feel better about your smile when you brighten them up using GLO Brilliant Deluxe Teeth Whitening Device Kit. It uses the combination of LED lights and heat to activate a specially formulated gel that visibly brightens your teeth with the added bonus of no sensitivity for most people.
Glo Brilliant Deluxe Teeth Whitening Device Kit comes with a lip balm you apply both on the inside and outside and also on your gum if you have sensitive teeth to protect your gum and teeth. It also comes with a built-in timer, making the application simple and easy.
Application takes only 8 minutes, and you're advised to do 4 consecutive rounds of application for 5 days for the best of results.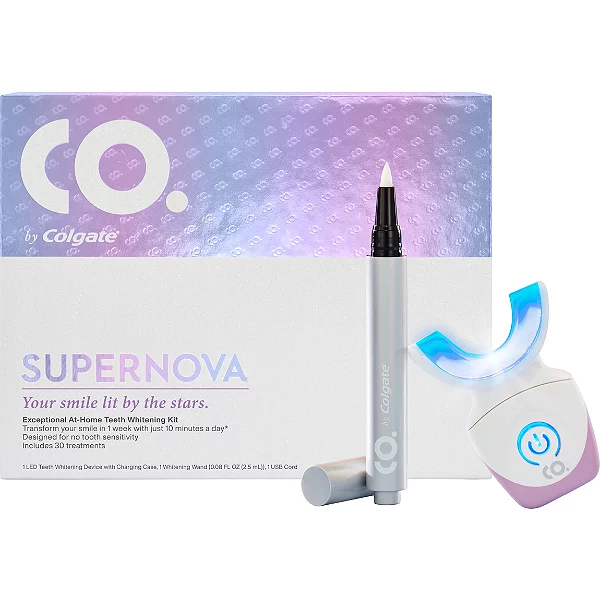 This at-home teeth bleaching kit boasts of brightening your teeth without causing tooth sensitivity. It uses a simple yet effective method of removing stains from your teeth. First, apply the easy-to-use whitening wand, then wear the LED mouthpiece for about 10 minutes. An at-home teeth whitening kit that gives your teeth a radiant glow-up in 10 days.
Conclusion
The best teeth bleaching kit will always put your comfort. First, it'll brighten and whiten your teeth with zero to minimal gum irritation or tooth sensitivity. Whitening your teeth is safe, and you don't have to break the bank to get it done, thanks to at-home teeth bleaching kits. Can't wait to get your hands on one? What are you waiting for then? Try it out, and let us know how it goes in the comments section.
You may also like to read, 15 hottest long layered hair cuts and styles in 2022.