Drinking plain ole tap water has forever gotten a bad rep as bland, so we have always found ways to improve it enter water ionizer to save the day. 
Water ionizer was first made famous in east Asia and Japan, and its praises soon took it across the globe to Europe and the U.S. It might not be living up to the hype regarding health claims, but it has undoubtedly enhanced the taste. The popularity has helped water ionizers to garner more fans and double the sales with thousands of reviews and ratings.
It is a great way to enjoy without all the fizziness. So, if you're wondering why you need one in your home or are curious about the trend, stay here. This article delves into what water ionizers are, how it works, the best in the market, and how to choose one. 
What is a Water Ionizer?
This is more famously known as the alkaline ionizer, an appliance suitable for the home that promises to increase the pH level of water for drinking—utilizing electrolysis to separate the regular water into alkaline and acidic elements. The successful separation changes the final water for consumption.
This electrolysis procedure affects the water structure, large to small bioavailable water clusters. In simpler terms, separating the water is to remove the hydrogen and oxygen elements present in water. This helps to create an alkalinized water rich in antioxidants, pure for drinking.
Several people claim that drinking alkaline water will give your body the same benefits as alkaline diets. These claims received several arguments because they operate on different principles. So, due to research, medicine does not back the claims of similar benefits. 
How Does Water Ionizer Work?
Water ionizer works by allowing water from the tap or other sources to flow through the internal filter. It usually looks like a tube; there, it begins to improve the water quality before passing through the plates. The ionizing takes place here since the water will have a low electric voltage current passed through it to enable it to purify further.
That's because the current helps to attract impurities and divide them into two (acid and alkaline streams).  This process is made possible because of the ionization of electrodes to form the negative and positive ions. In the resulting water, You should only consume alkaline water. You can use the acid water for external use like watering your plants or cleaning your environment.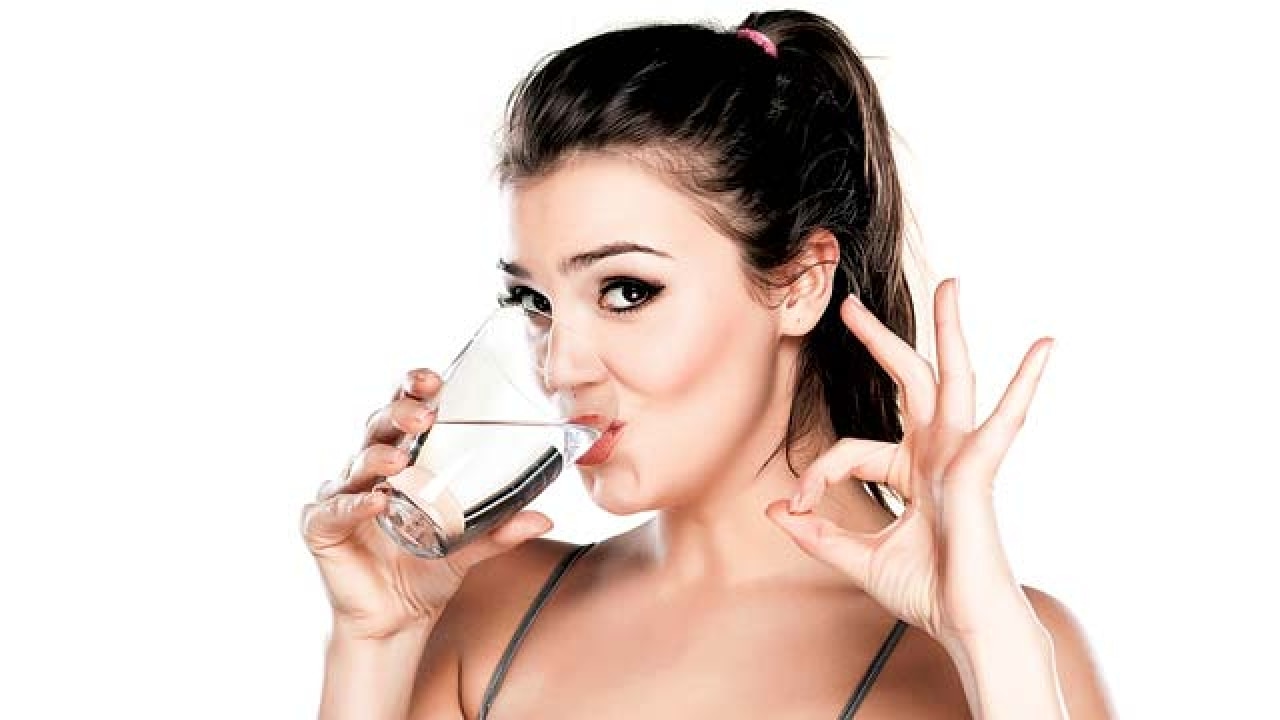 source: DNAIndia
What to Consider When Buying a Water Ionizer
With the plethora of water ionizers available, choosing might be overwhelming. Below we list some things to watch out for to help you make the right choice. 
Size: If you don't have a lot of space in your kitchen, then the size of the ionizer might be of concern. You can go for under-the-counter types to save space or a small compact design if you plan to leave them on top. When the size is not the issue, you can go for any top-quality ionizer that suits your demands. 
Filter: The filter's efficiency comes into question when you are trying to buy a new ionizer. Different models and brand have their unique filters, but an efficient one should eliminate all kinds of contamination within a short time. It should also last at least six months before needing a change. 
Water pH range: One of the main reasons for buying a water ionizer is to increase the pH of your water. The higher the pH, the more the water will have alkalinity, which will have more benefits. So, any water ionizer you choose to buy should be able to increase the normal pH range of 7. 
Ease of installation: You will need to watch out for the setup of the ionizer you are buying. If you don't mind doing minor plumbing and mechanical work or paying for the service, you can go for any kind. However, when you don't wish to spend more time fussing over the device, then you need to get one that comes already assembled. 
Budget/durability: Most water ionizers are expensive, so they must be durable and worth the money. If you are on a budget, you can still get quality products in a smaller size. It doesn't hurt to set a price range to help narrow the search. But when money is not, the object splurge a little to get the best quality water. 
10 Best Water Ionizer For Home Everyone is Buying
The water ionizers that made it to the list are here because they tick the boxes for practicality and durability. We also checked for their ease of installation and use and their functionality. Be assured that any ionizer you pick from this list is worth buying based on research and reviews. We present the ten water ionizers you will love.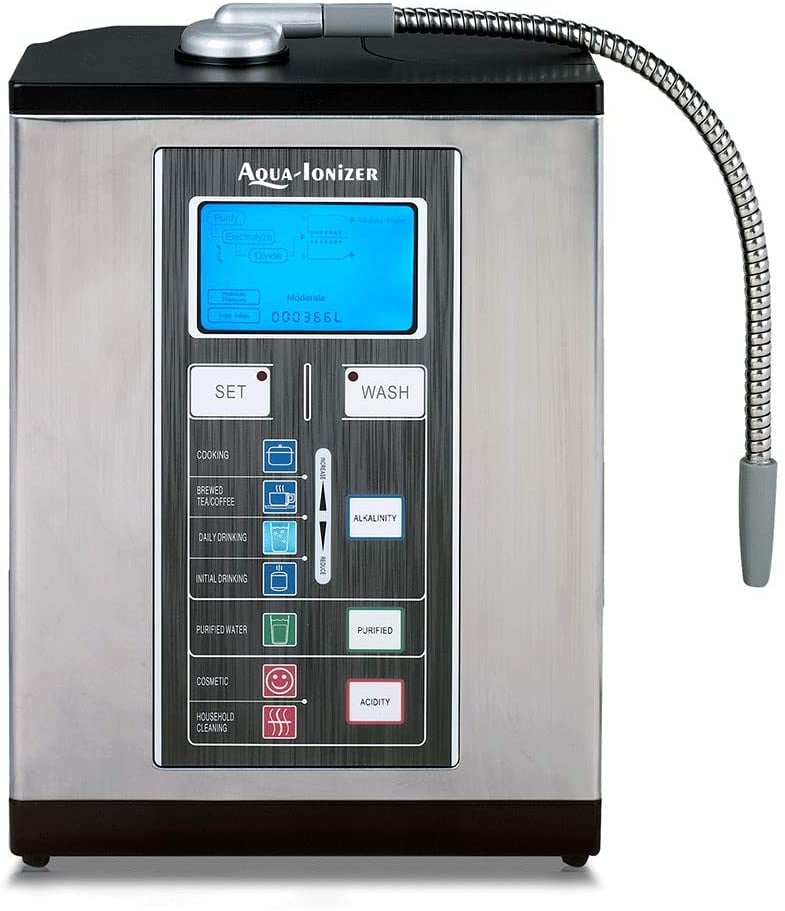 courtesy of brand
The aqua ionizer is a star product with the versatility of staying below or above the counter, with seven settings. You can increase or decrease your alkalinity to add a rich antioxidant to your water. What makes it powerful is the strong filter that comes with it, which can work through 4000 liters of water before needing a change.
Do not let the specs of this powerful ionizer fool you, as it is easy to install. That's because it has clear tutorials, instructions, and necessary pieces you will need to do 10 minutes max install.
courtesy of brand
If you are always on the go, you need this filter pouch to get your alkaline water fix. Many reviewers have testified to the change in water taste. Its compact packaging makes it easy to carry around and can serve approximately 16 gallons of water. This innovative packaging proves you can enjoy alkaline water anytime and anywhere you are.
One reviewer on Amazon claims that using this filter pouch combined with an invigorated living bottle helped ease heart burns, so if you wish to drink alkaline water wherever and whenever, you should get this compact water ionizer. 
courtesy of brand
Tyent water ionizer presents a great way to enjoy alkaline water like a pro. It is designed to say under your kitchen counter with a stylish sprout that comes above without disrupting anything. It features a sleek touch screen to aid in getting water however you choose. 
The appliance works efficiently without making much noise to create alkaline and acid water from different faucets. This water ionizer makes this possible with its premium electrolysis plate to produce excellent water quality. Your DIY skills might not be enough to install the appliance, so get someone to set it once for a lifetime, guaranteeing a variety of ionized water
courtesy of brand
The Vesta H2 is another model from the AlkaViva ionizer product series that includes The Delphi H2, Melody II, Athena 2, and this featured Vesta 2. Slight differences separate the four products, with their pH range and number of electrodes. The Vesta 2, like all the other models, has hydrogen to combine with the ORP and pH power.
When tested by NSF for water quality, it showed that it could remove over 200 possible contaminants in water. Such ultra-filtration is the one you need for everyday living. You can also rest easy because the water ionizer is self-efficient in cleaning itself and protecting its electrodes from burnout.
courtesy of brand

One first look, the prize of this ionizer might throw you off, but if you value quality, it is one of the best. When considering how efficient this model is, the price point is excellent for all the functions it offers. It is also durable, meaning one buy could last you for many years. You only need to clean the service and change your filter from time to time. 
courtesy of brand
This water filter delivers everything an ionizer should do. These include healthier water, and a great water flow, all for a great price. The water flow is one to reckon with as you will hardly find other products that top it. It comes with sediment filters that ramp up the effects of the assembled system. This helps the filter produce refreshing and clean water. The installation is relatively easy to achieve for such a powerful appliance. 
courtesy of brand
It doesn't get better than using the Bawell ionizer to purify all your water. The machine effortless makes alkaline and acidic water readily available on demand. This is made easy with the display screen to choose your preferred ORP and pH to get the perfect water you need.
Ensure water pressure is up to 20 psi or above to get your device working at total capacity. That's because you cannot install the machine under the counter. With that sorted, you can enjoy your purified water in different modes without stress.
courtesy of brand
This pitcher proves you do not always need an appliance installed in your home to enjoy ionized water. If the reviews are anything to go by, then you can be sure of buying a fast alternative to enjoying quality water. It gives you clear water without any aftertaste just by filtering your water with the pitcher.
 However, it ensures you read and follow the instructions on how to attach the lid back when you take it off. The cover should rest on the inner funnel, so it doesn't leak water. You can safely use this pitcher, which is a more affordable option, without requiring a water ionizer machine. 
courtesy of brand
With the Pure hydration appliance, you can enjoy ionized water with a turn tab like your everyday tab without electricity. The battery is live, which is all this appliance needs to give you ionized water on demand. While you may not get the display of pH, you can rest assured of getting good quality water.
Its filtration process involves four cartridges to ensure it gets rid of up to 99% of possible contaminants. The device also has a sleek design that can easily blend into the décor of your space. 
Benefits of Water Ionizer
The appliance is retailed with the marketing tagline of improving your health. With that in mind, below are some benefits of a water ionizer.
It does a better job of keeping you hydrated than regular water. Because of its larger molecules, the cells do not quickly absorb ionized water.

Combining alkaline water and diet might prevent cancer.
Alkaline water can slow down the signs of aging. Since the water is rich in antioxidants, they might prevent the growth of free radicals, which fasten aging.
It can boost your energy levels, especially during workouts.
Ionized water can ease the harmful effects of consuming acidic foods, as it helps lower the stomach acidity level, leading to gastrointestinal problems.
It contains minerals, which improve the immune system and reduces infection risk. These minerals can also help promote healthy bones.
Although alkaline water has several benefits, science does not support it and regards it as a marketing buzz. That's because consuming ionized water may not show any change in the body, but since we all differ, it might affect some people.