The answer to your take-out cravings just got delivered at home with this instant pot Mongolian beef recipe. Get your pans and tummy ready for this yummy meal that is chef-certified restaurant quality. 
Who doesn't love a tasty take-out dish? I do, and after years of ordering instant pot meals, I have devised a recipe that works. However, Instant Pot Mongolian Beef has taken a soft spot in my heart because of the tender and juicy beef. 
So, instead of ordering weekly, you can try this fantastic recipe that surpasses the restaurant-bought ones in taste and flavor. Get ready as you will be infusing the beef with a sauce mixed with garlic, ginger, and some brown sugar, with some heat and the correct dose of tanginess. 
Your taste buds must be watering; not to worry, I will get right into the recipe.
What is Mongolian Beef?
Mongolian beef is a popular Chinese dish classified as an entrée cooked with flank steak beef. It originated from the Shandong Province, where the locals compared the taste to Mongolian barbecue hence the name. The beef-based meal features brown sugar and soy sauce, a base combined with vegetables, usually green onion.
It is a juicy and savory dish you can eat as often as you wish. The instant pot attached to the dish is because it is a straightforward way of cooking in the pressure cooker. 
Instant Pot Mongolian Beef Recipe 
Before I get into making the instant pot Mongolian beef, you must know a few things about the recipe. The usual way of cooking Mongolian beef is stir fry, a fast method, but this is where you might get it wrong and end up with rubbery meat. So, how do you ensure the beef gets infused with all the flavors?
It is all in preparation. The ingredients matter a lot. The best beef parts to use are the flank steaks and top round. It would help if you got the right beef cuts for the dish; before slicing, place the meat in the freezer for 20 minutes to help with the shape. It makes the beef easier to cut; ensure you slice against the grain to get thin slices. 
The show's star is corn starch, which I bet you didn't know. Shaking your meat in corn starch, allow to sit for a few minutes before cooking. This gets called velveting, ensuring your beef turns out tender in a professional setting. The flour will not work for this recipe, so don't see it as an alternative.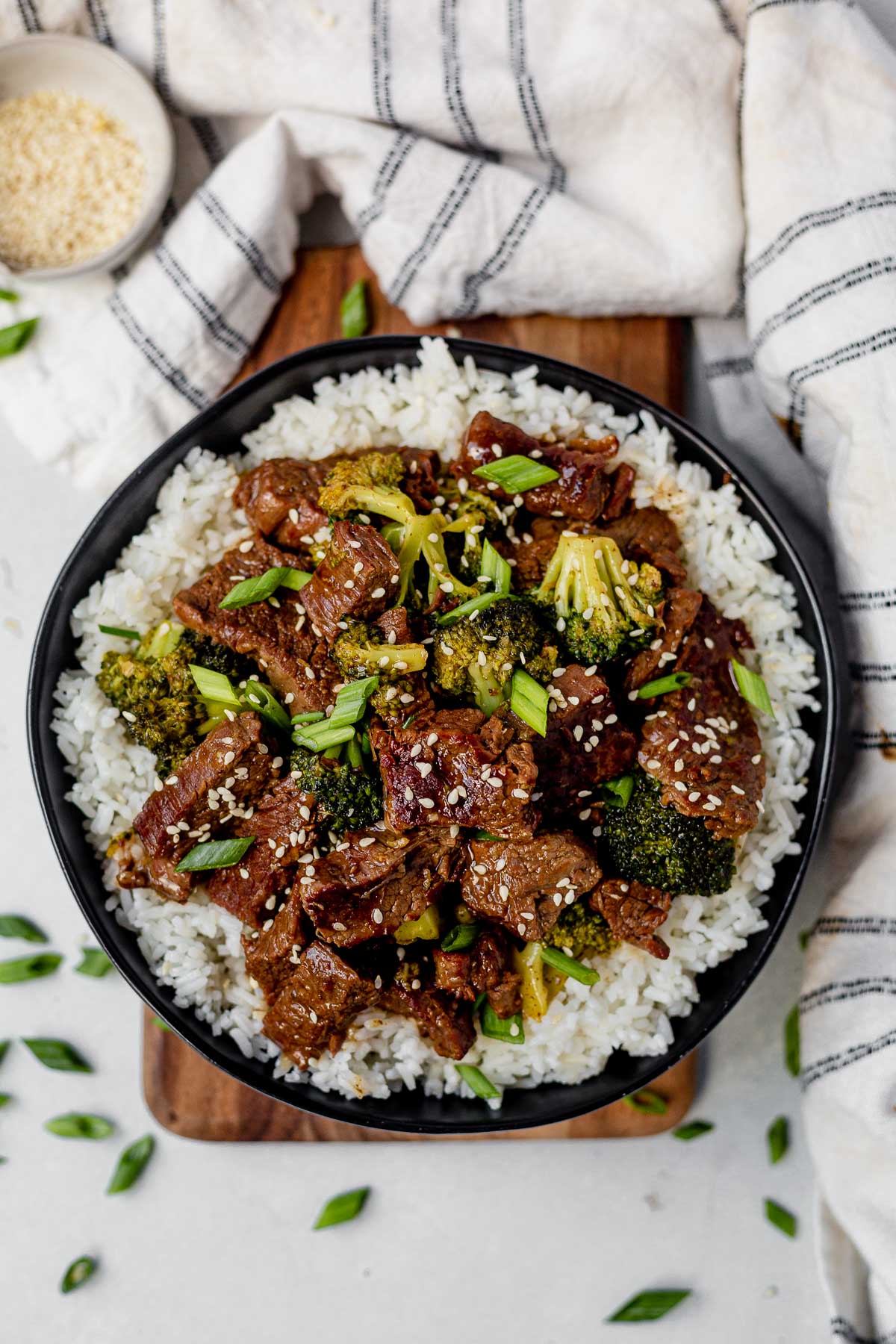 Read related articles: 
–Scallop: Everything You Need to Know About this Delicious Seafood
–2021 Top 10 Most Searched Foods On Google That I May Try In 2022
–2022 Best 15 Alcoholic Sweet Fruity Drinks For Women + Recipes
Ingredients for Instant Pot Mongolian Beef
Here are the supplies you will need to make a successful instant pot Mongolia dish. 
The meat: You need Flank steak, which you will cut into thin strips. 
Fresh garlic: Minced.
Fresh ginger: Minced.
½ Water: You will need a small amount when making the sauce.
Olive oil:  is preferred for searing beef, but you can also use sesame oil. 
½ cup Soy sauce: For color and flavor. A great alternative is coconut aminos.
Brown sugar: Get two-thirds of a cup.
Rice Vinegar: For some tangy flavor. 
4 Green onions: Cut into large chunks of about 1inch.
Red pepper flakes: That's for a much dash of heat and flavor. I recommend 1/8 tablespoon, but you add more to suit your taste. 
Corn starch: is a vital ingredient for the dish; the only substitute that comes close is the arrowroot powder. 
Sesame seeds: For garnish. 
How to make Instant pot Mongolian Beef
It is pretty easy to make this dish, so I have broken it down into steps. For each stage, you can incorporate your style. The overall cook time for instant pot Mongolian beef is 30 minutes. 
Step 1:
Prepare your beef and the sauce
Place your beef strips in corn starch mixed with little water and allow to sit for five minutes. You can use this time to make your sauce. Add your brown sugar, red pepper flakes, minced ginger, and garlic to a small bowl, and mix. While mixing, add some water with the soy sauce and rice vinegar and set the mixture aside. 
Step 2: Sear the beef
Before searing:
Ensure your instant pot is in a sauté setting.

Add your oil of choice and wait till it's hot before adding your beef.

Add a few strips, as you don't want to overcrowd the pot; it will steam the meat instead of searing it.
Please take out the beef when it is nice and brown on both sides. Add the next batch and repeat the process until you sear all the meat.
Step 3: Pressure cook the beef
Now that all the beef has been seared add everything to the instant pot. Pour in the sauce you set aside earlier and stir together. Set your cooker to high pressure, close the lid, and allow to cook for 10 minutes.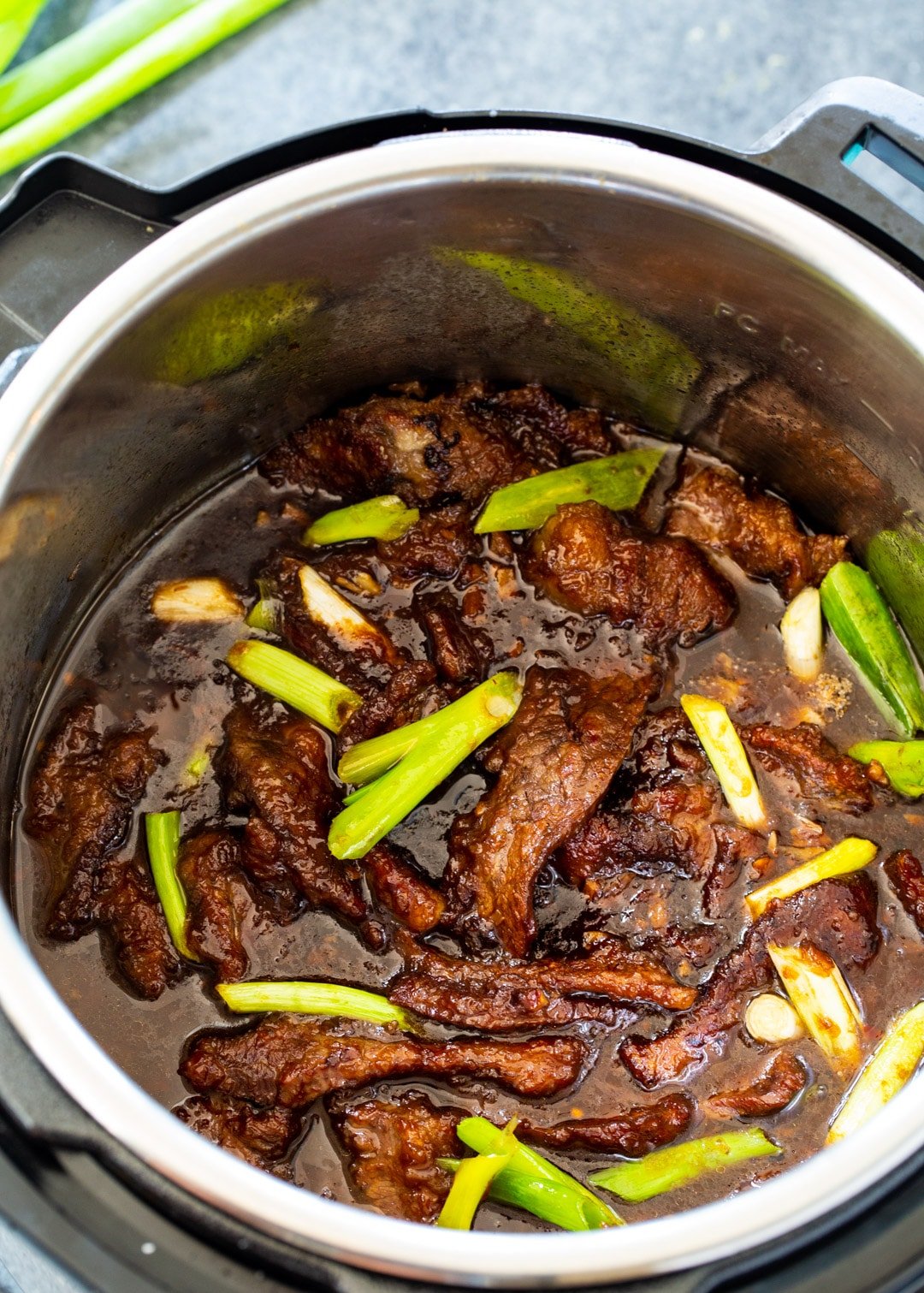 Step 4: Depressurize
At the 10-minute mark, use the quick release feature to depressurize the instant pot. If it is not thick, add a small amount of water and corn starch mixture and allow to simmer. Add your green onions, and mix, before garnishing with sesame seeds. Your instant pot Mongolian beef is ready to be served. 
What Can I Serve my Instant pot Mongolian Beef With?
The obvious pairing is with rice white or brown. Instant pot Mongolian beef also pairs well with Jasmine and basmati rice. You can also serve noodles, from ramen, soba, and even rice noodles. If you don't want to eat with carbs, you can take the green route and serve with steamed vegetables. Another great pairing is with classic egg drop soup.
Can I Slow Cook Instant pot Mongolian
Beef? 
If you want ultra-tender meat, you can always make your Mongolian beef slow cooker style. Follow the same step, do not skip searing the beef parts, as it is significant flavor-wise. You can do the searing in a skillet before placing it in the instant pot, mix the sauce, and slow cook.
The time and setting are also crucial. If you cook on low heat, allow it to cook for up to 5 hours. When cooking in a high heat setting, you should only cook for 3 hours. 
What if I don't have an Instant pot? Can I still Make Mongolian Beef?
You can make Mongolian beef over a stove if you don't have an instant pot. It is almost the same process, but you must do some things differently. 
Cook the beef: Get your thin strips of flank steak and mix in the corn starch; make sure it coats all the sides. Allow sitting for a few minutes before you prepare. Place a small amount of oil in a saucepan and heat up before adding your beef. Fry until each side of the meat is brown and take out. Lay the beef on paper towels to absorb the excess oils from frying. 
Make the sauce:
Get a smaller pan to start making your sauce.

Over medium heat, add two tablespoons of oil, add your minced ginger and garlic, and stir for about a minute to release the flavor.

Add a small amount of water, brown sugar, and soy sauce for about 10 minutes until it thickens.
Add the beef: With the sauce still in the pan, toss your beef into it, mix, and cook until it thickens further. It should take about 2 minutes for the sauce to thicken correctly. When the dish is done, add your green onions, and stir. 
Garnish: Sprinkle some sesame seeds to garnish and serve. 
Can I use Chicken Instead of beef?
Well, the dish can no longer be called Mongolian beef, but the recipe works just fine with Chicken. Get parts of the Chicken like the breast and thighs that have enough flesh to cut into thin slices. They can also absorb many flavors, follow the same steps for the beef, and you should get the same results. Another great substitute for beef in this dish is pork loin, which packs lots of flavors.
How to store Mongolian Beef?
One of the most frequent questions I have heard is can you freeze Mongolian beef? You can; keeping your Mongolian beef in the freezer is the best way to store it. You can also leave it in the store in your fridge, but it will only last for three days. When frozen, it can last for up to 3 months.
To store your Mongolian beef, place individual servings in airtight containers; this will reduce the thawing. Whenever you feel like eating, reheat with medium heat on a skillet, over a stove, or place in the microwave.
To add some flavor to the dish, you can choose to add broth or water as you reheat when using a skillet. It also ensures that the sauce does not cook off much. 
Also, read related articles: 
–10 Best Water Ionizers, Reviews, Price, Benefits, And Features For Your Home
–17 Benefits of Detox Drink
–10 best Carla Hall recipes for healthy eating