If you never thought you would hear of the word lamination with respect to a body part, then think again because brow lamination is taking over the beauty space. While socials are buzzing over it, we can't deny the shiny effect that it gives your brows.
Sought after as an alternative for micro-blading, this is one procedure that tends to solve all issues your brows might have, from scattered hair to the spaces in between. It also promises to give you the brows of your dreams, so before you book a session, read on to get the low down on this avenue to getting semi-permanent slicked brows.
What is brow lamination?
Brow lamination is a non-invasive procedure; it is also called brow perming. The process does not require the use of needles or dye colors. A setting lotion is used to redirect all thin hairs, lift them, and make them smooth while staying in one direction. The result is fuller brows with a shiny and gel-like look.
How is the procedure done?
After selecting a professional artist to carry out the procedure, you do a patch test just to be sure you won't react to the materials used. It is recommended to go for the procedure without trimming your hair so the artist will have more hairs to work with to achieve the best results.
The process to get uplifted shiny brows starts with the application of a special cream over the brows. This can alter the hair bond — after leaving it to set in for a few minutes, it allows the hair to be brushed and lifted into any shape.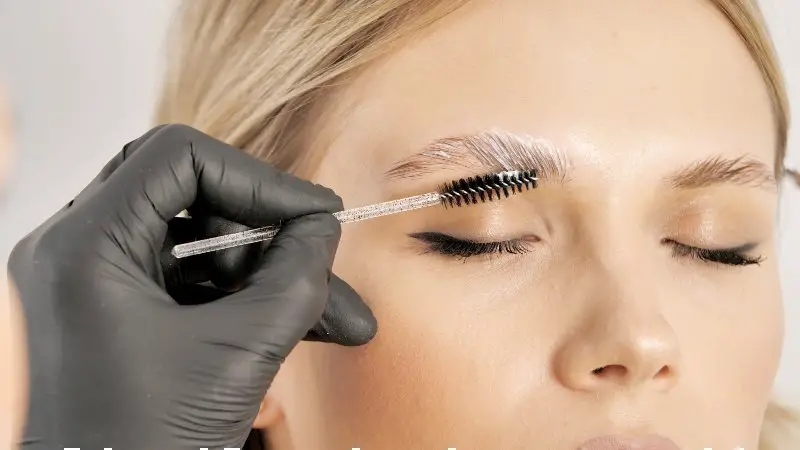 Once the right shape has been attained relative to your face and arches that are best suited to your face shape, a neutralizer is applied over the brows to improve the alteration and to keep the brows in a better condition.
Essential oils are applied to the brows to nourish the hair after the procedure. The entire process takes about 30 minutes. You can then ask for waxing or tinting to enhance the laminated brows if you want them more defined.
How much does brow lamination cost?
Brow lamination is one of the most affordable ways to enhance the brows in comparison to other procedures such as tattoos and shading. The procedure generally costs about $50-$100 for a session. This price range varies with each studio and location.
If you decide to go for the extra brow procedures such as tweezing and waxing, that will attract more cost to the original bill. Get the right information before booking any of the procedures.
The brows have a little staying power
The brows can stay lifted for about six weeks on average. For others, the results are still visible even on the eighth week. You can also use brow wax, a daily hair nourishment routine, to prolong the results so you don't rush off to book another session so soon.
 

View this post on Instagram

 
Aftercare
After the procedure, don't allow the brows to lose shape. Invest in a spoolie to brush and groom the brows daily. To maintain the results of the lamination, do not get your brows wet within the first 24 hours while you keep your skincare products away from the brows in the weeks to come.
Lamination is bound to leave you with dry hair, this is why you should perform a nightly ritual of applying hair enhancing oils to your brows.
Possible side effects of laminating your brows
The eyes are among the most sensitive parts of the body, thus one should be careful of placing any foreign object near them. The skin that surrounds the eyes is very thin, which makes it prone to reactions. Utmost caution must be used to avoid the product from spilling into your eyes — this can cause permanent damage to the organ. This is why you must choose a professional and also be ready.
The chemicals used for the procedure can also irritate the skin and cause inflammation, redness, itching of the skin, dermatitis, and eczema around the brows. Your hair is also at risk because just as over-perming of your hair causes dryness and breakage, it could also happen to the hairs of your brows. This is why you should always oil and moisturize the hair afterwards to maintain healthy brows.
Who can get their brows laminated?
Anyone who wants their sparse brows to appear fuller can go for a lamination procedure. A person with natural hair growing on their brows can enjoy this slicked-down brow trend irrespective of their face or eye shape. Just be sure of your allergies, this is where consultation and patch tests come in.
It is customizable to a person's hair so you may not get a bold uplifted brow look after the procedure. This doesn't mean it is not effective as a good artist will do brushwork unique to your face.
People with many gaps in their hair are advised to opt for micro-blading, but you should do a consultation with a professional brow artist before making any decision.