Art is expressed in different forms and is a way for one to express their inner creativity. Body paint is a form of body art where you draw patterns on your body with washable paint, paint clay, hennas, and dyes. It is now a trendy way to add amazing designs to the body, but usually on special occasions.
The most common is done just on the face. Whether you are opting for flowers or clothing pieces, your body can be used as a canvas to paint a masterpiece. If you do not fancy the permanent inking of tattoos, but wish to show a certain piece on your body then you should be looking at a paint job. Check out these ten designs that will inspire you.
1. Butterfly body paint
Butterfly paint never goes out of fashion. The delicate insect looks very graceful on the skin, especially since they naturally exist in stunning colors. A live butterfly will serve as a perfect inspiration for a unique color combination to paint on your body. You just have to decide how large the butterfly will be.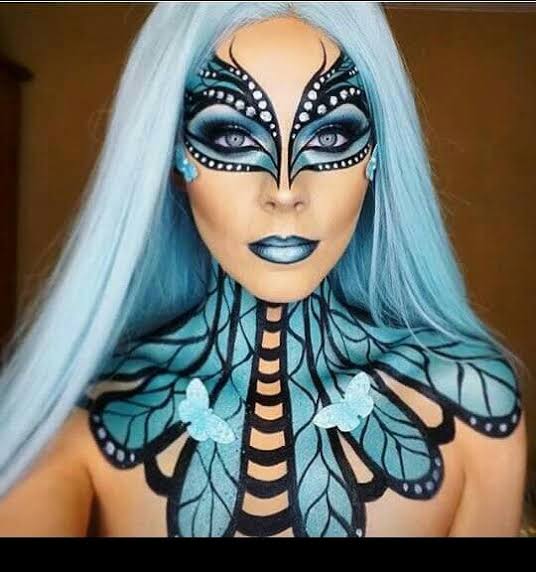 2. Abstract art
Get your body painted like you want to hang your body on the wall, like a normal canvas frame. From a mountain top to lines and strokes from a creative abstract mind, it will look beautiful and different from the average patterns that others paint.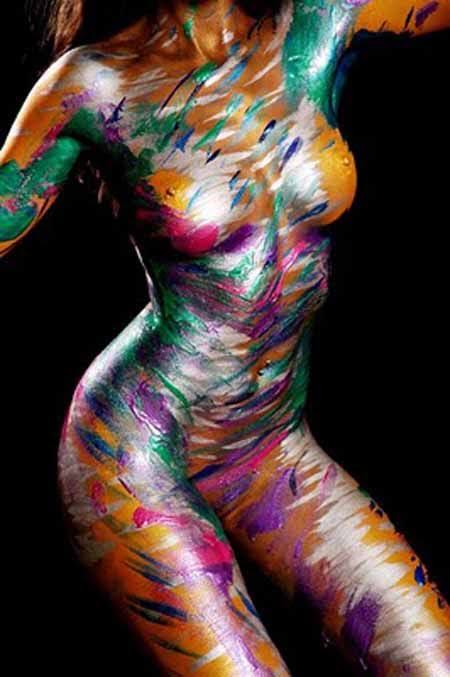 3. Bodysuit illusion
Body paint is a great way to give the illusion of being fully clothed. You can paint on a blouse and trousers, layered outfits with jackets, or a simple dress. Artists make it look so realistic that even when you're close to a person, they still cannot tell that it is just painted. It is a great way to flaunt your body in disguise.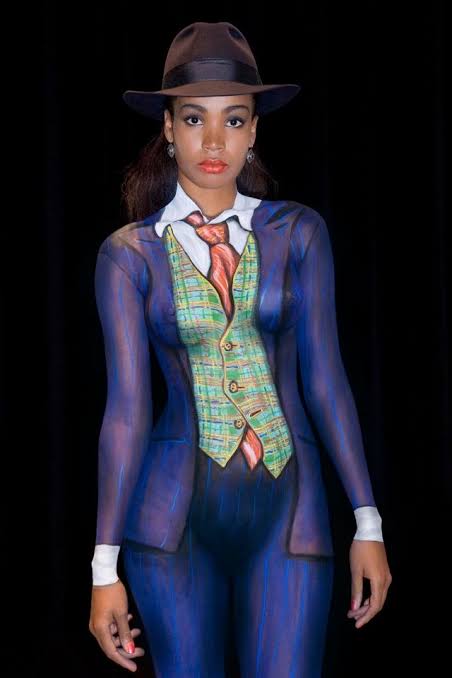 4. Ocean themed body paint
Combine different shades of blue to form the sea, and include all the cute creatures from under the sea. Paint them with vibrant colors to contrast the blue water base, add the seaweeds for some green. For extra details, you can paint on the water bubbles and rocks.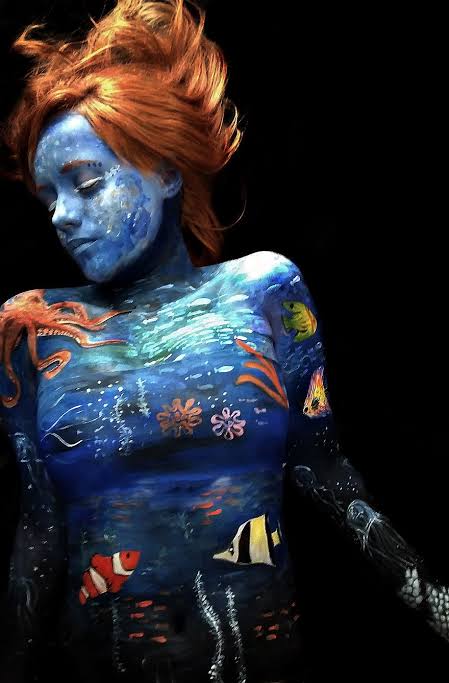 5. Superhero costume
It doesn't get better than painting the suits of your favorite superheroes on your skin. Be the perfect fangirl at parties with a piece like this. Walk around with the confidence and power that the costume holds. Villains will tremble by the sight of the new hero in town, and onlookers will be thrilled by the show.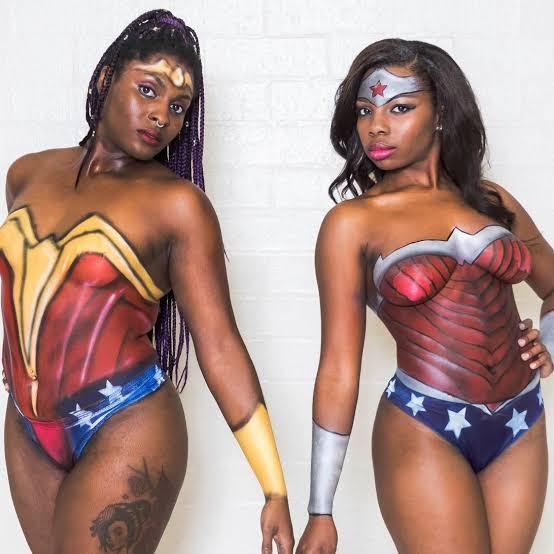 6. Blend in
You see a wall or spot you like, you can paint your body so that when you're close by, you can blend into the spot. You use it as camouflage or a way to scare people if you like that kind of a scene. It can also be a great theme for content to post on your socials. Look cool with an unexpected feature of you coming out of a wall.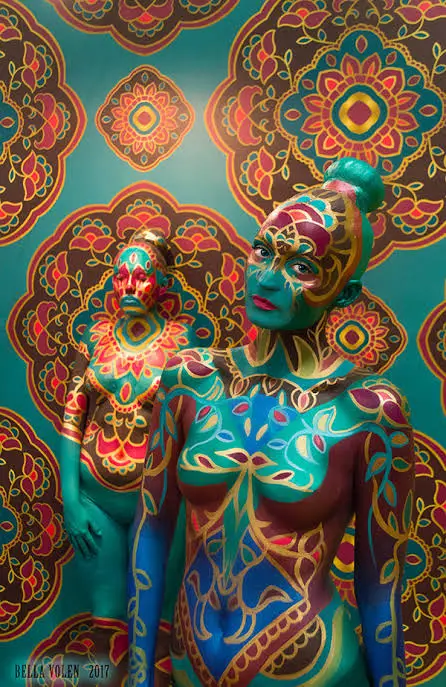 7. Animation themed
Get the fun on with a cartoon featured body paint. It may be a character from your favorite animated show or a random pick to display your playful side. Cartoon figures always look cute, with all the exaggerated shapes and colorful details that they include. Body paint presents the right opportunity to add its cuteness to your body.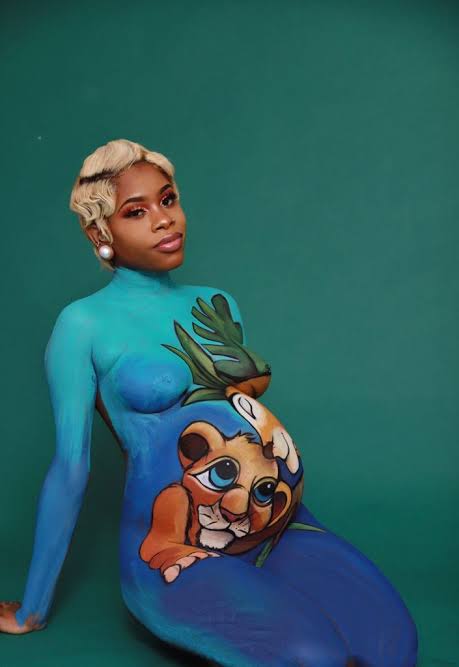 8. UV neon body paint
When only parts of your body are painted, it is only right to make it look remarkable. Paint your body with illuminating and bright colors so you can glow in the dark. The background should be dark, so the fluorescent paint will become auspicious on the body. You get to see plenty of such paints at glow party themes.
9. Exotic body painting
Use your outline to represent something exotic like a wild animal, flower, or nature at its very best. It depicts beauty, as there are many real or artificial art to draw inspiration from: the jungle, a waterfall, blooms, a cougar, cheetah, peacock, and all other things from nature. The vibrant colors will represent life and its beauty.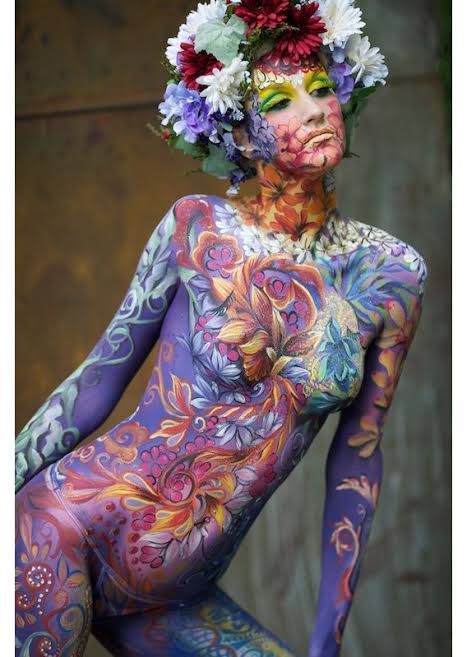 10. Galaxy body paint
Portray the beautiful galaxy on your body. The delicate female back is a great spot to let the stars and their host shine on your body. The design brings the sky close to you, and it can be a great learning point to some, which is also a good way to appreciate the wonders of creation.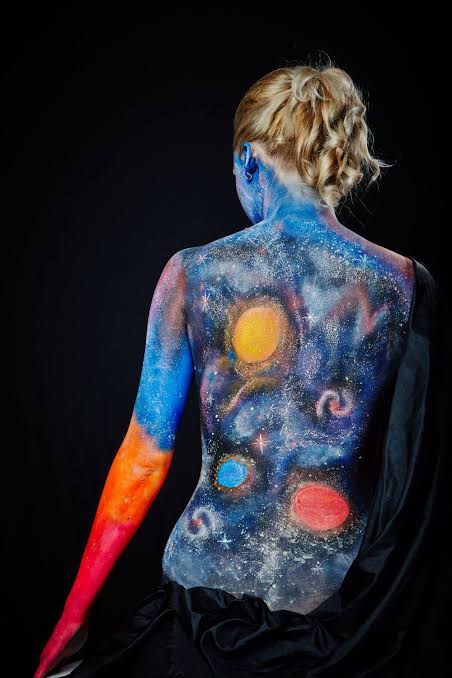 Body paint is done directly on the skin, and it only lasts for a few hours because it is not permanent like tattoos. It is a free form of expressing art on the body, with the liberty of painting your body in any color or design you wish.
It is a bold and attractive way to pass a message as being on full display speaks for itself. Are you inspired yet? You should try this as we are sure that after the first painting, you will be booking a repainting job soon.