So, you've got an old pair of jeans or a shirt you've grown out of, and you want to sell it. Selling on ThredUp is the fastest, easiest, and most effective way to sell clothes online.
ThredUp is a popular clothing resale site where customers can sell clothes, anywhere between 25% and 50% off retail prices. So how does Thredup work? And how much is selling on ThredUp worth? 
 Before you jump in and sell on ThredUp, make sure you understand what it is, who sells on Thredup, and how they work. The best way to do this is by reading our Ultimate Guide to Selling on ThredUp, which breaks down all of the details so you can know exactly how it works, why it's effective, and why it's viewed as a go-to for selling designer clothes and more.
What is ThredUp?
ThredUp is an online clothing resale marketplace that allows you to sell gently used and semi-new clothes, accessories, and home goods to others. ThredUp members from all around the world. Using this site, you can sell your extra clothing items for a small fee but they only ship and operate within U.S and Canada. The whole process of selling on ThredUp is straightforward.
Selling on ThredUp is a great way to get rid of your fabulous designer clothes, but you have multiple options. The process is simple and accessible. With free shipping and storage for some period of time, selling on ThredUp couldn't be easier.
Sellers can get started with a free account today by signing up. Then, they'll have access to the website to set things in motion in easy steps that take less than 10 minutes.
How Does Thredup Work? 
ThredUP is a company that helps people sell their old clothing, shoes, and accessories online. You can list anything from your old bridesmaid dresses to the last pair of Nike you've ever owned. Don't let the nostalgia of funky old clothes hold you back — you can make money selling on ThredUp. 
Everything on ThredUp is sold as is, but if it has some significant wear and tears, or if it's just too small/large for anyone else to want it anymore, then they will assess its worth differently depending on how much wear and tear it has.
Selling on ThredUp is easy, and they connect you with local buyers who will trade you cash for used stuff in your area (or anywhere else in the world). And best of all — there are no fees for listing or buying.
Thredup is the place to sell your clothes, shoes, handbags, and accessories. You don't need to list or photograph items! Fill a bag with the clothing items, send it in with a well-labeled description, and wait to see if it sells. When you mail in your apparel, it goes through a 12-point inspection.
If the items meet their quality standards, they get priced automatically and listed on thredUp for thrifters to purchase. They allow users to search for items by price range (new to $25-$100) or by style (clothing), then choose how much they want to bid on items.
After users submit a bid, they will receive an email notification if someone else has placed a higher bid for that item. If there is no one else bidding on an item within 15 minutes of the bid submission, they win the item. Users can also search for items based on their condition and location (local pickup or free shipping).
ThredUp customers get a seven-day reclaim window for $5.99. If you're over thredUp's suggested price by 50% or more, there will be an additional $5.99 fee (if the item doesn't sell). If unsold items aren't reclaimed by their original owners within seven days, they become the property of thredUp and cannot get returned.
There is also an optional Return Assurance service that allows items to be returned if they don't get resold; if some are accepted and others aren't, this fee is deducted from your total earnings.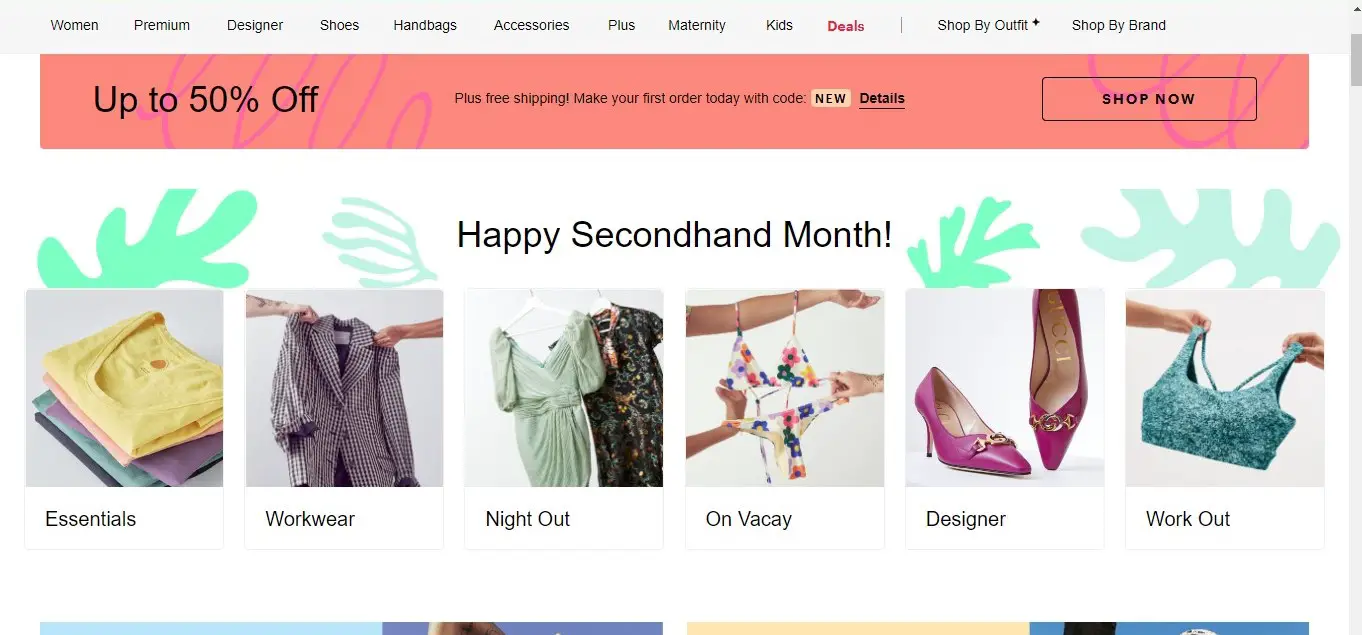 Is ThredUp Legit?
If you're like most people, you've got lots of clothes in your closet that you don't wear anymore. The site offers a wide variety of products and services — everything from buying secondhand apparel at a discounted price to selling your used items on the site.
The company was Co-founded in early 2009 by James Reinhart after he realized there was no good way for consumers to sell unused clothing in bulk online. ThredUp is a legal business in good standing based in Oakland, California.
ThredUp has become one of the largest online retailers of secondhand clothing in the United States. The company ships across Canada, offering customers various products. ThredUP also has an affiliate program where affiliates can earn commissions by referring new customers to shop at ThredUp.
Read more Guides:
–Backless Bra: Your ultimate guide to choosing the best backless bras
–11 Best Asian Market In Santa Rosa A Shoppers Guide
–The ultimate guide to getting to know yourself and your body
Why Sell Clothes On ThredUp? Is Selling on Thread Up Worth it?
There are several benefits when it comes to selling your clothing on ThreadUp. There is a broad customer base looking for people like you and your items, but there's also an opportunity to make even more.
On ThredUp, you can sell men's and women's clothing, shoes, and accessories. You request a free shipping kit, fill it up with your items, and send it off. They do everything for you – from taking photos and writing descriptions to listing your items and processing orders.
And the best part? You don't have to pay a thing upfront – they only take a commission once your items sell.
So, what are the cons? Well, your items can take weeks or even months to sell. And because they're handling all the marketing and customer service, you won't have much control over the selling process.
Additionally, TredUp imposes strict quality standards, so they might not accept every item sent. Overall, selling on ThredUp is a great way to make some extra cash with minimal effort. 
ThredUp Reviews from Real Users 
Like every business or product, there are always positive and negative reviews. However, most reviews do not represent the company in its entirety. On a closer look at most reviews, you will find that it might be based on high expectations or wrong communication. Below are some reviews on buying and selling on ThreadUp, that tilt on both sides of the scale.
One customer complained- "I've sent in bags several times- and always with high-quality clothing with some value. I have never received a confirmation email that my goods were received, reviewed, or sold. When I've checked the site, I see they have, in fact sold my items, and that I should have received a dollar amount/credit, yet only once in 5 years have I found this on my account.
The system they use, of eagerly taking bags of clothing and then mysteriously never notifying customers that 1. They ever received the bag 2. That they sold it and for how much, and 3. What that sale translates into (dollars, credits?) seems unethical. As a public company I'm confused how they get away with this model."
Another unsatisfied customer wrote-"Do not sell with ThredUP. I sent in 4 large boxes of clothes. A number of the items were high end designer, and they weren't listed correctly. For eg: Dolce & Gabbana top was listed as generic and priced as generic.
Armani blouse was listed as a dress. Many items weren't sized properly, and one Lilly Pulitzer top sold but I didn't get any money for it and they refuse to tell me why. Customer service is atrocious."
Other buyers had this to say- "This is a thrift store. I believe they have an ap, but I have only used the website. Each items condition is listed as either, showing wear, good or excellent. If an item is listed as excellent and arrives with pilling or defective zipper or ripped hem (I have received all) they do not charged the $2 per item restocking fee. I did pay to ship back.
However, they do not refund but give you a credit instead. But do not let that discourage you! I have received some lovely designer pieces including bags and boots. Know your measurements and check items measurements carefully. Know your brands and read the fabric content. Look very carefully at the photos before you buy.
They do ship quickly, and packing has improved. I try everything on immediately. Inspect for damage, then I wash on delicate or hand wash cycle. I had a cotton dress fall apart at the seams, I sent it back and received a credit. But you must send back in 14 days!"
Aother wrote-"I enjoyed the experience overall, but I wish they would have provided a return package with my clothes. The box that everything arrived in was pretty beaten up."
The company has replies to reviews, and this is an excellent example below.
"I've enjoyed Thredup but my last order (yep, I'm done) they put the wrong size (med) on the item in the post. I ordered based on that size and when it came the tag on the item clearly states it was a small. I returned the item and stated that I should not be responsible for the shipping fee since it was their mistake.
Nope – they returned it and charged me to return shipping it to them. This is the level of detail that distinguishes a really solid customer-oriented company with just a run of the mill. The devil is in the details and unfortunately, they got it wrong."
ThredUP Replied- – thredUP 
"Thank you for bringing this to our attention; we apologize for any oversights on our end. Our team strives to list items as accurately as possible & our Polka Dot Promise has you covered when things don't go to plan!
Please don't hesitate to reach out to our Customer Support team at reviews@thredup.com for assistance with an item that was listed incorrectly."
What Types of Clothes Can I Sell on ThredUp
ThredUp accepts all brands if the item has a brand tag. They also take things that are missing labels. This means that you can always find something new and exciting when shopping.
Their prices are based on the condition of the item, as well as the current market value. This means that prices can vary depending on the item and brand, but you can always be sure you're getting a great deal. So, you want to declutter only the best things as a seller and bid a fair price as a buyer.
Takeaway
Most people believe Tredup is more manageable than selling on some e-commerce websites. It has a reasonably great experience for both shoppers and sellers. If you're a thrifty shopper who finds yourself paying way more for clothing than you need to, thredUP is the site for you.
Its goal is to help people make money from their unwanted clothes. However, before you commit, visit the company's website for more information and keep an open mind if the service disappoints your expectation.