If you need your boobs to stay in place when wearing a sexy bareback piece, backless bras are here to save the day so you don't appear tacky with your bra straps showing. Here is a unique guide to choosing the best one for yourself.
The importance of wearing bras cannot be over-emphasized. They help to support the breasts and give shape fitting to clothes. The search for a perfect bra includes an ideal fit, comfort, and aesthetics. All these are basic since a woman's bra collection requires more diversity to suit the variety of modern pieces we have today.
A bra or underwear is needed to pull the look together for evening dresses, trendy tops, and even bodysuits with a backless style. If you are clueless about how to begin the search for a backless bra, do not fret, as this article got you covered.
How to choose a bra for your backless clothes
You have chosen a great dress or top, pleased with the design and entire appeal, but after one look in the mirror. You realize there is a problem, and the bra you are wearing is just sticking out and is not suited for the dress. The next logical thing to do will be to find a suitable backless bra, to help you slay in that outfit.
When you decide to start the search, there are a lot of bras to sieve through as they come in several shapes and styles, from low-cut bras to adhesives and stick-on. While most of the criteria are peculiar to individuals, there are few that most women can relate to, asides from the different breast sizes.
Functionality comes in next, as the bra needs to serve the purpose of buying it, which is to keep the breasts in place. The first thing on your mind should be the support of every bra regardless of how it's shaped. 

Then comfort comes in because while you try to get the best support, you will have to wear the bra for long hours. 
When you check out these two key factors, you already have an excellent start to choosing that perfect backless bra just for you. Aside from your personal preferences, such as color, the last thing to consider is the design features, which reduces the list to the bra that suits your breasts and body, and then you are ready to shop.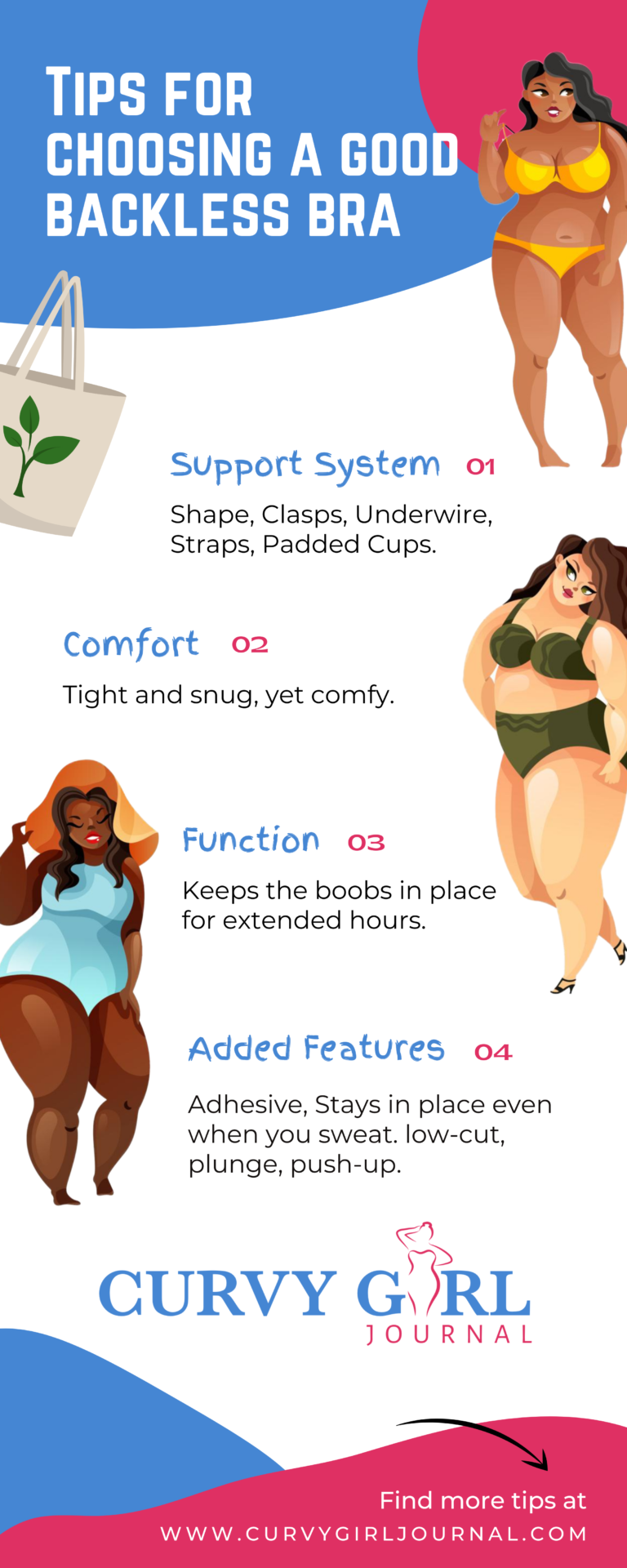 Related article: 27 High Support Sports Bras for Big Busts In 2022.
The best backless bras
Finding the best backless bra can be tiring, and some people choose to go braless or go with the flow. If you are one of such people that settle for an outfit they are very comfortable in, then it most likely dampens your mood. This awful feeling is wiped away with a backless bra, and here are some of our favorites.
1. Fashion form: Women's U-plunge Adhesive Strapless Backless Bra
This backless bra is one of the best you can find for a great price range. It gives excellent support, lift & separation with the underwire and pads. The plunging front completes the sexy appeal, as it allows you to wear any neck or style. Sizes are limited to the D cups, so you may try out a few before getting the best fit.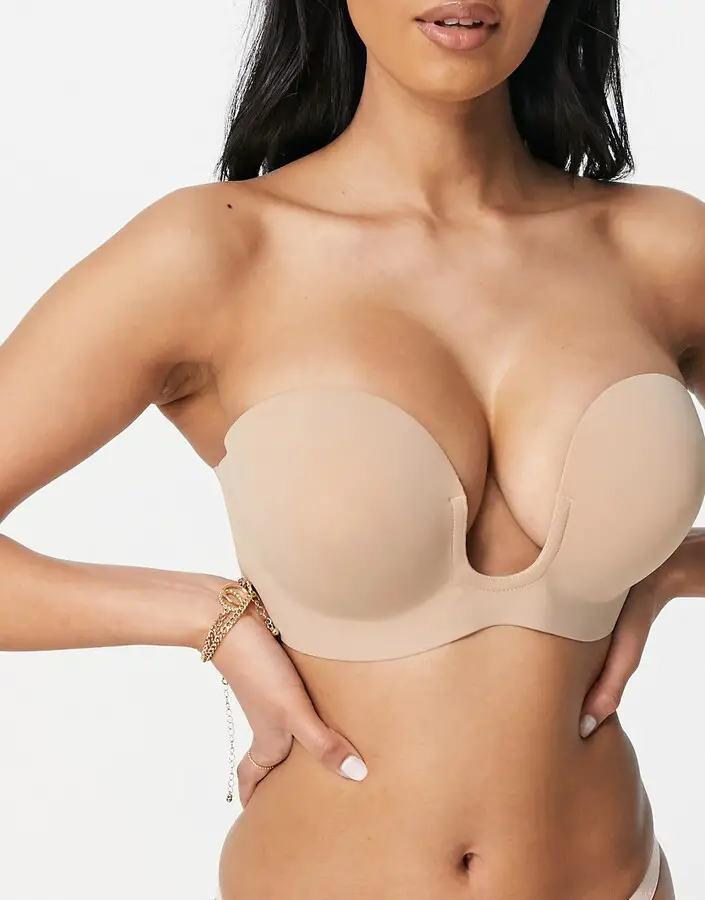 2. NiiDor: Adhesive Strapless Bra
This adhesive bra is one of the best-selling strapless bras for many breast sizes based on popular demand. The cups are designed to give support combined with a front clasp, to lift and keep the breasts in place. Which creates a nice cleavage to enhance the hot look you are trying to pull off. They come in various skin color tones, with added nipple covers as a bonus.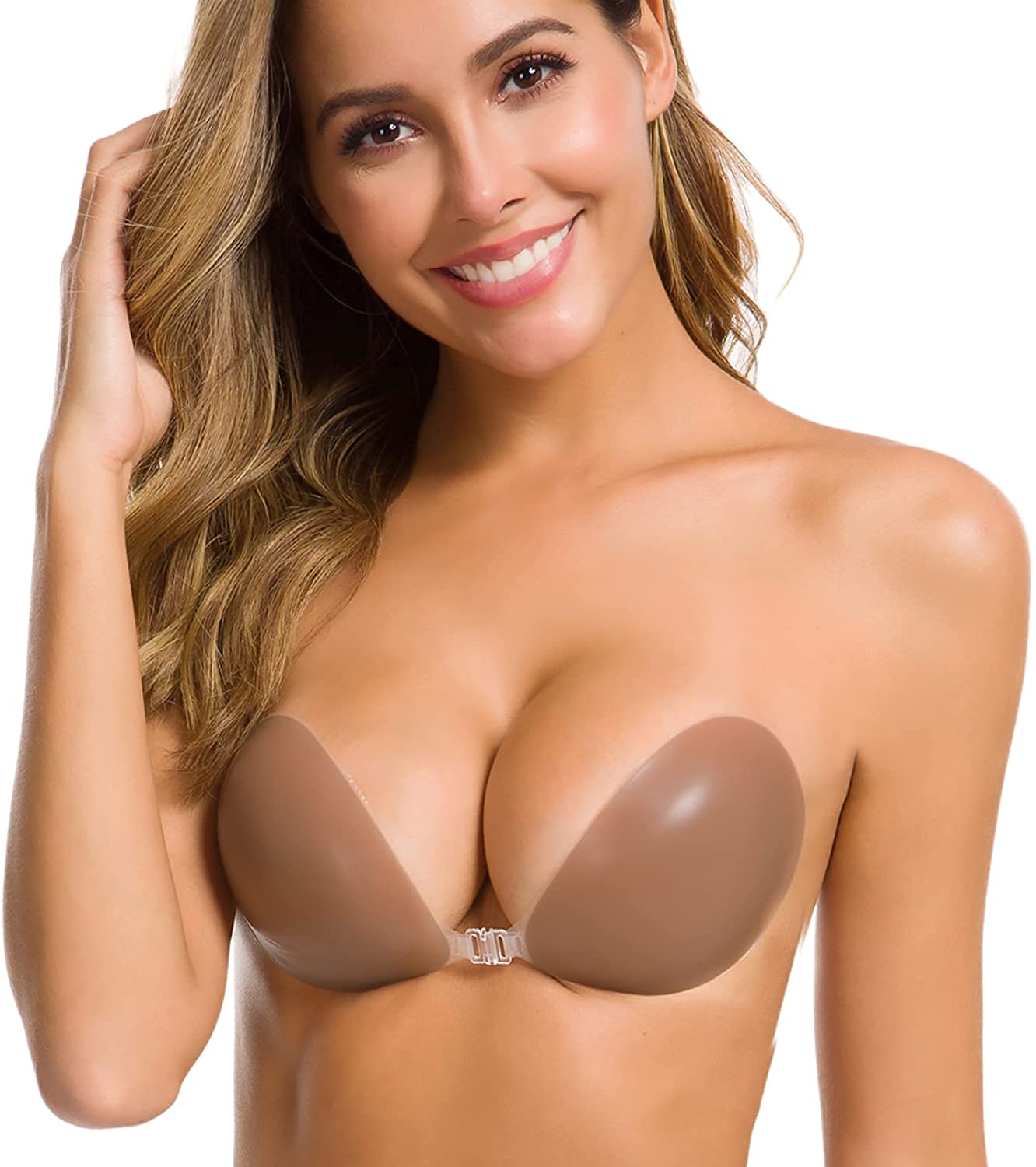 3. Va Bien Vintage: Strapless Low Back Longline Bra 506
If you need an extra supportive bra you can still wear with your backless outfits; then the bra 506 got you. It has a big band and four hooks, underwire to keep the breasts in place all day. Although this bra is not completely backless, its low back qualifies it to be worn with a strapless or backless dress. This is because the back plunge does not go all the way down.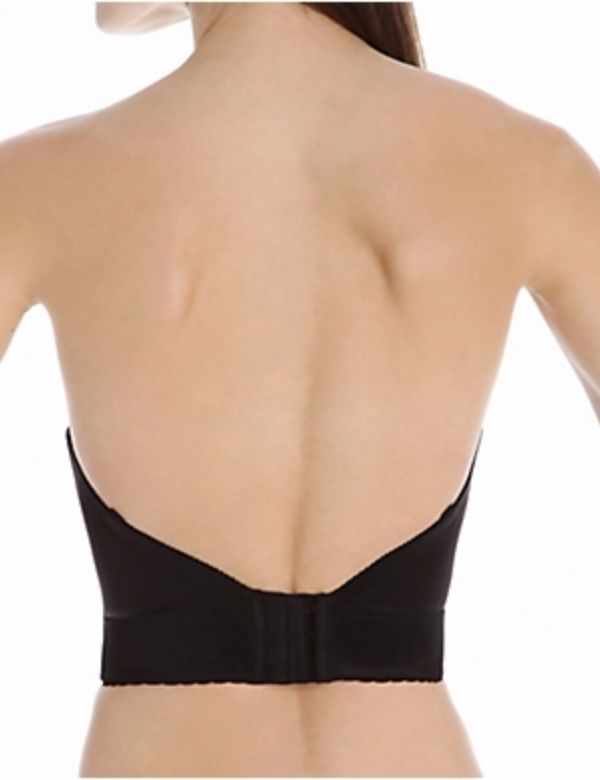 4. Sneaky Vaunt: The Original Push-up
This bra is one unique addition to your collection for its adjustable powers. It is designed with adhesive cups, but the lace in the middle allows you to adjust the bra till you get the right fit. Play around with lace strings to lift the breast for more cleavage, or leave to hang just for the support. The variety of support the bra can give makes it suitable for all your backless outfits.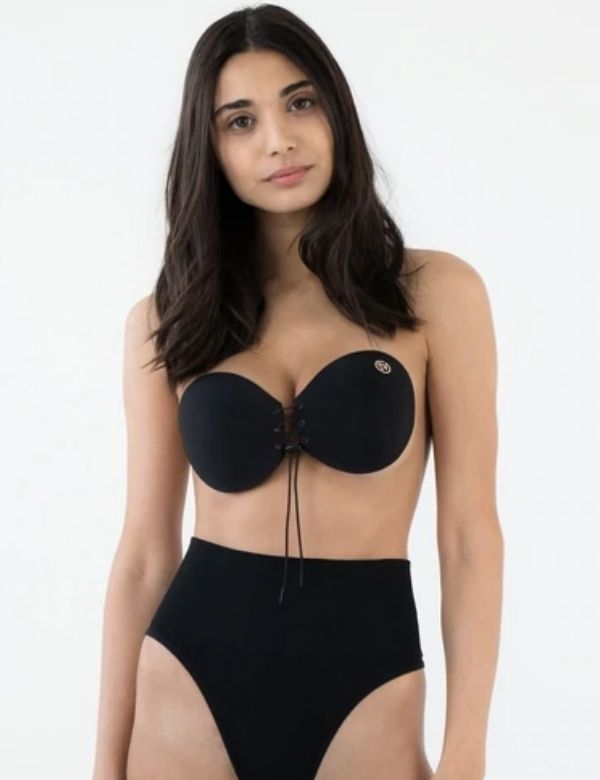 5. Nubra: Silicone Seamless 3D Bra Cups
Get all the functions of a regular bra with these realistic silicone cups. It is shaped like boobs, so it fits true to size and is lightweight, so it won't feel like you are wearing anything. Also, the clasp in the middle acts as a support and lift system to secure the breast. These features combine to help the bra stay in place even through the heat.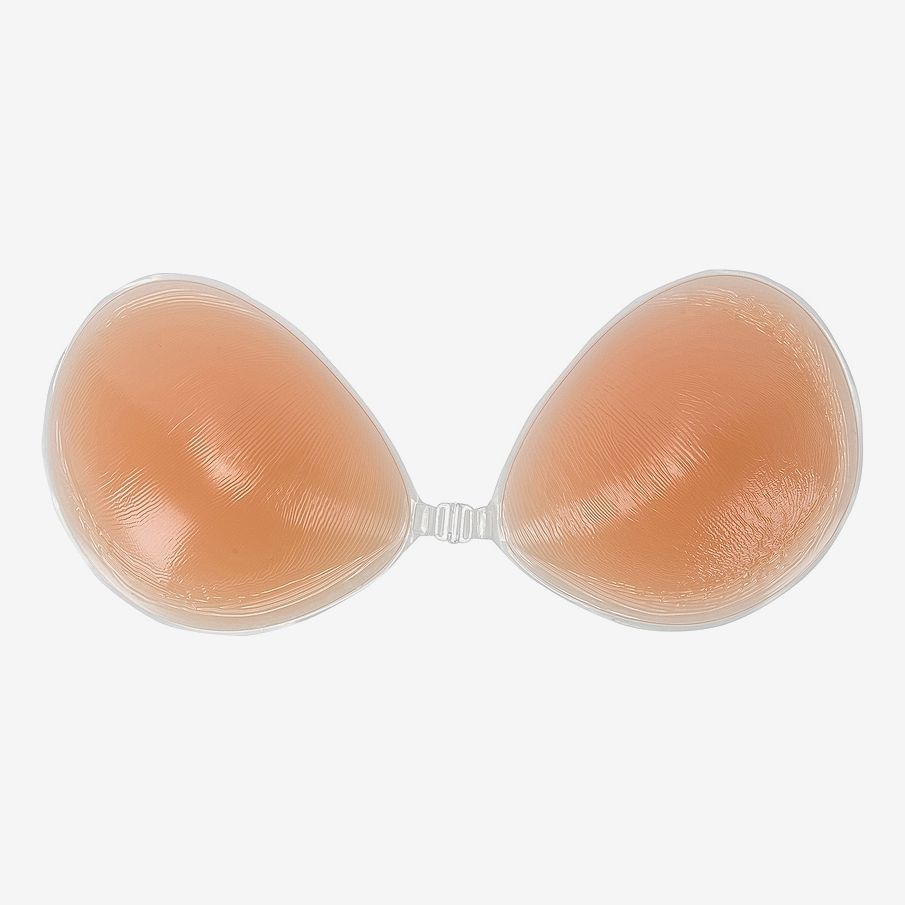 6. Spanx: Suit Your Fancy Plunge Low-Back Mid-Thigh Bodysuit
Who says shapewear with a backless dress, Spanx is changing the narrative with this plunge front, low-cut bodysuit, which features padded cups to support the breasts, and a gusset to easy restroom visits. It also has configurable straps that you can change into five different positions to wear with any dress style, from deep-cut necklines to strapless.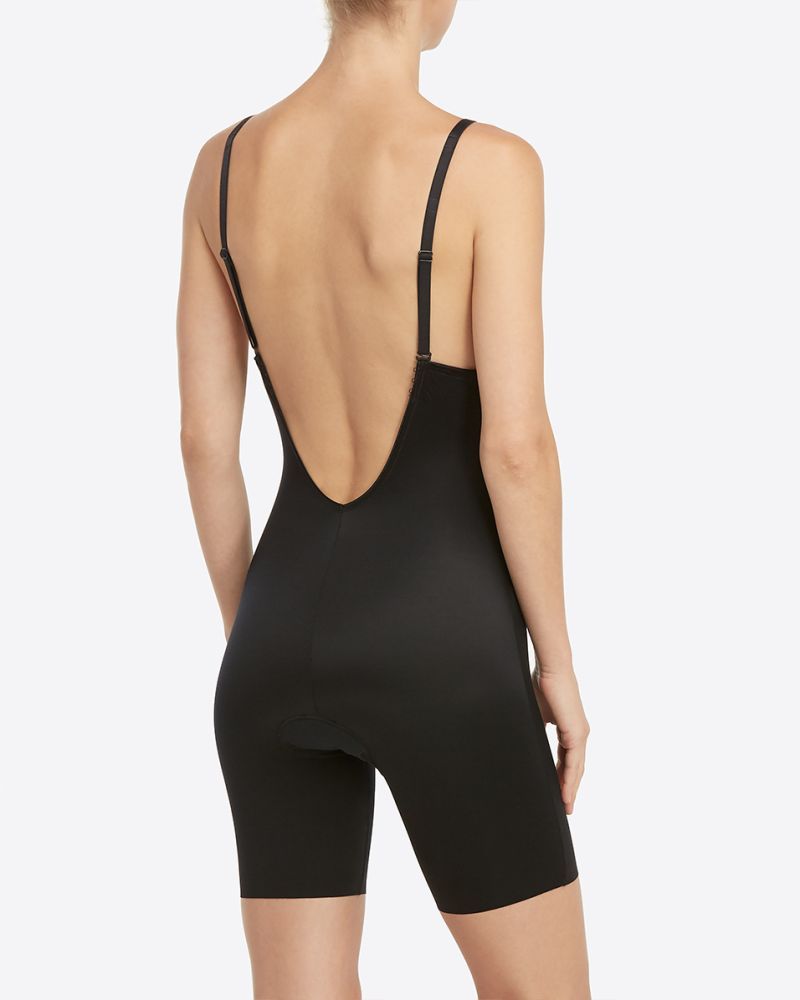 7. Stick On: Strapless U-Plunge bra
This stick-on bra is for those that need some reassurance, in terms of support and staying power. It is designed with a transparent side wing that blends into the skin., for extra support. The bra also has molded cups, that can keep a wide range of breast sizes secured including the double Ds. with the deep U plunge as a bonus to wear, any neckline.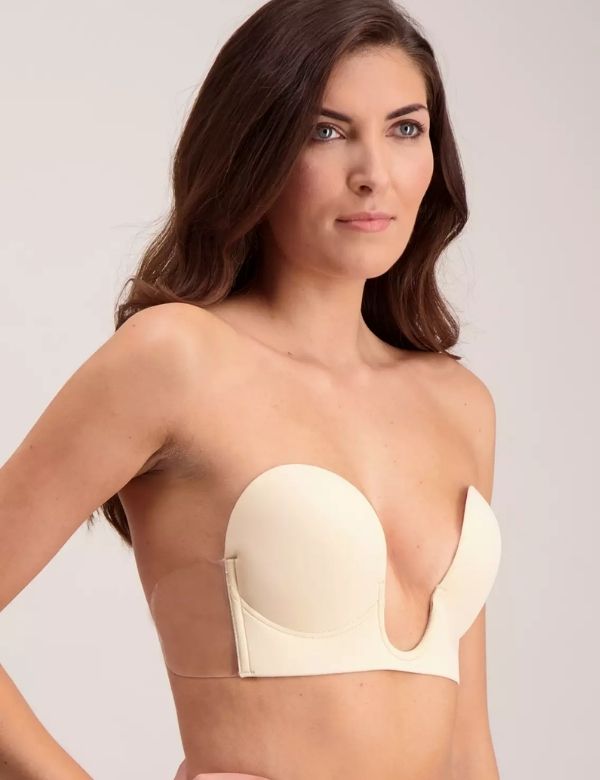 Strapless bras are great, but if you plan to show more skin, maybe like a side boob. Then you need another form of support such as:
8. Booby Tape: The Original Breast Tape
There are many benefits of the booby tape that make them a practical item every woman should own. Most fashion stores now sell them as an essential. They are a tape adhesive made for the skin, which you can customize to give this breast any lift. Even if you are new to booby tapes, it is easy to use. Follow the instructions, and you will be a pro in no time, but remember to cover your nipples before you tape your breasts in place.
9. Brassybra: 3-Pack Adhesive Bra
When it comes to pre-cut adhesive strips, women with big busts are always scared of the fit and support. That fear is eliminated with this specially designed product to cater for sizes up to H. While it follows the same body sticking properties like tapes, but differs since they come already shaped like boobs. So you only have to lift the breast to the desired position, place one strip over it, and that's it.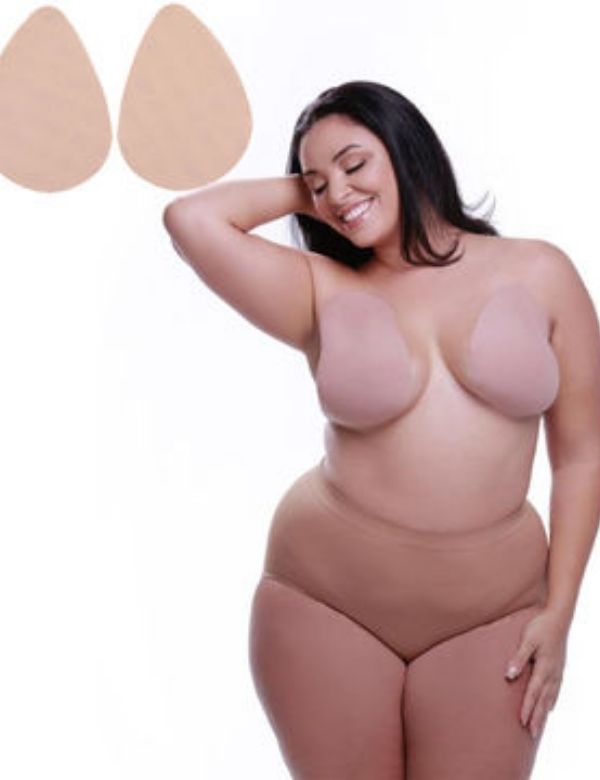 10. Nood: The Game Changer Lift & Shape Bra
If you support eco-friendly products, you will love this adhesive bra made from hemp. Even though the bra comes pre-shaped, it can keep any breast size strapped with its four basic size range. The brand currently has two skin color shades to blend seamlessly into the skin tone.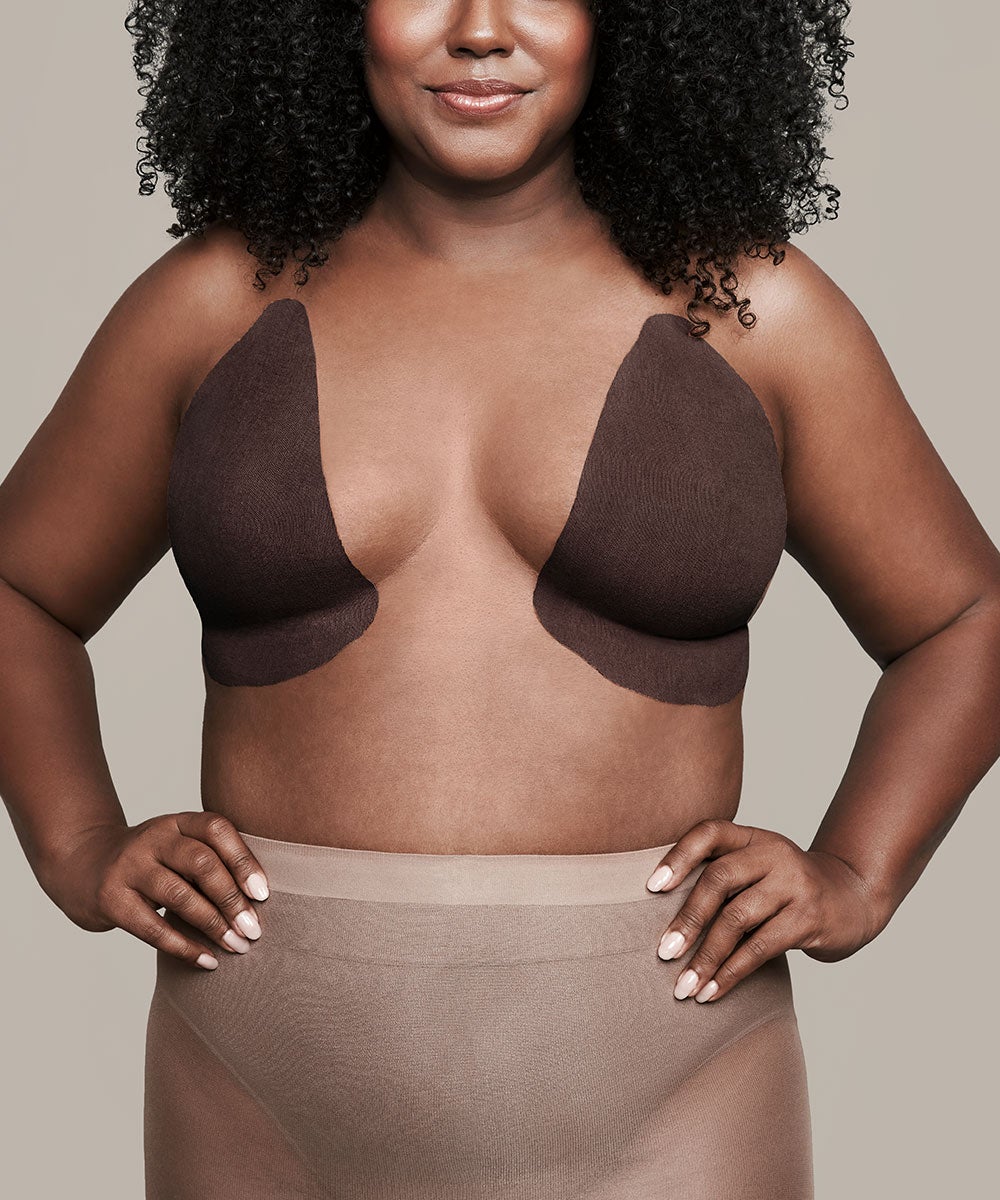 How to turn a regular bra into a backless bra
It is not novel that some people prefer the support of straps and back hooks. Which is not a wrong choice, so long as the dress or top allows it. While there are several great low-back bra designs with seamless straps, nothing stops you from turning one of your old, comfortable bras into a low-back or backless bra.
A clever trick is unhooking the straps from the back hook to go back. Then pass it to the front, place it under your bra cups, and fasten the straps with the clasp to keep it in place. The bra instantly transforms into a low back bra to wear with backless numbers. There is a viral video on TikTok, and you can practice with it till you get it right.
You may also need a bra converter; the Lady Up low back converter is one of the best. It is an extender attached to the hook and eye of regular bras. This takes the pins and bands lower than their original length to give a backless effect.
Conclusion
Underwear is a significant part of a complete look, and it is vital to wear the appropriate bra for different styles of outfits. It is more critical with the deep cut, low back, or backless apparel dominating the mainstream. While it is often tempting to free the girls, the excessive jiggle can be discomforting. Enter the backless bra as the solution, so you look classy as you rock your outfits. They are the best option to keep the boobs secure to maintain an elegant look.
Before settling on a backless bra, make sure you are comfortable with the design and features. As that is the only way to get the best fit and enjoy the new addition. You may also like to read my latest article, 27 High Support Sports Bras for Big Busts In 2022.