You walk up the stairs, and your knees feel like they're about to pass. You stand for an hour at your desk, and your back starts to ache. You stay through another long shift at work, and your legs feel like jello. 
How do you deal with this? With an anti-fatigue mat, of course! These specialized mats are designed to help you avoid fatigue wherever you stand, sit, or kneel for extended periods.
They might not be the most exciting thing in the world, but they can make a huge difference in keeping you alert, focused, and ready to tackle anything that comes your way throughout the day.
What is an Anti-Fatigue Mat?
An anti-fatigue mat is a specialized mat designed to help reduce fatigue and improve posture. These mats are typically made from soft, dense materials that are comfortable to stand on for longer hours. 
How do Anti Fatigue Mats Work?
Anti-fatigue mats work by helping to improve circulation, reduce strain on your joints, and improve posture. They are ideal for any workplace or home environment requiring long standing periods.
The soft, dense surface of these mats will contour to the shape of your feet, knees, and legs, helping to improve circulation and reduce strain on your lower back, knees, and legs.
Anti-fatigue mats are available in different styles, mainly because the carpets effectively reduce fatigue, making them popular for businesses requiring you to stay on your feet. 
What to Look for When Shopping for an Anti-Fatigue Mat?
When it comes to your health and wellness, there are several tools you can use to make sure you're on the right track, including fitness trackers and apps, smart scales, and even blood pressure monitors.
But one tool many overlooks is an anti-fatigue mat, which can help reduce aches and pains in your joints while also improving your energy levels by increasing blood flow throughout your body. 
So, what should you look for when shopping for an anti-fatigue mat? Here are the five key features you need to be aware of.
Thickness: When shopping for an anti-fatigue mat, you'll want to pay attention to the thickness. The thicker the carpet, the more cushioning it will provide. This is important because you'll be standing on the mat for long periods and want something that will keep you comfortable. Ideally, it would help to look for a mat at least 3/4 inch thick.
Size: You'll want to ensure the mat is large enough to accommodate your needs. If you're standing in one spot for long periods, you'll want a mat at least 3 feet by 5 feet. If you feel you will be moving around a lot, you'll want a mat at least 4 feet by 6 feet.
courtesy of brand
 Material: Not all anti-fatigue mats are created equal. There are a few key features you should look for when shopping for an anti-fatigue mat. You want a rug that is made from a durable material that can withstand heavy foot traffic. You also want a comfortable mat to stand on for long periods.
Portability: When shopping for an anti-fatigue mat, you first need to consider how portable it needs to be. If you plan on using it in one spot, like in front of your kitchen sink, you don't need to worry about portability. However, if you want to be able to move it around or take it with you when you travel, you'll need to make sure it's lightweight and easy to carry. 
Non-slip surface: One of the essential features to look for in an anti-fatigue mat is a non-slip surface. This will help prevent slips and falls, which can be dangerous in a busy kitchen. Another important consideration is how easy the mat is to clean – you'll want something that you can easily wipe down at the end of the day.
You can also keep some Specific Features like anti-fatigue Technology, shape, and price range of the mat.
Read related articles:
–10 Best Water Ionizer, Reviews, Price, Benefits, And Features For Your Home
–The 19 Best Essential Oil Diffusers to Make Your Home More Aromatherapeutic
–15 Best Carpet Cleaning Machines And Professionals
Kangaroo's Anti-Fatigue Mat is not water-resistant; it is water-proof. In addition to providing water protection, it is also thick, supportive, and easy to clean.
You don't need to sacrifice aesthetics to obtain the water protection you're seeking; since it comes designed with high-density foam, it feels soft and supportive underfoot. 
The mat has a minimal rib on the top to help grip, and the textured bottom reduces sliding.
courtesy of brand
We found the ComfiLife Anti-Fatigue Floor Mat and checked every box. It's stain-resistant, easy to clean, and comes in various colors and sizes.
 It's available in 13 shades of three sizes, so you can easily find one that appeals to you. An even better find. You'll be cushioned by high-density memory foam every time you step on this mat. 
It comes with a non-slip bottom and measures 0.75 inches thick. It's easy to move around without tripping due to its beveled edges, which won't curl at the corners. 
courtesy of brand
Like most people, you take your kitchen seriously—it's probably your favorite room in the house! Why not make it even better with a Sky Solutions anti-fatigue mat?
Whether you require an elegant rug to complement your kitchen decor or one that will get the job done, it has everything you need to ensure that every footstep in your kitchen feels excellent.
These mats come cushioned with 3/4 inch memory foam, so they conform to your feet and support where you need it most. Plus, they're covered in a soft, durable fabric that's easy on the eyes and easy to clean.
courtesy of brand
If you're trying to decide whether it's worth investing in a standing desk mat, you might want to consider this foam cushioned anti-fatigue mat that ended up being the top contender.
This mat features an ergonomic design that will allow you to stand comfortably and safely at your desk, even when working over long periods. Plus, this mat is designed with both style and comfort in mind, so it will look great in any home or office setting where it's used.
It is one of the thickest cushions of the winners and makes standing much more comfortable; for a great price point, it's an excellent value for a quality product.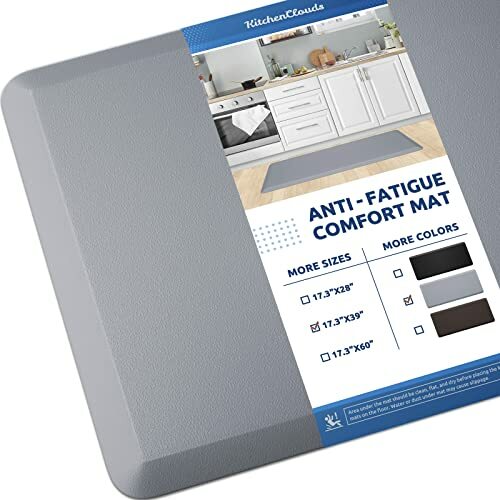 courtesy of brand
The KitchenClouds Anti-Fatigue Kitchen Mat is an excellent option whether you're on a budget or not, thanks to its multiple features. This mat is made from high-density PVC foam, which is supportive and comfortable.
It's also water and stain resistant, making it easy to clean and an ideal choice for kitchen areas. Gracing its non-slip bottom and beveled edges is a mat that can prevent slipping or falling. While one of the thinnest mats on our list since it is only 0.5 inches thick.
It comes in three sizes and four colors. In addition to its three sizes and four colors, this mat comes with textured outer borders from simple to graphic designs. 
courtesy of brand
This is one of the most extensive mats you can find; it prevents fatigue from standing all day on concrete, tile, or other hard floors—most people shop for its size, ranging from 2 by 3 feet to 9 feet long mats.
You also get to keep dirt and bacteria at bay with a durable anti-fatigue mat that easily wipes clean after use.
In addition, it protects against costly slip accidents while on duty or commuting, thanks to the slip-resistant surface of our anti-fatigue mats. That's because the mat is made of nitrile rubber, which is oil-proof and can stand the test of time. 
courtesy of brand
Even though it looks different from the other anti-fatigue mats on our list, the Ergodriven Topo Comfort Mat is designed exclusively for standing desks, which means your feet can rest while you work.
The Ergodriven topo comfort mat has a rounded square, a unique shape not found in most fatigue mats. It slopes upward at the edges and center, encouraging you to move around as you stand.
The mat's raised corners and center allow you to massage your feet or elevate your heels. Its back ramp enables you to boost your heels. Also, it comes made of high-density polyurethane foam, which is soft, supportive, and easy to wash.
How to Install an Anti-Fatigue Floor Mat?
There are a few ways to install an anti-fatigue mat, depending on the type of mat you choose: – Adhesive: For cork, rubber, or foam mats, you'll have to use an adhesive to secure the mat to the surface.
Be sure to clean and dry the surface before installing the mat. – Stakes: If you choose a mesh mat, you may be able to install it with stakes. First, be sure your surface can support a mesh mat.
Then, place the rug on the floor, and use the stakes to hold it. – Tack strip: If you choose a cork, rubber, or foam mat, you may also be able to use a tack strip. First, be sure that your surface can support a cork, rubber, or foam mat.
Then, place the mat on the floor, and use the tack strip to hold it.
Reasons Why You Need an Anti-Fatigue Mat in Your Kitchen
The benefits of having an anti-fatigue mat in your kitchen are immediately evident, as the shock-absorbing qualities mean that you'll feel less sore after standing on it for long periods, whether you're cooking or cleaning up afterward. 
Of course, you can use the mat throughout the house, office, and everywhere you need to stand for an extended time. To see why you need an anti-fatigue rug in your kitchen.
One of the essential features of an anti-fatigue mat is its non-slip surface. This is important because you want to ensure that your mat stays in place while working. There are a few different materials that rugs can get made from, but the most common are rubber. Rubber has a natural grip that will keep your mat in place, even if it gets wet.

One of the best things about anti-fatigue mats is that they are highly comfortable. If you spend a lot of time standing in your kitchen, you know how it is much of an essential to have a comfortable surface to stand on. These mats provide cushioning that helps reduce foot and leg fatigue.
It would help if you didn't worry about cleaning your anti-fatigue mat. If the spill is a liquid, it will seep into the carpet. There is no chance of mold growth because of how well these mats keep drinks from staying on top of them. To remove a stain, blot it with a damp cloth or towel and let it air dry for a day before replacing it on the floor.
An anti-fatigue mat is a must-have for any kitchen. They are highly durable and provide a cushioned surface to stand on, which can help reduce fatigue and pain in your feet, legs, and back.