See Laverne Cox best 10 red carpet dresses that you should copy for Christmas and New Year events.
When it comes to celebrity red carpet attire, there are stunning styles, and then there are looks that are so elegant, you want to recreate them. One of such celebrities who is never afraid to push the limit on the red carpet is Laverne Cox.
She has taken the fashion world by storm and continues to wow on the red carpet every time. She has a good sense of fashion and is not one to shy away from riskier, more uniques pieces. Because of her bold personality and style, she often makes the best-dressed list, and her style of fashion is one fans love to emulate.
Cox is an American actress and an LGBTQ advocate born on May 29 1972, in Mobile, Alabama. She was assigned a male gender at birth and has an identical twin brother, who she grew up with under the care of their single mother and grandmother. When Cox was 11, she attempted suicide when she noticed she was developing feelings for her male classmate. Although designated a male at birth, she had identified with the female gender from a young age and started transitioning when she was in college.
She rose to the limelight with her role on the Netflix series Orange Is the New Black, where she played Sophia Burset – a transgender woman in prison trying to get hormone treatments. Her performance earned her three nominations at the Primetime Emmy (2014, 2017, and 2019). In addition to her acting career, She is also an LGBTQ activist that has produced several television documentaries on transgender lives.
She is the first openly transgender person in the entertainment industry and the first to be nominated for a primetime Emmy Award in an acting category. She is the first transgender person to win a Daytime Emmy as a producer.
E! announced in May 2021 that Cox will be replacing Giuliana Rancic in hosting Live from the red Carpet from January 2022. In December 2021, she was featured in Netflix's dystopian fantasy film Uglies.
Now that you know who Laverne Cox is, let me show you some of her best, and easy-to-replicate red carpet looks over the years.
Related article: Best top 10 modest outfits from Louella by Ibtihaj Muhammad.
Laverne Cox Best 10 Red Carpet Dresses
1. See through dress
Laverne Cox looks like a bombshell in this sizzling daring black dress she wore on the red carpet at the new Charlie's Angels premiere. The almost completely see-through outfit showed off nearly all of her full chest and her sides – that had no underwear, by the way. The beautiful dress that left only bits to the imagination had two tiny dark fabrics in front that obscured her intimates.
2. Beyoncé esque
Known as one to never hold back in her fashion choices, the Orange Is the New Black actor arrived at the 2020 American Music Awards in Los Angeles wearing a dramatic one-shoulder gold and black outfit. The outfit features a black bodysuit with a shimmery gold full-length, half cape. The gold material was one-sided and fell to the floor in front and at the back, held together by a metallic gold band at her waist.
3. Strapless dress
Cox stunned in a strapless dress by Cristina Ottaviano for the opening night of the Metropolitan Opera's 2019/2020 season in New York. She had on a floral, plunging neck, long dress that had pockets on the side.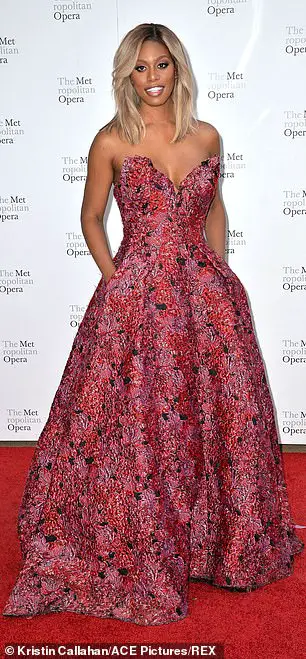 4. Metallica gown
For the 2017 Emmy Awards, Cox hit the red carpet in a gorgeous metallic gown from Naeem Khan. The floor-length strap gown has a little train with a very revealing neckline that showed off her cleavage. She had on statement sparkly blue eye shadow and nude lips to finish off the look.
5. Mermaid gown
Laverne Cox didn't disappoint to the 2014 international Emmy Award in this mermaid gown she pulled off. The body-fitting strapless dress hugged her shape and showed off some of her legs through the high slit in front. The dress is simple but very regal. 
6. Gold dress
Laverne Looks flawless in this gold dress she rocked for the Hollywood red carpets 2016 Emmy Awards; she took the shine from everyone at the event in this golden gown. The award-winning actress glistened in this Naeem Khan creation which featured a plunging neckline that showed off some cleavage.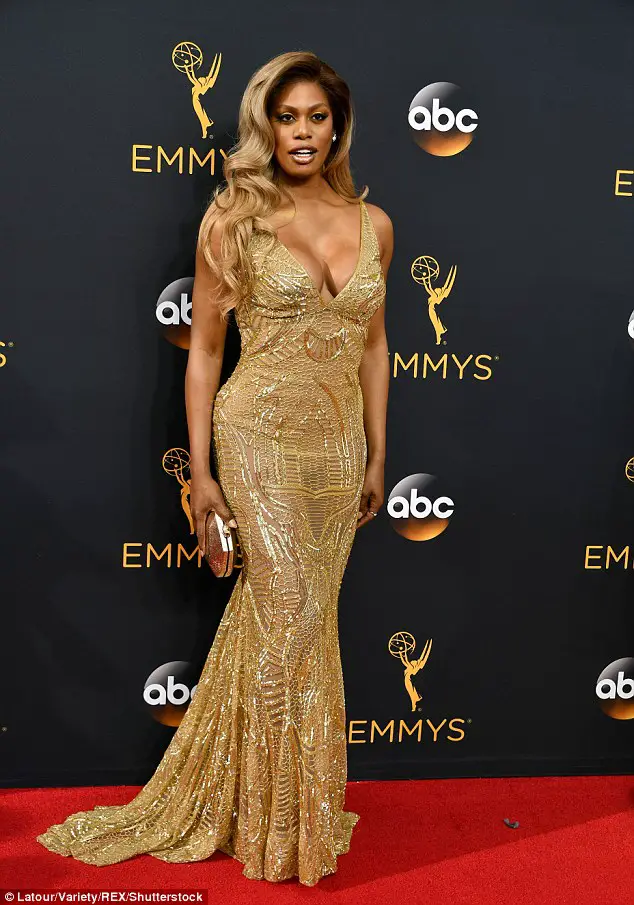 7. Metallica (again!)
For the 2019 Television Academy's Nominee reception, Laverne Cox stunned on the red carpet in a metallic halter neck dress that showed off her toned arms and legs in the high-slit. The dress has a corset bodice that put her figure on display as she posed for the cameras.
8. Train gown
Cox is known for her flamboyant sense of style which she showed off in her choice of gown for the Golden Globes Instyle and Warner Bros after-party in January 2020. The train she chose was big enough to fit three people – literally. The beautiful orange gown featured a dramatic frilled skirt and a plunging neckline that put her ample bust on display.
9. Mini gown
Laverne Cox was one of the guests at the New York Premiere of Ricki and the Flash held in New York in 2015. Her outfit for the event put her long legs on display. The blue mini dress from Elizabeth & James Arron has a double-Layered skirt and an asymmetrical hem.
10. Gothic gown
For the Creative Arts Emmy Awards in 2019 hosted in Los Angeles, the transgender star oozed vampire vibes in a sexy black gown from Zac Posen's fall 2019 collection. She looked stunning and regal in this black ball-like Gothic dress.
From the pictures above, it is clear that Laverne Cox has a great sense of fashion and she is not dousing her fire anytime soon. You can pick any of these outfits for the several occasions you got planned this Christmas. You may also like, 12 gorgeous goddess braids to channel your inner beauty.