Goddess braids are a new variation of the protective hairstyles women love to wear. They are made with an extension on the scalp base like the traditional cornrows but with an elevated twist to make them larger and higher.
It can be made from different goddess hairstyles such as buns, half-up, and other beautiful hair-do. Also, you can use a simple parting or placement to switch the braids to take different creative styles. Take cues from these twelve examples below to recreate some gorgeous goddess braids.
1. The low bun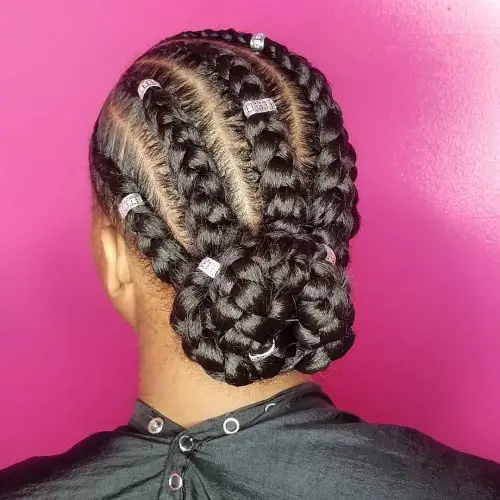 Goddess braids can be styled into an elegant low bun. Here is how to do it: after making the braids, wrap them into a low bun and sew them close with a needle instead of leaving the extended strands to hang loose. For more styling options, you can secure the bun with a rubber band so it stays in place and can be switched up at intervals.
2. Goddess braids with curly ends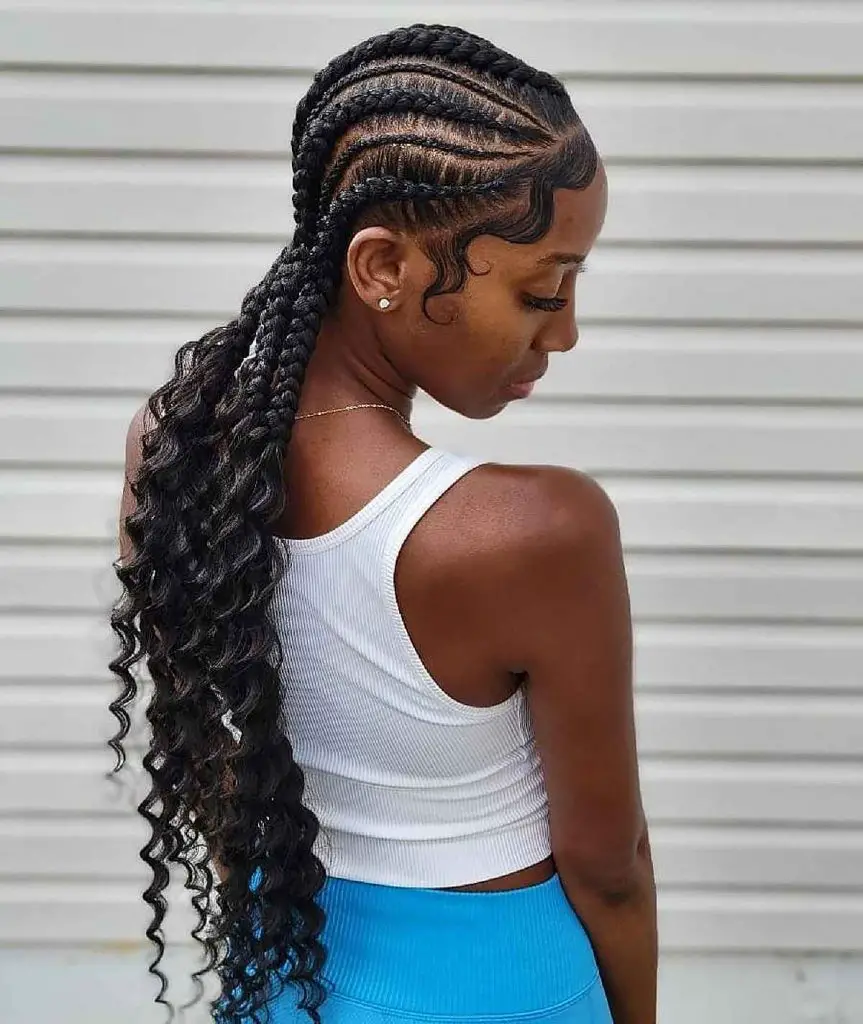 Wear an updated braid hairstyle by curling the ends of the hairstyle for a glamorous vibe. Keep the rows a bit clustered, opt for a waist-long length and curl the ends. Loose curls are best suited for this hairstyle. It is a delicate hairstyle for women of all ages.
3. Simple sleek goddess braid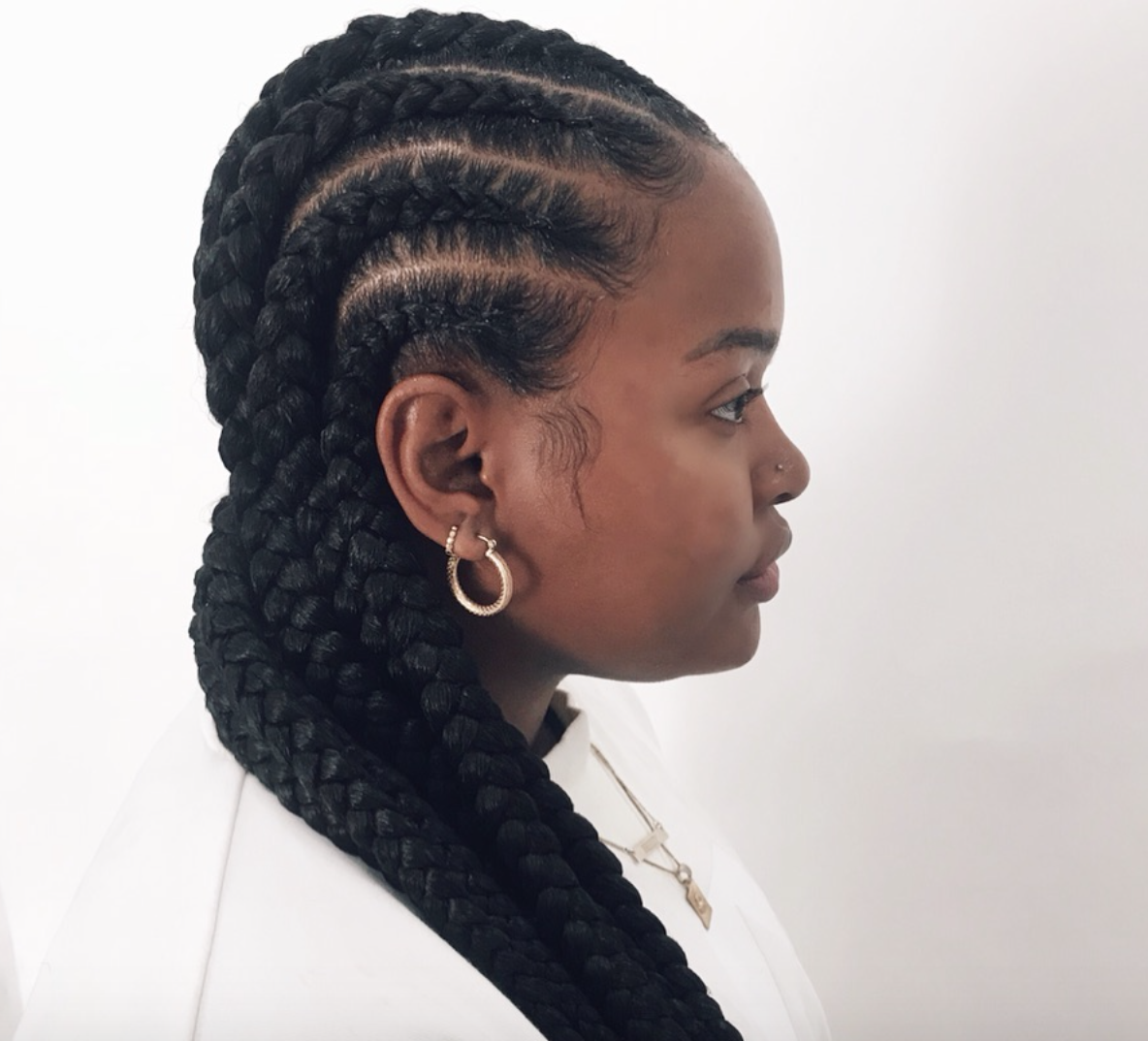 Sometimes, sticking to the basics never gets old; get a simple straight-back braid with medium-length extensions. You can easily rock this hairstyle to any event, be sure to lay down your edges, and for extra style, part the strands on your shoulders to flatter your neck and face.
4. Feed-in goddess fusion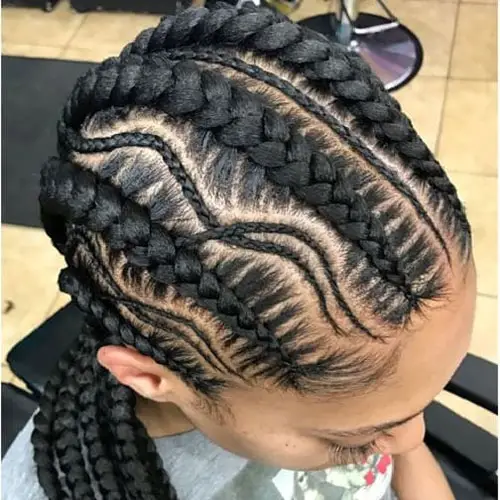 The intricate lines that make feed-in braids beautiful can be displayed better with goddess braids. You can achieve a lovely hairstyle by using the feed-in technique to add the hair extension instead of the usual way. Then the gorgeous fusion hairstyle is all set.
5. Wispy strand goddess braid
Small hair strands can be used to accentuate the braids to form a magical hairstyle, which can be recreated by making different sizes of straight back braids—then adding small-sized strands on the edges. This hairstyle is saved for when you want to look like an actual princess because it is super-fancy.
6. Honey blonde box
Honey blonde box braids are a popular and trendy hairstyle that has been taking the world by storm. These braids are characterized by their warm, golden blonde hue, which resembles honey, and the sleek and organized box-shaped patterns in which they are braided.
They are a versatile option for those with natural hair, as they can be worn both casually and for more formal occasions. In addition, honey blonde box braids offer the added benefit of low maintenance and longevity, as they can last for several weeks without needing to be redone. Overall, honey blonde box braids are a chic and trendy choice for those looking to refresh their natural hairstyle.
7. Curved goddess braids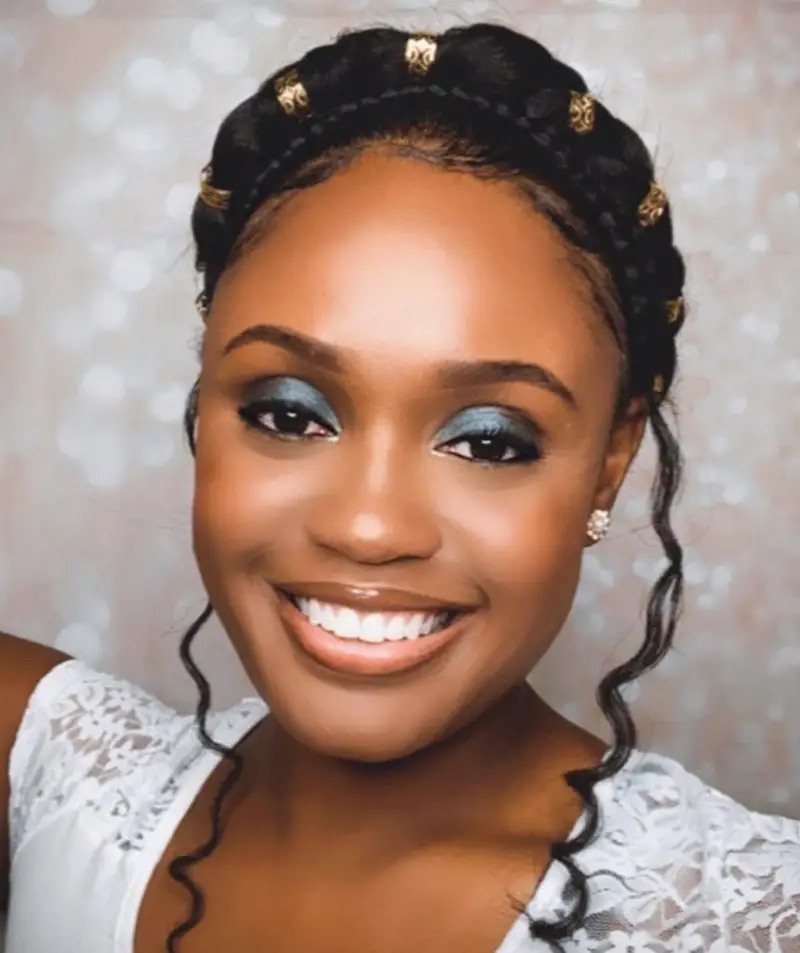 Be a true goddess with this hairstyle; arrange your braids in curved rows and use one large braid to cross your head like a halo. For extra details, add some golden hair cuffs, then leave out some curly tendrils of extension to frame the two sides of the face. The resulting hairstyle is an ethereal look you would want to save for special occasions.
8. Side-swept goddess braids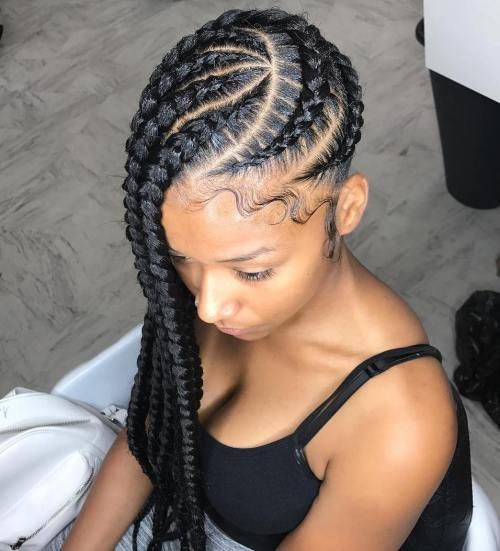 Take a break from the norm and opt for your goddess braid facing the sides; it can either be on your face's left or right sides. This maneuver creates a gorgeous, partly face-framing hairstyle that looks cute on long and short hair.
9. Afro goddess braids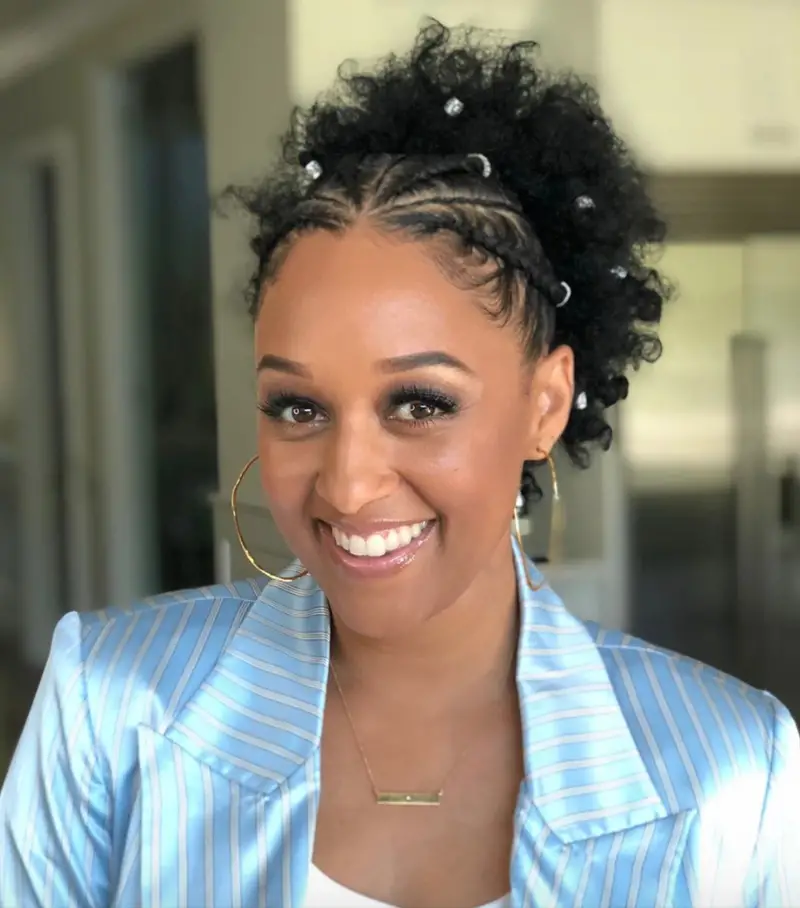 Combine two hair textures by making the goddess braid in the front and natural Afro waves in the back. This hairstyle is easy to achieve, and you can either leave the hair extension upbraided at the back or add a crochet kinky hair extension to give the Afro vibe.
10. Colorful braid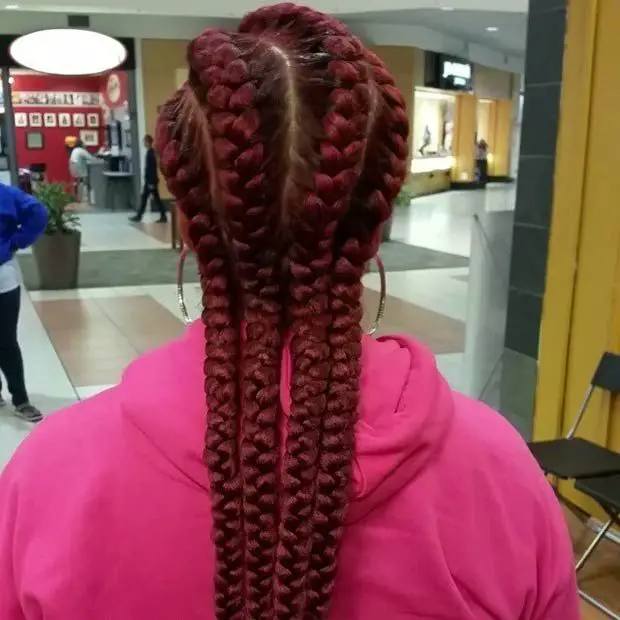 Braids present an excellent opportunity to play with colors without affecting your natural hair, and there is no limit to the fun colors you can add to your hair, from the lightest pink to blonde, blue, purple, and even two tones. The wide array of colorful extensions will help you create any vibrant look you want.
11. High ponytail braids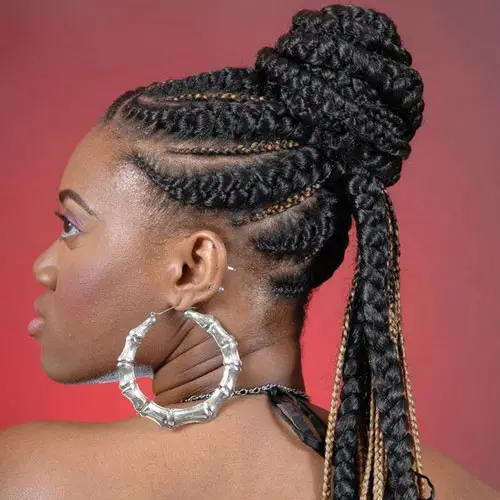 Give your look some flare, and wear your goddess braids in a high ponytail. It is a nice hairstyle to show off the facial angle since it remains visible. They can be made be wrapped into a top knot when you feel like changing the style. It is a chic look, you will love to wear it all the time.
12. Two chunky goddess braid
Opt for just two chunky braids if you want a minimal gorgeous hairstyle. The hair should be parted in the middle, with the braids at the two sides. Elevate the simple hairstyle with pigtail tips, cuffs, crisscrossing patterns, side or zigzag parts, and gold strings. This style can easily become your go-to hairstyle when you have little time.
13. Goddess box braid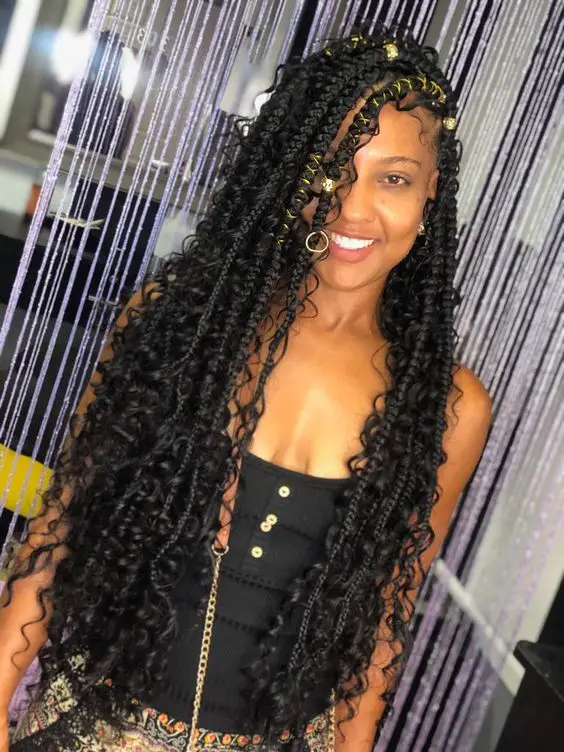 The good thing about most braided hairstyles is the seamless combination of different versions. The goddess box braid is a fun hybrid hairstyle that features classic box braids with the goddess upgrade, and you can add beads and other hair accessories to complement the goddess look. We suggest keeping the hair length long to enjoy the full beauty of the hairstyle.
Goddess braids are beautiful but do not last long like other protective hairstyles because they are raised higher than normal braids. The versatile styling options make this fleeting hairstyle worth it.