Ibtihaj Muhammad is a Muslim devotee who decided to take up fencing when she was just thirteen since it was one sport activity that would allow her to compete in modest outfits. She practiced through the years and continued in the university until she made history in 2016 by being the first American woman to compete in the Olympics wearing a hijab (women modesty veil).
From which she won a bronze medal and was ranked number two fencer in the U.S.A after she missed her spot to compete back in 2012 because of a hand injury. Before her record-breaking Olympic debut, Ibtihaj started a fashion brand called 'Louella' with her siblings, which targets women who like to dress modestly. Most clothes she shopped were hardly the right fit or were too expensive.
Feeling inspired by her personal experiences and seeing the gap in the fashion for women who wants to dress in a conservative yet fashionable way, Ibtihaj went all in. Bridging the gap with amazing price points alert (nothing in the store is above $200), and thoughtful pieces of clothing you can wear anywhere. Here are the 10 best modest outfits from Louella alternated between our favorite tops and sets.
Related article: 12 gorgeous goddess braids to channel your inner beauty.
Best top 10 modest outfits from Louella by Ibtihaj Muhammad
1. The black lee tunic
The lee tunic is a bold blacktop you should own, if not for its chic appeal, then for the versatile styling options. It is a comfy dress shirt that stops right above the knees, with the hems flared slightly. The top can be paired with print pants and chunky boots for a quick, stylish look suitable for brunch. They also look good on jeans but do not forget to accessorize.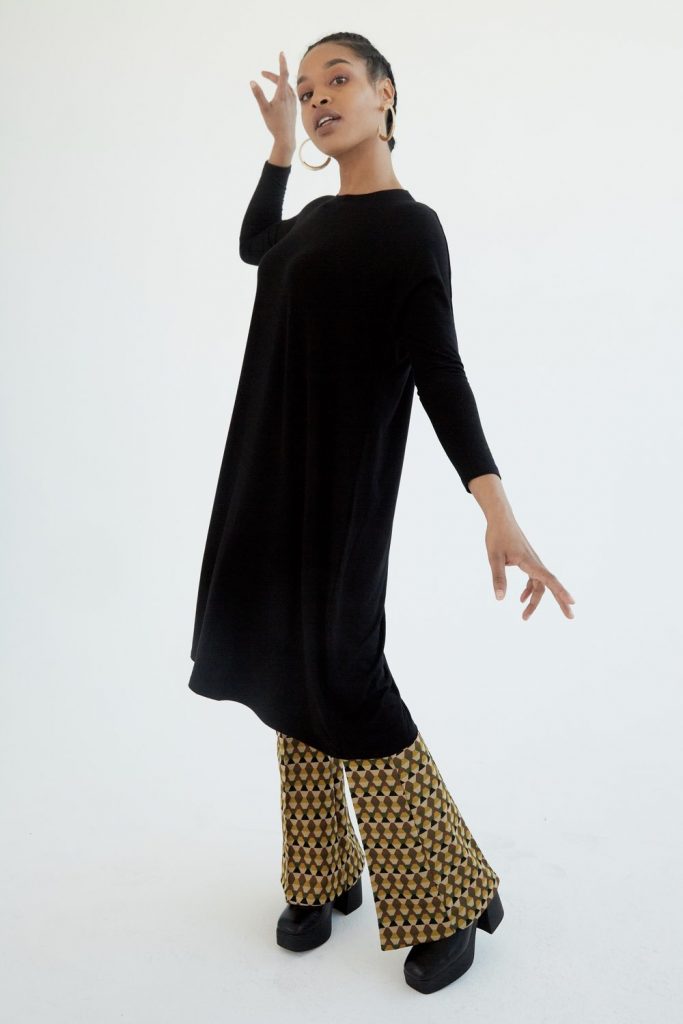 2. Festive floral kimono set
This dream set consists of a longline kimono top and pants, in a light blue, red floral bed, of light woven polyester fabric. The kimono is open in front, with dolman sleeves and border trim to complement it. In contrast, the pants are full-flowing with a comfy part elastic and drawstring waistline. Plain camisole, mules, and accessories are all you need to style this set.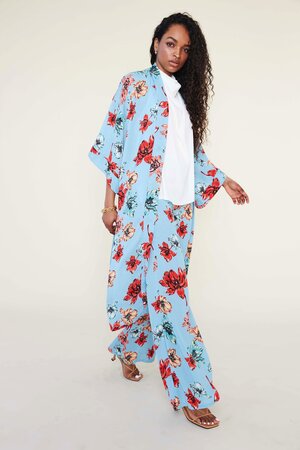 3. The fig lee tunic
From the Fall '21 collection comes this elevated tunic, with print crew neck and hand gloves. Pair with straight-leg pants and boots to nail a minimalist look. You can as well wear skinny jeans for casual outings and wear with heels, sunglasses, and a matching bag to elevate the look.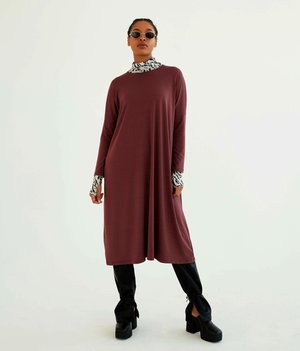 4. Black lyn set
Rock an effortlessly cool outfit with this black lyn set, which easily is your new favorite addition. It features a wrap-tie top with a relaxed fit and a dramatic puffed sleeved top. The matching wide-leg pants only bring different styling options to mind. Whether you decide to dress up in the complete set or separately, you will look great. It also comes in denim blue, if you do not fancy the black color.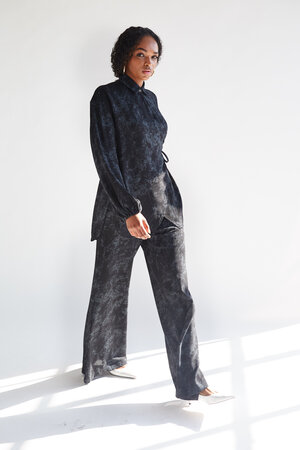 5. Grey tie-dye lee tunic
Tie-dye prints have seen some major fashion iterations this season, from dresses to hats and swimsuits. Trust Ibtihaj Muhammad to deliver on the tie-dye take on the tunics from Louella. The grey-black color reminds us of a chic marble nail idea. Brightly colored, plain pants are your best pairing option for a top like this.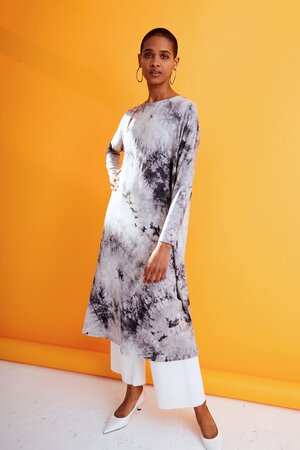 6. Toast knit set
This toast knit set makes neutrals feel so yum! The rib-knit light stretchy fabric gives cozy a new meaning, and it features an extra long-sleeved turtle neck top with a belt for a more flattering fit and matching free-flowing trousers. Pair with bright-colored accessories, or go full monochrome to complete the neutral vibe.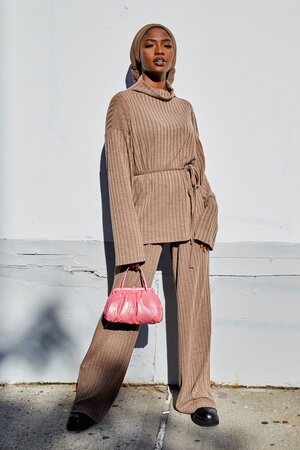 7. Carin top
Get a top that cancels out two trends with a modern take; the oversized button-down shirt and safari trend. The long-line shirt features hidden buttons, large pockets for utility aesthetics, a belt, and a curved hemline. If you are in search of a many-wear rotation top that is stylish and affordable, then this Capri top will do the trick. As you easily wear it every day with any pants and footwear of choice.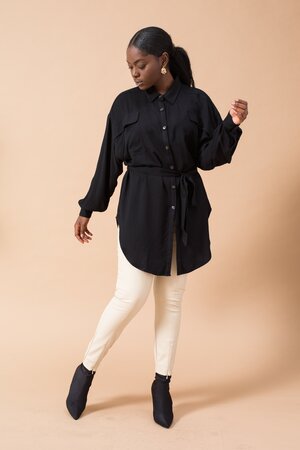 8. Shimmer Mariam set
As the name implies, this outfit shimmers and is one you may want to save for special occasions. It is made with Plisse fabric, woven with metallic threads. The detailed tie-top and billowy pants just complement each other. Pair with heels and a statement piece of jewelry to steal the show.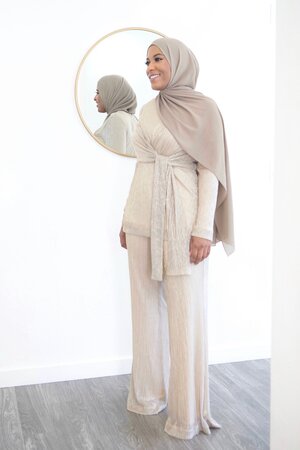 9. Fuchsia lee tunic
Slay in a vibrant and modest piece with this fuchsia pink tunic, the same shade as one of Ibtihaj Muhammad's outfits. As always, a comfy rayon top with a little stretch comes crew neckline that keeps the top modest. You can opt to style it with neutral color pants to keep the focus on the brightly colored top.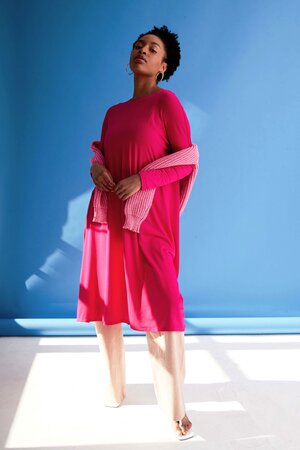 10. Olive satin kimono set
Get a classy addition to your wardrobe, as this satin set is the perfect relaxed yet stylish outfit you will love to rock. The loose pants and longline open-front kimono say it all— style with your satin-thin strapped top and accessories to elevate the look.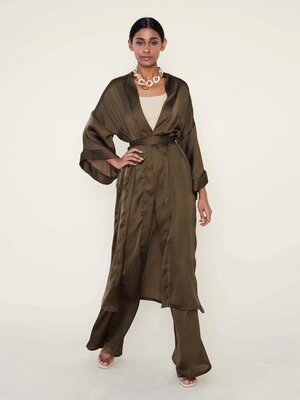 Ibtihaj Muhammad has proven she is committed to helping modest outfits seekers slay in stylish outfits. These ten picks are just testaments of more that Louella can offer. You may also like to read, Best 10 women's pajamas to get you in the Christmas spirit.