The 2021 Met gala was held only a few days ago at the Metropolitan Museum of Art, and there were some outstanding looks as usual. The Met Gala actually has a history of showcasing the most visually stunning outfits on the red carpet. Remember…Uhm…all of Rihanna's Met Gala outfits? Exactly.
The Met Gala is usually held on the first Monday in May, but that was impossible this year due to the COVID-19 pandemic. Instead, it was held in September, right in the middle of fashion week, which means that the stakes this year were particularly high.
While many people felt a little let down this year due to what they felt were underwhelming looks by the celebrities in attendance, we were very impressed with a number of them. The theme for the 2021 installment of this event was 'American independence' in celebration of the museum's newest exhibition, titled "In America: A Lexicon of Fashion". Below are 12 Met Gala 2021 looks that made our jaw drop and why.
1. Rihanna
Rihanna wore a much-talked-about outfit to the Met Gala, dressed in Balenciaga Couture, Maria Tash, Thelma West, and BVLGARI jewelry. She wore a beanie over a shimmering headpiece alongside a jacket (with pockets!) that had a hoodie and a long train.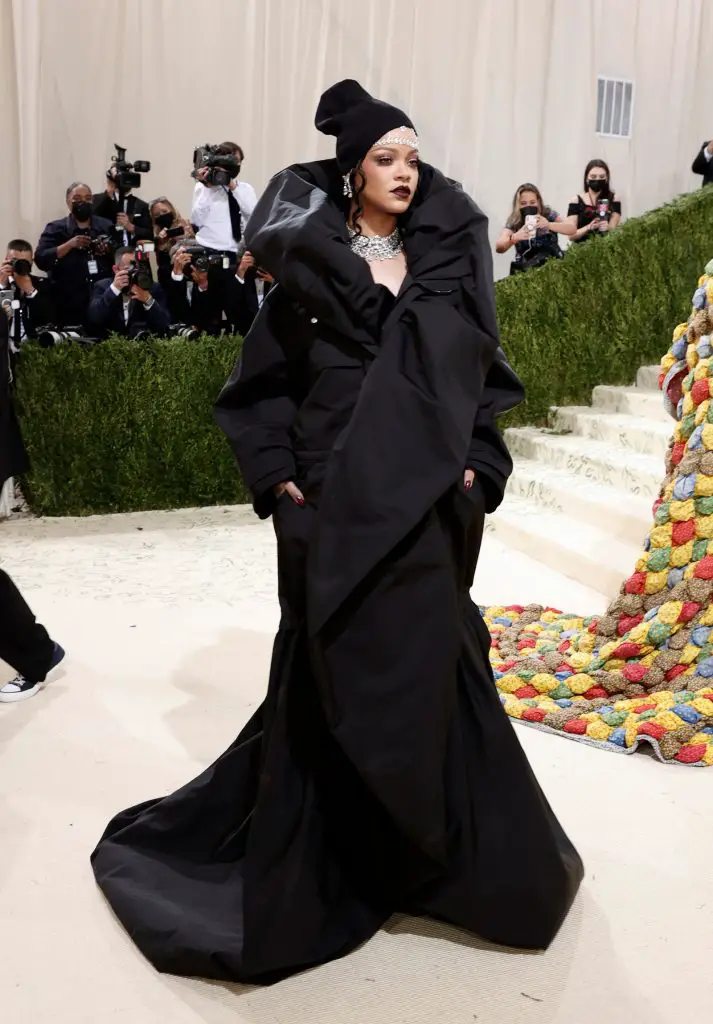 A giant puffer jacket and a beanie cap? What else says 'American fashion' than that ensemble. Although Rihanna was the last guest to walk the carpet, she ensured that she made a mark.
2. Alexandria Ocasio-Ortez
Alexandria Ocasio-Ortez wore a borrowed Brother Vellies and Aurora James outfit. The most audacious part of this look? The words "TAX THE RICH" were written in red at the back. She wore this to an event filled with rich people. It's the audacity for us — certainly very daring.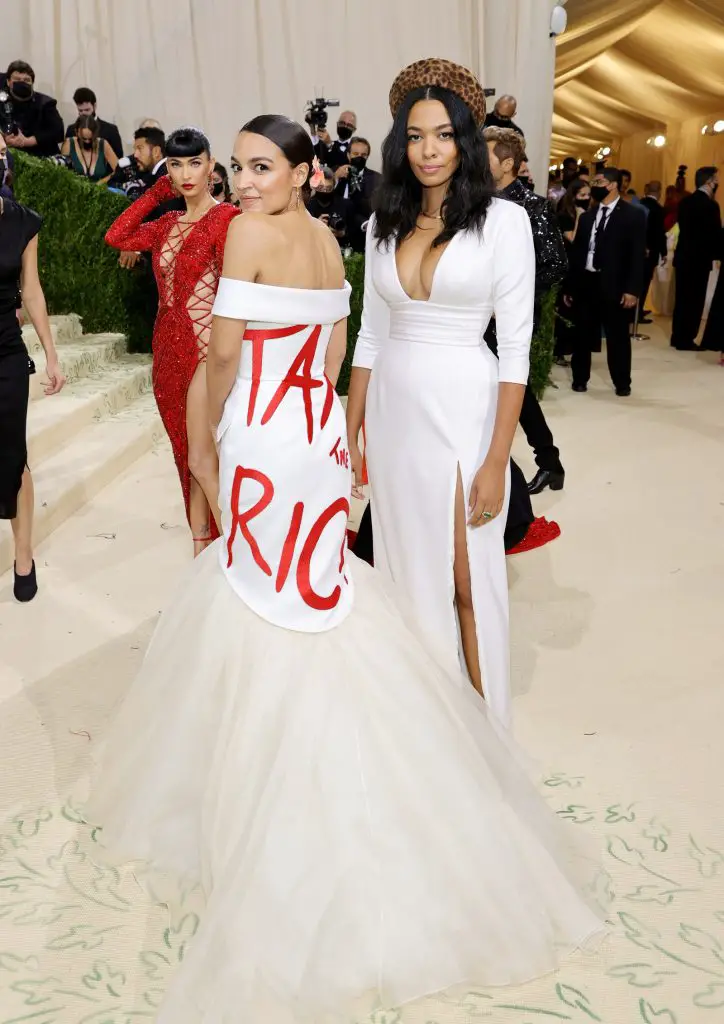 3. Megan Fox
Megan Fox was wearing a dress by Dundas, Jimmy Choo shoes, and Lorraine Schwartz jewelry. Just a few days before, she'd stunned in a sheer Thierry Mugler dress. Her Met Gala look was everything — from the cute bangs to her gorgeous red gown and matching accessories. She was a sheer delight to look at.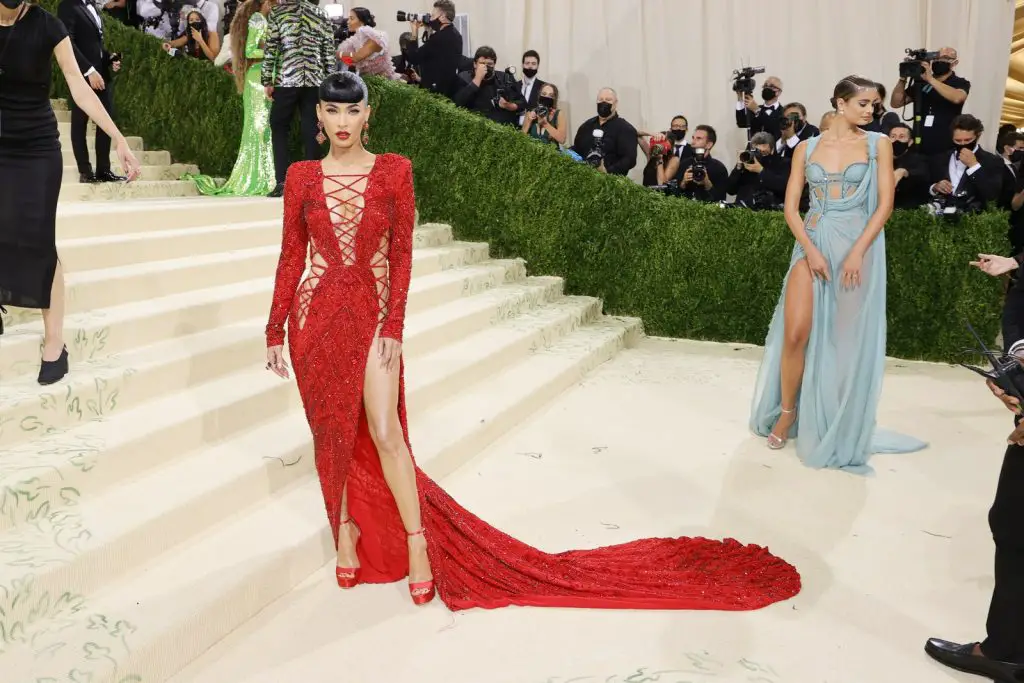 4. Precious Lee
Precious Lee in a dress by Area. She wore a stunning sparkly structured suit that brought to mind the flapper outfits of the 1920s. Her makeup complemented her outfit, making her look simple and perfect.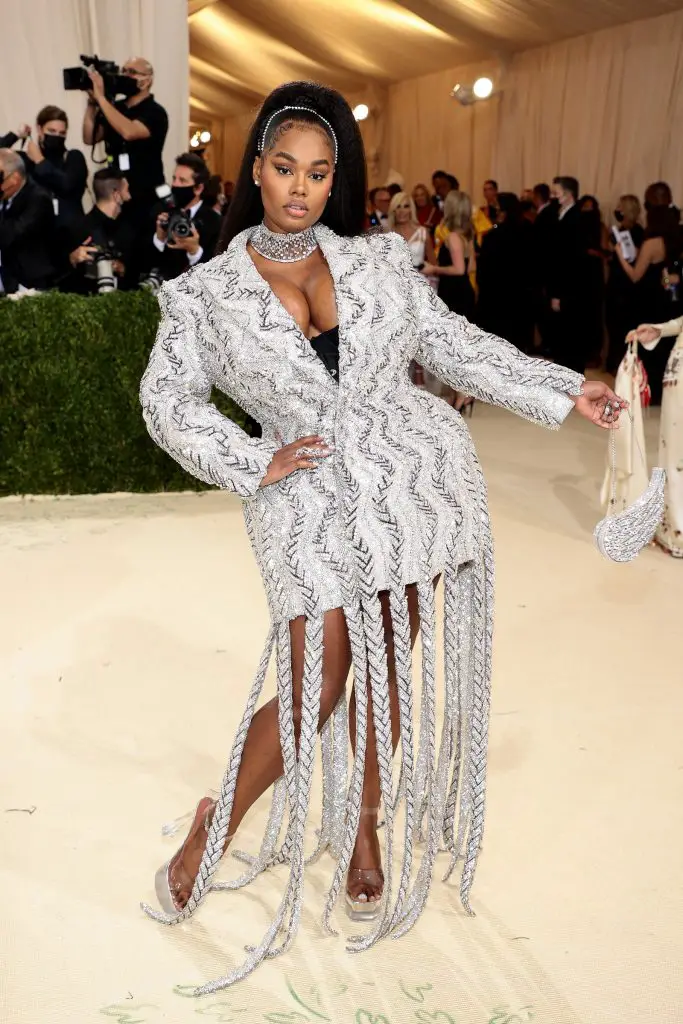 5. Kim Petras
Kim Petras wore the most shocking Collina Strada dress. There was a literal cow's head at the front of her dress and it was quite obvious that she was paying tribute to the South of America, especially with her puffy skirt, the fabric her gown was made out of, and her hairstyle. She definitely took the theme and just rolled with it, and we loved it.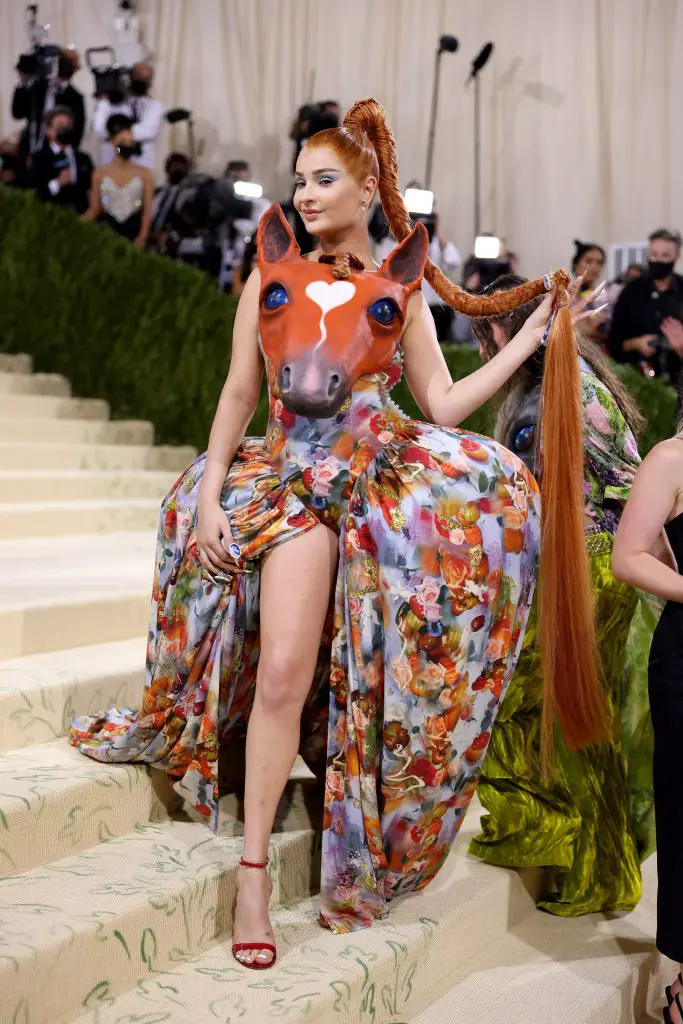 6. Iman
Many would argue that Iman in Dolce&Gabbana x Harris Reed at the 2021 Met Gala was the top look of the night. She wore a jumpsuit and an accompanying skirt and headdress that was inspired by Native American fashion.
The gold and cream colors that she chose were amazing and suited her outfit to a T. In all, this was a perfect look.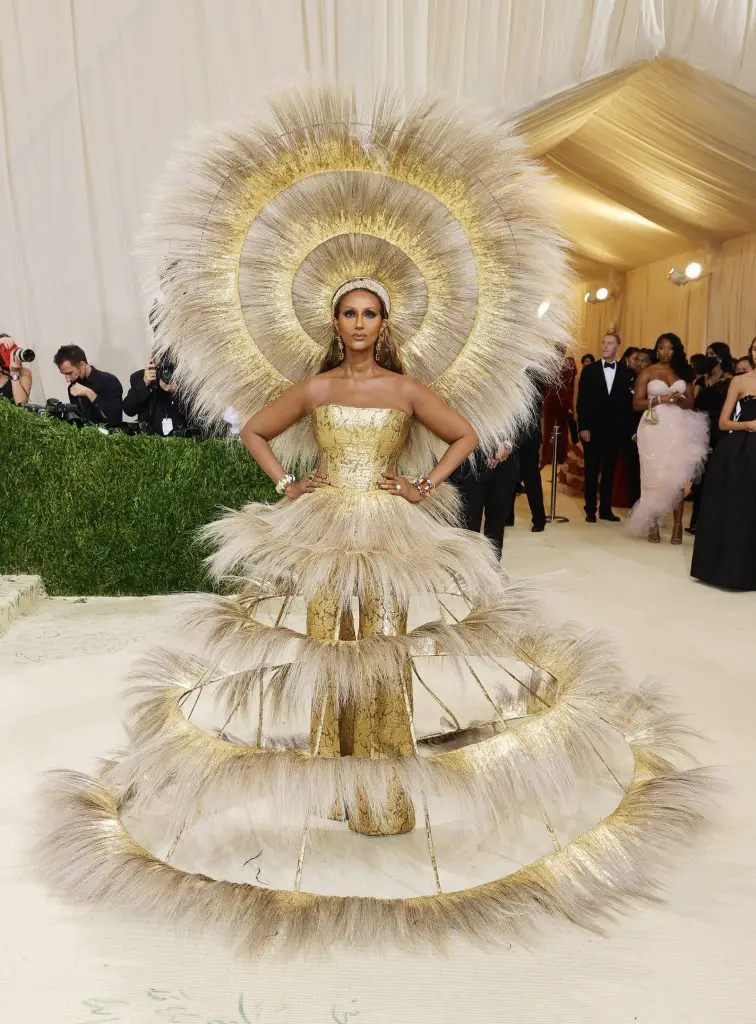 7. Grimes
Grimes told Vogue before the event that the upcoming "Dune" movie was the inspiration for her look. She wore a futuristic dress by Iris van Herpen and paired it with an actual face mask used in the film. Her accompanying sword was made by melting down automatic rifles and making them into medieval-inspired swords.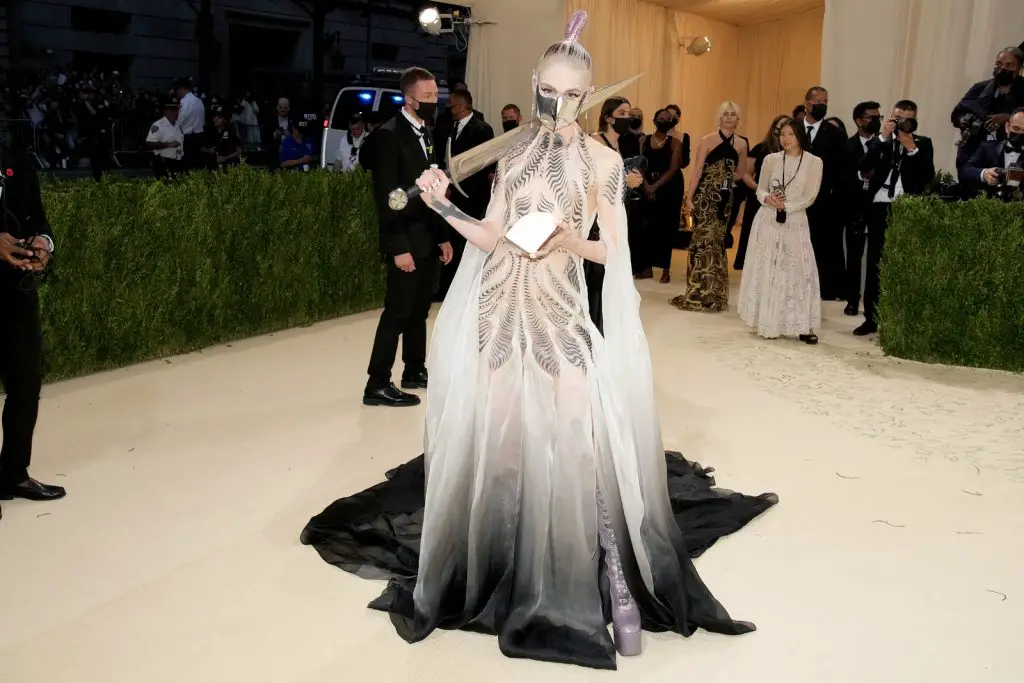 8. Lil Nas X
Lil Nas X was stunning at the 2021 Met Gala, wearing not one, but three looks by Versace. He started with a grand, gold cape which he removed to reveal a gold, robot-like outfit, which then came off to reveal a gold and black jumpsuit that looked like something Mick Jagger could have worn. Check out his stunning looks below.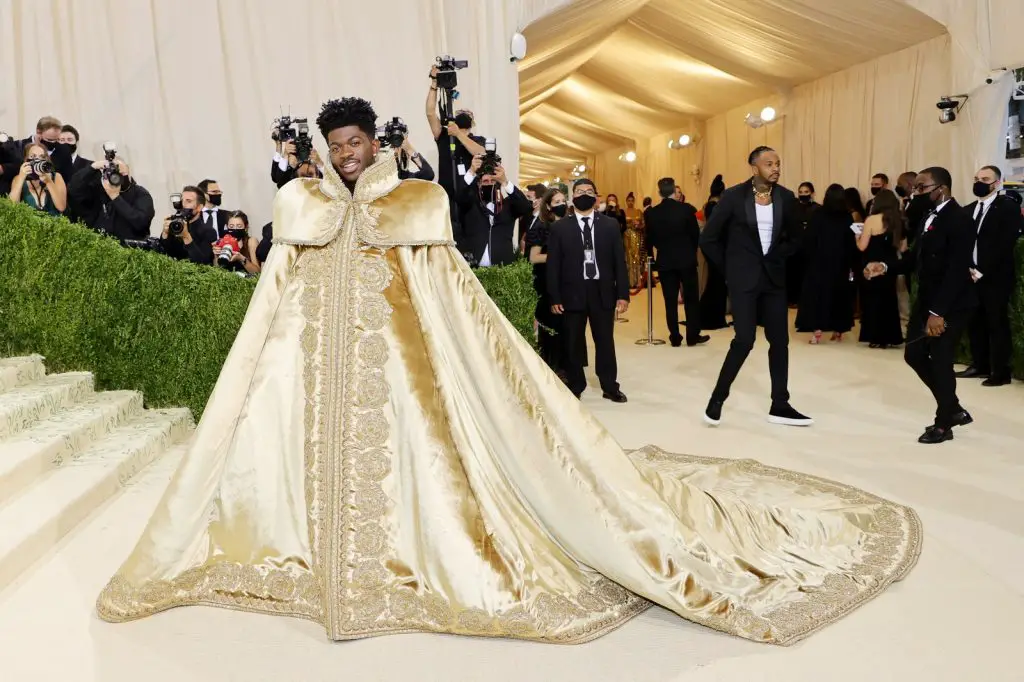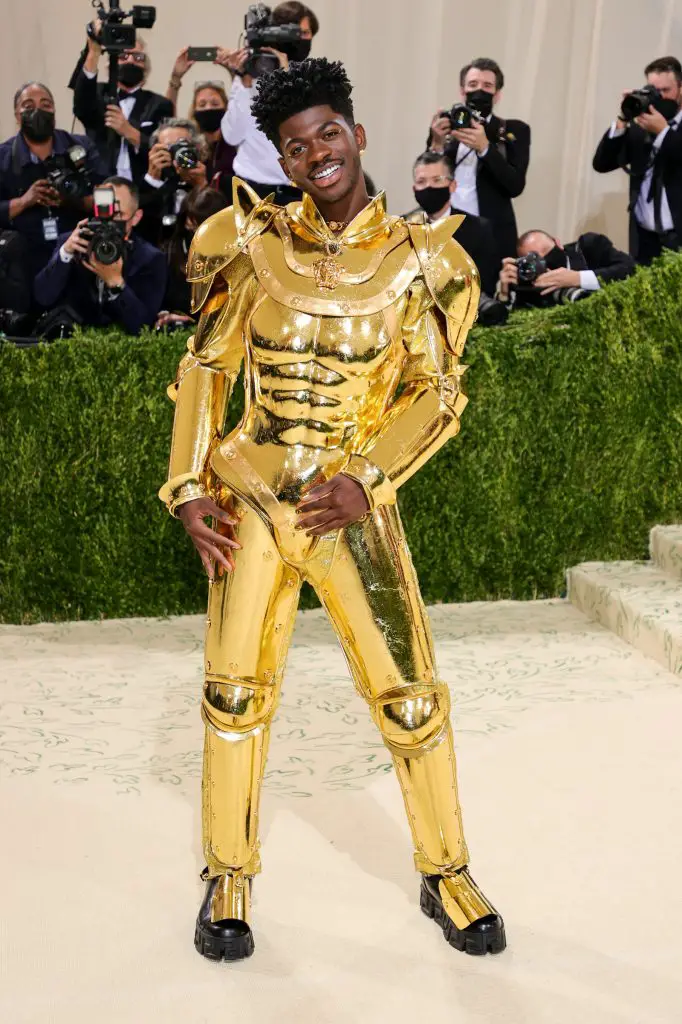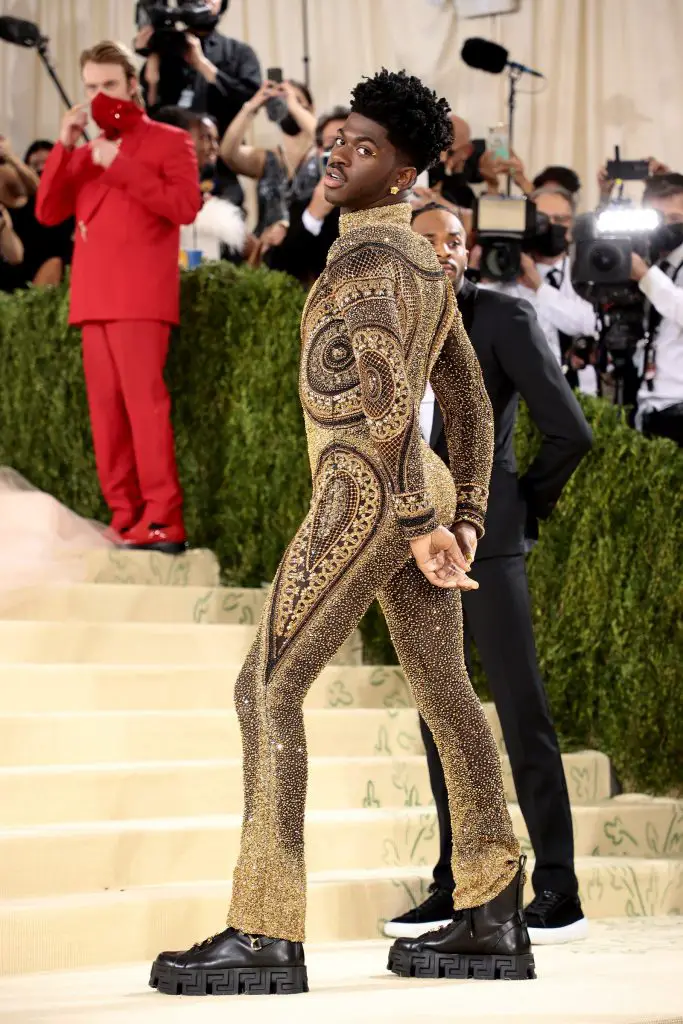 9. Yara Shahidi
Yara Shahidi dripped class and beauty in a Christian Dior dress and Cartier jewelry that was inspired by Josephine Baker, an American-born French entertainer. She told Vogue that she pored over every detail and worked with designers at Dior to bring her extraordinary dress to life.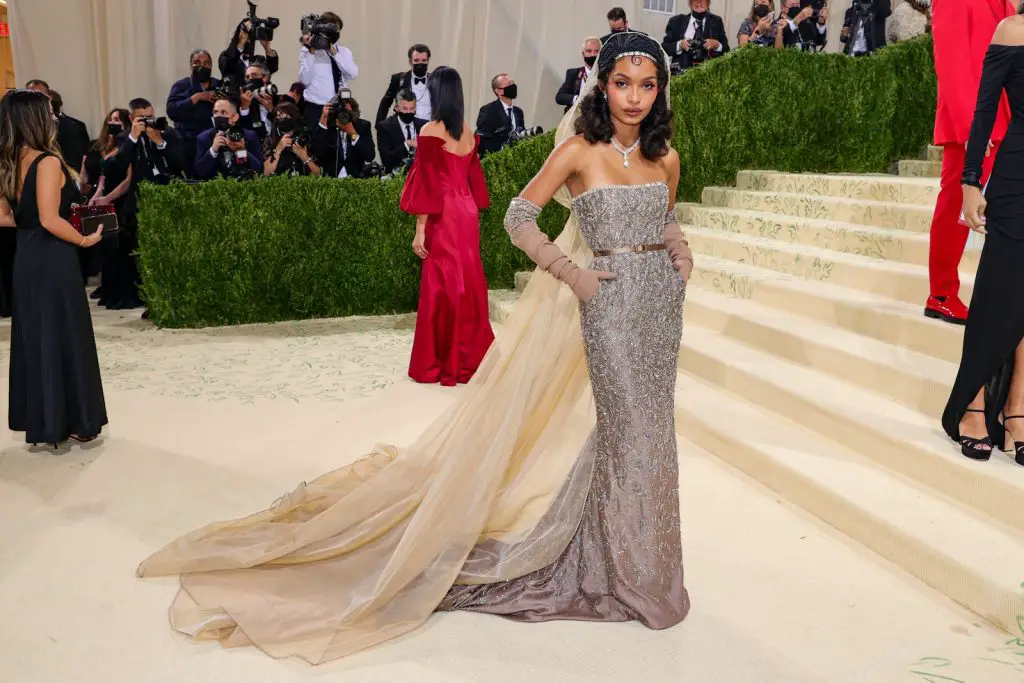 10. Billie Eilish
Billie Eilish's outfit is iconic in many ways. Her Oscar de la Renta and Cartier jewelry look was (clearly!) inspired by Marilyn Monroe. Eilish looked ethereal on the red carpet. As if that's not enough, she only agreed to wear the Oscar de la Renta dress on the condition that the brand would stop selling fur. A history-making queen!
11. Barbie Ferreira
Barbie Ferreira stunned in her Jonathan Simkhai dress. Like Precious Lee, she also evoked memories of 1920s American fashion — flapper fashion and gorgeous pearls. She let the dress do the talking, going light on her makeup and accessories, and we think this look is a stunner.
Conclusion
Say what you will about this year's Met Gala, but you can't say that no one brought some heat to the red carpet, especially since there were so many more stunning looks on the red carpet, including Kim Kardashian's very strange Balenciaga get up which she later explained as a huge shirt reminiscent of American culture. Hmm…okay, Kim K.
This year's Met Gala is now officially over. Hopefully, in 2022, a lot more people will be impressed by the red carpet fashion. And who knows, you might even walk the carpet as well. You can never tell what will happen, after all.
Photo credit: Getty Images